The software development landscape is always in a constant state of evolution. Every year, a new technology or trend emerges and reshapes the way software development companies build and deploy software. Not knowing where your company fits against these transformative software development trends, means your business isn't prepared for what it takes to stay ahead of the curve. Therefore, it becomes essential for businesses to stay current with the latest software industry developments, to remain competitive.
From the inevitable rise of AI to extended reality, the software development services domain is undergoing its biggest transformation yet, and 2024, seems no different year. Next year, seems to showcase a paradigm shift with several transformative trends shaping the development industry with an equal focus on green technological solutions. So, if you're also wondering what all these trends are? Or interested in hopping on these software development trends, then this blog is for you. In this blog, we'll delve into the top 10 software development trends that are set to redefine the landscape in 2024. In addition, we'll also discuss how a top-notch software development company can help you stay afloat in these rapidly evolving development trends.
From AI to DApps: Unveiling the Game-Changing Software Development Trends 2024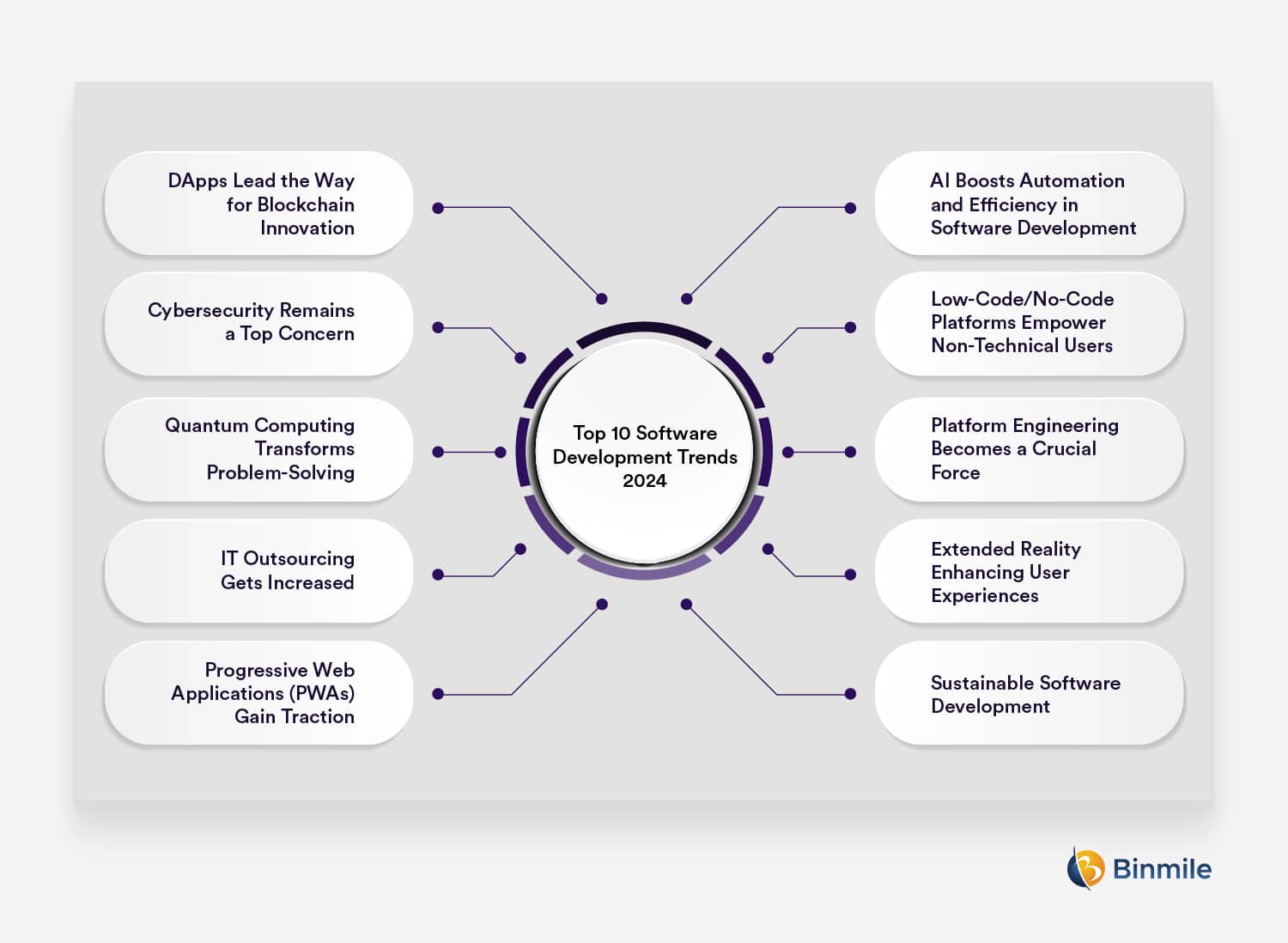 With every passing year, new technological trends come and go. Some disappear as fast as they enter the software development landscape. Others just turn out to be a transformative force of change, for instance, the emergence of generative AI in eCommerce. Knowing these top emerging software development trends, user preferences, and technological advancements can quickly leave a business lagging behind the competition. Additionally, these trends are expected to drive many decisions and strategies in the realms of business, technology, and digital transformation.
Top 10 Software Development Trends You Need to Know in 2024
Let's delve into the top software development trends in the upcoming year, from artificial intelligence, and more sophisticated cybersecurity.
1. DApps Lead the Way for Blockchain Innovation
With the introduction of Blockchain technology in software development, this trend has enabled the development of decentralized applications (DApps). These digital applications run on a blockchain network of computers instead of relying on a single computer. Hence, they offer better security, transparency, and autonomy than traditional ones. The year 2024 may witness DApps in the spotlight, as developers discover new ways to use blockchain for decentralized systems that are free from the control, and interference of a single authority and provide flexible software development.
2. AI Boosts Automation and Efficiency in Software Development
The induction of Artificial intelligence in developing software has simplified, expedited, and automated complex developing or deploying tasks like never before. From smart code completion to automated testing, we can expect AI technology to help automate repetitive tasks, improve productivity, and boost user experiences. The software development trends predict that Artificial intelligence will become the foundation for most—if not all—SaaS solutions. For instance, most machine learning and AI models will empower SaaS technologies to continually drive new efficiencies across a variety of business processes.
3. Cybersecurity Remains a Top Concern
Software development is a crucial aspect of cybersecurity and data privacy issues. So, as long as software drives businesses, these two will grow in significance. From secure APIs to encryption, a proactive approach to user data privacy and security is the way ahead. With these software development trends, expect that developers must follow rigid, and secure coding practices. In addition, they need to implement strong security features throughout the development lifecycle.
4. Low-Code/No-Code Platforms Empower Non-Technical Users
This trending development approach offers a lot of benefits to businesses, especially in building internal tools with low code platforms. The primary of them is it empowers even non-technical users to build software with ease and minimal coding. Moreover, the next year can see a surge in these platforms to facilitate rapid application development, for faster prototyping and increased flexibility. By 2024, 80% of non-IT professionals will develop IT products and services, with over 65% using low-code/no-code tools.
5. Quantum Computing Transforms Problem-Solving
The combination of Quantum computing and software development is paving the path for solving business and user problems that are too hard to compute. These two can enable a lot of applications that are typically out of the reach of classical computing, such as drug discovery and faster artificial intelligence (AI) techniques to be brought to the spotlight. So, in 2024, expect to see more breakthroughs in quantum algorithms and the creation of quantum-ready applications.
6. Platform Engineering Becomes a Crucial Force
An emerging technology approach that tends to accelerate the delivery of applications and business value out of the product or services. We can expect with this software development trend that the technology is going to gain traction as it improves developer's experience and productivity by providing self-service capabilities with automated infrastructure operations. Moreover, by 2026, 80% of software engineering organizations will establish internal platform engineering teams to get the maximum value of their products and offer their users valuable services.
7. Boost in IT Outsourcing
Next year would be the same for businesses to take advantage of the software development talent pool that remains globally dispersed. It's estimated that the offshore software development market will exceed $700 billion by the year 2026 from its current valuation of $260.38 billion in 2023. Offshore software development services play a crucial role in meeting the changing requirements of technological advancements and offer cost-effective, expert, and AI-powered tools and technologies software solutions.
8. Extended Reality Enhancing User Experiences
XR or Extended Reality is a popular term used for Virtual reality (VR) augmented reality (AR) and mixed reality (MR) technologies that are going to reshape the viewing experience of end users. We can witness a strong presence of XR in software development. For instance, from immersive training simulations to interactive user interfaces, the SDLC team will be looking for innovative ways to integrate these technologies, to offer users engaging and enriched experiences.
9. Progressive Web Applications (PWAs) Gain Traction
Even in 2024, PWAs or Progressive Web Applications services will continue to remain a popular choice. For they offer a seamless and responsive user experience across platforms and devices. This surge is also partially due to the PWAs coming with features such as offline access, swift loading time and progressive web app development costs are quite low. Thus, offering the best of traditional web applications and mobile apps to end users
10. Sustainable Software Development
Sustainability is no longer a buzzword. Businesses and developers must take several factors into account while developing software. The year 2024 estimates that the software development trends bring an increased focus on environmentally friendly software methods such as reducing energy usage or minimizing data waste, among others. This ensures building and designing software that helps create a cleaner society, with a lower carbon footprint and minimal environmental impact.
Build Your Software with Binmile
There's no doubt that the world of software development promises to be a thrilling acceleration of cutting-edge technologies, sustainable practices, and a renewed focus on security and collaboration. While some challenges are unavoidable, expert and tech-driven smart decisions and assistance ensure that you're ready to embrace this exciting future.
We at Binmile, empower enterprises to stay on their game with our top-notch software development services. From a software developer, QA tester, and designer to a project manager, we've got you covered! All you have to do is get in touch with us, share your requirements and we'll match you with the right expert.
As among the best software development companies, our pool of talented software development professionals will be well on your way to building the software of your dreams.
Closing Thoughts
The future of software development is set to harness cutting-edge technologies while continuing with the ones that help them maintain values of enhancing user experiences, boosting ROI, and creating a sustainable impact on the environment. With our discussion on the top software development trends, it's clear that the software development landscape in 2024 is a convergence of cutting-edge technologies but remains grounded in the principles of security, efficiency, and sustainability.
Therefore, it's imperative for software development companies and software developers to not only embrace these trends but to stay adaptable and well-positioned to navigate the dynamic challenges and opportunities that these technologies bring. It's also notable that as we prepare for the new year, we are also readying ourselves to embrace this synergy of innovation and thoughtful development practices. After all, sustainable technologies are going to reshape the way we interact with and harness the power of software development services.