Custom UI and UX
Design Services
We help our customers build captivating user experiences that have a huge impact on conversion rates and brand perception. We create designs that showcase the beauty of your vision.
Contact Us
Custom UI and UX Design Company Building Engaging Products
Think. Engage. Access.
We are a leading UI/UX design company that helps you design and develop advanced digital UX and solve your complex business problems. Our creative vision and years of experience working with a global clientele will help you fuel your creative boat.
Fortune 500 companies and businesses across industries trust our UI and UX services. We create product that enhance the brand, elevate business presence, increase efficiency and raise profit margins. We specialize in designing, branding, and providing consultancy on web and mobile application development. We strive to create distinctive visual identities for our clients to help them achieve their goal.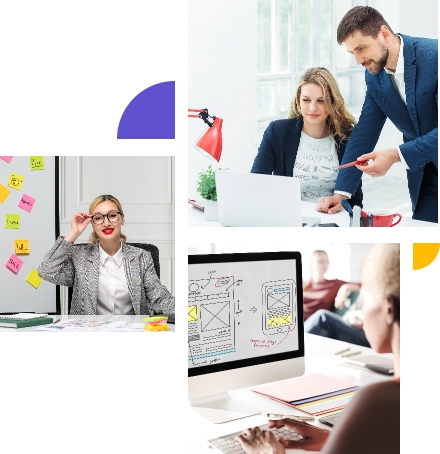 30%
Reduced Delivery Time
Our Custom UI/UX Design Services
We are a leading UI/UX design company that creates designs to help global brands navigate all facets of their digital landscape. Our design-led engineering mindset helps to deliver path-breaking applications. We thrive on a smooth handshake between technology and user-centric experience design.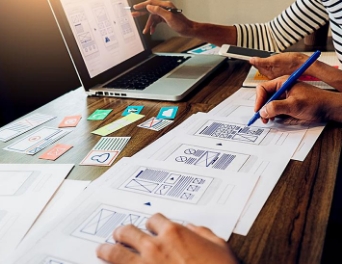 Mobile App UX and UI Design Services
We offer innovative mobile app UI/UX design services to shape great experiences and design trends loved by users on iOS and Android platforms. We concentrate on ideating through your business challenges and produce creative design solutions with engaging UI.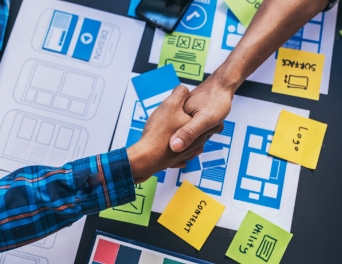 UI and UX Consulting
We offer UI and UX consulting service to help you look at your product or service through users eyes. We help businesses create an impression and increase users' experience based on users' perspectives and business objectives.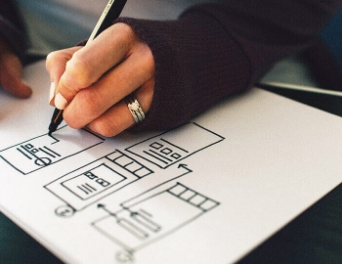 Wireframing and Prototyping
We help you ideate, prototype, and experiment faster to navigate different aspects of the digital landscape. We leverage wire-framing and interactive prototyping to create unique experiences that produce tangible business results.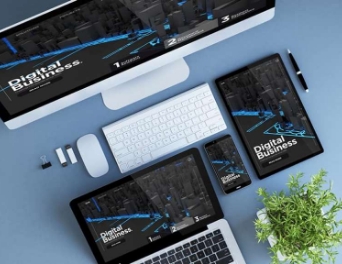 Web Design Services
Our web designers are passionate about creating exquisite websites to attract and retain customers. Our web design strategies help business enterprises entice more visitors, turn your site visitors into customers, and cling them to your site.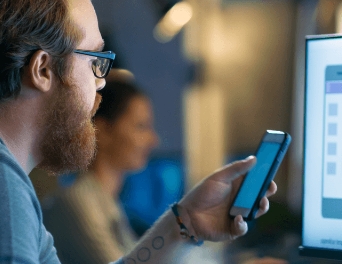 SaaS UI/UX Design Services
We create brilliant visual representations of the functionality of SaaS products targeting user interface design. Our SaaS UX design services enable software companies to increase engagement, simplify processes, and meet the unique needs of their users.
Looking for highly converting online experiences with UI and UX Design Services
We offer a well-balanced blend of technology, visual aesthetics, and business objectives to bring you fast-loading, impactful, UI and UX design for your web-based solution. Schedule your free consultation today!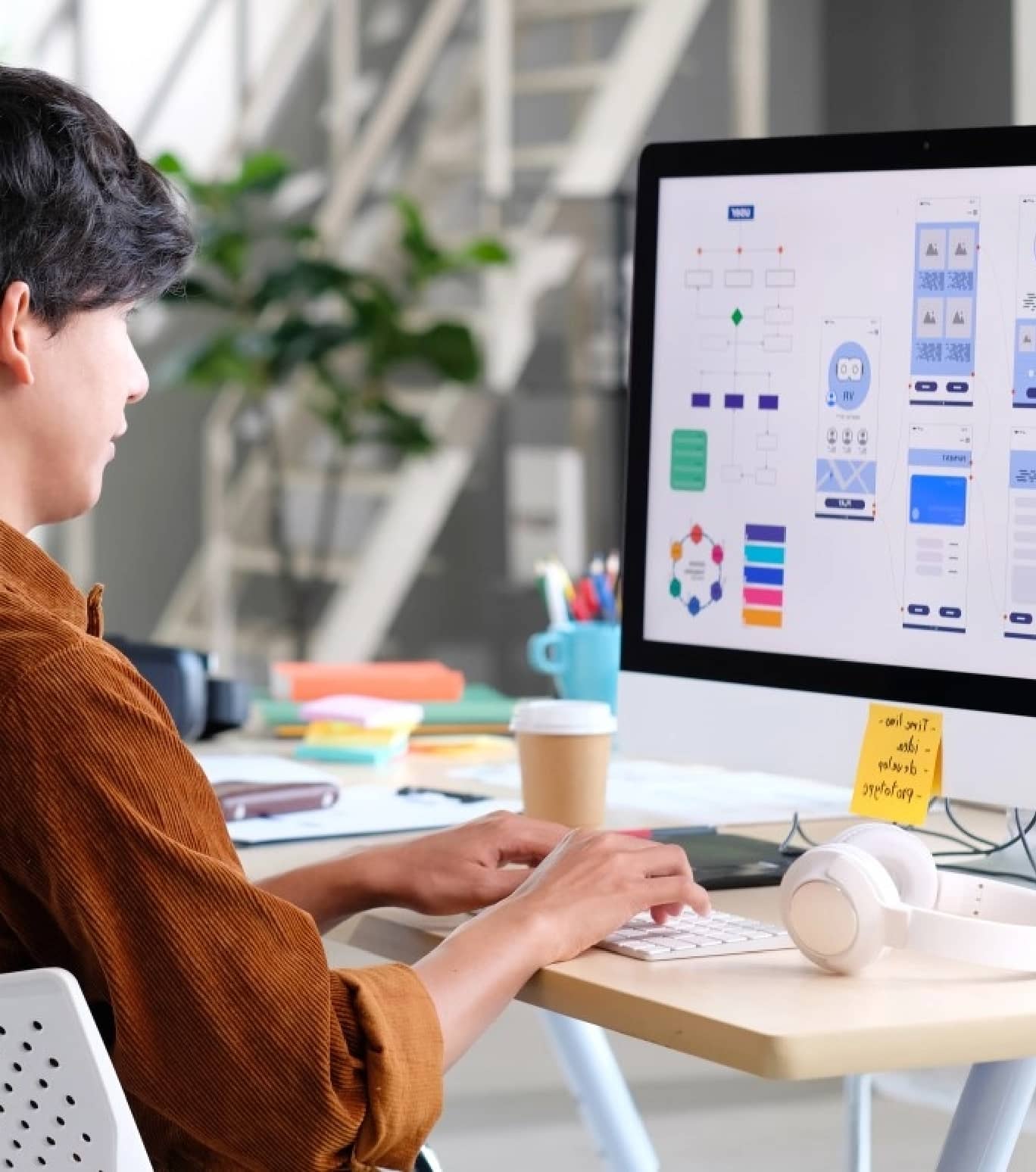 Our Custom UI/UX Design Solutions
Achieve business value faster by understanding your business objectives with UI/UX product ideation and co-creation expertise. We help you create a human-focused design to attract new audiences and build trust and brand identity with our custom UI/UX services.
User Experience (UX) Development
Our agile and professional UX design team assists you in improving usability and client engagement.
We make highly responsive Graphical User Interfaces (GUI) with embedded media and 2D/3D animations to offer an organic, unified user experience.
User Interface (UI) Development
With inherent expertise in graphic libraries, our UI/UX designers collaborate with IT teams and stakeholders to create a style (covering logo design, color palettes, and layouts) that synchronizes with your company culture.
Cross-platform Experience Design
Our team of UI/UX design specialists creates compelling cross-platform experience that your targeted audience can understand and interact with on any device, irrespective of defined design considerations and usability criteria of android and iOS platforms.
Mobile-first and Responsive Design
Our mobile-first design strategy concentrates on the core of your product and critical UX components. Our responsive design strategy helps you create web pages that render well across different devices and product screen sizes.
Custom UX/UI Design & Development Processes
From UX audit process to gathering requirements and visual design process to prototype creation, we indulge in lots of activities to deliver you an intuitive and seamless user experience. Our expert designers follow a detailed process to gain insights into your business goals and serve your target audience.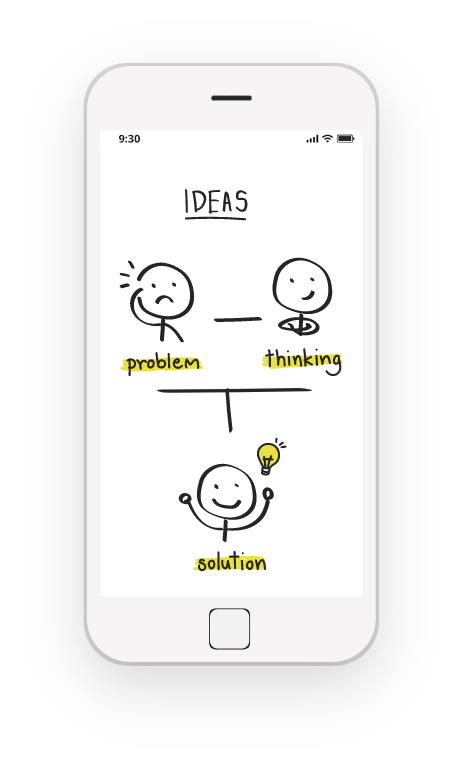 UX Design Process
Analysis
Interface architecture
Sketching and wireframing
Dynamic prototyping
Editing
UI Design Process
Design references
Graphic interface
Animation prototyping
UI guidelines and kits
Design review
Why Binmile for custom UI/UX design services?
We know the value of design and its role in return on investment (ROI). We leverage customer moments to translate your digital touch-points into compelling customer engagement platforms empowering global businesses to construct meaningful connections with the targeted audience.
Design Thinking
World-renowned brands trust us for our custom design thinking that establishes the perfect foundation for a successful mobile app project. Our design thinking approaches help businesses determine, define, prioritize, and set unique business goals and outcomes.
Information Architecture
We create hierarchies of information to help users achieve their goals by presenting valuable information they need to make better and high-level decisions. We ensure to present data seamlessly with clean and organized information and let clients get a bigger picture of what is going on.
Onboarding Critical Workflows
We onboard extremely critical workflows that are vital for users' first impression of product. We use an endless list of steps to reach the goal: Building a unique product that customers will fall in love with and have positive experiences each time they use it.
Brand Differentiator
We craft effective and efficient designs that offer genuine reasons to purchase from you, not your competitors. A well-designed product from our UI/UX design team provides higher aesthetics, usability, and enhanced functionality. We add value to products and create environment for users to feel connected.
Real Customer Trust
We create exceptional design that brings an exhilarating experience, builds a positive brand perception, and gains strong customer trust. Our UI/UX design specialists create a high-level user experience to stimulate your customers to recommend your brand to others.
Customer Pull
Apart from a good design, we ensure that your product solves users' problems and enhances usability and accessibility by finding the correct product information they are searching for. We help you expand into new markets and keep your existing customers interested with a product that meets your target market preferences.
Technology Stack for UI/UX 
We amalgamate different platforms and programming languages to deliver versatile desktop and mobile UI/UX development services. Our expert design team leverages the strength of advanced design tools to offer enhanced graphics, computing power, robust security standards, and better performance.
Bootstrap

HTML5

CSS3

jQuery
InVision

Adobe XD

Sketch

Google Web Designer

Figma
Photoshop

InDesign

Illustrator

Sketch

Figma
Zeplin

InVision

Adobe Cloud
AfterEffects

Adobe Animate
Portfolio
Our Work
Some of our recently completed projects.
Custom UI/UX Design Insights