The most notable thing with building a software solution is that the cycle of its iteration is not a one-time fix-remedy. In truth, it is a continuous process of fixing vulnerabilities to keep the product up and running. This is where the role of software maintenance means great virtue.
Here is our detailed rundown on software maintenance encompassing its significance, types, models, and other aspects.
What Is Software Maintenance?
Software maintenance holds an extremely valuable role in SDLC or software development life cycle. The role of maintenance in SDLC comes after an MVP (minimum viable product) is launched.
So, basically, it is the last and very important step that sets the course of productivity of your software solution, in due course of time.
However, the main purpose behind software maintenance is not just keeping the product in working condition. Rather, the focus is to keep it in a better and improved version, according to the changing market demands.
What Is The End Goal Of Software Maintenance?
Software maintenance is about nurturing and improving the capabilities of the software to achieve the desired goals, such as –
Find and fix the bugs
Improve performance
Modify features
Optimize the software
Enhance user experience with the software
What Is The Cost Of Software Maintenance?
Software maintenance services are contract-based offers from technology vendors after the delivery and deployment of the product. The cost of such services is associated with the percentage of the original cost of software development as agreed between the vendor and the client.
In some cases, the cost could be two-thirds of the entire software development lifecycle or over 50% of the SDLC processes.
We, however, recommend you consult an experienced software development company for an exact cost estimation on your ambitious project.
Categories Of Software Maintenance
Adaptive –
In this category of software maintenance, some changes that tech teams make ensure that the software is compatible with the changing environments, in terms of technologies, policies, and regulatory compliances. It is the classic form of keeping a product free from faults and errors.
Preventive –
It keeps software in working condition for as long as possible. This involves ensuring relevant changes are made to the product, apart from upgrades and adaptations. The goal here is to address small issues to prevent them from getting worse for the lifespan of the software in the future.
Corrective –
In this category, maintenance focuses on detecting and fixing errors and mistakes in the current software solution for optimized performance. The goal is to keep the product unaffected from getting impacted by faults and errors in its functionality.

Perfective –
It ensures that the performance of the software is improved by fine-tuning all the elements of the product, like functionality and capabilities. The aim here is to re-capacitate the software with new and relevant features by replacing unwanted ones. It ensures the relevance of the product in the market.
Software Maintenance Market Analysis
The software maintenance market globally was reportedly expected to grow by $61 billion. The anticipated growth of the same is at a CAGR of 8.51%.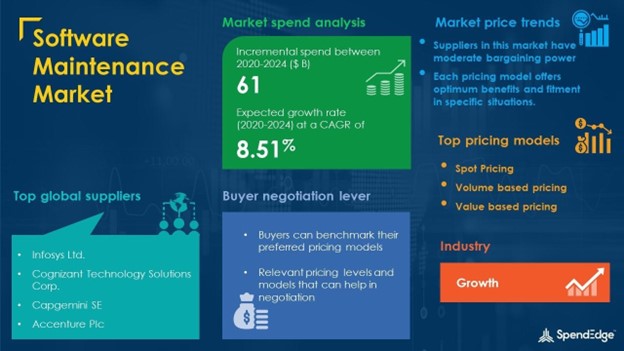 What Is The Importance Of Software Maintenance For Businesses?
What would the lifespan of software be if not maintained consistently? Obliviously, it would mean counterproductive for the health and performance of the product in due course of time.
Therefore, software maintenance is required for various reasons. The main goal is to ensure feature enhancement and maintain consistent performance and productivity of the solution. If ignored, your product will encounter the problem of being less efficient for end-users.
5 Reasons Why Software Maintenance Is Important:
1. Detecting And Fixing Bugs
One of the key reasons for conducting software maintenance is to identify and fix bugs. It ensures that any conceivable factor hampering the performance of the product is dealt with effectively.
Bug fixing ensures the seamless performance of your software solution. It involves finding code-related errors and fixing them. These issues generally occur in operating systems, hardware, or any part of the software.
Also, bug fixing should align with the idea that the rest of the functionalities of your software doesn't get affected.
2. Capacity Enhancement
It means improving the features and functionalities of the product to ensure its compatibility with the changing market demands. Improvements related to software platforms, hardware upgrades, and other elements affecting system workflow collectively enhance the capabilities of the product.
3. Removing Unwanted Function
Regular and timely maintenance ensures early detection of bugs, faults or errors in the software. It also ensures finding unwanted or outdated functions in the product and removing them. An example of this upkeep is replacing UI and coding elements with new development using modern tools and technologies.
4. Ensuring Performance Consistency
The goal of systematic and diligent maintenance is to ensure that the software performs consistently. From early detection of bugs and other vulnerabilities to their immediate removal, maintenance results in the continuous performance of your software.
5. Improved Data Security
Because of software maintenance, you can re-engineer data, fix bugs, and overcome encoding constraints. This, in turn, keeps your product from getting vulnerable to security threats. Most importantly, it also keeps you ready for the worst situations, like a total blackout.
Phases Of Software Maintenance Life Cycle
Software maintenance ensures the full-fledged optimization of your product. Firstly, it induces capacity enhancement. Secondly, there happens the removal of unwanted features. Thirdly and most importantly, it ensures the performance consistency of your product in the long run. Read our rundown on key phases of the software maintenance life cycle.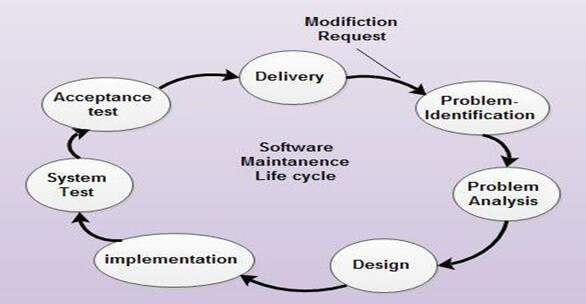 Problem Identification

This phase includes different elements, such as –
Identifying modification requests
Assigning identification numbers
Classifying modification requests into relevant categories, like preventive, corrective, adaptive, etc.
Prioritizing each modification request to ensure their sequence-wise process.
Assigning priority to each modification
Analysis Phase
Tech teams determine the scope and feasibility of modification requests validated. This phase also involves ideation and planning regarding possible changes to be included in the software.
Validated modification requests, project documents, and repository information are certain inputs in this phase. Processes involved in this phase include conducting the technical review, verifying test strategy, and identifying security issues.
Design Phase

A number of activities in this phase include;
Revising requirements and implementation plan
Identifying the affected software modules
Creating new modules requiring replacement or modification as needed, according to earlier stages
Creating test cases for addressing security issues, validating and verifying the system
Creating regression tests
Inspecting software and verifying design
Documentation of updated requirements
Implementation Phase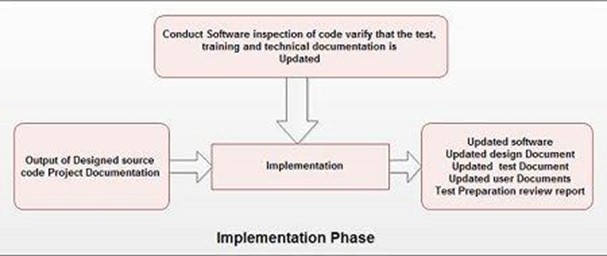 Developers modify source code and add specifications. They also integrate new features and modify the product. Project documentation, design phase output, source code, etc. are input attributes in this phase.
System Test Phase

Tech teams conduct a functional review, interfere testing, and integrate testing between new modules and the system. Execution of this nature in this phase serves the intent of avoiding new faults in the software post-maintenance.
Acceptance Test Phase

In this phase, experts conduct tests on a fully integrated system. They verify if new features meet the requirements stated in the modification request. Test preparation review report, fully integrated systems, procedures, etc. are the input attributes of this phase.
Delivery Phase

This is the phase involving concluding the delivery of the updated software after the acceptance test phase to the users. In addition, the tech teams also ensure the delivery of comprehensive project documentation or version description documents.
Also Read: Study of 7 Best Software Development Models, Benefits and Application Areas
A Brief About Software Maintenance Models
Software maintenance models come in handy to address problems, both internal and external related to the software. Here is our quick rundown on different models, in this context.
Quick-Fix Model
This method is employed to address issues in the software by choosing to prioritize quick resolution over a full-fledged solution. As an ad hoc approach, the model intends to fix security loopholes in the software faster and at a low cost.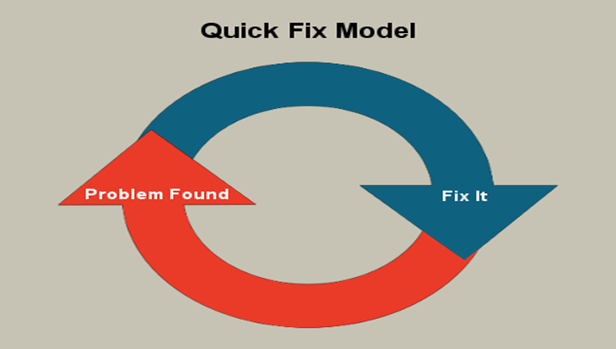 Iterative Enhancement Model
In this model, the goal is to modernize an app with new changes which are iterative in nature. The business justification for changes is no longer the subject of discussion under this model. That's because it rules out the involvement of business stakeholders.
So, changes are incorporated into the software by analyzing the current system. The goal is to rein in complexity and maintain good design.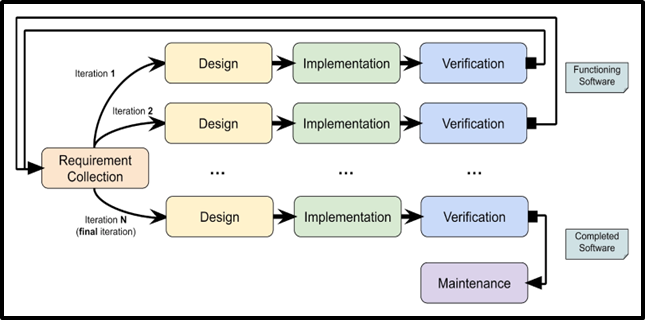 Reuse-Oriented Model
Also called ROD (Reuse-Oriented Development), the model identifies and understands the parts or components of the existing system relevant for reuse.
After identification of these parts, they go through modification and enhancement, according to specified new requirements. Modified parts are then integrated into the new system, thereby concluding the final step of the model.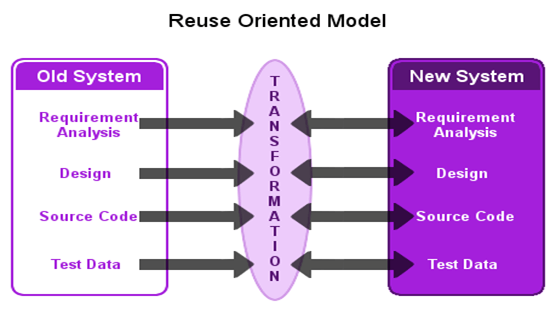 Boehm's Model
The maintenance process, represented in a closed loop cycle, is initiated based on the economic model and principles. It came into existence in 1978 as a method for measuring characteristics in a way easy for even non-tech stakeholders involved with the software development lifecycle.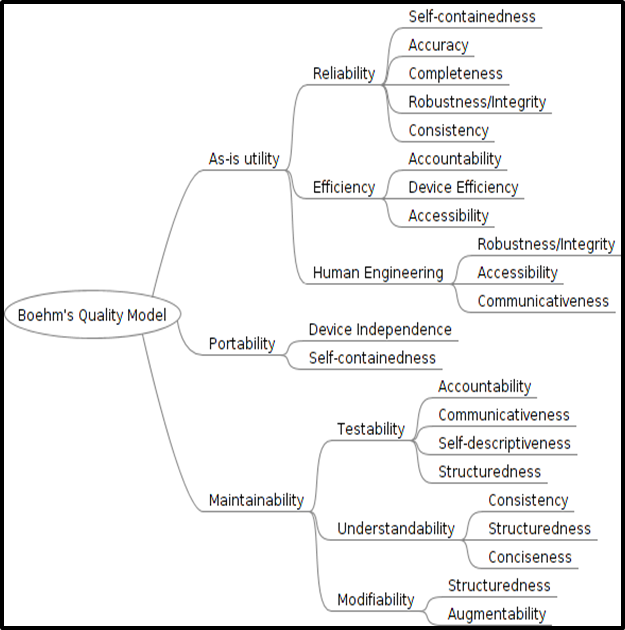 Taute Maintenance Model
This model was developed by B.J. Taute in 1983. Its use basically serves the intent of adding necessary modifications post executing the software. It comprises a total of eight phases in cycle fashion.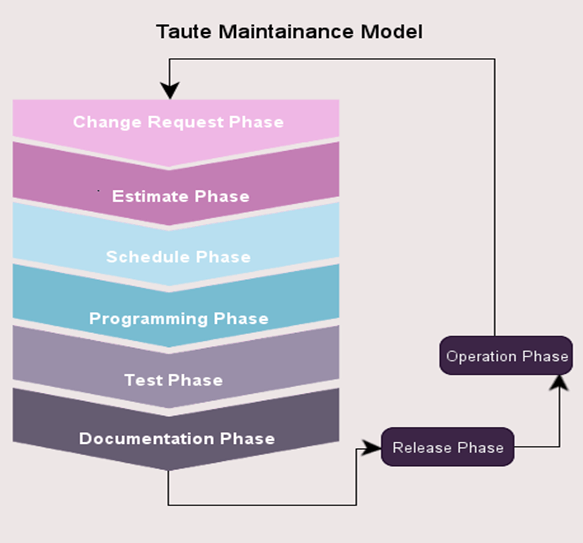 Conclusion
In summary, the role and importance of software maintenance is quite valuable. It wouldn't be an exaggeration to call it an indispensable part of your software's lifespan.
It is that part of the software development lifecycle from where it ensures that your software is up and running. If development is what translates your software into life, maintenance is what keeps it in sound health.
From keeping your software bug-free and fully updated to performance consistency, software maintenance also keeps your product fully protected from security vulnerabilities.
Besides, it ensures boosted performance and resilience of your product. Last and most importantly, you can avoid the situation of heavy tech debt leading to severe problems in the performance of your software.
However, software maintenance is not an easy thing. It requires experienced tech teams to understand different phases and models in the maintenance processes.
Make Software maintenance simplified with Binmile!
Binmile has a team of highly experienced IT specialists to help you ease your software maintenance processes. Hire dedicated development team to bring out the best results in your software maintenance life cycles, along with optimized system performance.