Custom Education & e-Learning Software Development Company
e-Learning Software. Corporate Training Solutions. Education Management.
Binmile offers high-capability custom education app development that enables effective collaboration across various educational operations and drives companies to the next level of digital educational technology. With offices in India, the United States, and the United Kingdom, Binmile has established a global presence through its specialized Education Software solutions that address the specific needs of its clients.
Binmile's Education and EdTech Software solutions are robust and highly customizable for managing all stages of the development lifecycle with seamless integrations. We are skilled at developing a platform-based and customized LMS for end-to-end education process assistance for all major stakeholders of an institution. Our value proposition is to make no compromises regarding functionality, usability, service, or cost while providing analytical and actionable insights to transform their core environment and streamline interconnectivity with all educational departments.
Case Study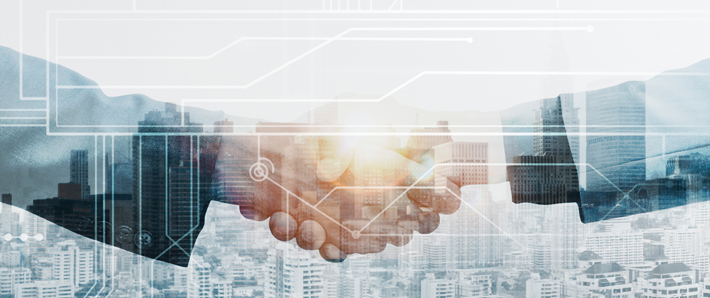 Improved Business Operations by 70% for USA's Leading Provider of Data, Insights & Tech Solutions
Edtech Industry Challenges
Resistance to Embracing Educational Technology
Traditional educational institutions refrain from abiding the digital transformation because of inadequate training and inappropriate IT infrastructure.
High Cost to Upgrade
The development and deployment of comprehensive education software can be an expensive ordeal and put a lot of strain on the budget of educational institutions. Additionally, user data protection and risky partnerships add to the cost.
Lack of Proper Infrastructure
Most educational institutions lack a robust network infrastructure that requires fast, high-quality WiFi and necessary hardware to facilitate functionalities.
Data Management
Privacy of user data is a significant concern of leading EdTech companies knowing they risk data exposure to third-party users. Managing thousands of user account data, including individual user performances, is challenging.
Lack of Skilled Resources
Companies require skilled resources to manage accounts, user data, administrative tasks, and churn numbers, the absence of which makes teams reluctant to expand numbers.
Low Product Usage & User Retention
The low customer churn rate is a significant issue for businesses relying on recurring revenue. Companies need to upsell their products and follow up on leads constantly.
Utilize our custom Education Software Development Services and optimize your business solutions today.
Custom e-Learning Software Solutions
Binmile has proven expertise in developing education and e-learning software that changes the course of teaching and learning for educational institutions and all their stakeholders. With our innate technical expertise, we build customized, creative, and highly interactive e-learning solutions that seamlessly integrate with the latest technologies for a globally accessible, engaging, and affordable learning experience.
Student Onboarding Software
Our student onboarding software solutions help companies maintain student data and extend support on custom-made video tutorials, online side presentations, digital handbooks, and welcome emails.
Virtual Classroom Software
Our Virtual Classroom Software solutions enable companies to leverage remote learning capabilities via the stand-alone or customizable integrated application software.
Cloud Services for Education
Our cloud-based educational app development services enable scalable and affordable solutions that allow users to store videos, presentations, and graphics that help improve the efficiency of your organization's communications via channels and therefore help improve the turnaround time for your processes.
Simulation & Immersive Learning
Our solutions leverage the latest AR/VR technologies via gamified tutorials to help increase your customer's user engagement and retention and deliver the ultimate immersive experience.
Our e-Learning Software Development Services
Binmile helps clients in the Education sector by providing custom-tailored solutions to cater to the dynamic demands of the education industry. We offer on-demand applications to students, staff, and faculty members, creating an all-inclusive collaborative environment. Our Educational and ELearning app development assists in managing all key performance indicators and additionally visualizes all the vital educational metrics of students to monitor their growth trajectory and progress more efficiently.
01
Learning Management System
Our skilled team offers specialized online learning management system development, integration, and deployment services for academic establishments ranging from public K-12 to university-level institutions.
02
Mobile Learning Solutions
Thanks to our mobile application development experts, our clients can choose between a feature-rich responsive web application with a beautiful custom design, robust plug-ins, and a user interface optimized for mobile devices.
03
Corporate Training Solutions
Our solutions are designed to meet the organizational demand of the evolving workforce. We offer future-focused and highly results-driven personalized learning solutions for effective corporate training of employees through strategies that help companies save money and improve efficiency.
04
School Management & Administration Software
Our school management solutions offer a robust system that streamlines tedious administrative tasks by bringing automation into the picture. We also leverage cloud computing and the latest technologies that facilitate daily admin functions effectively.
05
Gamified Education Software Solutions
Our gamified learning software solutions are designed to promote learning through experiential games. We help brands create an immersive learning experience to boost engagement and provide that extra edge in their application by integrating game mechanics like badges and leaderboards to increase user engagement.
06
e-Learning Analytics & Reporting
We provide advanced analytical tools that help assess training programs' effectiveness and promptly identify errors. Our built-in analytics and dashboards, real-time data monitoring, internal system integrations, and auto push notifications enable educational institutions to develop intuitive representations and manage their internal systems quickly.
Why Choose Binmile?
Binmile is a leading IT-based business solutions and education software development company. We provide cost-effective business solutions with minimal turnaround time while ensuring quality standards through effective communication and best practices.

Full-Stack Expertise
Our carefully selected team of Full-Stack developers and designers from relevant industry experiences are adept at developing applications, identifying and mitigating risks, and ensuring comprehensive application testing to ensure zero compatibility issues.

Scalable Business Model
With intelligent cloud capabilities, Binmile offers scalable business model solutions that reduce the overall project costs and allows our clients to stay profitable and create value for their customers via digital channels.

Client Centric
Our customer-centric approach means we put our customers at the heart of everything we do – from marketing to sales to customer service. This means providing excellent customer services and better personalization across all channels.

Robust Architecture
We provide robust architecture with high data confidentiality. Our solutions combine your current infrastructure with the latest technologies that collectively produce structural and behavioral changes in the system and induce growth and profitability for the company.

Flexible Engagement Model
Flexible Engagement Model
We fulfill the specified client requirements while allowing our clients the freedom to hire expert developers as addition to their in-house team.

Standardized Security Protocols
Standardized Security Protocols
All applications created feature standardized security protocols based on globally prevalent best practices, such as multi-level authentication that helps safeguard against malware or cyberattacks, keeping the confidential data secure.
Emerging Technologies in Education & EdTech Industry
Binmile's carefully selected team of developers comes with extensive industry experience with advanced technologies that improve the learning experience and streamline your processes.
AR/VR
The latest AR/VR capabilities help the education industry deliver custom-made learning material that is highly immersive and experiential, which helps increase retention and optimize engagement.
AI-Based Education Apps
Our AI Solutions enable educational institutions to automate repetitive tasks and streamline scheduling, attendance, grading, finance, accounting, and record-keeping to save time and money.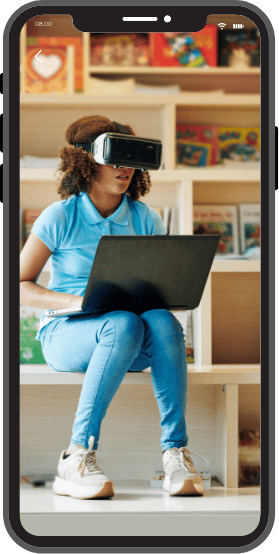 Intelligent Tutoring Systems (ITS)
With Intelligent Tutoring System solutions (ITS), companies can help students master complex skills by implementing intelligent algorithms that adapt as per the students' capabilities.
Education & e-Learning Chatbots
AI-powered eLearning Chatbots offer a significant change to reduce response time and help increase user retention.
Portfolio
Our Work
Some of our recently completed projects