Leading Digital Transformation in Healthcare & Pharma Industry
mHealth Solutions. Clinical Applications. Healthcare CRM.
Binmile is a leading custom healthcare software development company providing technological solutions and services for healthcare organizations and practitioners, assisted living facilities, nursing homes, diagnostic and research centers, medical ISVs, and device manufacturers across the globe. With our robust and highly customizable IT solutions that bring value to the client's businesses, we empower medical institutions with high healthcare interoperability, effective patient engagement, accurate diagnostics, and positive healthcare outcomes.
With a mission to provide technological advancements to enterprises via innovative solutions, our learned team of professionals with years of expertise in software development services for healthcare and pharmaceuticals works hand in hand with institutions, understanding their needs and delivering research-driven personalized solutions. Our value proposition is to make no compromises in terms of functionality, usability, service, or cost while providing analytical and actionable insights to transform their core environment and streamline banking & financial workflows.
Case Study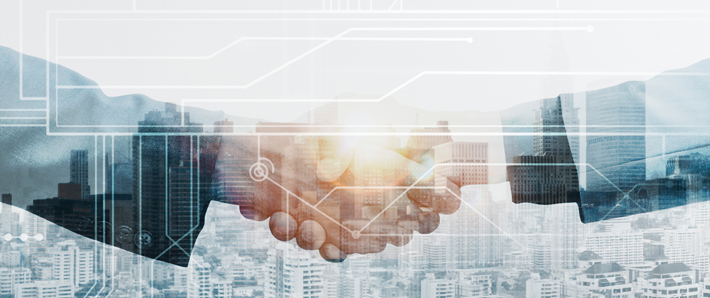 Improved Business Operations by 70% for USA's Leading Provider of Data, Insights & Tech Solutions
Current Challenges in Medical Software Development Industry
Compliance & Regulations Issues
Following country-specific compliances and regulations like the HIPAA or PHI regulations along with CCPA, NSCS, NIST, and GDPR rules can be a tedious task.
Multi-Device Compatibility
Interoperability of the application via Smart TVs, Smartphones, and Voice-powered devices, along with appropriate data security, is a challenge.
Maintaining Data Security
Highly sensitive patient data needs to be protected from cyber-attacks and hacking through encryption and access control without disrupting proper data integration within the application.
Big Data Management & Analytics
Inability to handle large volumes of data shared by IoT-based healthcare apps is a challenge that leads to inaccurate data reporting and incorrect diagnosis and treatment.
Enabling IoT & AI
Enabling augmented versions and ensuring appropriate IoT integrations are necessary to receive real-time updates and data from the IoT devices.
Updating Legacy Healthcare Systems
Traditional healthcare devices running on outdated data management systems reduce team efficiency and operational costs.
Leverage our medical software solutions to drive better healthcare experiences and improved cost savings for your medical institute.
Healthcare Software Solutions for Medical & Pharma Industry
Binmile understands the unique challenges that healthcare software companies face and helps them gradually embrace digital transformation in the digital industry without compromising on superior customer service, regulatory compliances, and the advent of non-traditional competitors. Our world-class digital team provides you with innovative services and solutions with access to a full spectrum of medical software solutions.
Healthcare CRM Solutions
We provide unique medical CRMs designed to improve the user experience by holistically managing patient profiles, making personalized offers, and including other vital features. These specialized technologies can be integrated with care-delivery practices to connect doctors and patients at every stage of the care delivery process.
Patient Portal Management Solutions
We create patient portals that electronically link patients and healthcare professionals. These portals provide web and mobile submission and access for both parties to health records and resources, which are essential for providing the correct treatment to patients.
Teleradiology Services
Binmile offers high-value Picture Archiving and Communication Systems (PACS) and Digital Imaging and Communications in Medicine (DICOM) viewer networks to enable seamless sharing and storing of medical imaging, clips, and reports, as well as to ensure patient-physician collaboration in real-time for agile care.
Medical Image Analysis
We develop software to support medical picture modalities, improve early diagnosis, and lower the risk of medical errors to meet research and clinical demands. When used for instructional purposes, our software aids professionals in exploring new areas more quickly and improving the accuracy of medical diagnosis and recommendations.
Telemedicine Solutions
We provide telemedicine solutions that connect patients to healthcare professionals to provide remote diagnostics, post-discharge therapy, chronic illness management, and preventative care.
Healthcare Analytics
Binmile's team helps develop scalable data warehouses, OLAP cubes, data mining algorithms, and data visualization tools that help in ready-to-use healthcare analytics that empower physicians to process medical data effectively.
Pharmacy Management Solutions
Our pharmacy management systems assist administrators in efficiently processing, tracking, and dispensing all prescriptions. We develop comprehensive strategies that enable order management, batching and barcode scanning, inventory tracking, stock management, and data loading that help streamline management from POS to backend support.
SAP Services & Solutions
We deliver extensive SAP services and solutions to assist businesses in laying a solid foundation. Our professionals enable automated, insight-driven operations in four critical areas—Patient/Provider Engagement, Diagnosis and Care Delivery, Billing and Compliance, and Data Integration. They also support the transition to patient-centric services while coordinating workforces with strategic goals.
Binmile's Leading Healthcare Solution Development Services
Binmile's insight-driven approach to healthcare software development services helps our clients achieve higher levels of automation and efficiency, innovate new products, modernize infrastructure, and deliver better outcomes at a sustainable cost for your medical institutions.
01
Consumer Healthcare App Development
Binmile's healthcare app developers produce software linked with fitness trackers, sensors, and medical equipment for remote health monitoring. We enhance them with practical data analysis, processing, and visualization tools so that patients and their physicians can make data-driven decisions.
02
Clinical Applications Development
We have experience creating and modifying software as the foundation for everyday healthcare operations. Our products ensure the integrity of clinical procedures and aid in improving patients' individualized treatment.
03
Medical Workflow Software Development
We provide medical software for managing internal workflows that support healthcare firms in managing their supply inventories, tracking equipment, facilities management, and tracking revenue processes.
04
Healthcare Software Integration Services
Binmile assists in building interconnected technological ecosystems. We connect to custom and platform-based apps with EHR, PACS, HIE, CRM, claim management systems, mobile medical apps, and other healthcare software solutions.
05
mHealth App Development Services
Binmile offers healthcare mobile app development services for on-the-go care activities and doctor-patient communication. Our apps function as digital medical assistants to give continuous, personalized care to patients.
06
Regulations & Compliance Testing Services
We provide application solutions in accordance with international healthcare standards, including HIPAA, IEC 62304, ISO 13485, DICOM, HL7, and FDA 21 CFR Part 820. In addition, we provide pre-certification security and compliance testing services to guarantee that the supplied software complies with current healthcare standards and regulations.
Why Choose Binmile?
Binmile is a leading provider of IT-based business solutions and services. We provide cost-effective medical software solutions with minimal turnaround time while ensuring globally accepted quality standards and due compliances.

Proven mhealth Experience
Proven mhealth Experience
We provide state-of-the-art mobile health applications that let users track their diagnostic information, make appointments, look for doctors, and manage their medicines. To guarantee successful outcomes and speed up the study of medical issues, our committed team has extensive expertise in software development for healthcare and pharmaceuticals industry.

Flexible Engagement Models
Flexible Engagement Models
We provide adaptable engagement models tailored to the unique needs to guarantee the most remarkable outcomes for our client's health and wellness solutions.

Transparent & Agile Processes
Transparent & Agile Processes
Our transparent development method allows our clients to engage with every step of the development process and provide feedback. We adopt an agile approach to enable quick and effective change management throughout our association with the project.

Innovative Solutions
We provide cutting-edge healthcare solutions that enhance patient care and facilitate better health management using the most recent technological trends and tools. Latest technologies, including the Internet of Things, artificial intelligence, augmented reality, virtual reality, blockchain, wearable technology, and cloud computing, are all areas of competence for our team of engineers.

24/7 Cloud Managed Services
24/7 Cloud Managed Services
Our 24/7 managed services keep an eye on your apps and infrastructure, protecting enterprises from security risks, data loss, and downtime to ensure business continuity. Our team with expertise in public Cloud infrastructure manages your apps around the clock to guarantee exceptional user experience.

Highest Standard Security Frameworks
Highest Standard Security Frameworks
All our applications follow standardized security protocols based on universally accepted best practices, which helps protect your systems against malware and cyberattacks and keeps confidential data secure.
Technologies at the Forefront of Innovation in the Medical and Pharmaceutical Industry
Harness the potential of digital innovation with our healthcare solution development services to compete and stay market leaders in the new digital economy.
Augmented Technologies
Our medical app developers help implement VR, AR, and MR for healthcare purposes. Our tailored solutions support doctors worldwide by expediting surgery, guaranteeing reliable diagnoses, and providing stimulating training experiences for professionals and medical students.
ARnatomy
Our ARnatomy technologies help create a 3D model of the patient's anatomy and superimpose it on the patient's body to perform more precisely and effectively.
Distributed Ledger & Blockchain
We utilize distributed ledger and blockchain technologies to assure immediate access to patient data, promote quicker and precise supply chain analysis, and create a secure and uniform medical data record.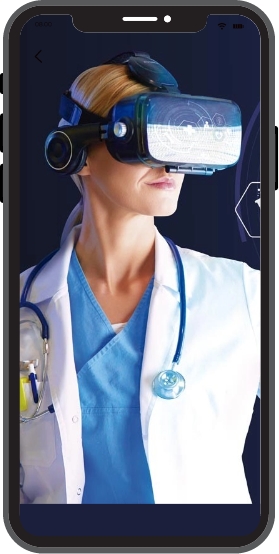 The Internet of Healthcare Things (IoHT)
The Internet of Healthcare Things (IoHT) enables an integrated system of medical systems and applications to gather the information that aids in breaking down organizational silos, improves operational visibility, and offers proactive monitoring.
Big Data & AI
Our big data and AI technologies quickly identify health issues, prospective treatments, and their results that help detect patterns across data in real-time.
Cloud Strategy & DevOps Automation
We design, develop, and deploy effective Cloud strategy and DevOps automation for businesses, staying near clients' specific business needs and helping make your business flexible, agile, and scalable.
Portfolio
Our Work
Some of our recently completed projects