Tags:
Telemedicine is a fairly new concept in today's world. The world is swiftly changing as a result of the digital eruption, this idea has also been evolving pretty quickly. In their broadest definition, telemedicine and telehealth apps aid medical professionals in treating patients by leveraging digitalization from anywhere around the earth.
Professionals can easily assess a patient's vitals due to the rise in modern telehealth apps and software solutions. According to the American Hospital Association, approximately 76% of U.S. hospitals now use health benefits apps to diagnose and treat patients.
From the patient to the provider, the healthcare industry is becoming increasingly virtualized. With a growth estimation of $175 billion in 2026, telemedicine, in general, is currently enjoying major growth.
Let us learn more about the benefits of mobile health apps and the importance of telehealth technology.
Telemedicine App Development Over the Years – An Overview
Health Resources and Services Administration's (HRSA) definition of telehealth is "the use of electronic information and communications technology in providing healthcare treatment, in medical education, clinical data management, and in any medical system."
Telemedicine allows for ongoing connections between patients and medical staff. Through the use of cutting-edge tools and techniques, it has enhanced access to healthcare services. This strategy also mitigates the dangers connected with the unavailability of healthcare practitioners.
In 2020, the market for telemedicine software development exceeded $60.9 billion. According to a study, in contrast to the 13.8% CAGR shown from 2015 to 2021, the demand for telehealth software is predicted to increase at a rate of 15.4% between 2022 and 2030. The global telehealth software market is expected to grow from $6,010 million in 2022 to $14,200 million by 2030.
Benefits of Telemedicine App
There are numerous advantages for both patients and medical professionals provided by the telemedicine applications created by healthcare app developers. The benefits include:
1. Affordable Medical Services
Medical professionals' costs for receptionists are decreased through telemedicine in addition to travel expenses. Doctors can use health monitoring apps produced by healthcare app developers to transition from pen and paper to computerized mode, saving paper expenditures.
2. Quick and Efficient Healthcare Services
The hospital does not require patients to run there every time. For simple conditions, using a telemedicine app is sufficient to consult a doctor. Through the app, the patient can instantly contact medical specialists.
3. Increase Efficiency and Agility
The advancement of healthcare apps has increased training, education, and research in addition to the professional services provided by healthcare professionals. Modern technologies like augmented reality and virtual reality do play an important role in enhancing medical services.
4. Improved Patient Monitoring and Management
Through various options offered by healthcare applications, doctors can occasionally check in on patients as convenient. Doctors and patients can communicate often through the app, which also allows them to provide reports. Time is saved, and it helps to provide more individualized service.
Additionally, telehealth apps also allow real-time monitoring of the patient's health status and also provide emergency services like sending alerts to the concerned persons or calling in emergency services at the time of emergency.
5. Access to EHR
A great telemedicine app will undoubtedly include an EHR (Electronic Health Record) incorporated into its user interface. The EHR decreases the likelihood of mistakes and inefficiencies while also giving users the ability to conveniently plan appointments and communicate patient health information across various systems and platforms.
By having quick access to patient clinical records, doctors can work more efficiently. They can also maintain their health information current with the aid of this. This allows doctors to prevent terrible drug errors and inadequate patient care.
6. Remote Access
The ability of doctors with clinics in one place to virtually provide medical services to patients anywhere in the world is one of the major advantages provided by healthcare mobile app development.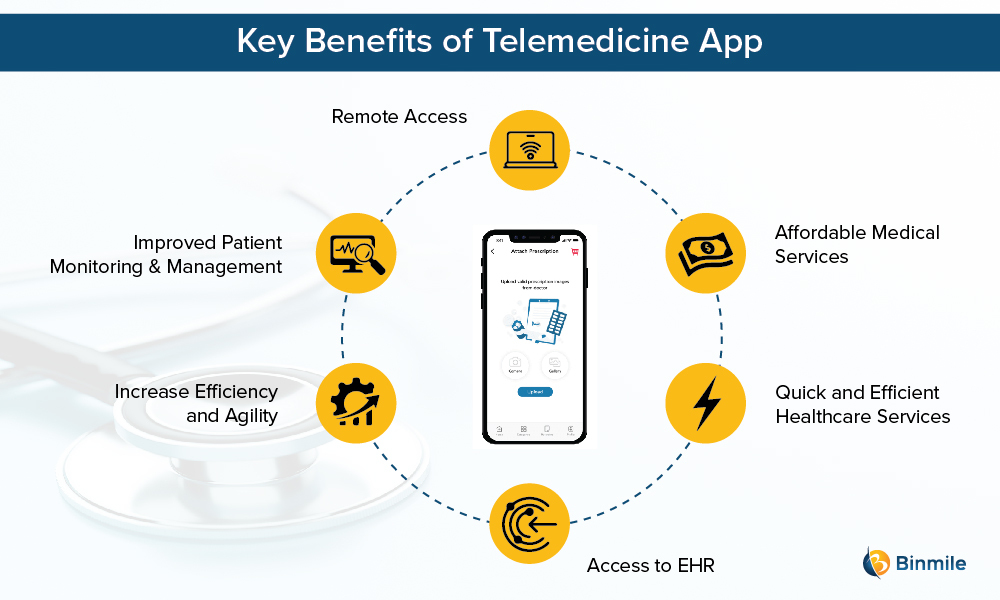 Top Challenges in Telemedicine Apps
The construction of telemedicine apps is not fully error-free, like everything else. Some obstacles could potentially harm the continuous expansion of these apps. Several of the more serious difficulties include:
1. Data and User Security
The most important information for patients is their personal health information, and any telemedicine software must safeguard this information as best as possible to guarantee total security. Along with government policy, safety rules are always changing, making compliance more challenging. A robust security system can be implemented with the help of a variety of technologies, protocols, and algorithms.
2. HIPAA and GDPR Compliance
There are hazards to data security and privacy when dealing with touchy subjects like sharing medical records. For telehealth solutions to gain patients' trust and protect their privacy, they must adhere to GDPR (Europe) and HIPAA (USA) regulations. It makes it easier for medical service professionals to work in a secure setting.
3. User Experience
When creating a new service or product, user experience is a crucial concern that must be taken into account since it influences how consumers interact with the platform as well as how they perceive their overall user experience (or not).
Poor user experiences deter individuals from utilizing med-tech devices completely, thus, these factors shouldn't be ignored!
4. Cost of Development
Building a telemedicine platform from the ground up is expensive. The technology would need to be ready before being introduced to the market because the lead time may be quite considerable, and you wouldn't want people to have to wait too long to start utilizing it. Identifying your capacity is the best course of action.
Also Read: Quality Assurance Testing Scenario for Healthcare Software and App Products
Features of Telemedicine App
Some of the important features include:
User's profile – Both the patient's and the doctor's app must have a user profile. Users can set up accounts and fill out the relevant information, including display pictures, genders, and ages
Calendar and appointments – A feature that links patients to the doctor's computer or phone calendar. Doctors must allow patients to make appointments according to their availability and schedule
Communication helpline – Telemedicine app development services should allow patients to communicate. It enables them to consult with doctors remotely
Geolocation – According to their location, patients should have the chance to interact with practitioners. It is made feasible by Google Maps or similar technology
Payment gateway – Integrate payment processors like Google Pay, Stripe, Braintree, and PayPal to enable patients to pay for appointments right from the telehealth app
Cloud data storage – EHRs can be stored and managed using this feature, photos can be viewed that have been deleted and digital files can be imported or exported
Notification and reminders – Patients can be notified when their medication is due, or their prescriptions need to be filled
Scheduling – Doctors ought to have access to the appointment schedule, be able to set their own availability, and keep track of requests for consultation
Session recorders – With an effective healthcare mobile app development strategy, psychiatrists, physicians, and other professionals might benefit from recording audio and video sessions
Prescriptions – Physicians can input prescription instructions
Pharmacy – Using pharmacy database integration, it is possible to give doctors knowledge about readily available medicines
Insurance plan – Telemedicine apps can be incorporated by insurance companies. It permits the patient to pay for medical consultations with their insurance, if applicable
Conclusion
Telemedicine apps undoubtedly are the future of healthcare. The mobile health app development trend will always advance because of how simple they make people's daily lives. The feature-rich prowess, cost-savings, and greater convenience of the new phase of telemedicine decrease the risk of mistreatment and help the healthcare sector reach the common mass with ease and affordability.
How to get started now?
Binmile provides you with a one-stop destination for calculating risks, building networks, and reaching business objectives. When it comes to effective healthcare application development, we can produce some excellent apps that take better care of every element that will set your telemedicine app apart from the competition.
Now, transform your business with Binmile. Get in touch!