Companies are rapidly adopting different technologies to make their supply chains more efficient in response to globalization, greater product complexity, and growing customer demands.
Innovative businesses are collecting data at every step, from the flow of raw materials to the state and placement of completed items using devices, sensors, and software.
Global supply chain management operations face several risks, and research indicates that managers spend 40-60% of their time dealing with disturbances. It doesn't have to be this way. It is possible to minimize risk costs and maximize business objectives by improving understanding, planning, and management.
Let's look closely at how supply chain risk management software makes the supply chain management process more efficient.
What are the Problems in the Supply Chain?
Supply chain risk management helps companies identify, evaluate, and mitigate risks throughout their whole supply chain. However, it is important to distinguish between internal and external threats because they can potentially interrupt your supply chain.
External Supply Chain Risks
These global supply chain management hazards can originate outside your company, as the term suggests. Unfortunately, this implies that they are more difficult to forecast and often take more effort to overcome. The following are some of the biggest external supply chain risks:
Demand Risks – Demand risks emerge when you estimate product demand incorrectly and are frequently caused by a lack of knowledge about yearly purchasing trends or inconsistent and irregular demand
Supply Risks – When the raw resources your firm depends on are either late or never delivered, the flow of goods, materials, and/or parts is disrupted. And that is when supply risks emerge
Business Risks – Business risks can arise whenever unanticipated changes occur with one of the organizations you rely on to maintain the efficiency of your supply chain, such as the acquisition or liquidation of a distributor
Environmental Risks – Environmental risks in the supply chain are a direct consequence of political, social-economic, environmental, or governmental problems that changes the availability of any supply chain component
Internal Supply Chain Risks
This applies to every supply chain risk variable that is under your direct control and can be found and tracked utilizing supply chain risk management software, powerful analytics tools, IoT technologies, and more. While internal supply chain risks can be controlled more easily than external ones, they are still dangerous. The common internal supply chain risks are:
Manufacturing Risks – Manufacturing risks include the potential for a critical element or phase in your process to be disrupted, resulting in operations running behind schedule
Planning and Control Risks – Inaccurate forecasting, assessments, and poorly planned management of production are the main causes of planning and control hazards
Business Risks – Business risks are the result of disruptions to crucial business operations like management, reporting, and staffing
Contingency and Mitigation Risks – If your company doesn't have a backup strategy in place for supply chain interruptions, mitigation and contingency risks may arise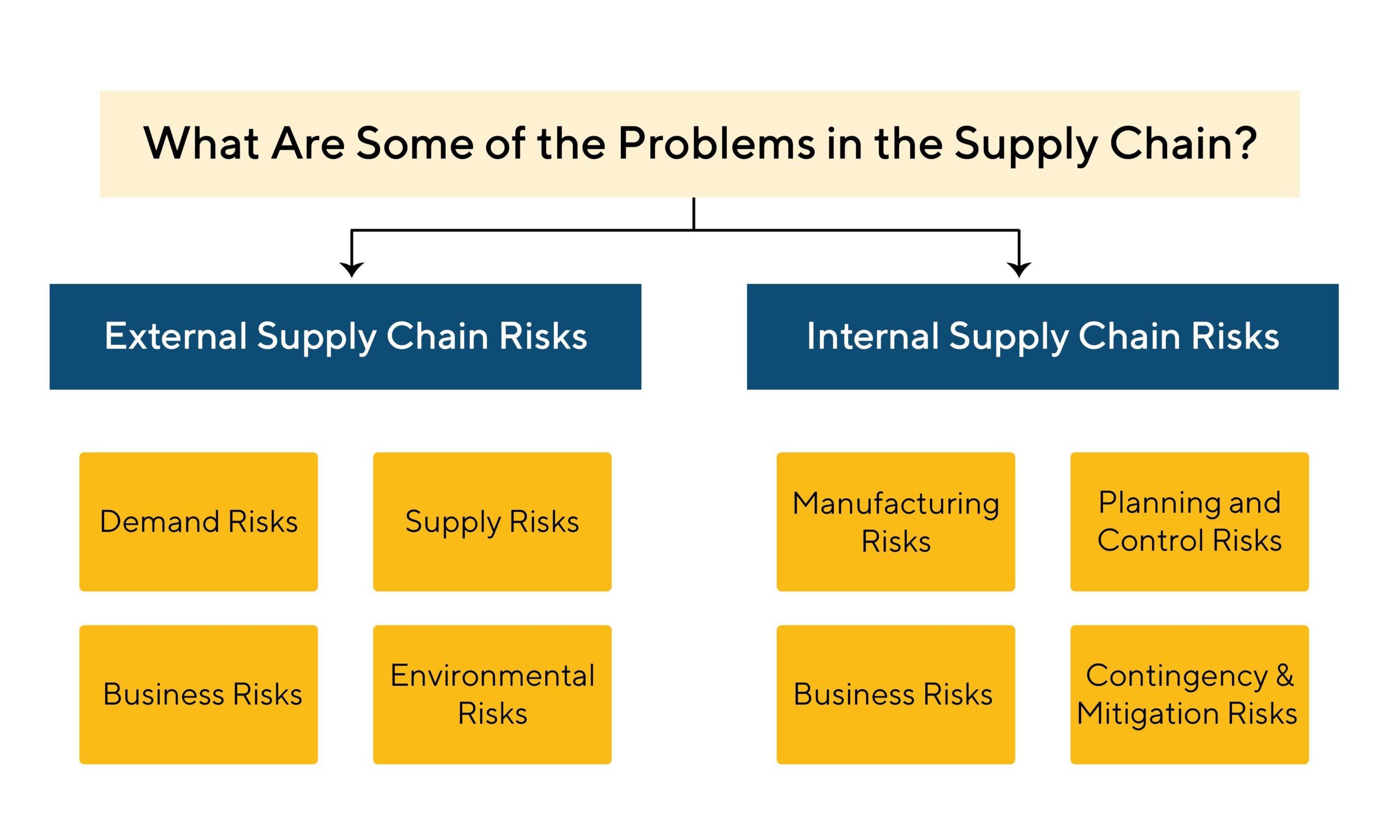 Supply Chain Management Software – What and Why is it Important?
Supply chain management technology includes supply chain software. Most SCM companies reach out to custom software development firms to get the best possible solution for the problems they are facing. The application of SCM software extends to logistics, final distribution, and vendor management. Utilizing SCM software increases control and transparency over the intricate supply chain, boosting organizational productivity.
Custom supply chain management software allows users to monitor and supervise the controlled movement of finished goods, data, and information from the place of manufacture to the point of delivery to the customer.
The supply chain management software enhances the supply chain process through automation. It significantly impacts the bottom line by automating repetitive operations, eliminating human error, lowering expenses, boosting customer happiness, and simplifying supply chain management.
Supply chain operations need well-designed SCM software to manage the demands of complicated global supply chains and ensure compliance across international borders. SCM software gives companies a competitive edge by enabling them to work as an integrated system with their international supply chain partners.
Benefits of Supply Chain Risk Management Software
The key benefits of supply chain risk management software include:
Increased Efficiency – Operations can be run more efficiently if bottlenecks can be anticipated and removed. Additionally, integrating SCM software with current systems enhances efficiency at work by automating repetitive supply chain operations
Enhanced Visibility – Efficient SCM software increases supply chain visibility and aids in collaboration between the company and its suppliers, distributors, retailers, and customers. This encourages better management of the supply chain
Risk Mitigation – The supply chain is susceptible to environmental, external macroeconomic, political, regulatory, and technical variables interruption. One significant advantage of SCM software is that it assists firms in identifying and mitigating these risks proactively
Save Costs – The SCM software enables companies to reduce costs by better managing inventory, reducing waste, and tracking payments. Bottom-line results are positively affected by cost savings
Increased Agility – The SCM software's increased supply chain visibility enables the company to respond to interruptions more rapidly and keep providing client service
Support Analytics – Real-time data access from SCM software allows for performance monitoring, tracking, and data-based decision-making. Technical solutions like artificial intelligence in supply chain software helps in providing real-time solutions for each supply chain operation
Compliance – Compliance standards are included in SCM software, reducing human error and ensuring compliance with all regulatory requirements
Also Read: A Brief Guide to Making Your Supply Chain Smart
How does Supply Chain Management Software help in Mitigating Supply Chain Risks?
The advantages of supply chain management software solutions include providing a comprehensive solution that aids in better management of supply chain activities. Businesses can automate time-consuming and complex operations using SCM software, freeing up crucial time for scenario planning so they can swiftly predict the effects of "what ifs."
Using SCM techniques, businesses create strategies to address supply constraints, enhance strategic planning, boost agility, and lower risk. The most used strategies include:
1. Leveraging the PPRR Risk Management Model
The PPRR module stands for prevention, preparedness, response, and recovery. The PPRR module is a part of procurement management software that is implemented all around the world by businesses.
Prevention: Mitigate supply chain risks by taking precautions
Preparedness: Prepare an emergency plan and implement it
Response: React to the disruptive event according to your contingency plan
Recovery: Restore operations to normal capacity as soon as possible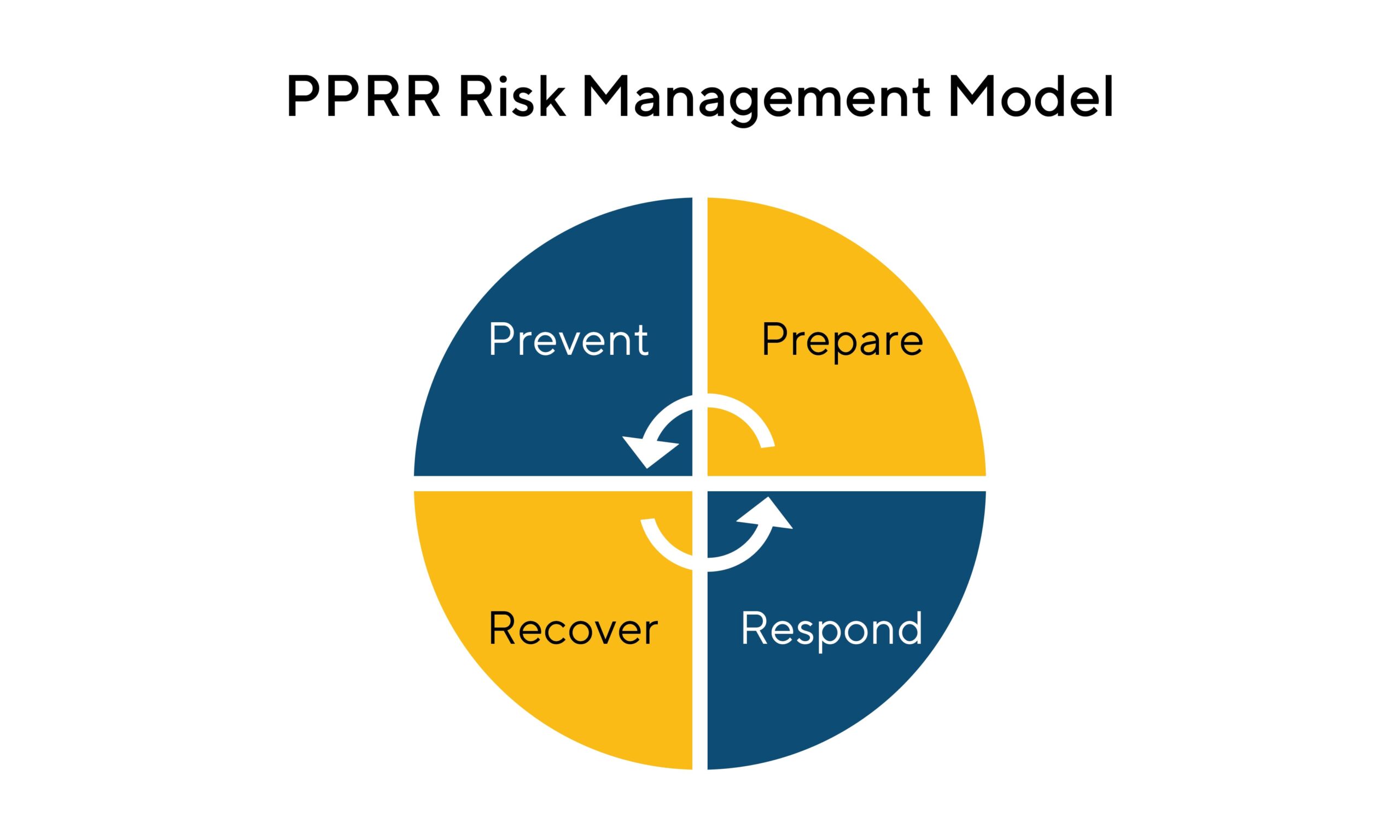 2. Manage Environmental Risk
This is crucial more than ever because the COVID-19 outbreak exposed vulnerabilities in the world's manufacturing and retail supply chain networks. Businesses struggled to handle and send shipments on schedule due to the drastically reduced workforce, and it was unclear whether any deliveries would need to go through quarantine before being delivered.
As a result, some companies decided to switch from a single-sourcing model to a multi-sourcing one, giving them a backup supply in case their primary supplier was unavailable.
By providing more insight into the layout of the supply chain, supply chain risk management software enables businesses to approach risk management proactively. Businesses will be able to locate weak places in the supply chain and get data-driven insights on how to make them stronger with the help of such a solution.
3. Improve Cyber Supply Chain Risk Management
In addition to enhancing supply chain operations, the Internet of Things and other digital technologies also expose companies to cybersecurity risks, including malware, ransomware, phishing, and hacking. Threats from the environment may make these vulnerabilities even more vulnerable. Supply chain management software providers help a business establish compliance standards for manufacturers, vendors, and distributors. Efficient SCM software defines user roles and helps implement strict security control to battle security risks, backup controls, and protects databases.
4. Track Freight Carrier Metrics
Supply chain management software can be a powerful tool for tracking freight carrier metrics. This type of software allows companies to collect data from carriers and measure various performance aspects, such as transit times, in-transit accuracy, delivery reliability, and more. With this information, businesses can identify areas for improvement in their logistics processes that may improve efficiency and reduce costs.
Additionally, utilizing supply chain management software ensures visibility along the entire supply chain by providing immediate access to valuable insights—allowing for real-time decision-making capabilities. Utilizing this type of software is essential for any business looking to optimize its freight logistics operations.
5. Regular Risk Monitoring
Supply chain management software is essential to modern businesses seeking to streamline their operations and optimize the flow of goods. One of the most important advantages of smartly developed solutions using Agile and DevOps is regular risk monitoring. Supply chain solutions actively monitor trends and developments in the macroeconomic environment and their impact on internal operations. They keep track of supply disruptions based on material availability, production capacity changes, financial liquidity pressures, and miscalculations or imbalances in inventory levels.
Additionally, by regularly assessing risks associated with product quality, customer service delays, incorrect pricing data, and other areas integral to crafting a competitive strategy, machines can make well-informed decisions much more quickly than human analysts ever could. As such, supply chain management software can provide valuable insights that lead organizations toward greater success and stability.
6. Consolidate Data
Supply chain management software allows organizations to consolidate data across their entire supply chain easily. This gives them more visibility into the status of any shipment, resulting in greater efficiency and improved customer service. By consolidating data, the software can also help businesses identify potential problems and act on them quickly before they become costly issues. From better analytics to a more efficient distribution network, Supply chain management software provides companies with the tools they need to make their operations run smoother and ensure the timely delivery of goods.
Summing Up
Every modernized supply chain management process has access to a massive data repository that can provide insights into global supply networks. With an efficient management pipeline, businesses can automate warehouse operations, proactively manage inventory, enhance delivery times, and optimize critical sourcing connections.
With a combination of technologies, such as artificial intelligence, machine learning, and predictive analytics, start creating new customer experiences that raise customer happiness and increase sales.
Binmile offers you a one-stop solution for quantifying risks, creating networks, and achieving business goals. One of the leading supply chain management software companies, Binmile helps you manage risk, make informed decisions, and operate lean and resilient supply chains.
Start building a robust supply chain model with Binmile's supplier management software today!