Supply chain management (SCM) is a key growth driver for businesses in today's highly connected global economy. For example, it helps companies manage a trouble-free delivery of a final product to the consumer or facilitate the continuous flow of goods between businesses and consumers.
Is SCM same as logistics?
Equating supply chain management with logistics does not define the comprehensiveness of SCM, as logistics defines just one component of today's digitally-based SCM systems encompassing tasks, such as –

Taking care of material and software for all parties involved in the product or service build
Order fulfillment
Information tracking, like manufacturers, suppliers, transportation & logistics providers, retailers, or wholesalers
Supply chain planning, like inventory planning and maintenance of production lines)
Statistic And Market Dynamics Of Supply Chain
Reportedly, the value of the global market size of SCM was estimated at around $ 21,129.2 million in 2022 and is projected to expand at a CAGR of 11.1% between the forecast periods of 2023 to 2030.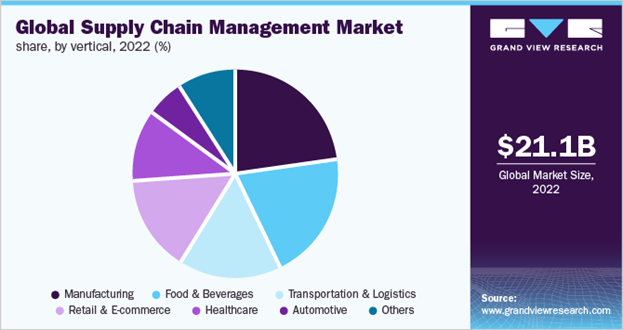 Efficient SCM processes ensure providing goods on time and in the right quantities.
Therefore, the role of ERP (Enterprise Resource Planning) in SCM is crucial to help enterprises get real-time, data-based insights into every aspect of processes from a dedicated dashboard, along with bringing automated efficiency to their business.
The Role of ERP And How It Benefits Supply Chain Management
Here is an overview of how an ERP plays an instrumental role in an effective supply chain ecosystem consisting of manufacturers, suppliers, distributors, retailers, and consumers. The software benefits enterprises in many ways, helping them manage physical aspects, such as storage and transportation, and the market aspect of catering to demand and supply to meet consumer expectations.
1. Demand and Planning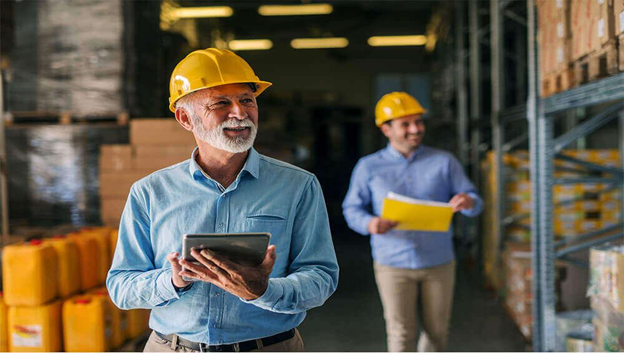 ERP creates an effective job scheduling providing real-time insights to supervisors about what resources are consumed and those which are used. As a result, the supervisors can plan and schedule delivery dates.
Also, the software facilitates automatic supply and demand predictions based on historic and real-time data. This, in turn, helps enterprises to understand and respond to constantly evolving supply chains.
2. Procurement And Production
ERP allows procurement in custom manufacturing scenarios, in which there is no requirement for a constant supply of materials for production, and ordering is complicated due to longer load times.
Companies using ERP supply chain management software can cost-effectively manage the procurement and supply of goods, services, and other resources across the supply chain.
It involves taking care of manufacturing and warehouse resources to handling transportation and execution processes. Moreover, the software takes care of manual tasks, including communication with vendors and suppliers, and automated tracking of communications.
ERP can store all production data, including purchase orders, requisitions, and material replenishment, to help businesses execute a production schedule effectively.
3. Sourcing Materials And Delivery
Using ERP with Material Requirements Planning (MRP) capabilities in SCM means you can synchronize demand with the materials needed to produce and store all vendor data in one system accessible easily.
Moreover, an ERP system with Distribution Requirements Planning (DRP) capabilities helps businesses track shipments, display the number of items shipped, and link support and shipping to quickly schedule delivery timelines.
It could mean helping SCM maintain relationships with shipping carriers who can provide an estimated delivery to meet the scheduled delivery timelines.
4. Better Customer Service and Data Security
ERP systems come equipped with capabilities allowing users to maintain a consistent flow of goods and expected service levels. This results in serving the end customers better and building customer satisfaction.
With a holistic real-time overview of end-to-end operations, the software allows enterprises to detect potential areas for problems and make adjustments accordingly to improve the quality standard of services, and operational visibility for businesses to maintain delivery schedules based on data.
Implementing ERP in supply chain management could mean building a broad customer base and strong relationships by solving the issues of customers and service partners.
Also, ERP software features robust data security that enterprises can use to maintain unbreachable security of sensitive and confidential data by implementing various security protocols, including limiting access to the management data to authorized users only.
5. Shipment And Finance
An ERP software maintains a central repository of customer shipments and delivery information to help companies maintain on-time delivery of inventory as scheduled.
Besides, the software's functionalities also enable businesses to ideate about packaging methods and set criteria to check the quality of both internal and external packages.
In addition, ERP software helps SCM with financial management by managing real-time credit limits and timelines for all customers.
Based on ERP-generated data, companies can find data regarding harmful debits or frauds.
Competitive Benefits Of ERP In Supply Chain Management
1. Efficient Demand Prediction
An ERP in SCM brings about improved accuracy of demand predictions, ensuring a reduction in the cost of inventory in case of the large-batch production process.
2. Improved Reductions in Production Bottlenecks
An ERP designed for SCM helps companies reduce bottlenecks between internal processes and external suppliers. The cutting-edge solution ensures adequate procurement and supply of the goods, services, and other resources required across the supply chain.
3. Enables Informed Decision Making
Real-time consolidated data of the supply chain facilitated by an ERP helps business executives make more informed decisions to ensure improved customer satisfaction and profitable business growth.
4. Enables Inventory Optimization
An ERP system featuring inventory management capabilities can help companies maintain adequate inventory levels and rule out the possibility of stockouts when the inventory demands soar higher during peak hours. The software also comes in handy to reduce the chance of encountering uncertainty leading to costly excess inventory.
5. Performance Monitoring of Suppliers
An ERP system is productive for organizations in helping them monitor vendor performance. Since the software records all the information about suppliers and ensures real-time collaboration with them, companies can make an informed decision about the suppliers, ensuring they perform as expected.
6. Customization Conforming to Business Needs
An organization can rely on ERP software to meet its business needs by utilizing software customization, like a host of applications that can be used and implemented as and when needed. It could help companies solve their operational problems and make effective decisions.
How To Select The Right ERP Supply Chain Management Software
As self-explanatory as it seems, choosing the best ERP supply chain management software should be based on the core requirements of your business.
Therefore, choosing the one that can intuitively serve your business needs, like effective inventory management, and financials by offering custom-tailored custom software solutions could be substantially helpful.
With business constantly changing and evolving, it makes sense to choose an ERP system that can be trusted with your changing and evolving business needs. Choose the ERP supply chain software solution that can be scaled and modified according to your needs over time.
In addition, check if the software integrates seamlessly with all the applications in your organization, to streamline business processes and information flow from finance and HR to sales and entire supply chain management.
Lastly, mind the cost of choosing, customizing, and implementing an ERP system in your SCM.
The costs vary depending on numerous factors, including the size of the business, the complexity of processes, and the software you tend to choose. However, it is crucial to consider the right ERP for your business needs.
Final Words
The role and benefits of an ERP system in supply chain management (SCM) are tremendous, helping enterprises to maintain entire supply chain lifecycles effectively.
Real-time data provided by the software helps companies with improved insights into understanding every aspect of their supply chain, from procurement, production, and scheduled delivery to improved customer satisfaction.
However, to manage your supply chain effectively, you need an effective and intuitively designed ERP that can intuitively serve your business needs in terms of automating the delivery of the final product to the consumer or handling the continuous flow of goods between vendors and consumers.
Therefore, we advise you to hire a trusted custom software development company specializing in developing robust and intelligent ERP software solutions to help you make improved decisions in business and grow significantly in your niche.