Inventory management is a complex balancing act for businesses. An excess of inventory may cause increased storage costs or waste of resources, while a shortage can lead to missing out on sales opportunities and dissatisfied customers. But thanks to the advent of the evolving digital landscape, businesses are now moving away from the traditional methods. Manual systems were not just time-consuming, and costly but also were prone to human errors. However, AI in inventory management has reshaped the way warehouses or logistics maintain their inventory. The transformative power of AI has helped them optimize their inventory levels and improve their operational efficiency.
The integration of Artificial Intelligence into the inventory system comes with machine learning and automation. This helps businesses to optimize stock levels, anticipate consumer demand, and detect potential stock issues before they occur. But it doesn't stop here. AI not only automates mundane tasks, but it also provides valuable insights via predictive analytics, enabling businesses to make informed, strategic decisions. So, what exactly are the ways AI shapes the industry? What is its impact on the efficiency and accuracy of the inventory systems? Let's understand through this blog and also discuss some of the challenges of using AI in inventory management.
Ready? Let's dive in!
AI in Inventory Management: 5 Ways AI Can Enhance Inventory Management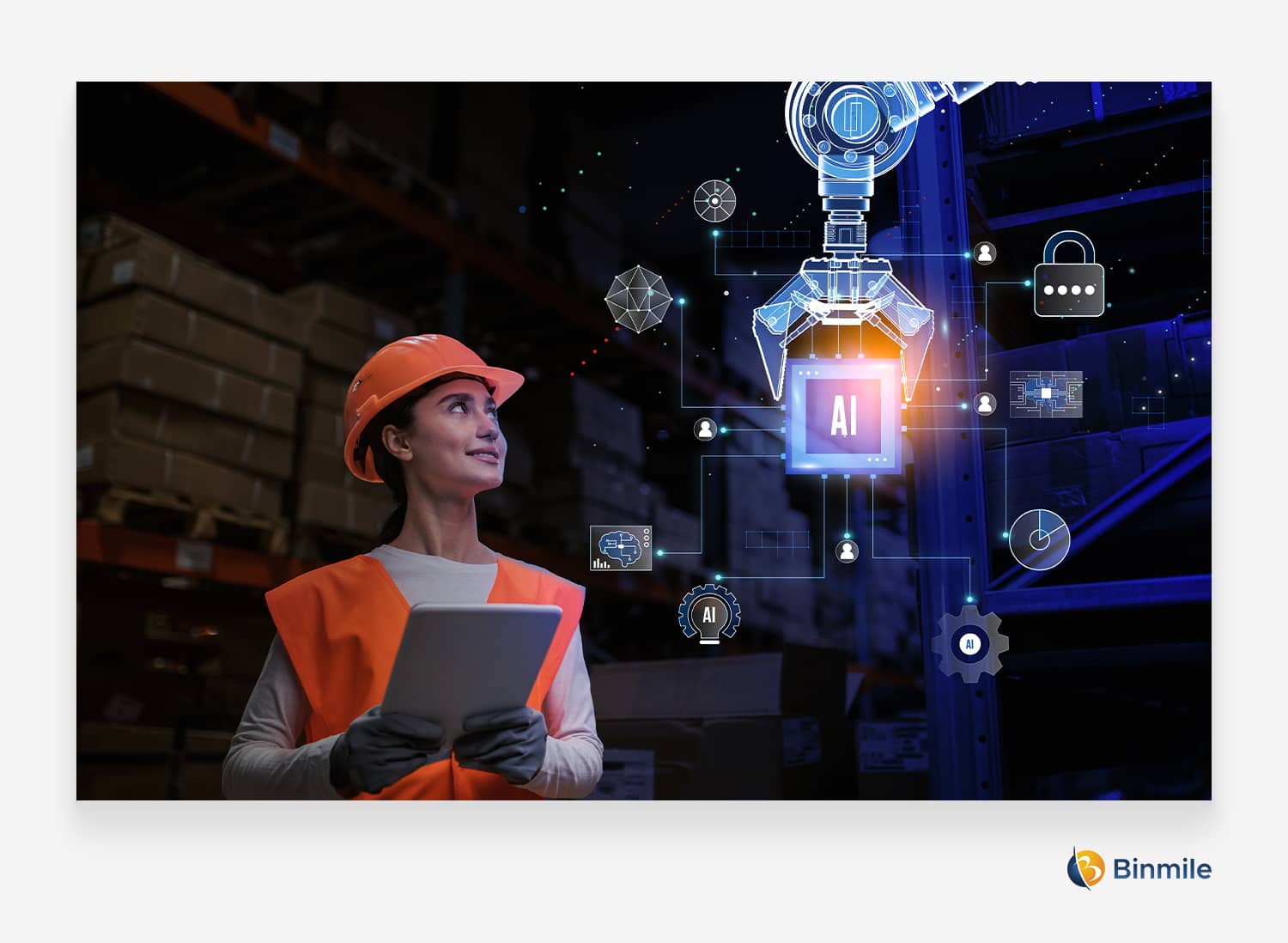 Let's take a look at some of the key ways AI in inventory management is boosting inventory management systems, and practices and increasing operational efficiency:
1. Optimized Demand Forecasting
Using AI in inventory management allows businesses to leverage a lot of data sources, such as past sales data, market trends, and other factors like the economy, to estimate what will be the demand for a particular product in the future. This helps businesses plan their inventory without a situation of too much or too little stock. This way, they can avoid wasting money or losing customers. Therefore, AI helps businesses match their inventory with customer demand more accurately than ever before.
2. Real-time Monitoring
Artificial Intelligence also uses other advanced technologies such as the Internet of Things (IoT) to help businesses monitor their inventory in real time. By leveraging sensors and other IoT devices, the inventory team can trace how their inventory is moving and its condition. Doing so helps them deal with any problems such as theft, damage, or mismatch and they can fix the problems quickly. Thus, reducing losses, protecting their products, and keeping their supply chain in good shape.
3. Smart Replenishment
Scenarios such as out-of-stock, overstock, and inefficiencies in your supply chain can weigh down your inventory management process. However, with the help of AI, especially ML, you can look at how much stock is used and how long it takes to order more. Since AI-powered systems automatically decide when and how much to order for each item, it saves time and effort from manual checks. Moreover, it ensures that stock levels are timely updated when needed, resulting in cost savings, improved operational efficiency, and enhanced business decision-making capabilities. Thus, with AI in inventory management, it becomes a much easier, simpler, and more effective inventory management process for businesses.
4. Dynamic Pricing Strategies
With AI in Logistics Software Development Services, pricing strategy is no longer dependent only on how much stock there is. Now, businesses can determine the best price point at any given time by using a range of advanced analytics. AI helps businesses set prices that change based on different factors such as customer demand, competitor pricing, and even individual customer behavior. By setting the best prices, businesses can make more profit and stay competitive in the market. This kind of pricing flexibility wouldn't be possible without AI's ability to process and react to a lot of data quickly and correctly.
5. Predictive Maintenance
AI uses data from sensors and equipment monitoring to predict when machines used in storing and delivering inventory might break down. These advanced capabilities allow businesses to detect potential breakdowns that might happen. Thereby, they can schedule maintenance or repairs ahead of time. This avoids costly downtime and the extra expenses associated with emergency repairs. Using AI in inventory management gives businesses not only more efficiency but also a big competitive edge. It helps them serve customer demands better while lowering costs and reducing risks.
4 Benefits of Using AI in Inventory Management
Predictive Analytics and Machine Learning: Both technologies have shown the potential to enhance several aspects of supply chain management. These technologies enable more efficient supply network planning thanks to their ability to sift through vast amounts of data, identify patterns, and conduct in-depth analyses of inventory levels to predict future demand.
Smart Warehouses: Certain tasks such as monitoring the product's ins and outs, expiration, or quality of the product can be carried out by automation and software. This not only means operations become more efficient but also reduces human error. With the help of IoT devices, businesses are making warehouses smarter. Thus, helping them to reduce risk and prevent accidents via smart sensors that can monitor hazards such as high temperatures or alert employees to the presence of hazardous gasses and substances.
Chatbots: These AI-powered chatbots can monitor stocks, track them, provide insights to the business, collect data, forecast demand, and reduce manual effort in the warehouses. Doing so helps businesses plan their stocking process and ensure that the goods are not overstocked or understocked. Further, AI chatbots can also enhance customer's buying experience. For example, Chatbots can strike up conversations with customers and inform them regarding the availability of the goods. In addition, they can also classify and categorize the products, thus helping in delivering relevant search results, product suggestions, product description, and their delivery.
Autonomous Vehicles: When businesses utilize AI in inventory management, another important benefit is getting real-time inventory visibility which turns commodity drones into autonomous data-gathering machines. Meaning, AI software development services can enable drones to fly autonomously through warehouses to photograph inventory stored in pallet locations. Then, they can also read bar codes, text, and other information in the images and automatically compare it with what's in the warehouse management system.
AI in Inventory Management: Future Opportunities & Challenges
There's no doubt the way AI in inventory management has revolutionized and optimized the entire process. However, it also poses some challenges. For example, AI depends a lot on data. Therefore, data quality and availability must be sensibly collected, integrated, cleaned, governed, and secured. Additionally, businesses need to find the best model or algorithm for their inventory problem, not all of their inventory management problems can be reduced by one model.
They need to evaluate different options based on how accurate, robust, scalable, and interpretable the models can be for their operations. Moreover, businesses need to ensure that all the technical, organizational, and cultural changes are well planned, aligned, and executed keeping in mind their existing inventory systems, processes, and future goals.
Wrapping Up
We have seen how the integration of AI in inventory management has started a new era of efficiency and optimization for businesses. Now businesses can improve operational efficiency, and stock management and enhance customer support with chatbots. Thus leading to increased profitability, customer satisfaction, and overall business success. However, AI is not a be-all-end-all solution, but the technology does provide powerful insight that can help your inventory team better manage the day-to-day tasks, and uncover upcoming trends in high volumes of data.
Therefore, businesses that look forward to bringing Artificial Intelligence into their business operation or inventory must need capabilities that can balance fulfillment costs against services. Thus, seek the assistance of a software engineering company that offers you AI-powered solutions to enhance ROI, improve customer experience, and increase repeat purchase behavior.