Technology asset investment is not about "what should you invest in technology?" It's more about how to get the most out of technology budgets. However, it's hard to optimize the budget and identify the correct ways to make investments. But with IT asset management in implementation, you know which hardware or software is used across your company, about the users, and the assets life cycles. You need the right strategy, tools, and methods to invest the right amount necessary to deliver the value required by the business, simultaneously looking for low-risk opportunities to fund innovation initiatives. Tools like ServiceNow ITAM allow your team to automate the end-to-end lifecycle for software licenses, hardware assets, and cloud resources.
Utilizing ServiceNow Asset Management Services helps you know your assets, and makes it easier to make corporate decisions affecting the financial environment of the business. So when you can easily account for the assets that are bought and put to use, it serves a lot of benefits. The primary of them is cost-effectiveness and low resource wastage. In this blog, we will discuss how ServiceNow IATM can help you in optimizing financial and resource investments in technology. In addition, we will also share a few best practices to gain maximum results out of ServiceNow ITAM.
How to Maximize Your Technology Investment With ServiceNow ITAM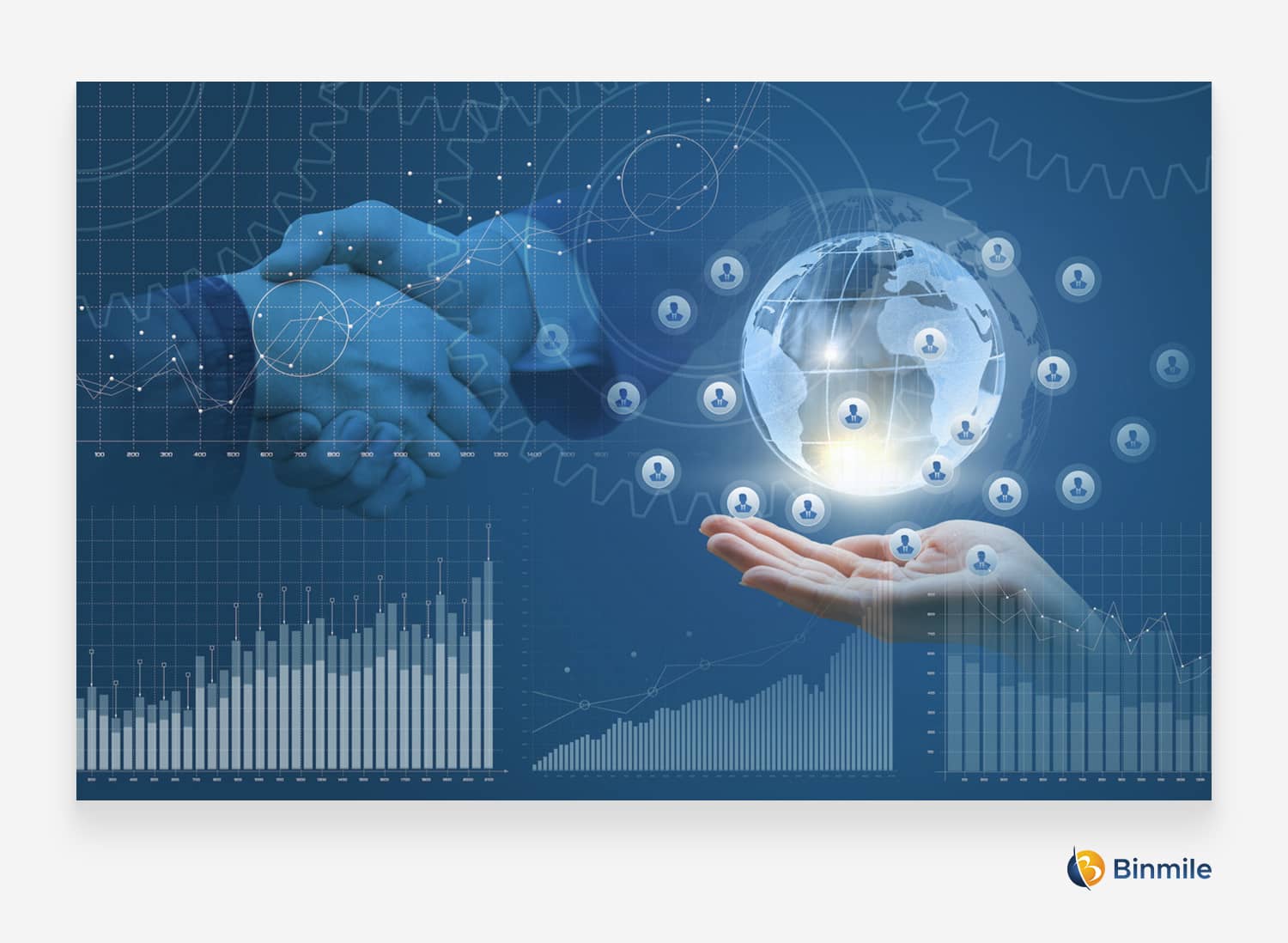 ServiceNow ITAM or IT Asset Management solution is a cloud-based asset management software that automates the entire life cycle of all software, hardware, and cloud assets on a single platform. The primary task of this software is to manage the lifecycle of assets including software, hardware, or cloud-based assets. Moreover, it also simplifies their tracking, and management, thus improving asset visibility, and ensuring operational continuity.
Let's now understand how to effectively utilize IT asset investment with ServiceNow ITAM solutions. No matter, whether you're looking to rightsize existing technology or find a new solution, there are a few key steps you should take to get the most out of your investments.
1. Centralized Tracking of the ITAM Process Cycle
To get the maximum out of your IT asset investment, it's essential to evaluate the IT asset management process. ServiceNow IT Asset Management (ITAM) automates the entire IT lifecycle on a single platform- single-source configuration management database (CMDB). By tracking the ITAM process cycle, you can identify areas that need improvement and take corrective action. With CMDB you can also get:
Accurate tracking of hardware, software, cloud resources, and apps from request to disposal as well as minimizing lost, stolen, and ghost assets
Simplified software asset tracking and hardware asset management, and optimizes cloud resources.
To plan technology refresh cycles for warranty and end-of-life periods as well as rationalize legacy applications to reduce technology debt
2. Understand Each Asset's Condition
Businesses must set some metrics to know how the assets are performing. Doing so enables you to identify which assets need attention such as update, repair, or replacement, and which ones are performing well. Therefore, empowering you to make informed decisions about when to replace or upgrade assets. Additionally, it will also help you to:
Get reliable insights to harvest and reallocate under-used or unmanaged software, hardware, and cloud services
Track spending to manage less expensive cloud resources with reserved instances
Collect data easily to avoid unbudgeted costs from compliance audits and policy obligations Examine business unit spending to identify and control shadow IT
Plan strategically for, and strengthen negotiating position in, future purchases, refreshes, and renewals of technology resources
3. Enable Asset Location Tracking
It's imperative to keep track of the locations of your assets. Knowing who is and where your asset is being used is crucial for efficient management. With the help of ServiceNow ITAM, you can get precise location tracking capabilities that help you keep track of your assets to quickly locate them when needed and ensure that they are being used efficiently. Moreover, with asset location tracking you get to:
An overview of assets will help you obtain a precise evaluation regarding future purchases.
Improves Efficiency, Productivity, and Accuracy.
Gain the capability to be responsive to customers, so with improved asset tracking comes exceptional service
4. Use Automated Systems to Track Assets
Automated systems can help you track your assets more efficiently and accurately. ServiceNow ITAM provides automated tracking capabilities that can help you keep track of your assets. By using automated systems to track assets, you can reduce the risk of errors and ensure that your data is up-to-date. Automation also simplifies other critical functions such as:
It can align your app portfolio, manage refresh cycles, and rationalize legacy apps.
Deliver software intel to quickly respond to vulnerabilities, expose potential regulatory risks, and remove restricted installs
Onboarding and offboarding remote employees faster with the proper software and hardware allocations
5. Implement an ITAM Team
Managing so many assets or keeping track of them by your in-house IT team could shift their focus from your core business activities. Thus, it's practical to have a dedicated team for IT asset management. They ensure that all aspects of IT asset management are being addressed and that your assets are being used to their full potential. When you outsource your ITAM services, benefits include:
IT asset management services provider comes with specialized expertise, and best practices to deliver better outcomes that you are likely to achieve on their own
Make sure your assets are being managed efficiently and effectively, while you focus on your core business activities.
Take advantage of the most latest and emerging trends and technologies without continually reinvesting in updates and implementations.
Best Practices for Using ServiceNow ITAM
Undoubtedly, effective IT asset management is crucial for any organization. Here are 4 best practices that will help you achieve optimal results out of ServiceNow ITAM solutions: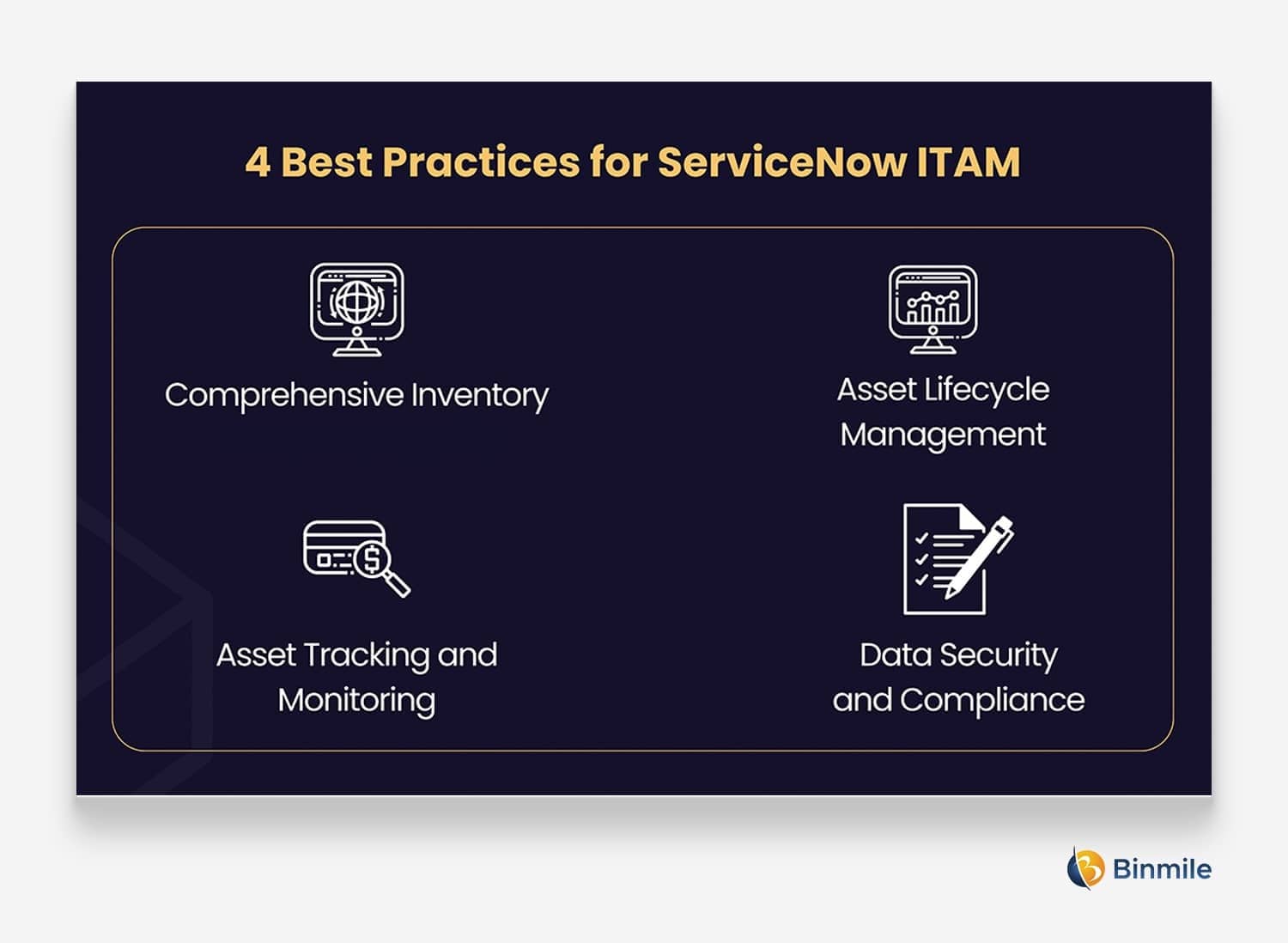 Comprehensive Inventory

Create a detailed inventory of all your IT assets. This helps ServiceNow to automatically scan and identify hardware and software assets across your network. Doing so also helps in keeping track of what you have, and which IT asset needs repairing or purchasing, ensuring you don't miss anything crucial.
Asset Lifecycle Management

With the help of technology asset management, you can monitor the entire lifecycle of your IT assets. This includes procurement, deployment, maintenance, and retirement. When you have the required data about the assets, you can plan for upgrades or replacements more efficiently.

Asset Tracking and Monitoring

Regular monitoring ensures that your assets are always in optimal condition. With ServiceNow, implement a system that tracks and monitors the status and performance of your IT assets in real-time. This is to help you identify and address issues instantly. These concerns can be hardware failures or software vulnerabilities.

Data Security and Compliance

Utilize ServiceNow IT asset management services to ensure data security and compliance. This includes tracking software licenses, managing access permissions, and monitoring for potential security breaches. In addition, compliance with industry regulations and data protection laws is essential to avoid legal and financial risks.
ServiceNow ITAM: Maximize ROI, Minimize Costs
Investing in technology assets is a strategic decision that yields significant results. It helps you achieve your goals and stay ahead of the competition. After all, efficient asset management stands as a linchpin for the success of every IT organization. However, without proper management and optimization, you may end up wasting more than just the money. It could lead to you wasting your time, efforts, and resources on assets that are underutilized, outdated or redundant. That's why there's a need for ITAM software such as ServiceNow ITAM. In this blog, we understood the significant way ServiceNow ITAM comes out as a transformative solution, reshaping how organizations oversee, track, and optimize their valuable assets.
Hopefully, the tips shared in the blog will guide you to gain visibility, control, and automation over your entire technology asset lifecycle. In addition, the best practices to utilize ServiceNow IT asset management services enable you to maximize the value of your technology assets and drive better business outcomes.