As today's contemporary businesses try their best to adopt a data-driven approach, they rely on business intelligence (BI) to derive actionable insights from the massive volume of data they collect in the form of EHRs (patient electronic health records), administrative data, surveys, feedback, clinical trial data, and so on.
The approach is based on utilizing mountainous data volumes generated in the healthcare sector so that organizations, including those in the healthcare industry, can make their internal and external business processes more optimized, and make informed decisions at the right time.
The use of business intelligence in the healthcare industry is all about improving the performance and quality of patient care, as it facilitates deep analysis of massively generated data and logical facts, enabling experts to make impactful actions.
It understandably signals the undeniable relevancy of healthcare business intelligence software in helping healthcare organizations become more optimized, proactive, and ahead of the curve.
Business Intelligence Software Market Analysis
The value of the global market size of BI software was USD 24.9 billion in 2018 and is projected to grow more between 2019 to 2025, at a CAGR of 10.1%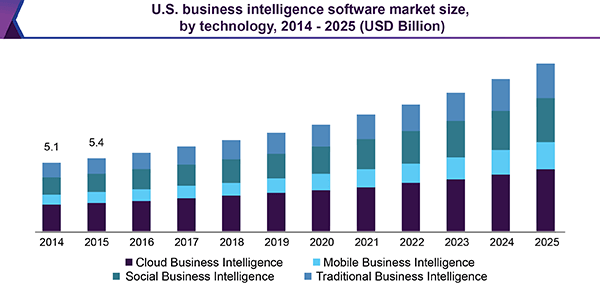 According to Fortune Business Insights, 2019, the market size of business intelligence is anticipated to reach $39.35 billion by 2027. Based on the report by FinancesOnline, the BI market is on its growth trajectory for $17.6 billion by 2024.
The healthcare industry constitutes 30% of the world's data volume generated. The compound annual growth rate for health data, by 2025, will be 36%. – RBC Capital Markets
Features of Healthcare Business Intelligence Software
1. Data Integrations
BI software helps businesses access the full value of their data in one place. Integrating your healthcare BI tools with current EHR (electronic health record) and EMR (electronic health record) systems, accounting tools, etc. would help you with a compact view of your organization and its operations.
2. Data Security
As self-explanatory as it seems, protecting sensitive and confidential health data and patient records is indispensable, which essentially requires unbreachable security measures and data governance in place. Healthcare BI software offers improved security as well as the quality of private data consistent with regulatory compliance bodies, like HIPPA.
3. Alert Notifications
BI tools for healthcare use machine learning algorithms to detect anomalies in certain metrics and send notifications accordingly to the users. For instance, it alerts healthcare professionals when a patient changes his medications.
4. Enables Better Decision-Making
Medical data displayed by BI tools are represented in easy-to-understand graphs and charts in an interactive dashboard. The healthcare professional uses the dashboard to chart out an appropriate treatment plan for the patient, leading to better decision-making based on the data insights facilitated by the BI software.
Also Read: Enhancing ways of Business Intelligence Reporting with Power BI Service 
Use Cases for Implementing BI Tools in a Healthcare Setting
Business intelligence software in healthcare settings ensures saving time and more patient throughput, which essentially allows clinicians rid of manual treatment planning for the patients.
With real-time analysis of massive data related to hospital infection rates, resource shortage, readmissions, etc. BI software allows healthcare professionals to proactively handle resource management.
BI software in healthcare settings alerts healthcare providers about the essential services that patients need. As a result, it ensures improved patient safety and reduced repeat visitations, as well as handles things, including guidance concerning pharmaceutical dosing.
The business intelligence healthcare software allows improved communication flow between patients and clinicians by tracking and identifying people who need follow-up appointments. It also reduces delayed diagnosis.
BI software with supply chain management capabilities enables healthcare organizations with procurement, sourcing, supply chain management, and value analysis.
Benefits of Business Intelligence Software in Healthcare
Though BI software in a healthcare setting serves purposes, like delivering better patient care, and a reduction in preventable fatalities, here is an outline of other benefits that BI tools in a healthcare setting deliver.
1. Improves Business Bottom Line
Aside from the fact that implementing healthcare BI software is to transform the way an organization provides patient care and optimizes its internal processes through data-based insights, the ultimate result of such implementation is always improving the bottom line of the organization.
Meaning, healthcare providers are always in pursuit to find ways to reduce healthcare costs. Applying Big Data and business intelligence define as an intelligent approach to meet that goal, say around $300 and $450 billion annually in the US alone, as per a McKinsey Global Institute study.
BI software helps the healthcare industry to save money in various ways, like helping it identify financial patterns with data-based assistance leading to improved decision-making.
Moreover, the software helps identify historical spending patterns through reporting, and with predictive analytics, it helps an organization to expect both costs and profit margins. It also gives the insights into services that are most profitable and the ones which are underused.
Organizations using BI software can also make key changes regarding those products or services that they initially didn't market well to make the most of them as possible.
2. Better Patient Care
One of the biggest advantages of implementing business intelligence software integrated with EHR is gaining timely access to patient data. As a result, clinicians get a holistic view of patient history and prognosis.
When these data are integrated with the ongoing treatment plan of the patient, it paves the path for better patient care in the fastest way possible.
Healthcare BI software also enables caregivers to bring health awareness to their patients, in terms of encouraging them to manage their own health and well-being through healthcare management services, including test results, appointment booking, and billing information.
Most importantly, BI software enables healthcare professionals to make important decisions in patient care and improve patient outcomes.
3. Enables Data Access in a Centralized Platform
Healthcare BI software makes it easy for reducing the excess time and resources required for leveraging data. Meaning, the software is able to keep all the data centralized in a single dedicated platform, thus offering a comprehensive view of an organization's operations as a whole.
With BI tools in place, users can access their data in one place, without having to switch platforms or import data manually.
Another crucial upside of business intelligence healthcare tools is that they can integrate data associated with medical research and pharmaceutical to amplify the relevancy and informativeness of the data stored in your system.
This further enables create new ideas and lines of thought or data-based insights to make informed, critical decisions as and when needed.
4. Provides Operational Excellence with Actionable Insights
Medical data stored in HER can potentially impact a healthcare organization, something proved by the study from Duke University. It observed that predictive models using clinic-level data can point out the risk of patient appointment no-shows.
Actionable insights facilitated by Big Data analytics lead to an improvement in patient utilization rates that enables organizations to manage the flow of patients and resources. Moreover, BI tools in healthcare settings can detect operational loopholes, ensuring data is updated across all systems.
These tools enable organizations to enact changes according to the trends as revealed through the actionable insights they provide, along with automating and standardizing processes and reporting through easy-to-understand dashboards.
5. Enables Personalized Treatment Plans
The ability of business intelligence software to consolidate all data in one place enables healthcare practitioners to get a holistic overview of a patient's medical case.
Using predictive analytics in this manner also enables clinicians to proactively prioritize treatment plans to ensure the well-being of patients in their healthcare journey.
Medical data indicating the worsening health situation of the patient would prompt immediate clinical assessment or necessary treatment measures to save the patient's life.
6. Reduces Operational Costs
One of the best benefits that implementing business intelligence software in a healthcare setting ensures is reducing operational costs by enabling healthcare organizations to intelligently manage their core concerns associated with resource and supply chains.
BI tools help organizations come up with an intelligent idea of resource deployment where it is needed the most.
Moreover, a significant improvement is also noticed, in terms of more accurate diagnosis and proactive interaction between a clinic and a patient, to cut unwanted hospital visitations, and free up resources.
Wrapping up
No doubt healthcare organizations can experience many benefits by implementing business intelligence healthcare software.
From improving their business bottom line and patient care and reducing operational costs and unwanted hospital admissions, the benefits provided by BI tools along with actional insights are poised to transmogrify the healthcare industry profitably, with improved patient treatment experience.
Apart from how these software tools enable organizations to intelligently allocate resource where it is needed, and manage administrative activities and financial operations, they also ensure prompt medical assistance to patients in critical health condition, thereby improving patient care to a greater degree.
Looking for intuitive healthcare BI software for your organization?
Binmile is a leader in the field of cutting-edge bespoke software development services, helping organizations around the world with innovative software solutions to stay ahead of the curve in their niche.