According to the Customer Experience Trends Report 2022, 57% of companies plan to scale up their AI investment by nearly 25% over the next year.
In addition, CX (customer experience) experts, such as AWS and SAP market players believe that generative AI technology, in all likelihood, will prove super beneficial for enterprises in improving their customer experience.
The point is, that artificial intelligence plays an instrumental role in helping businesses gather customer experience metrics for data analysis. The significance of AI-driven data is that it helps companies personalize marketing and solve real problems that negatively affect their business trajectory toward customer satisfaction.
Personalization and problem-solving both are key aspects in laying the foundation for customer experience or CX for businesses.
What is AI customer experience? Why should companies focus on it?
When businesses use AI technology to improve their customer experience, the practice is called AI customer experience. It is an AI-driven assistance carried out by machine learning, chatbots, and conversational UX. These technologies contribute their efficiencies to streamline every touchpoint meaningful and seamless.
In this practice, customer support agents use AI-powered virtual assistants that efficiently solve simple queries of customers, whereas the agents get ample time to focus on handling complex tickets.
Ensuring better customer experience is perhaps the most fundamental and prioritized strategy for businesses to stay relevant and thriving in the business market. It helps companies understand their customers better and accordingly plan a marketing strategy to offer a more personalized service experience.
Getting Ready for Better Personalization Using AI-driven Solutions
How to keep up with the increasing level of personalization as expected by customers is one of the most challenging aspects of doing business for companies these days.
According to Pasquale DeMaio, the vice president of AWS Amazon Connect, customers expect 90% or more levels of personalization, and generative artificial intelligence has a significant role to play in this context. For example, apparel brands utilize artificial intelligence and machine learning to build personalized experiences for their customers.
Read More – How to Build an Enterprise AI Solution
About generative AI-assisted personalization, the technology can create lifelike designs based on customer experiences according to how they interact with a brand.
Does Technology Impact the Way Customers Perceive a Brand?
AI Helps Businesses Understand Their Customers Better
Businesses that use artificial intelligence combined with machine learning gather CX metrics for data collection and analysis.
The data of customers analyzed through AI helps companies gain a better understanding of their customers. The ability of AI to learn patterns and improve from the data it surveys enables it to improve the understanding of companies of their customers. As a result, they can use the data insights to predict customer behaviors with close accuracy and personalize their products and services accordingly.
AI Enables Better Decision-Making For Businesses
The significance of making the right decisions lays the foundation for the growth of an enterprise.
So, artificial intelligence comes in handy for companies in helping them make the right business decisions when they matter. The ability of AI to collect and interpret data of customers based on their interaction with a brand helps it deduce the behavioral patterns of customers. It can create an effective marketing strategy aiming to boost customer experience in due course of time.
AI-based data mining and modeling help companies improve their decision-making ability and make accurate predictions.
AI Assists Companies What Can Drive Growth In Their Business
We have this understanding of AI that it is capable of producing accurate predictions on something based on the data it analyzes.
Therefore, in the context of customer experience improvement, using AI is a way of quantifying your chance to be successful in amplifying your customer experience. For this, the technology assists you with accurate analysis of data of customers based on their behavioral patterns. These insights lead to a better understanding of customers and predict their behaviors accurately. As a result, you get to understand what can drive growth in your business based on the data insights provided by artificial intelligence.
How does the technology help your business excel in the market?
AI-powered Chatbots
AI-powered chatbots are software applications designed to facilitate textual or voice interactions between two people.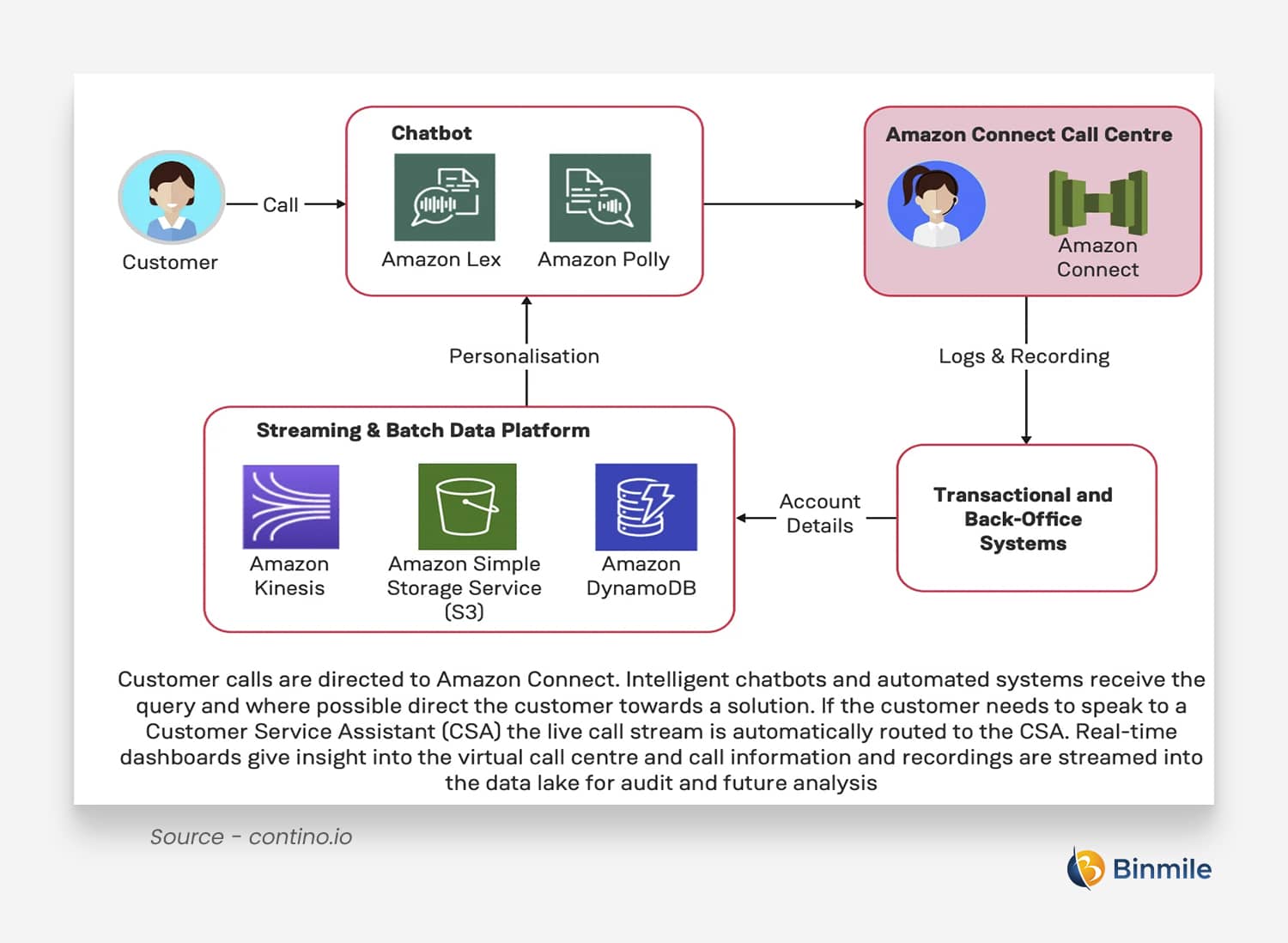 For businesses, these chatbots deliver a seamless experience of interaction with customers by allowing them to find the answers to their queries. Using these AI-powered technologies is reportedly a great way for customers to improve their interaction with a brand and get useful experience.
Amazon's Alexa and Apple's Siri are some of the fine examples of chatbots delivering customer experience with ease and satisfaction.
Predictive Analytics
Predictive analytics are all about utilizing data to make predictions about future trends.
It involves the utilization of historical data to predict potential scenarios, events, or trends leading to strategic decision-making for a business. It uses statistical algorithms combined with internal and external data to predict future trends so that businesses can use the data-based insights for reducing operational costs, optimizing business processes, and improving delivery times.
AI-driven predictive analytics are crucial for logistics and supply chain businesses, enabling them to reduce costs, manage resources efficiently, and bring automated efficiency to their operations.
The use of predictive analysis is based on machine learning models and advanced analytics tools. It delivers powerful solutions to businesses, helping them with benefits, such as –
Prevents churn in the customer base
Allows businesses to optimize their marketing strategies
Yields accurate insights that businesses can use to target their markets
Simplifies maintenance costs based on analyzed maintenance cycle of technical equipment
Helps businesses improve the bottom line to all its operational costs
Voice Recognition
AI-based voice recognition models facilitate analyzing the voice and language of users, learning the words spoken, and delivering text data with transcription accuracy to boost interaction and response to human questions in natural language.
When implemented, AI-powered voice recognition results in seamless conversation in human language, helping businesses serve their customers better. It also expedites processes, enhances productivity, and scales operations. Amazon Alexa is one of the best examples of how companies that integrate AI for voice recognition are bound to drive tremendous growth in their business.
Customer Journey Mapping
A customer journey map is a visually represented journey of customers, from brand discovery to purchase and engagement. It helps a business map out a customer's needs and perceptions or gather insights into whether its services may require improvements based on the engagement customers have had with the business or the brand.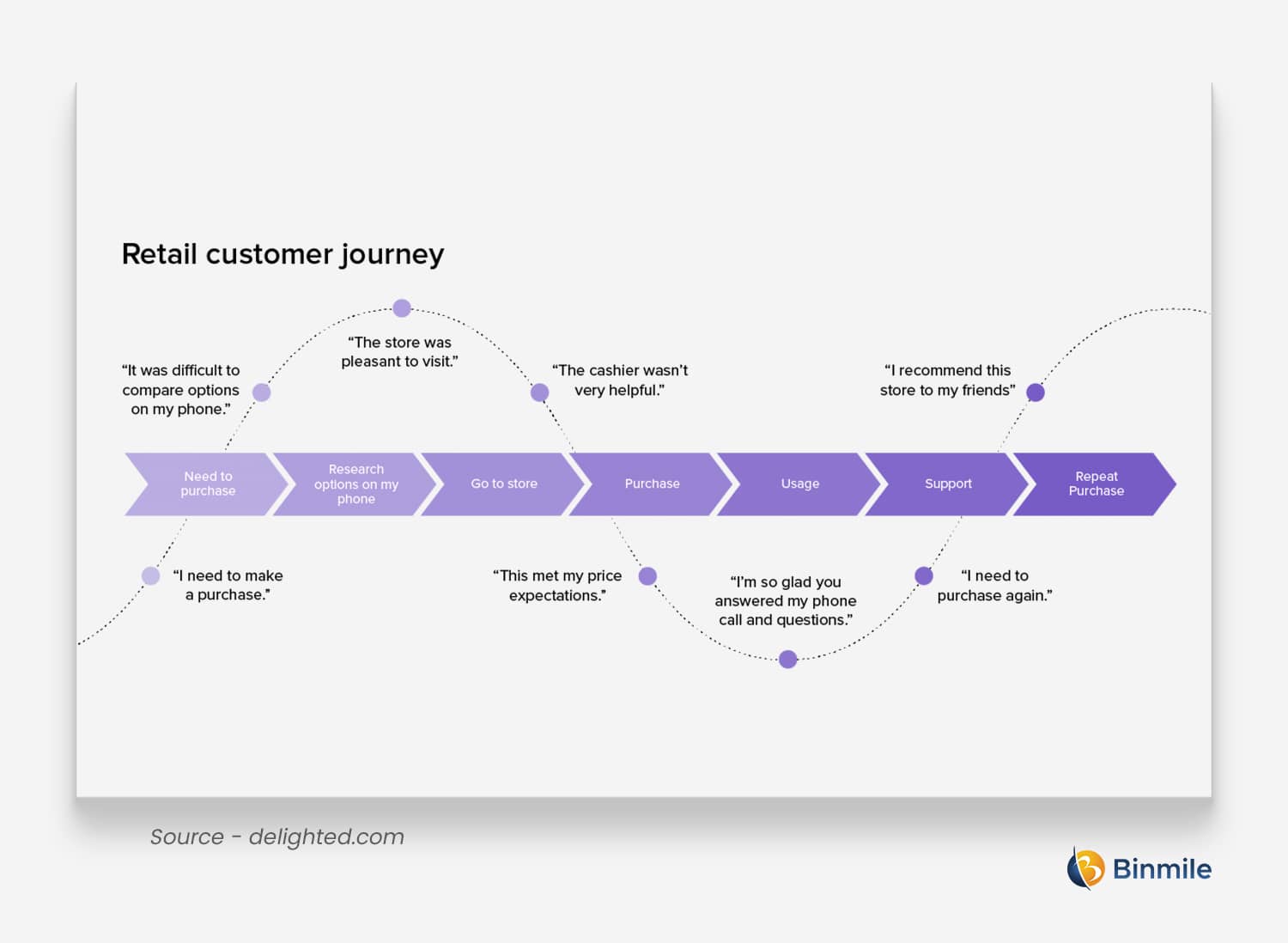 The use of machine learning and artificial intelligence development services will ensure that businesses build a seamless customer experience. For example, the technologies will assist brands in analyzing and prioritizing customer activities that impact them positively.
Sentiment Analysis
Based on specific customer feedback, the technology helps improve business products and services
Sentiment analysis with AI technologies identifies the emotional feelings of customers as expressed in texts.
The emotional undertone analyzed by the technology helps a business understand customers' sentiments
AI-powered sentiment analytics can help companies make better decisions based on how customers feel about the brand's services.
Fraud Detection And Prevention
AI-driven solutions help brands in the early detection of fraud, ensuring it is avoided through preventive measures.
Based on analyzing data patterns, trained AI algorithms can suggest risk rules. Company owners can use this data to block or allow certain users based on their activities.
The use of AI-based machine learning models ensures efficient detection of fraud, faster prediction, and reduced manual review time.
Closing Statements
Artificial intelligence plays a crucial role in helping organizations give a new definition of success to their business. It comes in the form of an enhanced customer experience. If AI-powered customer experience strategies are implemented wisely, they are bound to yield transformative business growth for any company.
Meanwhile, companies can also consider hiring a software development company, such as the one called Binmile.
Binmile has been a name inspiring trust for client companies to whom it has served with distinction. You can read case studies testifying the the company's excellence and brilliance in building futuristic software solutions.
IT specialists at Binmile are profoundly experienced in artificial intelligence and its subfields, such as machine learning and deep learning. Therefore, it knows what it takes to build an app for your business that can work in its pursuit of success and distinction in today's data-driven business world.