Software development is continuously on the rise at a rapid pace across global industries.
Its annual value keeps growing exponentially and is expected to take an upward turn at a CAGR of 6.50% between 2022-2027 (cumulating a market volume of US$812.90bn by 2027), according to Statista.
The bottom line is that your business needs to grow along with the rapidly evolving software development trends to remain competitive and relevant in a competitive industry.
Otherwise, companies that sought to have chosen altogether different or mainstream tactics for growing in the market are long gone out of business.
That's the typicality of changes in the tech industry, they are volatile.
We have listed the top 10 software development trends to help you stay updated with the latest and upcoming trends in the software development industry.
Consider the listing a qualified resource to deduce informative insights into how technological advances in software development influence businesses, changing the dynamics of how they work.
Top 10 Software Development Trends in 2023
Trend # 01 – Cloud Computing
One of the fastest-emerging technologies in the IT Industry, Cloud Computing has kept on maintaining an upward trend since it has been around for over a decade, becoming one of the most talked-about technologies in 2023.
Here's a quick review of the growth & benefits of cloud computing –
The market growth of cloud computing is projected to rise by over $1 trillion by 2028
Its market jumped by a whopping 635% between 2010 to 2020
An organization can save up to 40% simply by migrating to cloud computing
Companies that chose to migrate to cloud computing saved up to 64% on energy consumption costs and reduced up to 64% on carbon emissions (reports Accenture)
Migrating to cloud architecture affords benefits like increased agility and flexibility, simplified processes, prompt business results, cloud stability, and improved performance for a business.
Besides, easier infrastructural management, secure data storage, and better managing operations are some of the key advantages accentuating the prowess of cloud computing, qualifying it to rule the roost in 2023 by helping businesses to deploy software solutions easily and cut down development and maintenance costs by a huge margin.
Integrating artificial intelligence and machine learning into cloud computing could also help companies with cloud-based security for applications, virtual assistants, digital asset management, and reality-as-a-service.
Trend # 02 – Adoption of Low Code/No Code Development
The main reason low code development is going to be a major trend in software development is that it focuses on accelerating the application development process just by using integrations and drag-and-drop interfaces. The motto here is to help anyone with an elementary knowledge of programming to be able to build their own apps and also be very helpful for SMEs to get innovative apps delivered 10 times faster.
The low-code/no-code solutions are catching up fast for expediting software development processes innovatively. In turn, it helps companies build software prototypes and minimum viable products (MVPs) and bring transformational business changes, in terms of long-term growth prospects.
Trend # 03 – The Rise of Web 3.0
Web 3.0 purely emphasizes maximizing the latest tech advancements, such as decentralized apps, blockchain, machine learning, AI, Big Data, 5G, and 6G technologies when developing more intelligent and adaptive applications.
Though companies are not utilizing decentralized databases extensively as of now, the situation will not be the same until these technologies become an absolute necessity in mobile and web applications for businesses to compete.
As reported by Grand View Research, the global market size of Web 3.0 blockchain is projected to grow at a CAGR (compound annual growth rate) of 44.9% from 2022 to 2030.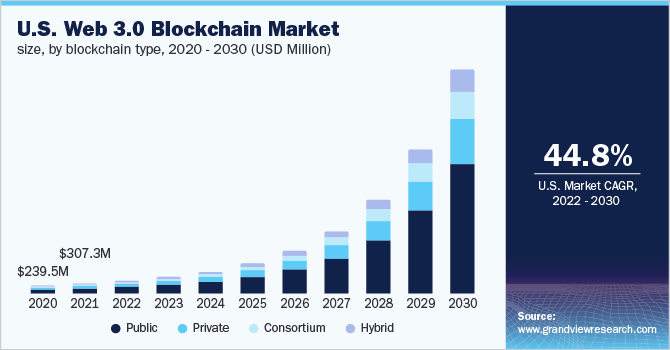 The reason why companies are using decentralized databases and AI-based implementation partially in digital solutions is that the world is still in the transition phase of adopting from Web 2.0 to Web 3.0 and would take over a decade to implement and reshape the web with Web 3.0.
Trend # 04 – Internet of Behaviour (IoB)
If you ever wonder what drives people to use technology to make purchasing decisions, the Internet of Behaviour (IoB) is the answer.
It basically explores an area of research and development (R&D) to get to the bottom of how, when, and why humans rely on tech to make purchasing decisions by leveraging three fields of study, such as –
Behavioral Science
Edge Analytics
Internet of Things (IoT)
Internet of Behaviour (IoB) platforms gather data on customers' behavior and preferences from numerous sources, including wearable computers, household digital devices, and human online activities. The platforms harness the power of IoT, Big Data, Business Intelligence, and customer data platforms to come up with data-based insights pertaining to customers.
Result?
Well, such data-driven insights help companies to customize their products and services based on the subjective experience of human behaviors and also adopt the best marketing strategies that are more meticulous and precise.
Basically, IoB influences buyers' choices apart from helping them get a more personalized experience.
For companies, the IoB tactic is cost-effectively viable, helping them to build applications that intuitively cater to users' needs by providing a unique and interactive engagement and justifying the development solution as relevant and useful.
Trend # 05 – The Rise of Python as a Futuristic Programing Language
Since its release on February 20, 1991, Python as an object-oriented and high-level programming language featuring dynamic semantics has gone through cycles of upgrades and evolutions.
Also Read: Top 7 Python Frameworks to Engineer Successful Web Application Development
It has now become one of the most sought-after universal languages for its ability to conduct –
Complex Mathematical Operations
Data Analysis
Neural Network Building
AI and ML Applications
Game Development
IoT Integrations
Web and Mobile Application Development
Robotization and Automation
Because of innovative Python frameworks, including Flask, Jupyter, and Pandas, as well as its astonishing growth rate for being easy to learn a language for handling complex projects makes Python a viable language and a prominent name to influence software development trends in 2023.
Both GitHub and Good Trends declared Python as the most popular language in 2020, according to Statista.
Consider hiring python development services from a reputed software development company to see the viability of the programing language in building custom-tailored apps to accelerate your business growth.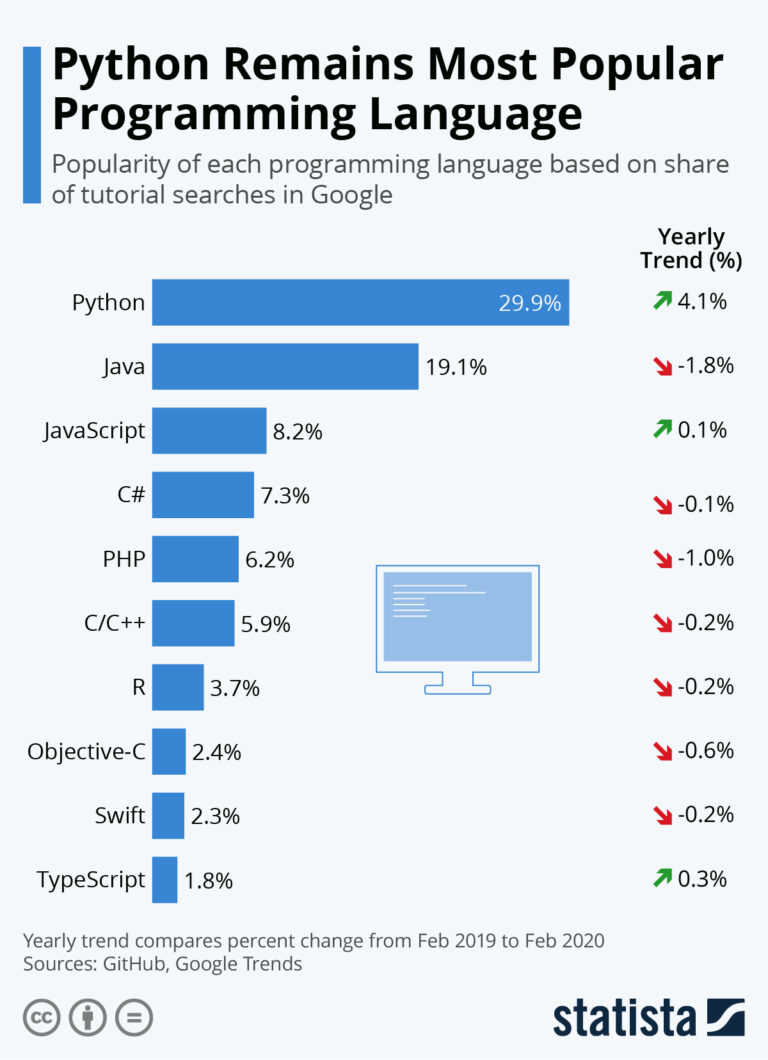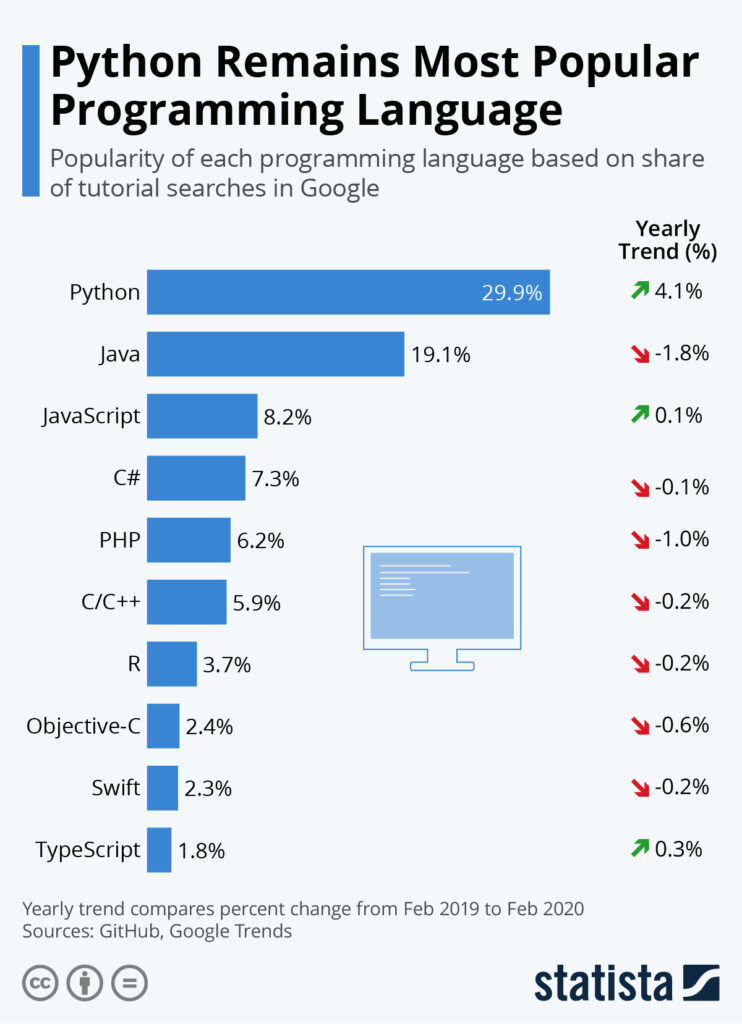 Trend # 06 – The Cloud War Among Amazon, Google, and Microsoft
Major Cloud giants like Amazon Web Services (AWS), Microsoft Azure, Google Cloud Platform, and IBM (hybrid Cloud provider) have efficiently replaced mainstream on-premise hosting infrastructures through their innovative and highly secure Cloud environments.
With their effective Cloud solutions for businesses has also come this intrinsic urge of claiming market monopoly.
In this context, Amazon Web Services definitely ruled the roost by being the first global public cloud infrastructure that helped businesses to adopt cloud migration of their computing operations for automated efficiency.
As per the software development trends 2023, a conclusion is being made that the uncontested dominance of AWS is going to be challenged by Microsoft's Azure and Google's GCP, based on their market share, as reported by Canalys.
Study the picture below –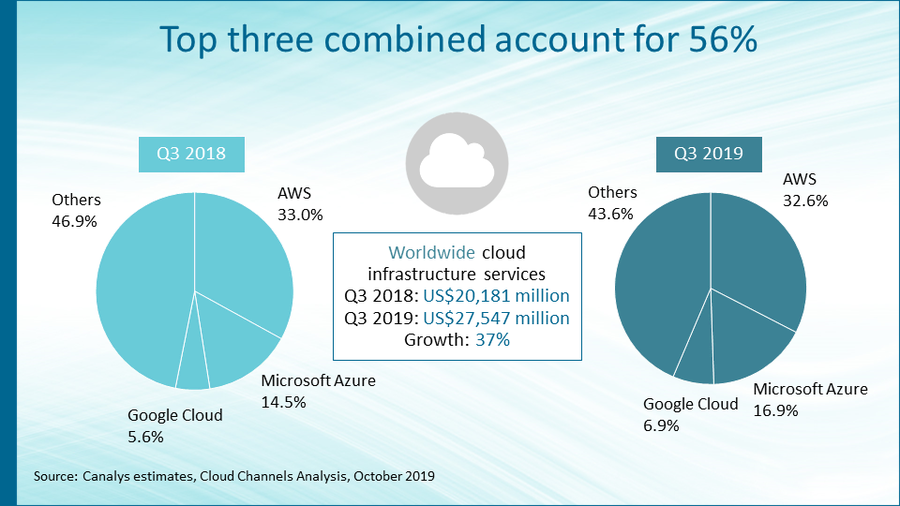 The above report clearly indicates how both Azure and GCP are challenging the market share of AWS (32.6%) with their cumulative 22.4% of market share. This means Microsoft's Azure infrastructure and JEDI Cloud project are shaking the market domination of AWS, with Google not falling far behind in the race as well.
Google is said to have already invested in cloud-native computing targeting government establishments and businesses, whereas IBM bought Red Hat for $34 Billion, one of the cloud service providers on the market.
These are some of the major incidents among Cloud players, especially Amazon Vs Microsoft which are believed to be interesting software development trends in 2023 and also beyond that. In fact, it would really be exciting to see how Cloud giants maintain their market supremacy.
Trend # 07 – Blockchain Technology
Blockchain is no longer a new phenomenon in the corporate world.
It has evolved considerably through multiple bumpy rides and now empowers more than 71% of business leaders, including sectors like healthcare, banking, logistics, and other industries.
With its global market strength expected to rise at a CAGR of 82.4 percent till 2028, blockchain gives out an impressive projection of growth in the future and so, it is going to be one of the biggest software development trends in 2023.
Blockchain comes equipped with better security for providing transparent operations and introducing smart contracts to automate online transactions between partners reliably and efficiently.
The soaring popularity of blockchain trends is largely attributed to its various features, such as –
Enhanced security of sensitive, crucial, and classified data
Greater transparency for recorded transactions and other confidential information
Prompt traceability of data leading to early detection of weaknesses in any supply chain
Better efficiency and speed for blockchain and transaction details
Automated transactions with 'smart contracts to speed up the processes
With a chockful of features, increasing global market share, and the push toward Web 3.0, blockchain is expected to deliver transformational changes in the software development industry by making available decentralized products sans intermediaries.
Trend #08 – Microservices Architecture
Microservices or Microservices architecture is a new development paradigm that emerged in response to the severely limited capabilities of a monolithic architecture, in terms of needing to be more flexible, reliable, and sluggish in executing software development processes.
With the architectural approach of Microservices, developers can divide large applications into smaller and functional units that can perform respective functions within an application and communicate independently via APIs.
The resulting upshot of implementing such an approach is that it affords some distinct advantages, like scalability, simplicity, and flexibility to build innovative digital solutions, ranging from mobile app development to creating desktop and web apps.
According to Allied Market Research, the global market share of Microservices architecture is expected to reach $8,073 million by 2026, whereas its market size was valued at $2,073 million in 2018.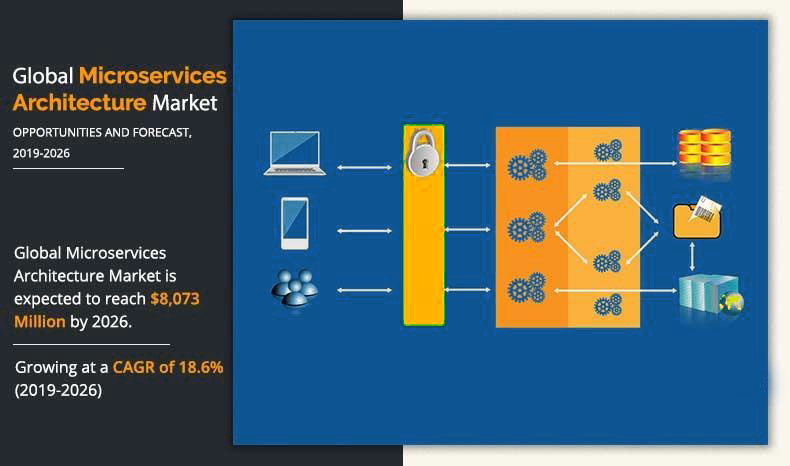 Trend #09 – Infrastructure as Code (IaC)
Infrastructure as Code (IaC) is an efficient replacement for manually coding or configuring files while managing and provisioning IT infrastructure. Consequently, it streamlines the software development and maintenance process for software development companies by enabling them to eliminate the need to assign various specialists for infrastructure management and so reduce development costs in the process.
Based on the analysis of MarketsandMarkets, IaC is bound to grow its global market share by USD 2.3 billion by 2027, increasing at a CAGR of 24% during the forecast period.
IaC provides values based on three distinct categories, cost, speed, and risk.
Cost stands for helping companies financially by reducing workforce deployment and implementing manual efforts. Speed stands for automating faster execution of configuring the infrastructure to boost workforce productivity in the teams across the enterprise work. Risk stands for ruling out a human error like manual misconfiguration and decreasing downtime.
All these three factors constitute significant assistance given to enterprises in implementing a culture of DevOps (the combined working of development and operations).
Graphical representation of Infrastructure as Code (IaC) market share: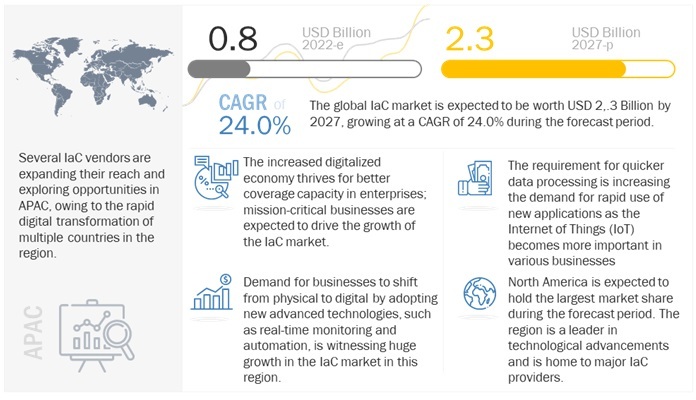 Trend #10 – DevSecOps
One of the new technologies in software development, DevSecOps is an important part of application security (AppSec). It purposely introduces security measures from the outset of the software development life cycle (SDLC).
Implementing DevSecOps ensures fixing vulnerabilities or security loopholes effectively, thereby helping companies to release secure software quickly by breaking down silos between development, security, and operations.
According to market research firm Data Bridge, the global market size of DevSecOps is valued at USD 23.16 Billion, growing at a CAGR of 31.50% by 2029 during the forecast period of 2022-2029.
Other Honorable Entries of Software Development Trends
Kubernetes

– An open-source platform that allows automation of software deployment, scalability, and management. It is already adopted by 50% of companies around the world

5G Network

– By improving connection ability significantly, the 5G network is one of the most influential software development trends in 2023 to facilitate complex innovations like machine learning and augmented reality in mobile apps

Edge Computing

– It is effective in conditions when the software can't process real-time data due to low-quality bandwidth. It enables users to use the software both online and offline by moving data to the edge of the local network. Imagine its viability in healthcare and healthcare sectors wherein a blackout spells considerable loss

React Native

– It's been one of the most popular software development trends for many years and its growth trajectory looks unabated, thanks to its higher percentage of code reusability and the feature of easily learnable syntax
Instant Applications – The ease of witnessing an app-like experience without having to download and install the software showcases the viability of instant apps. Developers can also use them to test out the performance of mobile solutions before releasing a final version of the same
Concluding Statements
The New Year 2023 is expected to be a harbinger of paradigm shifts in businesses due to emerging software development trends, prompting companies to focus on adopting new technologies to create innovative digital solutions to stay competitive in their niche.
Our list of top software development trends in 2023 reflects how new and rapid transitions in technology are impacting businesses, encouraging them to focus on upgrading their in-house tech stacks in conformity with the emerging technologies, and deploying skilled resources to build innovative apps to drive automated efficiency in business.
If you want to manage your business keeping pace with the evolving technological trends in the market without stretching your budget limits in costly resource deployment, consider hiring a reputed software development company.
The reason is that an eminent custom software development company always comes equipped with an inventive software development approach backed by a powerful team of highly skilled IT professionals and robust tech stacks.
Therefore, obtaining software development services from us is like having your business needs fully satisfied, in terms of innovative digital transformations, such as reduced development costs & staff deployment, and automated efficiency in the software development and maintenance process.