Lift and shift Cloud migration is an interesting paradigm shift or an approach for moving your existing applications and data to Cloud infrastructure. This doesn't involve going through a comprehensive level of redesigning or modification of the apps being migrated to the Cloud.
It puts the necessity of legacy application modernization using lift and shift strategies into the spotlight for businesses.
In fact, a report by grand view research says that the value of global application transformation market size for the year 2021 was estimated around $9.5 billion. It is expected to grow at a CAGR of 14.7% from 2022 to 2030.
In the US itself, the value of app transformation market was $2.6B in 2021, growing at a CAGR of 13.3% during the forecast period between 2022-2030.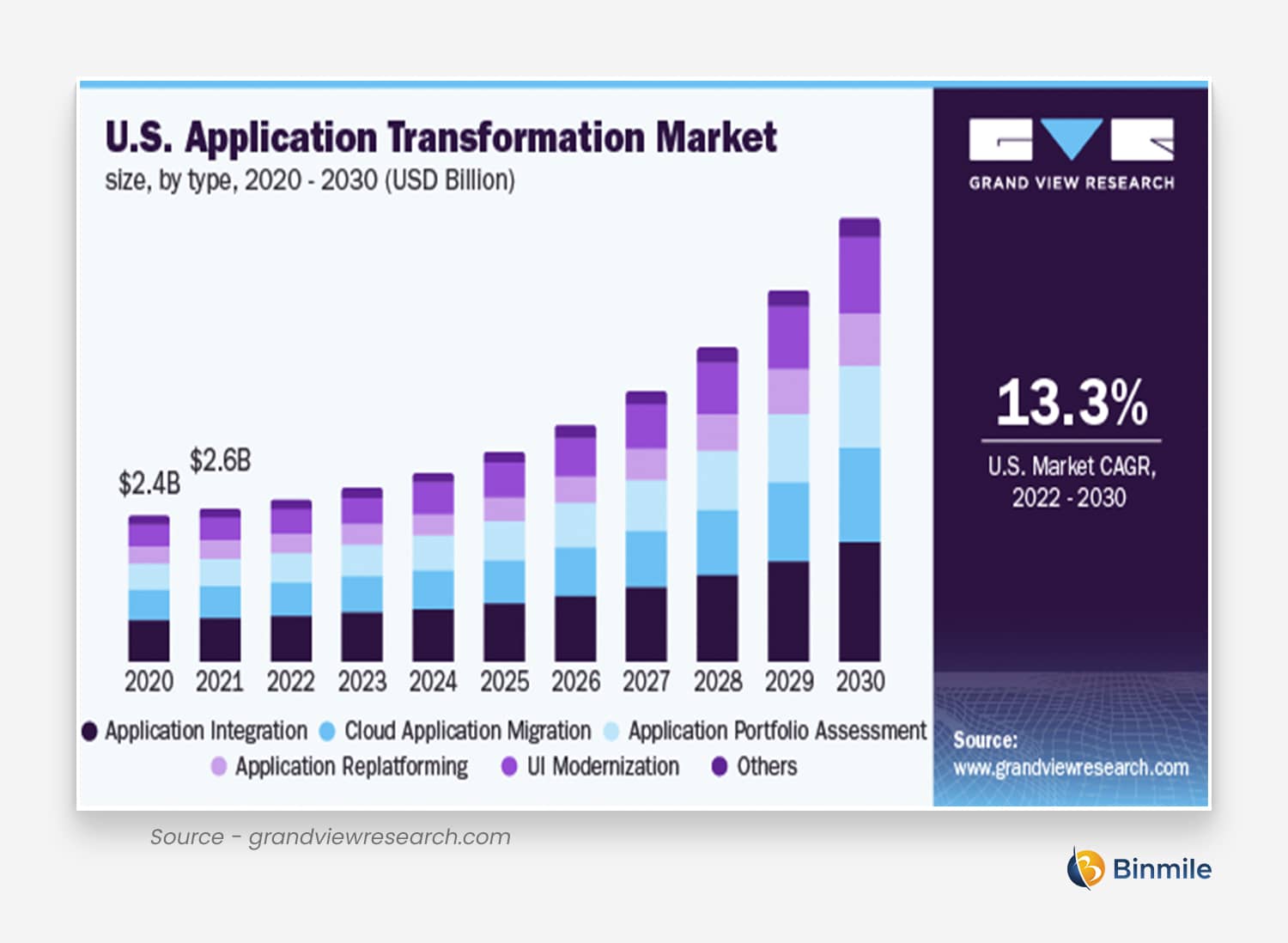 What Is Lift-And-Shift Cloud Migration Model?
Lift-and-shift or rehosting is a Cloud migration strategy in which applications and their associated data are safely moved to a Cloud platform without having to redesign or modify the app's architecture.
It usually means shifting your business app or existing workload to one of the Cloud platforms, such as Amazon Web Services (AWS) or Microsoft Azure for which you have only to pay for the portion of Cloud services used.
The immediate upside you notice after implementing the lift and shift Cloud migration approach in your business is you don't have to spend much time on managing backend infrastructure. It results in more time for you that you can spend on innovating your business fostering unique market differentiators.
Advantages – Why Does Your Business Needs Lift And Shift Cloud Migration Approach?
An Iron-Clad Security
With cybercrime expected to rise exponentially in coming years, it absolutely makes sense why businesses must go for Cloud migration strategy to leverage the robust security features offered by Cloud platforms.
This way, they can keep their extremely important and sensitive business data in a secure Cloud environment. Moreover, they can also make use of multifactor authentication protocols and cutting-edge cybersecurity measures to protect their existing infrastructure against cyberattacks.
Speedy and Hassle-Free
When you migrate your existing workloads to a secure Cloud environment, the process is really fast, as it involves almost no modifications in the application architecture and code.
It also means you can rule out the expensive costs related to app re-architecting and process redesigning. Moreover, no change is made to the management and monitoring interfaces as well.
Low Upfront Costs
The process involved in lift and shift migration doesn't consume much time and resources, except signing up for a Cloud vendor, configuring application and database servers based on your business requirements.
Thereafter, you can initiate migrating your apps and associated data to the Cloud. The reason why upfront cost for using Cloud services is low is because they are based on a pay-as-you-go pricing model. Meaning, you have to pay for the portion of services used, hence the upfront costs are low.
Cost-Effectively Useful
List and shift Cloud migration strategy is an efficient answer to the herculean process of migrating apps, operating systems and data sources. It helps you avoid increased on-premises infrastructure costs, as the process of migration is without measurable changes in code or app architecture.
As an enterprise, you can move your business databases without hiring a large development team. Moreover, it won't throttle the performance of your on-premises applications when migration is in process, thereby avoiding potential downtime and keeping the application experience undisturbed.
Improved Scalability
Using a lift and shift migration approach can help you maximize your resources and ROI of your IT systems. Moreover, enterprise apps can scale the use of additional resources as and when needed.
So, it helps you save money from investing on costly on-premises applications. Besides, you can just modify your computing capacity based on the pricing model of your Cloud storage services.
Read More: Lowering the Cost of AWS Cloud Migration: Guide to Staying Within Budget
What Will You Get From Lift And Shift Applications?
Lower your IT costs and realize cost-savings
Paving an inroad to safe Cloud environments
Intelligent Cloud data recovery
Get relief from technical debts
Reduced costs on running and maintaining apps, databases and other data sources
An Analysis Of Lift And Shift Cloud Migration Limitations
Though lift-and-shift Cloud migration is an intelligent business approach, it entails some challenges or limitations as discussed in the following ways –
Performance Compatibility Issues
There's a likelihood that legacy apps and associated data hosted on a new Cloud platform may encounter performance compatibility issues on a new platform. Meaning, they may not perform as effectively compared to when they were hosted on-premises. They could encounter higher latency issues post migration to the new Cloud platform.
However, the compatibility issue mostly rests with complex apps, not the simpler commercial apps.
Complex apps which have gone through rigorous modifications when they were hosted on-premises may, in all likelihood, not perform well on a new Cloud-hosted platform.
An ideal application modernization strategy to address the compatibility issues is AWS CloudEndure Migration approach. CloudEndure spearheads Cloud-adoption journeys for businesses, from physical, virtual, and Cloud-based infrastructure to AWS by offering reliable protection against downtime and data loss from cyberattacks.
Potential Security Risks
When applications and associated data are migrated to a new Cloud environment from their original on-premises climate, they also bring with them weak access rights to the new platform. These access rights fail to accommodate the new Cloud's complex and shared model, thereby exposing security loopholes.
Therefore, before you "lift and shift" applications from on-premises to a new Cloud platform, ensure that you don't end up migrating these access rights to a new Cloud platform. If such vulnerabilities are not addressed timely, they would jeopardize the new Cloud environment causing more harm than in an isolated on-premises setting.
Costly Migration Approach
Lift-and-shift is quite a costly Cloud migration approach, as most of the savings it generates are upfront rather than long-term.
The strategy mostly involves migration from capital expenditure (CapEx) to operating expenditure (OpEx). It ends up being less helpful for your needs when making significant post-migration changes to the lifted-and-shifted apps. Hence, the challenge of achieving cost-effectiveness in the lift and shift Cloud migration strategy is palpable.
Lift And Shift Cloud Migration – Key Phases
Based on our analysis of how the lift and shift Cloud migration approach can benefit your business in some ways, and how it can spell troubles in other contexts, here is our rundown on how to make use of this strategy for the benefit of your business down the line.
Thorough Planning and Assessment
In the initial phase of your lift and shift Cloud migration process, focus on planning and due diligence.
For instance, examine weaknesses of your apps before lifting-and-shifting them to a new Cloud platform and avoid security concerns down the line. Choose the apps that you know will drive cost-effective benefits post migration.
Consider having your current system and processes analyzed by your Cloud vendor to ensure if they can be lifted and shifted. Post assessment of the same, your vendor will picturize the whole IT landscape by conducting automated discovery.
It will identify the right elements for your existing system, examine gaps, and determine good and bad areas. Eventually, you will get the right solutions to fix the bad areas, and fill the gaps in the application modernization strategy.
Plan The Migration
In this phase of lift and shift Cloud migration, define a clear business case, goal, and technical side of the job. Make sure the new system is fully assessed in terms of security.
For migration, set up the accounts for your chosen Cloud environment and add users. Examine and validate phase-wise execution of works.
Prepare your existing system for migration. It typically involves installing software programs on servers and connecting them with a dedicated control center. At last, you can consider AWS CloudEndure Migration to carry out the migration process with no or minimal downtime.
Consider Multiple Migration Options
When shifting your business apps and workloads to a new Cloud environment from on-premises infrastructure, you don't have to stick to just one method. In fact, you can choose a different variety of strategies commensurate with your business needs.
For instance, you can lift and shift some apps and refactor others. You can also consider replacement if removing proprietary apps in support of third-party SaaS solutions seems the best alternative.
Types Of Cloud Migration Strategies Other Than Lift and Shift
Refactoring – Using this strategy involves running your apps on a secure Cloud infrastructure. Allows developers to reuse frameworks, programming languages, and containers. Framework lock-in is one of the potential downsides of this strategy. It is also called PaaS (Platform as a service) model.
Replatforming – Involves additional adjustments to optimize your apps for the Cloud without changing the core architecture of the apps.
Repurchasing – Involves migrating your apps to a new Cloud environment, mostly to the SaaS platform.
Retiring – It involves getting rid of apps no longer useful for your business needs. It will save you costs that you can use to boost your business case for apps ready for migration.
Retaining – It means not considering migrating your apps to the Cloud. As you are clueless about it or you think it doesn't make any sense.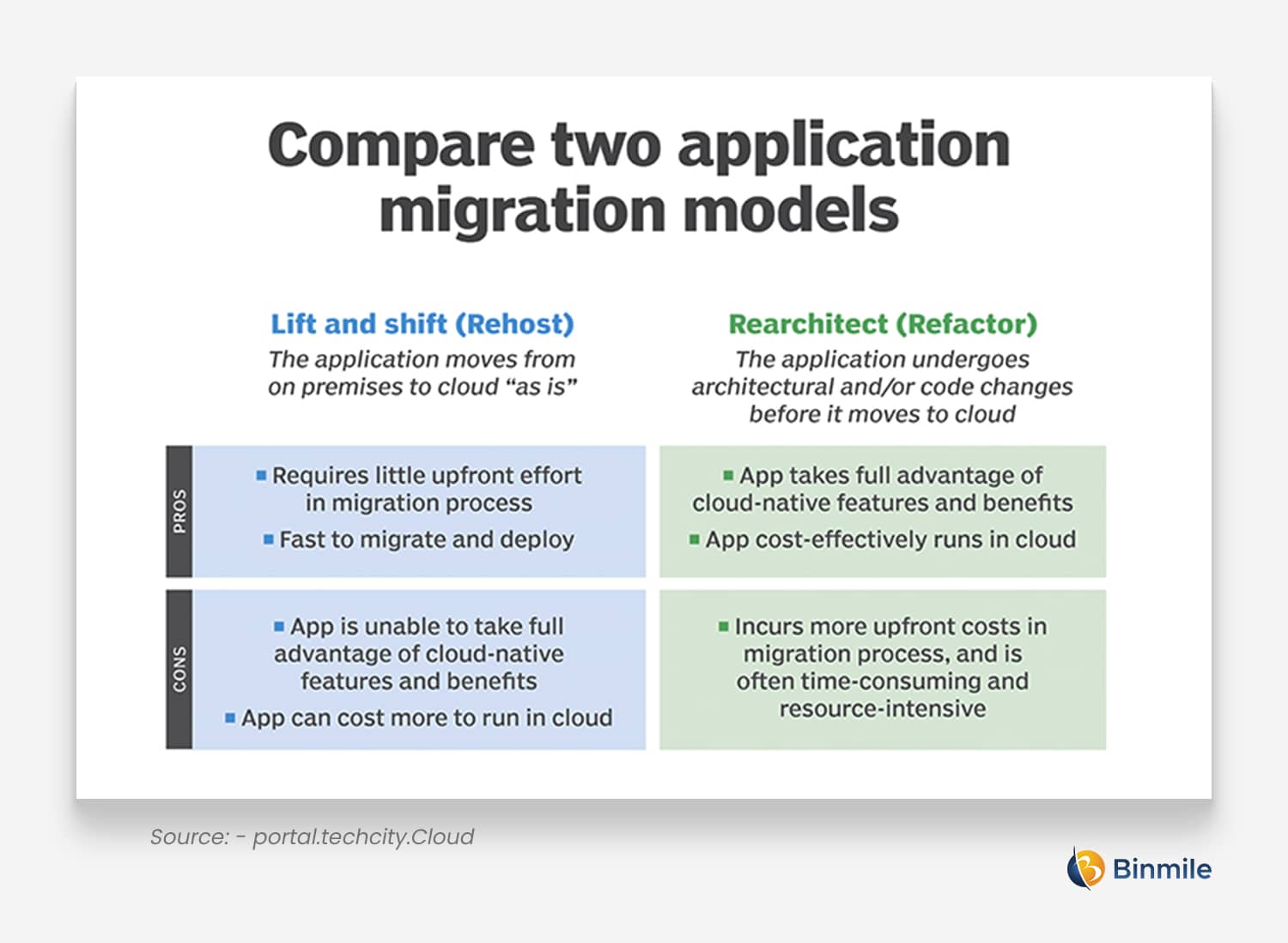 When To Consider Lift and Shift Cloud Migration Approach?
When you think that moving your existing on-premises infrastructure to Cloud is an absolute necessity
When you are willing to terminate your lease contracts or vacate your business data center
When you have decided to save big on costs, considering migrating apps and data to the Cloud is least hassle-free and requires least modifications. Rehosting apps is now possible at a lower cost within the Cloud
When you need to adopt new platforms or increase storage, even though you have no expertise in Cloud-native solutions
When you lack comprehensive knowhow of your app's inner workings, as lift-and-shift allows you to migrate your apps to the Cloud quickly without proper understanding of app's structure
Closing Statements
Lift and shift Cloud migration is an intelligent business approach for enterprises to facilitate easy migration of their important apps and associated data to a secure Cloud environment.
Though this strategy has its certain challenges or limitations, it ensures its viability nonetheless.
For example, a Cloud migration strategy using lift and shift approach can result in the benefit of better scalability for your business. Moreover, you can ensure safety of your sensitive business data against cyberattacks and experience low upfront costs.
Lift and shift quickens migration of your business workloads to safe Cloud without having to go through holistic redesigning or modifications. As a result, it helps you save money from expensive investment on resource deployments. Moreover, it can help you foster unique market differentiators down the line.
Are you looking for Application modernization services?
Binmile is your qualified resource having comprehensive expertise in making app modernization seamless and cost-effectively useful for your business needs. We are experts in diverse app modernization processes, including app reassessment, re-architecture, redesign, custom development using cutting-edge tools and technologies, etc.
We have vast experience in delivering successful app modernization services, and migration projects using different migration strategies, including rehost or lift and shift. Contact us for a seamless migration journey for your business today.