eCommerce & Retail Software Development Company
eCommerce Solutions. Retail Management. Supply Chain Management.
Binmile is a leading Custom Retail Software Development company providing scalable and feature-rich development solutions. With offices in India, the United States, and the United Kingdom, we have established a global presence with exceptional services that cater to our client's unique requirements with integrity, honesty, transparency, and dependability. Our value proposition is to make no compromises in terms of functionality, usability, service, or cost while providing analytical and actionable insights to transform their core environment and streamline banking & financial workflows.
Our eCommerce software solutions are custom-made per your expectations that help to yield a competitive edge and ensure engaging digital experiences. The use of cutting-edge technologies is combined with our specific eCommerce domain expertise. Our highly engaging applications and websites help you achieve your business goals faster. With a mission to provide technological advancements to enterprises via innovative solutions, our learned team of professionals works hand in hand with businesses, understanding their needs and delivering research-driven personalized solutions.
Case Study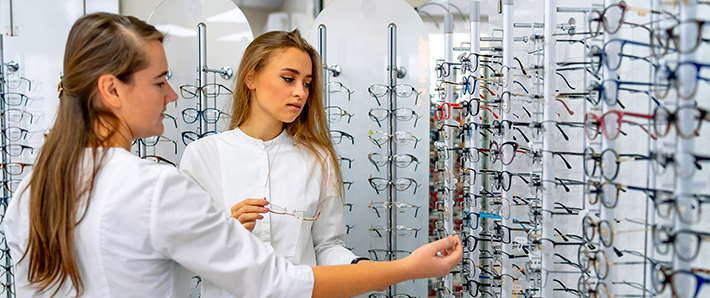 Streamlined and Optimized Global Business Operations for UK's Leading Optical Retail Chain
Challenges Affecting eCommerce & Retail Sectors
Disconnected Retail Environment
Omnichannel purchasing experiences are a crucial consumer demand who intend to experience seamless shopping at retail outlets, apps, and websites.
Supply Chain Management
Inability to provide real-time inventory updates for effective inventory management adversely disrupts supply chain and business operations.
Third-Party App Integrations
Seamlessly integrating third-party apps that improve customer experience can be a challenge regarding data management, data security, and account management.
Data Security & Privacy
Managing and securing customers' sensitive data, including their payment options, banking details, and product preferences, is a challenge for retailers.
User Engagement
Maintaining high user engagement rates is essential for any eCommerce or retail business. The ability to with customers across Platforms and devices can be critical factors in determining your purchase conversions.
Stay Digital First
Significant investments are required in innovative technologies and shopping experiences to enhance consumer experiences and increase operational efficiency.
Gain market edge by reinventing your retail business through our custom retail solutions.
Our eCommerce Software Development Solutions
The eCommerce industry is more competitive than ever. In case of performance, management, or customer experience challenges impacting your eCommerce marketplace; we develop custom solutions that give your web mall a strategic advantage.
Inventory Management Software Solution
We develop customized automated inventory management solutions that streamline inventory control systems and provide real-time updates on stock options.
Payment Gateway Integration Solution
We assist you in integrating high-performing, completely secure payment gateways with your eCommerce software solutions that help customers easily make payments.
Store Management Solutions
Our highly user-friendly store management solutions help you cover your daily project requirements, such as storefront, inventory, and marketing management, enabling you to streamline your operations
B2B APIs Development & Integrations
Our B2B development and integration services aid with the automation of business processes and facilitate communication among multiple organizations to induce overall efficiency that helps daily communication among suppliers, business partners, and other stakeholders.
Loyalty Program & Rewards Application Solutions
We develop custom applications for easily redeemable loyalty points and reward programs that add to customer delight and retention and can easily be used for their next shopping experience.
User Experience (UX) & User Journeys Creation
Our retail solutions are invariably customer-oriented, allowing users to see their journey over your website or a category that induces repurchase.
Our Custom Retail Software Development Services
Binmile provides world-class Custom Retail and eCommerce application development Solutions that accelerate online sales and drive long-term engagement. Our eCommerce software development methodology uses data-driven intelligence and analytical solutions that enable companies to capitalize on a modernized architecture and deliver omnichannel experiences across retail products and services.
01
POS Retail App Development
Binmile has expertise in retail software & POS Software Development from prominent industry platforms (SAP Commerce Cloud, Magento Commerce, and more) that integrate online and offline channels and assist your retail store touch new boundaries.
02
Retail Data Analytics
Our team builds BI infrastructures that handle structured and unstructured data from various sources. These include information on consumer behavior and preferences, inventory movement and demand, shop floor usability, and other crucial indicators.
03
Multi-Vendor Marketplace Software
We create multi-vendor marketplace software that gives you access to data-driven insights on market products and leading sellers across various industries.
04
eCommerce Website Development Services
We create unique eCommerce websites that reflect your company's image and are custom tailored to appeal to your target market. Our trained Magento, BigCommerce, and Shopify developers enhance e-store and multi-store platforms to produce specific e-commerce functionalities through redevelopment, API interfaces, and custom extensions.
05
eCommerce Mobile App Development Services
Our Custom Retail Software Solutions provide multi-featured cross-platform, native, and hybrid e-commerce mobile apps with universal repositories and custom rules control panels for managing accounts, campaigns, and incentive "currency" for your consumers.
06
eCommerce Integrations
Our programmers build bi-directional interfaces with major third-party solutions for CRM, ERP, accounting, marketing automation, inventory management, and shipping by leveraging custom web APIs. We link business systems, including ERPs, supply chain management systems, e-commerce modules, and legacy systems, with retail apps to ensure that you have a central location to oversee retail operations.
07
eCommerce Store Migration
Our programmers migrate e-commerce websites without a hitch, guaranteeing data accuracy, extension compatibility, and uniform storefronts. To migrate the store, we evaluate the current environment and rewrite any customized code, API integrations, and modules.
08
DevOps & Managed Services
We assist companies in aligning their development and operations to achieve greater productivity, a shorter time to market, and higher-quality software builds through our DevOps & Cloud managed services.
Why Choose Binmile?
When looking to develop, rework or scale an eCommerce store or app, customers are looking for reliable, resourceful, and technologically sound eCommerce app development companies that deliver efficient solutions in low turnaround times. Binmile is your preferred tech partner to develop custom eCommerce software solutions.

Full-Stack Expertise
At Binmile, our deft team of proficient developers features full-stack expertise that uses the best-fit solutions for your applications using cutting-edge technologies.

Scalable Business Model
Our scalable eCommerce software development solutions help businesses stay at par with the changing digital requirements and accommodate additional features, functionality, and data storage as the business grows.

Client-Centric
Our customer-centric approach ensures all our solutions are developed, keeping the globally prevalent best practices in mind – from marketing solutions to sales and customer service solutions that helps deliver excellent customer services and better personalization across all channels.

Standardized Security Protocols
Standardized Security Protocols
Our custom retail and eCommerce software solutions feature standardized security protocols based on globally prevalent best practices, such as multi-level authentication procedures that serve as robust safeguards against all malware or cyber-attacks and ensure the confidentiality of your data.

Time Zone Compatibility
We stay operational 24/7 and work based on the client's time zone, which aids real-time communication and feedback, so project turnaround times remain low.

Real-Time Communication
Our working practices are 100% transparent, internally and externally, while sharing project updates in real-time by a constant POC that's available 24/7.
Disrupting Technologies for Custom Retail Software Solutions
Augmented Experiences
Combining cutting-edge VR technology, Binmile offers clients a distinctive shopping experience. For example, interactive virtual stores for users to browse from any place via popular VR platforms. Through redesigned experiences that combine physical and digital solutions, we assist merchants in bridging the gap between online and offline purchases.
Computer Vision
Binmile offers the development of custom image analysis solutions to increase customer service in retail via facial recognition and emotion recognition tools that help identify regular customers and user satisfaction rates.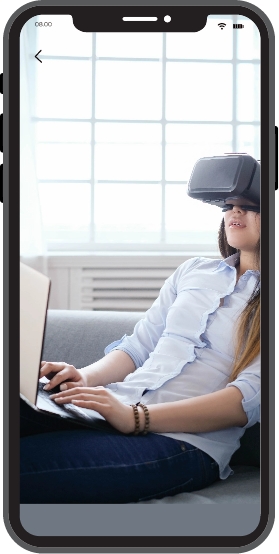 Integrate IoT Devices for Retail Intelligence
IoT (Internet of Things) devices with intelligent sensors and enduring connectivity can produce memorable and distinctive retail experiences. We integrate smart shelves, robots that provide customer support, and other IoT devices for a connected customer business model.
Geofenced Messaging
Our Geofenced messaging services use GPS, RFID, Wi-Fi, or cellular data to trigger messages or notifications about your services when a mobile device or RFID tag enters a virtual boundary set up around a geographical location.
Portfolio
Our Work
Some of our recently completed projects