With the advent of Artificial Intelligence in the business landscape, it's bringing new and exciting opportunities to businesses. But with great power, comes greater responsibilities. The way Artificial Intelligence has impacted business operations and people's lives brings a lot of spotlight around ethical artificial intelligence models. According to Accenture's 2022 Tech Vision research, it's discovered that only 35% of global consumers trust how AI is being utilized by organizations. Therefore, businesses must find ways to ensure that as they scale up their capabilities to leverage the power of AI- they must have Ethical AI models. This will help them to proactively drive fair, responsible, ethical decisions and comply with current laws and regulations.
Implementation of Responsible AI has been a savior for organizations. It ensures that businesses must take steps to make sure their organizations strictly follow Ethical AI aspects like data governance, non-biases, trust, and legality. So, what exactly is Responsible AI, and what are its guiding principles that help businesses engender trust and scale AI with confidence? In addition, we'll also discuss the challenges that businesses face while leveraging it.
An Introduction to Ethical AI Models: Principles, Challenges & How to Overcome Them
What is Responsible AI? It's basically a set of frameworks, principles, and practices that go into designing, developing, and implementing AI systems. This is done to ensure that not only AI benefits individuals, society, and businesses but also emphasizes human centricity and keeping moral, ethical, legal, and societal values.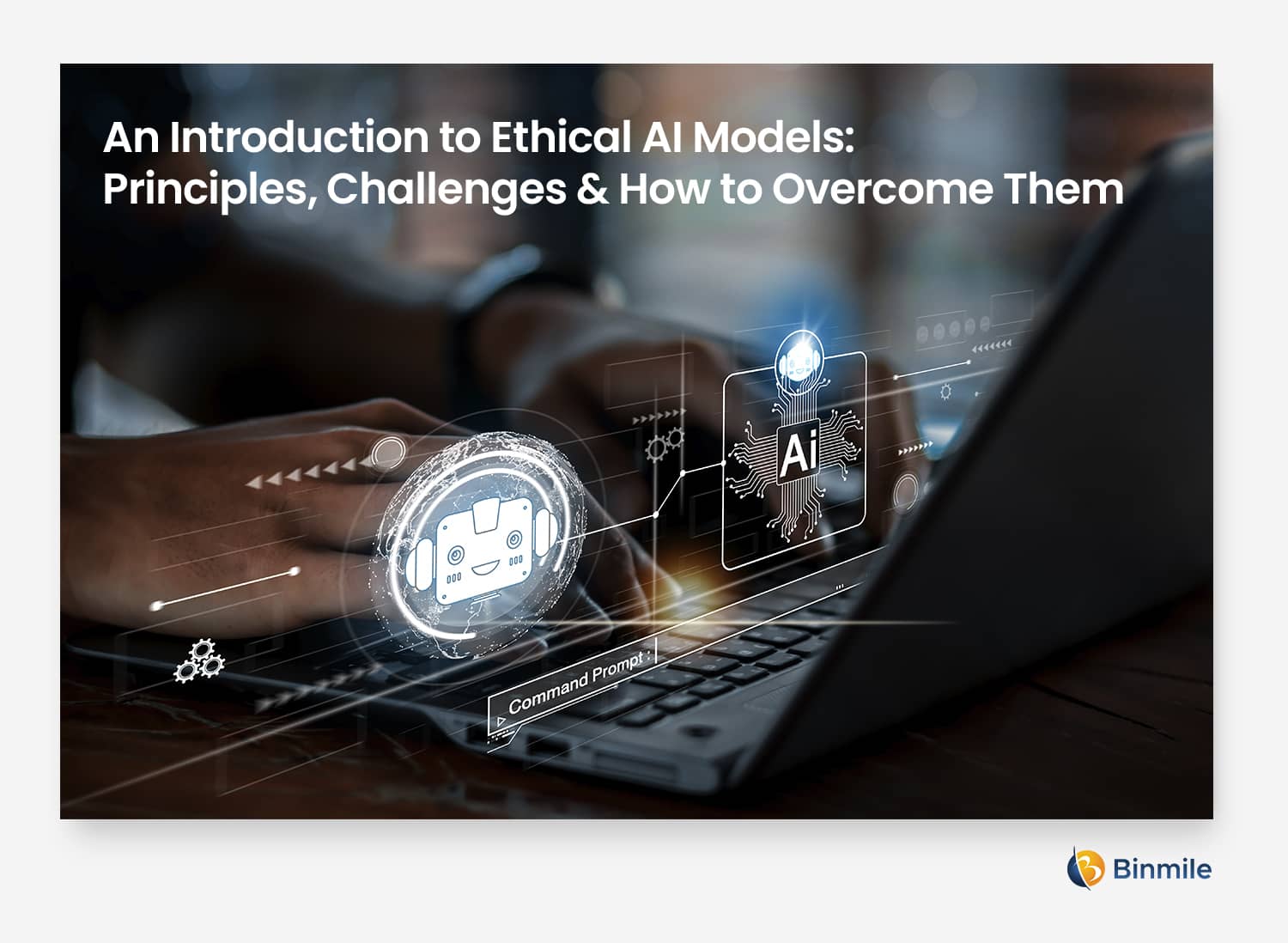 Ethical AI Model: Mitigating Risks and Ensuring Compliance for Businesses
There are many benefits for businesses to adopt ethical artificial intelligence models. But it cannot be done without having prior knowledge of some of the guiding principles that help them achieve that. When organizations follow these principles, they can show their commitment to responsible AI and contribute to creating a more trustworthy AI ecosystem.
1. Fairness
When it comes to Artificial Intelligence, AI fairness implies AI systems treat all people fairly, without concern with their personal attributes such as race, gender, age, or socioeconomic status. So, businesses implementing the Ethical AI model must avoid bias in algorithms and decision-making processes, especially in the case of generative artificial intelligence. This ensures that the results are without any disparity and do not favor or harm any specific group. Thus, fair or ethical AI systems promote and support equal opportunities and prevent the furthering of existing inequalities.
2. Transparency
AI transparency refers to Artificial Intelligence systems and their decision-making processes must be clear and comprehensible. In simple terms, businesses offer understandable explanations of how ethical AI models function, the data they rely on, and the factors that may affect their suggestions or decisions. When AI adheres to transparency, it allows users and stakeholders to evaluate and trust AI systems, which is imperative for building user confidence to embrace it.
3. Accountability
When Artificial Intelligence follows a well-defined responsible chain for identifying who is accountable for the results of AI. This ensures that every result or suggestion that they produce or create must be traced back to accountable parties for any problems that may occur. Doing so, enables and helps organizations address potential risks and impacts associated with AI. Moreover, it also encourages a sense of responsibility among developers, users, and businesses.
4. Privacy
AI privacy is a core principle that involves protecting individuals' personal data and ensuring it is used with caution and in accordance with relevant data protection laws. The ethical AI model respects individuals' privacy rights and takes steps to secure sensitive information from unauthorized access or abuse. Privacy considerations are crucial to maintaining trust and ethical use of AI technologies.
5. Safety
Businesses must ensure that AI systems or models they're creating are secure, and reliable, and do not pose excessive risks to individuals or society in general. These risks could be related to privacy, biased or discriminatory responses or solutions, or technical safety, such as preventing system failures or vulnerabilities. Safe Artificial intelligence ensures that AI technologies are not only incapable of unintentionally causing harm but also boost confidence in end-users to embrace it more openly.
Tips For Developing An Ethical AI Model
Keep yourself updated regarding the AI field and what constitutes responsible practices as it keeps changing.
Your core corporate values, responsibility commitments, and policies should be at the center, then build the model by being inspired by them, rather than reinventing them.
Collect insights from within your employees, users or stakeholders– including management, IT, product, and legal — to collaborate and co-create.
The next step is to integrate these principles into daily decision-making and execution. It's a continuous and long process with some trial and error.

Identify what practices or guidelines are working for you or what needs to be improved along the way, rather than starting from scratch.
Benefits of Responsible AI for Businesses
Businesses that practice the Ethical AI model can enjoy various benefits that go beyond just meeting ethical standards. Here are three main advantages: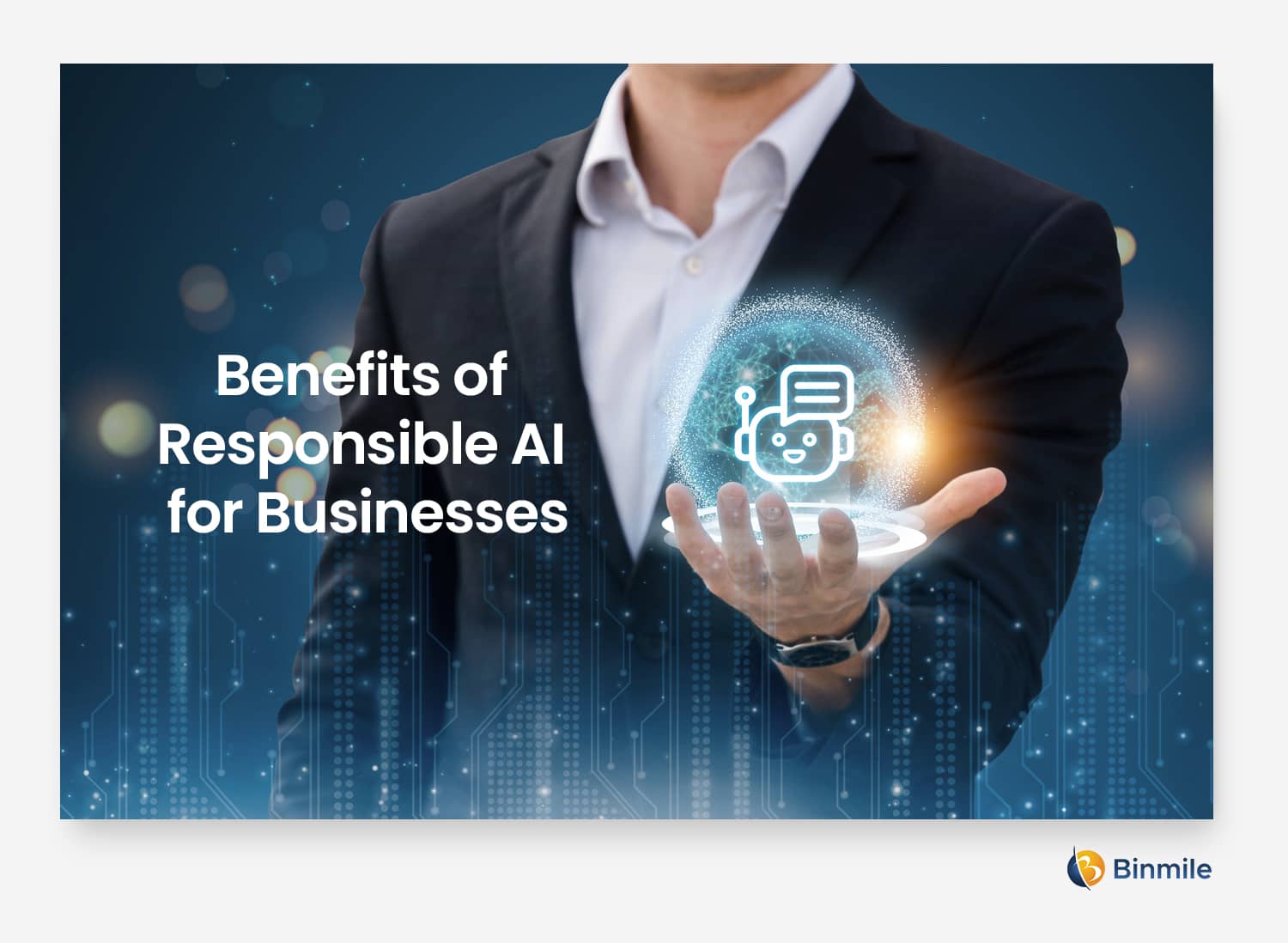 Ethical Reputation and Brand Building: When you offer Ethical AI model solutions, it reflects your business's commitment to ethical business practices. Doing so not only improves your brand's image, but it does more. It propels your socially conscious customers to engage with you more, as it makes your brand trustworthy and reliable. Therefore, boosting customer loyalty and positive word-of-mouth marketing.
Lowered Legal and Ethical Risks: The chances of any legal or ethical risks are significantly reduced due to ethical AI solutions. Thus, ensuring that AI systems do not cause any discrimination, privacy violations, or harm, must be your priority. It not only helps businesses avoid expensive lawsuits and regulatory penalties but it does more. When businesses proactively tackle these issues, it empowers them to maintain a positive image in the market.
Enhanced Decision-Making and Efficiency: It also improves decision-making processes and overall operational efficiencies. Businesses can eliminate bias, and other discriminatory challenges, thus ensuring that AI ethical models create fair and unbiased suggestions. Doing so, results in businesses offering better resource management, improved customer satisfaction, and increased productivity.
Want to future-proof your business with ethical AI solutions? Get in touch today!
Overcoming Bias: Addressing Challenges in Developing Ethical AI Models
We have discussed the transformative power of ethical AI models, and how AI-powered innovative developments have changed the way businesses operate. However, it also poses many difficulties. Thus, let's discuss ways businesses can ensure that AI technologies are developed and used in an ethical manner. Key factors to keep in mind: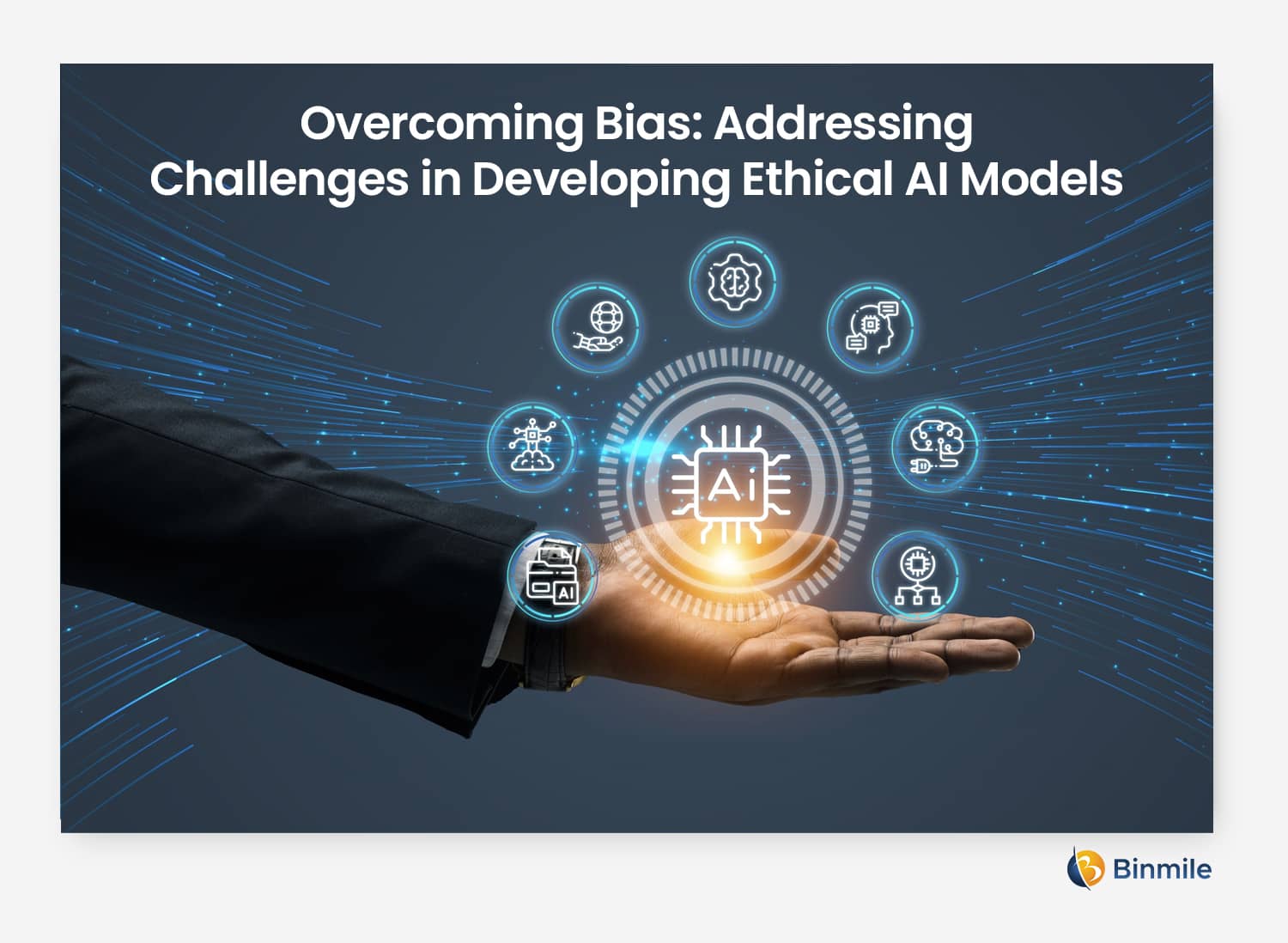 Robustness and Safety: AI systems are made to handle unexpected inputs and edge cases gracefully, without causing obstacles or damage. It becomes challenging to make sure AI systems are robust and safe. Therefore, AI systems must undergo comprehensive testing and validation procedures to detect potential vulnerabilities and mitigate them timely.
Data Bias: It's not easy to create ethical AI models due to data bias. Since many AI models are trained on large datasets, it's possible that these data may unintentionally contain biases. It's imperative to carefully examine and preprocess the data, eliminating any biased or discriminatory elements. Additionally, businesses could also utilize diverse and representative datasets to ensure fairness.
Human Oversight: AI systems and software can automate many tasks, but it can't be done without human oversight. Businesses must adopt continuous monitoring and intervention whenever necessary. Doing so ensures that AI systems adhere to ethical standards and do not produce results that are biased, harmful, or discriminatory.
Transparency and Accountability: It's essential for businesses to offer Ethical AI solutions that are transparent and accountable. Your team in Software development services must provide clear documentation on the functioning of the AI systems, consisting of its decision-making processes. This not only helps users understand the system but also makes developers accountable for its actions, whatever it might be.
Final Thoughts
The value ethical AI models can bring is beyond limit but it cannot be fully realized if there's a sense of fear and mistrust among some businesses and consumers. Therefore, it's imperative for businesses to inculcate certain guiding principles and responsible use into their organization's value strategy. Businesses can establish, at a minimum, fundamental level, some guiding principles and capabilities for governing AI implementation in business. It is possible with Responsible AI, as organizations can ensure their adoption and use of AI is legally and ethically compliant. Further, it proactively takes into account possible impacts on its employees, customers, and society as a whole.
However, the Ethical AI model will look different across different organizations. For example, AI in eCommerce will have a different set of considerations than in healthcare. Having said that, Ethical AI model principles empower businesses to create a universal set of priorities and a common language across technology, business, and compliance. So consult an artificial intelligence development company that can offer objective advice about how to use AI for growth, while observing best practices for responsible AI.