Gone are days of coding from scratch. With the advent of low code software development platforms or advanced developer tools, developers are now building apps with no extra cost or effort. This comes in handy, especially in developing internal software and tools for business operations. Using basic logic, visual interfaces with drag-and-drop functionality, and other several features, low-development platforms offer a quick, simplified, and cost-effective development process.
Internal software is an integral part of today's business, right from an employee resources portal, a database GUI, and an administrative panel, to a meetings management planner, regardless of size. Utilizing low/no code development platforms for internal tool development can bring so much to the table, primarily they offer high productivity and better control over the organization's resources.
In this blog, we'll discuss 7 ways you can build custom internal tools using low code development platforms. Further, we'll also give you a brief introduction to the platform, including its benefits and the difference between the 'build or buy' option.
Build Powerful Internal Software with Low Code Development Platforms
A low code development platform accelerates the speed of the software development process by reducing the need for writing code. It's proving to be a modern approach that makes use of visual development to automate and abstract the steps required for application development. In addition, low code platforms offer a drag-and-drop interface to build applications and provide ways to access data from different sources. This makes it the most sought-after development platform. But how to use it?
7 Tips to Build Internal Software Efficiently On Low Code Development Platforms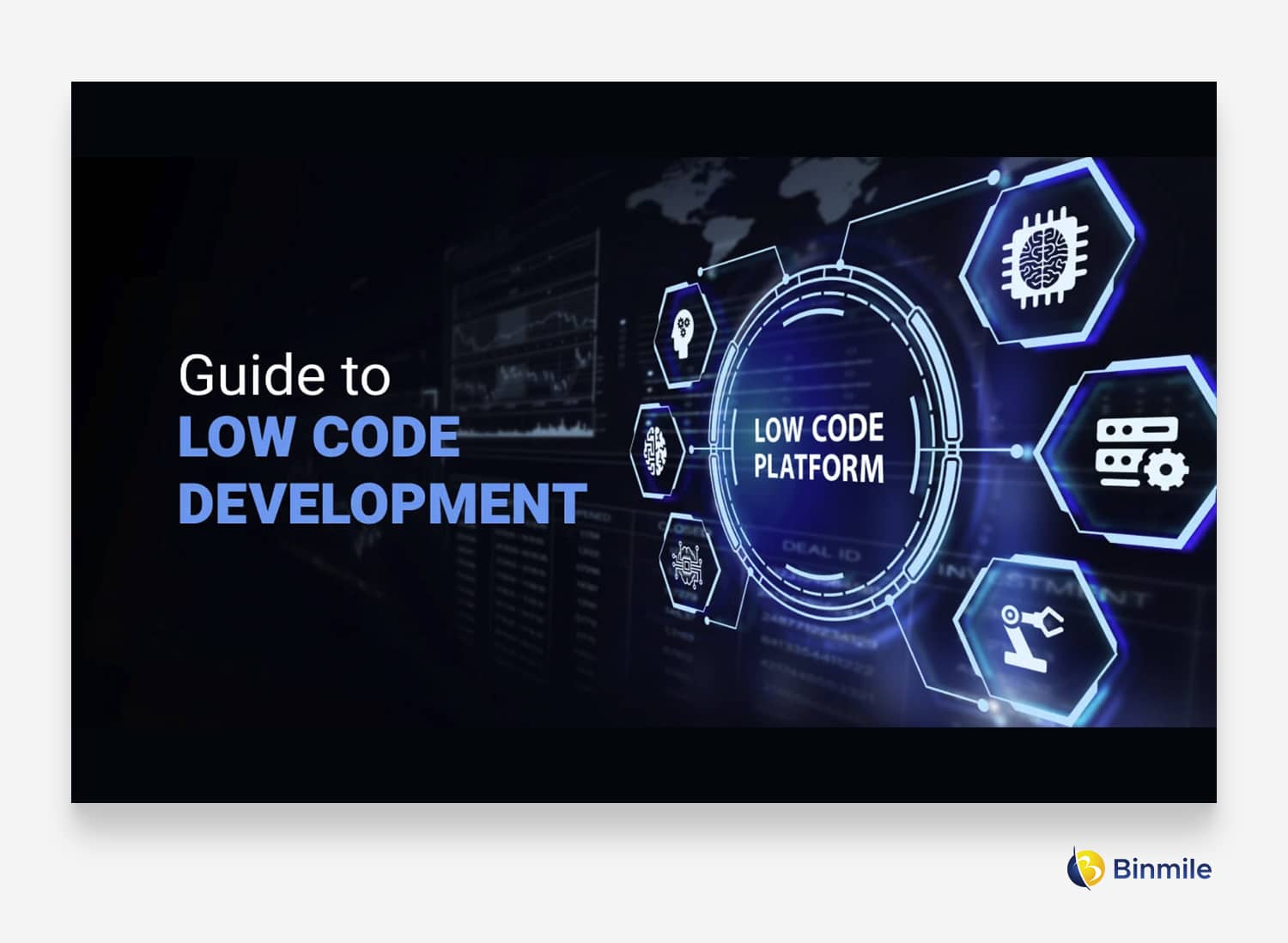 Here are the 7 steps to leverage the potential of low code for your internal software needs and delve into the numerous benefits it offers.
Step 1: Define Your Objectives
It's essential to get a clear understanding of your objectives. These can be: what problems are you looking to solve? What specific goals do you aim to achieve? Doing so, helps you set up a roadmap for your project and aligns your team's efforts effectively. In addition, a well-established 'vision' improves clarity and accelerates decision-making during development.
Step 2: Select the Right Low Code Platform
Choosing the right low code development platform decides the success of your internal software project. Therefore, you must research a platform that best caters to your project's requirements and also reduces development time. Platforms that provide better customization options, and capabilities such as scalability, and integration, you should go for.
Step 3: Design the Software
The next step is to build the software on low code platforms. These platforms often provide intuitive, engaging drag-and-drop features for designing the application's user interface and functionality. It's easier with low codes to visually design tools that make software creation accessible to non-technical team members. This also helps in detecting issues early in the development process and thus, reduces code errors.
Step 4: Develop and Test
Development starts after the designing part of the software is done. Since low code platforms simplify the coding process, it's easier to quicken the development process. Testing is a crucial step in the SDLC, so once a design is in place, it's time to start doing software quality testing. This ensures iterative improvements, and continuous refining of the application and helps you build a robust and high-performing final product.
Step 5: Deploy and Maintain
Internal software is ready to deploy for internal use, but don't forget the regular maintenance and updates. These two play a crucial role in keeping the internal software development current and aligned with your unique business requirements. In addition, it also sets the software to meet your business objectives and lets it remain effective over time.
Step 6: Integration with Existing Systems
It's another crucial step you need to keep in mind while implementing internal software. Seamless integration within your existing systems and databases makes sure that the software can interact smoothly and flawlessly with your current technology stack. With low code development platforms, features like pre-built connectors and APIs make the integration step more simple and cost-effective with fewer resources required to exchange or interact with systems.
Step 7: Security and Compliance Measures
Internal software development or deployment cannot be done without robust security measures and appropriate compliance regulations. Therefore, utilizing low code platforms gives an edge since these platforms offer built-in security features. This enables you to ensure your internal software protects business-critical data and meets compliance standards.
Also Read: High Code vs. Low Code vs. No Code
Is It Better to Buy Software or Build Your Own?
Largely, to get an internal tool on board, you have two main options:
Building An Internal Tool:
Internal tools are often product-specific and to make your work easier, these tools need to be built from scratch to be purpose-built. In this way, they can be fully customized to meet the specific needs of the end-users and will fill the exact role that you want them to play.
Buying An Internal Tool:
In cases where the needs are very generic, buying an internal tool might be a good option. Companies find this to be a good option because the costs and time involved are much lower than building their own internal tools.
Why not build a product-specific internal tool without investing much time, energy, or resources?
Also Read: Build Vs Buy Software Solution
5 Benefits of Low Code Development Platforms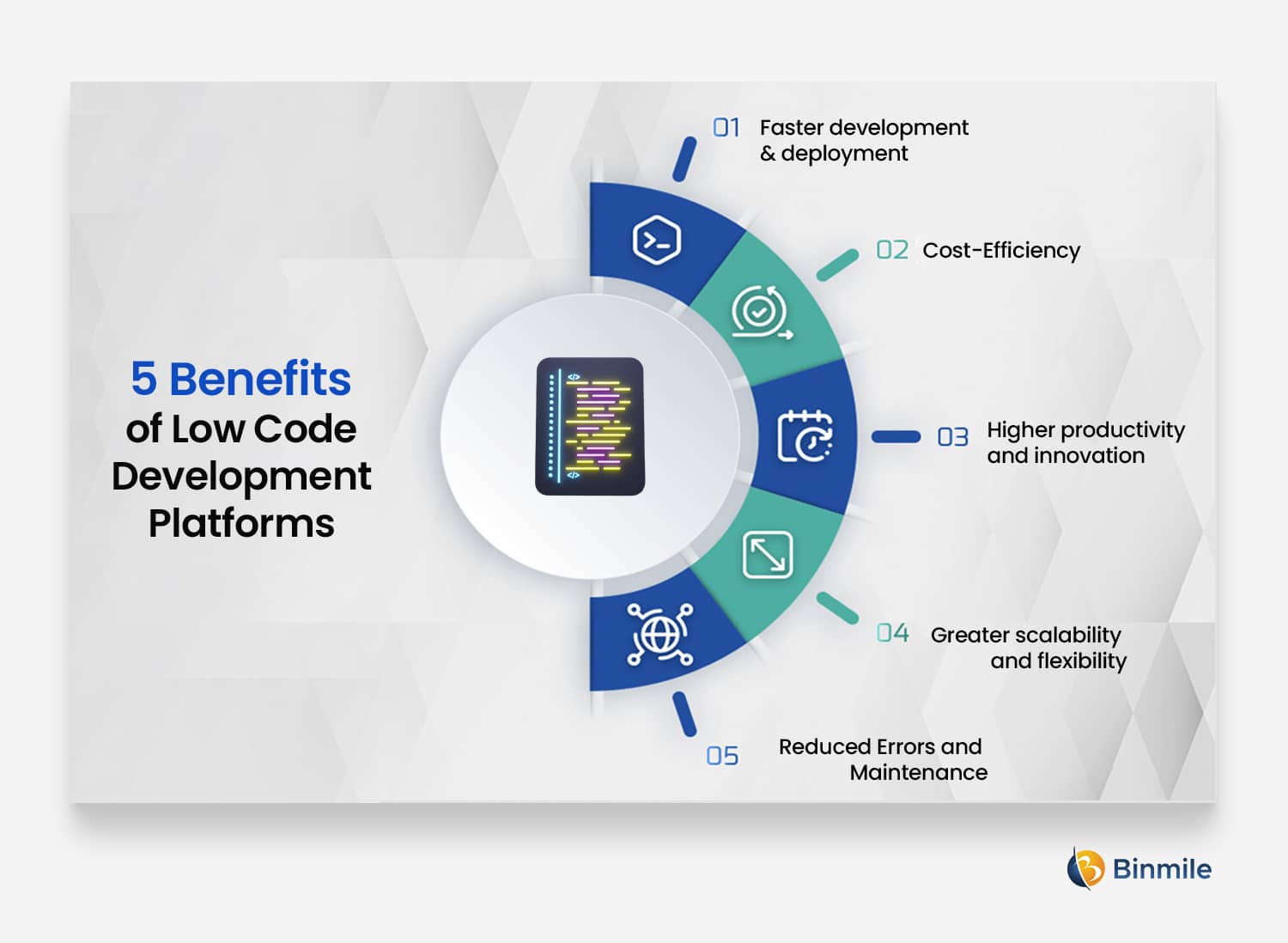 Low code platforms allow developers to build applications without writing much code, or sometimes, no code at all. These platforms offer powerful capabilities such as GUI, drag-and-drop components, and prebuilt templates. This not only simplifies the development process but makes it quicker. When it comes to utilizing low code development platforms for building internal software, here are a few more benefits:
Faster development & deployment: Using low-code platforms enables the SDLC team and even non-technical users to build apps quickly as it offers pre-built templates and visual interfaces. In addition, it empowers developers to automate testing, debugging, and deployment processes. This not only reduces errors and delays but also leads to shorter development cycles.
Cost-Efficiency: Since it offers pre-built and drag-and-drop features, translates to shorter project timelines. Thus, it lowers the amount of manual coding and development time and, therefore shorter project timelines. Due to the visual nature of development, it also lowers the need for extensive code reviews and debugging, leading to cost savings in the long run, also.
Higher productivity and innovation: With low code platforms, developers can create their software solutions by experimenting with different features and functionalities. They can also iterate quickly based on feedback and data, all this without having any coding background or waiting for IT approval and support.
Greater scalability and flexibility: It's easier for developers to adapt and modify apps as the end users need changes. They can also get it integrated with other systems, and data sources, even leverage cloud computing or AI capabilities, with no need for extensive rewrites or overhauls. This gives organizations ample opportunities to expand their user base and thus business.
Reduced Errors and Maintenance: Since Low-code platforms offer a visual nature of applications, it becomes easier for developers to make changes, and since changes are automatically implemented throughout the application, reducing the risk of errors. This, further, lowers the need for expensive maintenance and apps run smoothly without constant technical oversight.
So what are you waiting for? Get in touch with us, and we'll help you determine your low-code strategy from A to Z!
Wrapping Up
Undoubtedly, internal tools have helped businesses streamline their processes and services like no other. With the advancement of technology, the way businesses utilize technology has changed. Now, building and integrating an application in your database via a drag-and-drop graphical user interface (GUI) has never been this easy and less time-consuming. Using a low code development platform accelerates the development process and makes it easier and cost-effective for organizations as well.
Hopefully, this blog has given you some insights into how low-code platforms can simplify your internal software development process. Additionally, we also discussed why you should go for the platform rather than the traditional development platforms. Therefore, whether you intend to develop a custom CRM or an onboarding app for future employees, low code development platforms work best but that's a little challenging without a technological partner. We recommend you consult low code/no code development experts for developing robust, secure, and highly functional internal software that caters to unique business needs.