For businesses to stay competitive and relevant in the market amidst modern technological advancement, it is very important that they stay updated with the latest tech trends, and deploy their core IT team to engineer innovative and futuristic workflow processes, products, and services.
To accomplish these feats and stay competitive in a dynamic business ecosystem, companies require skilled software development professionals.
Unfortunately, the gap between the number of skilled developers needed and those available is tremendously wide. It, therefore, creates a demand for necessary tools that could streamline software development processes efficiently.
Choosing a low-code platform, in this context, becomes an ideal choice for companies lacking time and skilled talent pool of IT professionals to carry out the software development lifecycle effectively.
What makes Low-Code Platforms important for businesses?
Low-code development platforms come equipped with all development-related tasks for organizations, helping them build required software with minimal effort, time, and cost.
The low-code solutions pave the path for bringing automated efficiency in optimizing business processes and workflows, thus helping companies achieve digital transformation within a fraction of the cost.
So, what defines a low-code platform, and how it can benefit your business?
Let's dive deeper to find out.
Explaining Low-Code Development Platforms
Low-Code involves little to no coding in building apps and related processes during the software development lifecycle.
In this approach, software development is created through a graphical user interface in which an organization can build innovative business solutions through automated efficiency in reducing manual tasks and expediting the delivery of final products.
The low-code platforms feature drag-and-drop functionalities and simple logic-driven visual interfaces. They abstract away the underlying complexities of software development by minimizing the operational burden on software engineers.
In turn, the platforms allow developers to shift their focus on business logic to initiate rapid software application development.
The intuitive tools of low-code platforms are so user-friendly that even users without formal training in software development or coding can learn how to build a business or mobile applications.
This is one of the reasons why the low-code approach is replacing conventional methods of software development and helping non-professional developers to build apps, regardless of the degree of complexity as easily as their professional counterparts.
Also Read: Embracing Low-Code Development Platforms to Improve Customer-like Experience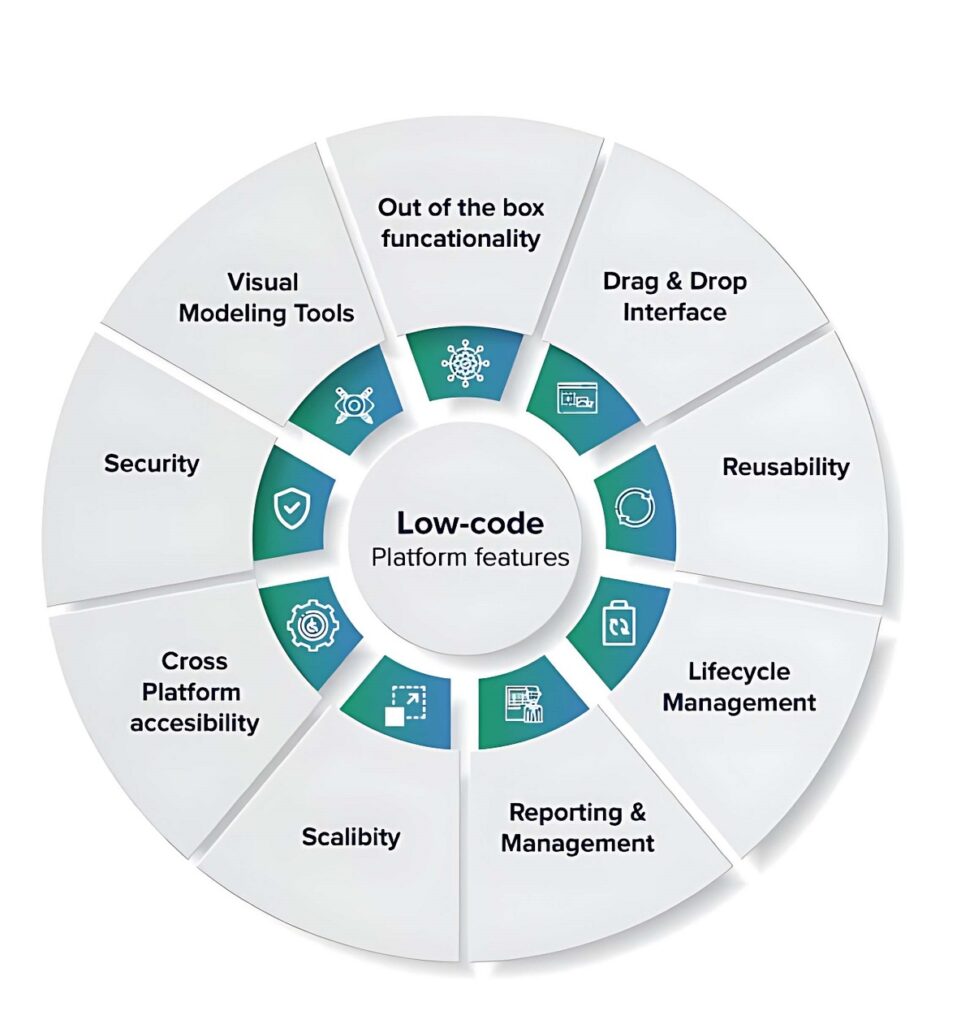 Salient Features of Low-Code Platform
It streamlines a software development process and makes it more agile, scalable, and user-friendly
Its built-in components like visual modeling tools and methods are easy to follow by anyone regardless of their technical knowledge
Software applications are built faster as compared to the ones done by code-based development
Its out-of-the-box (OOTB) functionality allows the development of application core modules from the bottom up, ruling out redundancy and increasing developer productivity
The low-code platforms feature drag-and-drop interfaces that make development processes less arduous and more simplified. This means helping developers (both amateur and professional ones) avoid building all components on their own
The low-code platforms come equipped with reusability features, allowing developers to use pre-configured modules, components, and functionalities of various apps repeatedly. The pre-configured modules expedite application development processes whereas reusability is the main part of this low-code approach
Low-code platforms feature adequate security protocols for providing sufficient solutions in software development, particularly ensuring the safety of the development processes
It is robust, thanks to its cross-platform accessibility or multi-device compatibility that helps developers implement the low-code on any device running on any major OS (operating systems) or build apps to the compatibility of multi-platforms or devices
Scalability is another feature that means applications built on a low-code approach stay relevant to the evolving business needs
It allows developers to supervise development processes, their effectiveness at every step of the way, and the workflows of applications. The platform's scope for comparative monitoring means you can benchmark the performance of your apps relative to other similar products
The platform's effective lifecycle management feature brings in automated efficiency in various stages of the development processes, from testing to debugging and deployment. It allows users to access all the relevant data concerning an application and development process and reinstate an older version of an app if necessary for more streamlined lifecycle management
Application Areas of Low-Code Platforms
Although low-code platforms are mostly used for streamlining software development processes, they are also leveraged in other application areas to optimize a variety of business processes and tasks.
Listed pointers in the following talk about some application areas of low-code platforms.
Enterprise-Grade Apps
Low-code platforms are leveraged to build enterprise-grade applications for handling complex business tasks or processes and ensure personalized user experience by enabling better customer engagement.
Tech-Driven Solutions
Low-code platforms utilize the efficacy of artificial intelligence and machine learning algorithms to build cutting-edge apps capable of processing data faster than manual operations.
Drive Automation
The solutions facilitated by low-code platforms are effective in handling complex tasks by defining build processes and workflows. As a result, it drives automated efficiency.
Automate Optimization
Applications built on low-code approach drive efficiency in operations and automate the optimization of the apps at a reduced cost and ruling out the risk of human errors.
Top 10 Advantages of Low-Code Platforms in Innovating Software Development and Businesses
Low-code platforms afford several benefits that help businesses with limited workforce and experience to build great business apps featuring a host of benefits, including speed, efficiency, and security.
1. Easy to Follow and Deployable
One of the biggest benefits of low-code platforms is that they are easily understandable and can be handled without requiring specific coding training in contrast to those high-code platforms requiring specialized skills for a development team.
Moreover, low-code platforms enable users to build an intuitive map for members to understand their respective tasks and determine their roles in the overall workflow.
In other words, when it comes to low-code deployment, it eliminates the need for expert coders, as users with no coding training can code and deploy a workflow in place of an expert programmer.
2. Enhance the Agility In Legacy Mainframe System
The low-code platforms spearhead agility in app development and also allow legacy integration. In turn, organizations reap, such as being able to adapt to new market changes, and offering more resilient solutions to evolving business needs.
3. Enable Nontechnical Audience to Build Solutions Faster
In today's highly competitive business landscapes, creating new solutions faster corresponding to evolving business needs is a revolutionary step.
Low-code software platforms, in this context, enable nontechnical audiences to assemble new solutions that serve across an omnichannel ecosystem.
So, basically, the platforms lower innovative barriers, as people without coding training can also build cutting-edge software products.
4. Expedite Development Cycles
Since people without coding training and experience can also use low-code software platforms to create new digital products, it reduces innovative barriers significantly, as well as expedites software development cycles.
That said, high-quality products and visually attractive designs can be built within minutes instead of weeks or months.
This benefit also explains why low-code platforms optimize web app development lifecycles.
5. Automate Business Ideas in Minutes
One of the most striking benefits of low-code software platforms is that they have made it possible for people to automate any business idea in minutes.
Low-code development helps you with powerful tools to automate software customization and build improved operational efficiency at reduced costs and lower maintenance.
6. Better Productivity Across Teams
Both IT and business teams are benefited from low-code development to solve real issues by creating innovative applications without depending on developers, thereby increasing workforce productivity within a company.
7. Create Optimal Customer Experience
Businesses can leverage the multi-experience capability of low-code development to ensure that they provide consistent support to customers without having to duplicate steps.
For example, leveraging chatbots or automated refracting features of low-code would help businesses create optimal customer experience through consistent reach-out or interaction with customers.
8. Democratize Software Development
low-code platforms allow software developers to access technical or business expertise, like Machine Learning, Data Analysis, or app development without having to use highly specialized tools and systems.
These platforms facilitate bridging the tech divide to democratize and accelerate innovations.
9. Prototype Solutions Faster
One of the most intelligent benefits of low-code development is that it allows users to prototype solutions faster and test, evaluate, and refine the same. Later, based on the quality of the porotype solutions, they can be passed on to the development team for a more suitable implementation.
10. Pave the Path for Business Development
Low-cost software platforms enable people to build simple MVPs (Minimum Viable Products) without using complicated codes. This results in saving enough time for companies to focus on building business ideas based on the user's feedback on the MVP without escalating costs in the process.
As a result, entrepreneurs or solopreneurs are expected to get good benefits out of low-code development
List of Low-Code Development Platforms to Consider in 2023
Appian –
It features native development tools and integration options for DevOps tools. The platform allows businesses to build BPM (business process management) apps.
Mendix –
It relies on model-driven engineering (MDE) allowing abstract modeling and is used for testing, building, and deploying apps.
OutSystems –
It is an omnichannel low-code platform with real-time performance dashboards and robust security.
Quickbase –
This LCDP (low-code development platform) features third-party integration is used to create solutions for bottlenecks in workflows.
Microsoft Power Apps –
It is used to create custom business apps faster, thanks to its prebuilt AI components.
Salesforce Lightning –
A renowned CRM platform, Salesforce Lighting is a component-based framework used for app building with advanced security.
SAP Integration Suite –
This Integration Platform As A Service (iPaaS) allows users to integrate both Cloud-based and On-premise apps using prebuilt tools.
Nintex –
The low-code platform facilitates workflow automation and end-to-end process intelligence, thus helping businesses optimize processes with no code.
Amazon Honeycode –
This no-code app builder allows users to automate manual steps in building apps throughout the software development lifecycle.
Concluding Statements
low-code platforms are proving to revitalize the way software solutions are created, enabling companies to innovate workflows and bring automated efficiency to their business operations.
If incorporated, low-code development could be a quantum leap in your organizational growth, especially in terms of innovating the software development lifecycle at the most reduced cost.
However, the efficacy of low-code platforms doesn't preclude the necessity of an experienced development partner.
A trusted web development company like Binmile can help you walk through a set of key development processes simulating your future app requirement for your business. As a result, we would help you improve your workforce productivity, bring down costs on expensive software development costs, and build creative solutions in the competitive business landscapes.
Custom software development services from a trusted partner would cost-effectively help you build an innovative software solution for your specific business tasks by helping you avoid costs on expensive resource deployment.