Fintech or financial technology has transformed the world of the finance industry by emerging as an alternative to traditional banking. It is a new way to manage money and handle monetary transactions smartly. Many finance companies are adopting this technology to get a competitive edge. Some incorporate fintech into their existing processes or develop fintech startups from scratch. Getting a new fintech software product from software development companies is challenging. Like other industries, you also need to choose the right tech stack for fintech products. Read here more about the best programming language for fintech to penetrate the market and get a viable fintech product.
Fintech Market Overview and Tech Scenario
Before you choose the right platform/technology for FinTech, it will be sensible to look at the fintech market around. The evolution of fintech has left traditional banking behind in the race. Thanks to a host of technologies for putting fintech on the front foot. Emerging technologies like AI, RPA, IoT, big data, and cloud computing are set to give fintech a significant boost to players looking for online banking apps, mobile wallets, mobile banking, and payment systems.
According to global research company Statista, digital payments is the largest fintech market segment that generated $4,406,431 million US dollars in transaction value in 2020. The same amount is likely to double by 2024. The United States, Europe, the Middle East, EMEA, and the Asia-Pacific regions lead the tally in terms of fintech distribution at the global level. Owing to mobile internet use, the pace of fintech adoption and local investment in fintech is going up. Credibility, agility, uniqueness, safety, data handling, and flexibility of the technology are critical for a fintech software development company.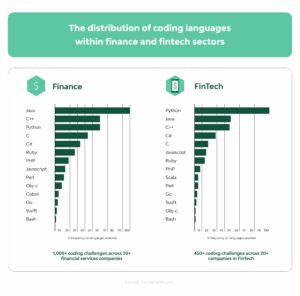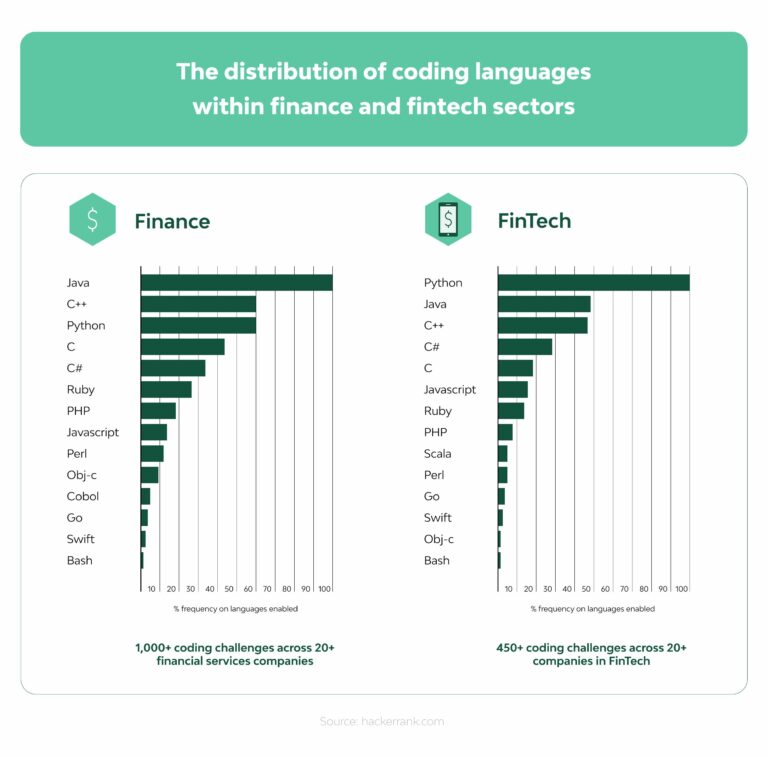 Technologies Used in Fintech Software Development
Some of the most popular products in fintech are crypto-currency, digital currency, blockchain technology, smart contracts, InsurTech, RegTec, stock-trading apps, mobile payments, crowdfunding platforms, open banking, and RPA. According to HackerRank, the technology hiring platform, there are top six influential coding languages prevailed in the fintech sector, including Python, Java, C++, C#, C, and Ruby on Rails. When it comes to picking up the right technology stack for mobile app development, you need to analyze some pros and cons of available technology stacks. When it comes to making an informed decision, the choice of coding language for a fintech app hangs on the project's technical needs.
Python for Fintech Development
Java and C++ are the two most popular languages for making software and app in the finance industry. On the other hand, Python emerges as the preferred development language for fintech products. Python renders 50% more opportunities than traditional languages. Python is the most dynamic programming language preferred by startups, and it brings great value to the fintech sector. The simplicity and robust modeling capabilities of Python make it the first choice for financial companies. Zopa, Robinhood, Affirm, Venmo, Figo, Stripe, and Qonto are some successful fintech apps developed with Python. The following are some of the prime reasons why Python is ideal for mobile development. These include:
Big data supported
Easy-to-read code
High compatibility
High-standard library
Speedy response
Test-driven development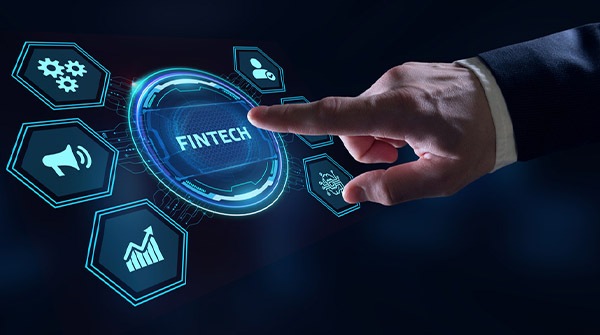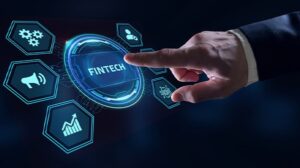 Python is extremely popular among developers due to code transparency and the occurrence of fewer bugs during app development. Python is simple and transparent. That is why it ensures a shorter time to market. Writing code in Python takes no time. When Python and Django technology shakes hand, it results in the faster and safer release of completed components and MVPs as per users' needs. With open-source libraries, fintech Python developers do not need to create separate components from scratch. In India, numerous fintech app development companies help you get a safe and functional fintech app product using modern app programming languages like Python.
You can also opt for other popular languages like Java, C++, C#, C, and Ruby on Rails to get your fintech app ready. These technologies are still in use and match the expectations of finance industry players.