Modern eCommerce technologies have broadly changed the perspective of the eCommerce world, where buying and selling are done via customized software and app products. E-commerce software is the technology to manage online store processes. With many eCommerce app and web development companies around, it has become relatively easy for eCommerce players to serve their customers and conveniently offer them customized solutions. As per global research company Statista, the e-commerce software app market will get paid about 6.53 billion dollars in revenue in 2021. As far as predictions between 2019 and 2024 are concerned, the overall market revenues will likely grow by over 1.3 billion U.S. dollars. The data displayed above shows the growing importance of e-commerce for both eCommerce players and consumers. Read this content and go through the tech stack selection of five leading eCommerce players. This eCommerce tech stack discussion will help you better understand how big players utilize tech stack for a competitive edge.
eCommerce Tech Stack for Web and App Development
Amazon.com is the most popular platform with over 200 million customers in the U.S. alone. On the other hand, Alibaba serves as a key player in various Asian economies. Walmart.com, eBay, Target, Etsy, and Apple are running behind Amazon with tens of millions of visitors in their bags.
In eCommerce, the technology means the usage of programming languages to develop the eCommerce platform. There is a long list of programming technologies emerging available for your eCommerce website development. Ecommerce technology or eCommerce tech stack is essential for offering security, reliability, flexibility, and scalability to eCommerce websites. The database is another vital aspect of a technology platform as it is where whole data are stored.
Front End Technologies
In web and app development, the front end is a client-facing suite of tech tools. The following frontend technologies are always used alongside each other. These include:
HTML (HyperText Markup Language)
CSS (Cascading Style Sheets)
Java Script (JS libraries like React, Vue, Angular, and jQuery)
Although these three ones are basic, you can also go for SCSS, LESS, and SASS for client-facing development.
Backend Technologies
Operating systems – Google's Android, Microsoft Windows, Apple macOS or iOS, and Linux OS
Web server (Software taking requests from users, analyzing them, and providing an output) – Open-source and free like Apache and Nginx
Database (Maintaining and processing data points) – MySQL, MongoDB, DynamoDB, Firebase database, and PostgreSQL
Storage – AWS S3 Amazon Simple Storage Solution and Google Firebase Storage
Programming language (Using different syntax to command computers to do whatever is needed) – Ruby [Ruby on Rails], Java [Spring], Python [Django, Pylons, Flask], Scala [Play], and PHP [Laravel]
Ecommerce Giants and Their Tech Stack
Application and data – React, Amazon CloudFront, Amazon DynamoDB, Amazon EBS, Amazon EC2, Amazon ElastiCache, Amazon EMR, Amazon RDS for PostgreSQL, Amazon RDS, Amazon Redshift, Amazon S3, Amazon SQS, Amazon VPC, AngularJS, Java, MySQL, Perl, Redux, redux-saga, Amazon Elastic Transcoder, and Amazon SimpleDB
Business tools – Amazon WorkSpaces
DevOps – Amazon EC2 Container Service, Amazon CloudWatch, Jest, and Nightwatchjs
Utilities – Amazon Route 53, Amazon SES, Amazon SNS, Amazon API Gateway, Amazon Kinesis, Amazon Glacier, Amazon CloudSearch, Amazon A/B Testing, Amazon SWF, Amazon Mobile Analytics, Amazon FPS, and Amazon Mechanical Turk
EBAY
Application and data – JavaScript, Node.js, Apache Tomcat, Cassandra, Cloudinary, ES6, Hadoop, Java, Marko, and Oracle
Business tools – WordPress, Balsamiq, Campaign Monitor, DocuSign, FogBugz, G Suite, and InVision
DevOps – Docker, Jenkins, BrowserStack, Pingdom, TeamCity, Apache Mesos, Honeybadger, and AlertBot
Utilities – PayPal, Twilio, KISSmetrics, Keen, Flurry, BitBar, UserTesting, and CrowdFlower
TARGET
Application and data – JavaScript, C, C++, CSS 3, Go, Groovy, Haskell, Java, Objective-C, PowerShell, Python, Ruby, Rust, Scala, Smarty, and TypeScript
DevOps – Docker and Nix
WALMART
Application and data – JavaScript, Python, AngularJS, Dropbox, Java, jQuery UI, Kafka, Markdown, MySQL, Node.js, React, Ruby, Sass, Spring Boot, TypeScript, Swift, Go, MariaDB, C++, Objective-C, Scala, Airflow, Apache Cordova, Apache Hive, Apache Spark, Backbone.js, Cassandra, Clojure, F#, Hadoop, iOS, Java 8, Kotlin, MSSQL, NumPy, R Language, PySpark, Apache Parquet, and NoSQLBooster
Business tools – Slack, Jira, Confluence, Microsoft Office 365, and Facebook Workplace
DevOps – GitHub, Ansible, Docker, Git, Jasmine, Jenkins, Kubernetes, Notepad++, and Prometheus
Utilities – Postman, Apache Solr, AssemblyAI, AWS IAM, Elastic, Elasticsearch, GPU.js, PayPal, PyTorch, Snappykit, and Solr
ETSY
Application and data – Apache HTTP Server, Amazon S3, Amazon EC2, Amazon CloudFront, Amazon EBS, Amazon EMR, and Hogan.js
Business tools – G Suite
DevOps – Jenkins, RequireJS, StatsD, and Hound by Etsy
Utilities – Google Analytics, AfterShip, and AppThwack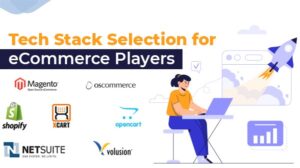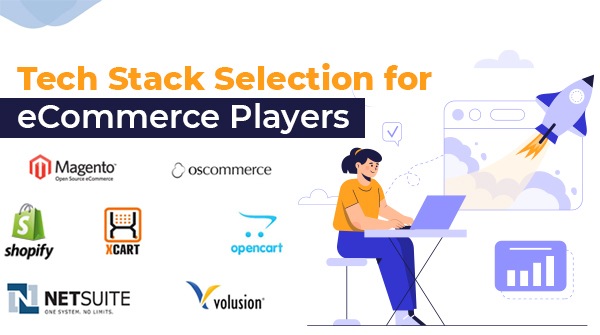 Summing Up
The aforementioned tech stack choices of eCommerce giants let you know more about the availability of various tools, techniques, and utilities for eCommerce apps and web development. When it comes to the right eCommerce tech stack for your app and website, eCommerce app development companies can help you make the right decision.
All eCommerce sites are not the same, and so are their tech stack needs. That is why you need to know what tech stack favors your web needs. Here, a professional eCommerce app developer can make things happen in your favor. Ecommerce apps and web solutions can help you get new client channels, marketing opportunities, personalization, brand authority, and trust.