Insurance companies are actively embracing digital transformation strategies due to several factors. Firstly, the increasing dependence of people on their phones has created a need for insurers to adapt to this shift in customer behavior. Moreover, the ongoing spread of COVID-19 has accelerated the demand for contactless transactions, making it essential for insurers to keep up with this trend.
Additionally, the digital boom has presented opportunities for insurance software companies to expand their market share and increase their profitability. However, handling processes, technology, and people simultaneously has never been an easy task for insurers since the inception of the digital transformation model.
Despite the challenges, digitalization has proven to be a game-changer for many Indian insurance companies and their customers. It has revolutionized the way customers are served, simplified communication channels, enhanced business operations, and facilitated efficient information management.
To cater to evolving customer needs and maintain a competitive edge, insurance companies must extensively digitize various aspects of their business. Adaptability and accessibility have become key requirements for businesses aiming for success. Consequently, insurers are at the forefront of driving the digital transformation in the industry, leveraging technologies such as artificial intelligence, machine learning, predictive analytics, mobile services, and live chat.
It is important to note that this transformation is not a one-time event; rather, it is an ongoing process that will continue reshaping the insurance industry for years to come.
Benefits of Digital Transformation for Insured and Insurers
Digital transformation has emerged as a crucial requirement for maintaining a competitive edge in the insurance industry. It empowers insurers with streamlined operations, enhanced customer interactions, automated processing activities, efficient data aggregation, and optimized processes and services. The impact of digital transformation on the Indian insurance industry is evident through the following notable benefits.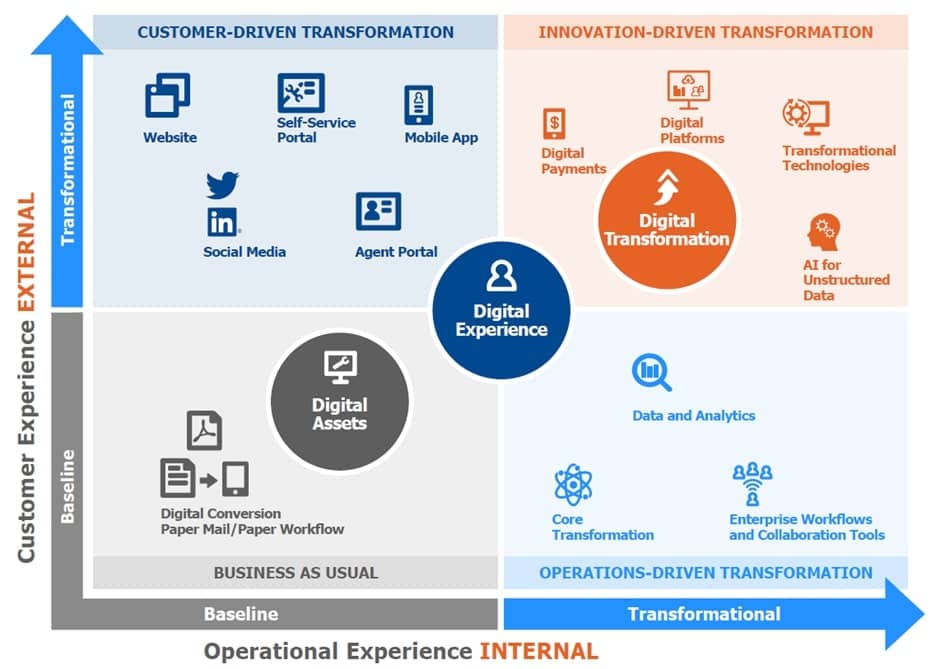 Efficiency
Quick Operations with AI and Predictive Analytics
AI, machine learning, and predictive analytics can help speed up insurance processes through digital transformation. Quick insurance writing and mobile apps that handle claims right away improve customer service. Digital helpers and live chat make it easier for customers and businesses to talk to each other.
Personalization
Seamless Personalized Experience
Digital change gives insurers the tools they need to give customers a more personalized experience. Surprisingly, insurers can now meet the needs of their customers whenever and wherever they want. Personalization can be done easily for things like paying bills, looking at policies, making claims, and giving feedback. Digital transformation lets insurers do a lot of different things and better target their marketing efforts.
Agility
Future-Proof Products and Services
As a result of digital transformation, a lot of insurance application development companies now have access to cutting-edge technologies such as artificial intelligence (AI), machine learning (ML), blockchain (blockchain technology), predictive analytics (PA), and data analytics (DA). It paves the way for innovative possibilities, letting insurers take advantage of emerging insurance technologies and future capacities.
Scalability
Enhanced Flexibility and Customer Engagement
Digital change gives the insurance industry more flexibility by making both front- and back-office processes more efficient. Customers can get useful information from self-service dashboards and apps, and DT technology helps brokers and insurers make smart choices about insurance policies, underwriting, and new products.
Digital transformation has many perks for both people who have insurance and insurance companies. It makes things more efficient, lets people have more personalized experiences, encourages agility and scalability, and drives growth generally. For insurers to stay competitive and keep up with the changing needs of customers in the digital age, they need to embrace digital change.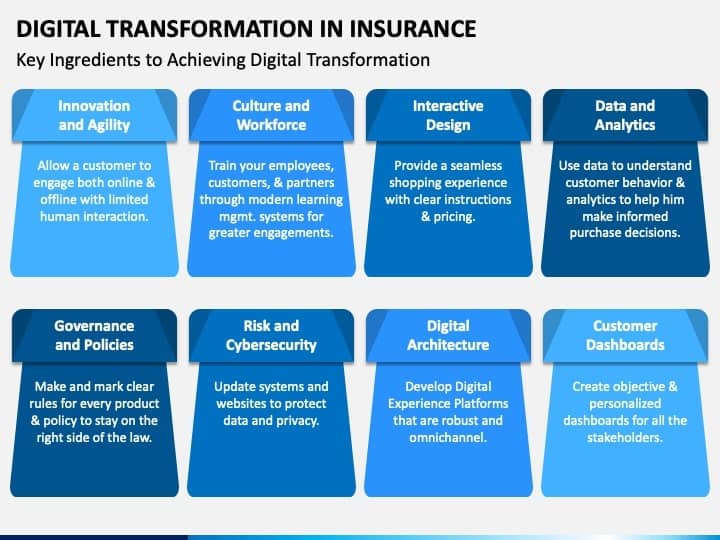 Essential Elements of Digital Transformation
Several digital transformation agencies play a crucial role in equipping insurance companies with comprehensive solutions, enabling them to maintain competitiveness in the insurance market. These companies facilitate the development of valuable features, functions, and apps tailored to the specific needs of insurance businesses. In fact, numerous key digital transformation (DT) technologies are available to empower insurance companies with the necessary tools and equipment.
Cloud Computing
For instance, cloud computing is important for insurers to execute their business plans with adaptive IT infrastructure, offering increased agility and scalability. In addition, it allows for efficient storage, processing, and management of data, supporting the seamless operation of insurance processes.
Robotics and Intelligent Automation
Above all, robotics and intelligent automation help insurers simplify processes and build a digital workforce that improves capacity and efficiency. As a result, automation reduces manual efforts and frees up resources to focus on high-value tasks.
Advanced Analytics
Meanwhile, utilizing advanced analytics empowers insurers to gain deeper insights from data. Also, by leveraging data analytics and predictive modeling, insurers can make data-driven decisions, enhance risk assessment, and improve customer engagement.
Digital Strategy
A robust digital strategy is necessary for insurers to handle people, processes, and technology across the entire value chain. Concurrently, it promotes innovation, identifies opportunities for improvement, and ensures effective management of digital transformation initiatives.
Next-Generation Data Management
Simultaneously, next-generation data management enables insurers to deploy and manage data on advanced platforms, empowering them with efficient data handling, integration, and analysis. As a result, this enables informed decision-making and drives business growth.
Blockchain
Blockchain technology gives insurance companies a way to handle data that is open, safe, and trustworthy. Moreover, it also helps people make better decisions by giving them a decentralized and unchangeable ledger for deals and sharing data.
Cyber Risk Management
Cyber risk management is important to protect insurance companies' names and assets. Also, insurers need to come up with effective plans, designs, and distribution methods to reduce cyber risks and protect data.
Digital Architecture
The advancement of the insurance business in India and the improvement of the customer-agent relationship heavily rely on digital architecture. Consequently, it entails designing and implementing robust technological frameworks and platforms to boost operational efficiency and enhance the customer experience.
Moreover, these elements are pivotal in driving the success of insurance companies. As a result, adopting such technologies enables insurers to enhance agility, gain deeper insights, improve decision-making, mitigate risks, and propel customer relationships forward in the digital era.
The Bottom Line
The insurance industry in India has reached a state of maturity and has become an integral part of people's daily lives. Consequently, insurance companies must adapt to the evolving needs of customers by building robust and functional systems.
They need to develop highly scalable solutions that ensure resilience and functionality. In this context, sensible digital technologies and applications play a crucial role in making new-age digital consumers feel at ease, while simultaneously contributing to the financial growth of insurance players.
To sum up, Binmile actively specializes in developing high-quality IT consulting services that leverage the intelligence of AI, ML, and predictive analytics. Our digital solutions empower insurers to create competitive features, functionalities, and applications.
Moreover, if you wish to learn more about how Binmile can assist you with your customer insurance solutions, please do not hesitate to reach out to our team.