These days, artificial intelligence (AI) has deeply integrated into all industries. Like other industries, the insurance industry needs to respond to the changing business landscape. AI comprises various related technologies, like machine learning (ML), deep learning, neural networks, and natural language processing (NLP). To make the most out of AI and associated technologies, insurance companies must understand the factors that will reshape claims, distribution, underwriting, and pricing. AI will help insurers build their skills and talent, adopt emerging technologies, and create the perspective and culture required to get successful outcomes in the future. Read here more about the growing impact of AI on the future of insurance in 2023.
Insurance Companies & AI Implementation
From a business perspective, AI assists business enterprises in conducting operations accurately and faster. This modern technology automates labor-intensive processes, saves time, and reduces costs. Businesses can use AI to analyze data, understand customers better, predict customer behavior, comprehend preferences, and optimize prices per product offering. Like other sectors, the insurance sector can also apply AI intelligently to serve their customer and grow its business. Nowadays, insurers of all sizes and types prefer AI for offering better, faster, and cheaper insurance services to targeted customers. Look at the following areas where insurers can apply AI and make a big difference.
Product Management
In the category of product management, AI helps insurers in the hyper-personalization of products, modeling analytics, performance analytics, pricing optimization, and time-to-market reduction.
Marketing and Sales
Some prime areas include automation of input, conversational agents, customer segmentation and analytics, distribution performance analytics, and manual-to-document-to-data assist.
Quote, Issue, Bind, and UW
This category includes autonomous underwriting, fraud analytics, KYC, AML, checks, manual-to-document-to-data assist, reserve calculations, STP and faster quote, underwriter assistance, and price analytics – new and retention.
Policy Servicing
It covers churn analytics, conversational agents, data monetization, policy document analysis, and predictive insights.
Claim Processing
This category covers autonomous adjudication, business impact analytics, churn analytics, claims adjuster assist, conversational agents, predictive insights, fraud analytics, litigation, subrogation analytics, and manual-to-document-to-data assist.
AI can generate numerous statistical models and experiments with genuine consumer benefits.
Also Read: Can Quantum Technologies & Exponential Intelligence Change Business Success Factors in the Next Decade?
Impact of Artificial Intelligence (AI) on the Future of Insurance
The growing use of AI has transformed the insurance sector since COVID-19 affected the world badly. During the pandemic, insurers had to adjust remote workforces, increase digital capabilities for distribution, and update their online channels virtually. The increased importance of digital technologies propelled insurers to incorporate AI into their operations. At the moment, the adoption of AI has accelerated the process of digitization for insurers. When it comes to analyzing the developments that shape the future of insurance, insurance companies need to concentrate on four core technology trends.
Eruption of Data from Connected Devices
The insurance industry is likely to see an increase in connected consumer devices. It will help insurers understand the needs of their clients better, create new product categories, personalize pricing, and enhance real-time service delivery.
Increased Prevalence of Physical Robotics
For many years, robots have been used to change the scenario of manufacturing. Today, 3D printing or additive manufacturing is reshaping commercial insurance products. Insurers need to know how to frequently use robotics to assess risks commercially, change customer expectations, and enable new insurance products and channels in the competitive market.
Open-Source and Data Ecosystems
Open-source protocols will likely create an ecosystem that will help insurers share and use data in multiple use cases under a common regulatory framework. People looking for insurance products and services can port data to insurance carriers through the ecosystem. They can also avail of insurance-related data through Amazon, Apple, Google, etc.
Advances in Cognitive Technologies
Currently, neural networks and deep learning technologies are helpful for image, voice, and unstructured text processing. Insurance companies might embrace these technologies for processing a large amount of data generated by active insurance products concerning the behavior and activities of insurance consumers in real-time.
A report by PwC shows that about 2/3rds of insurers, who have already invested in AI, have succeeded in creating a better customer experience (CX). Moreover, more than half of insurers found AI helpful in improving decision-making. Primarily, insurance companies are using AI to
Analyze data from different sources for better insights
Automate all facets of claims processing
Conduct sophisticated property and actuarial analyses
Create hassle-free interaction with clients for greater loyalty and upselling
Customize insurance products for consumers and business customers
Enhance product categorization and fraud detection
How Insurers Can Accelerate AI
AI leads to superior customer experiences (CX), increased productivity, and better products. A survey by PwC shows how AI investment is highly beneficial for companies that have fully embraced AI. About 86% of insurance companies create better customer experiences using the power of AI, compared with 67% of all companies. 75% of them also ensured improved decision-making. 75% of them also reported innovating their insurance products and services by leveraging AI. Moreover, 75% of insurers achieved cost-saving, and 64% operated efficiently/increased productivity.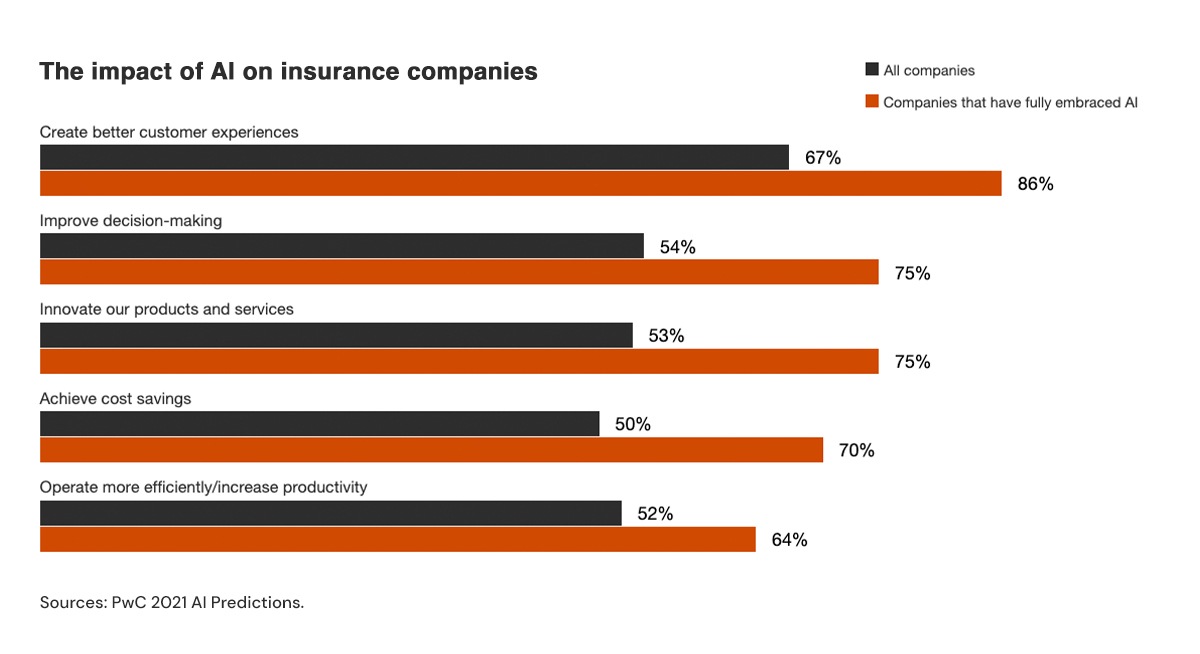 The extensive adoption and integration of automation, deep learning, and external data will fuel the industry's rapid evolution. It is not easy to predict what insurance might look like in the future; insurers can take these steps to prepare for change.
Get Smart on AI-related Technologies and Trends
design pilots and proof-of-concept (POC) projects to test how technology works
explore hypothesis-driven scenarios to understand the occurrence of a disruption
invest time and resources to understand AI-related technologies
Develop and Begin Implementation of a Coherent Strategic Plan
decide how to use technology to support insurance business strategy
try a multi-year transformation that handles technology, operations, and talent
modify your plan to address any shifts in the evolution of AI technologies
outline a road map of AI-based pilots and POCs that require investments
Create and Execute a Comprehensive Data Strategy
develop a well-structured and actionable strategy concerning internal and external data
include different ways to get safe and secure access to external and external data
use a multifaceted procurement strategy covering the direct acquisition of data assets, sources, and APIs
Create the Right Talent and Technology Infrastructure
develop an aggressive strategy to attract, cultivate, and retain workers with critical skill sets
identify external resources and partners to enhance in-house capabilities
integrate skills, technology, and insights to deliver unique, holistic customer experiences
invest in a future-forward technology stack supporting a two-speed IT architecture
Insurance companies need to focus on data, centralize capabilities, think long-term, and apply the responsible AI toolkit to overcome the AI obstacles and achieve a faster return on investment (ROI) with AI. Insurers can serve their targeted audience with quality insurance apps from a professional Insurance app development company.
Conclusion
Insurance companies will see long-term benefits of using AI in their insurance processes by upscaling AI and developing key capabilities. They also need to centralize capabilities that can be done by bringing AI, analytics, and automation together. The centralization of capabilities helps companies allocate, standardize, and utilize data.
Binmile designs and develops insurtech apps using AI that help insurers serve their customers better. Binmile also advises insurers on utilizing data smartly and making decisions with increased AI investments. With a modern tech stack and expertise in harnessing emerging technologies, Binmile ensures the insurance industry gets better mobile app development solutions.
Visit us on Folkd and get the latest technological updates that'll help you accelerate your business growth.