Nowadays, mobile applications have become a necessity to reach a wide audience, offering more benefits than traditional websites or desktop software. Mobile apps serve a variety of purposes, spanning from business to recreational and productivity needs.
Behind the scenes, numerous technologies and systems power these apps. As smartphones continue to rise in popularity and mobile app usage grows rapidly, developers face the challenge of navigating each platform's unique demands.
In this blog, we will explore the top technologies used in mobile application development, accompanied by real-world case studies showcasing their effectiveness.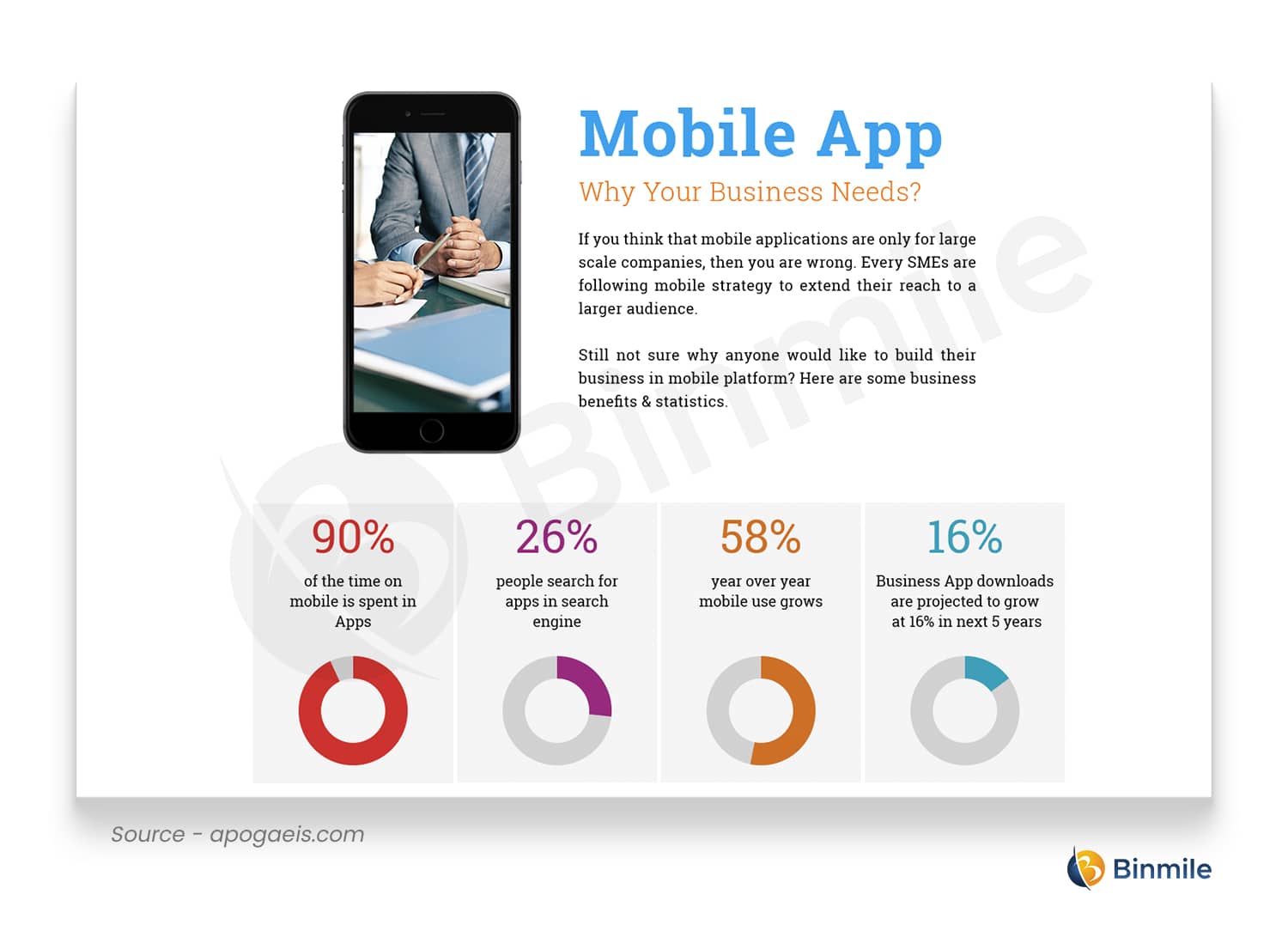 Role of Mobile Applications in Modern Business
Mobile applications have changed how businesses function, how they communicate to customers, and how they transmit their goods or services. With the popularity of smartphones, these apps have become an important part of everyone's daily lives. In fact, they unquestionably help both companies and consumers in multiple ways.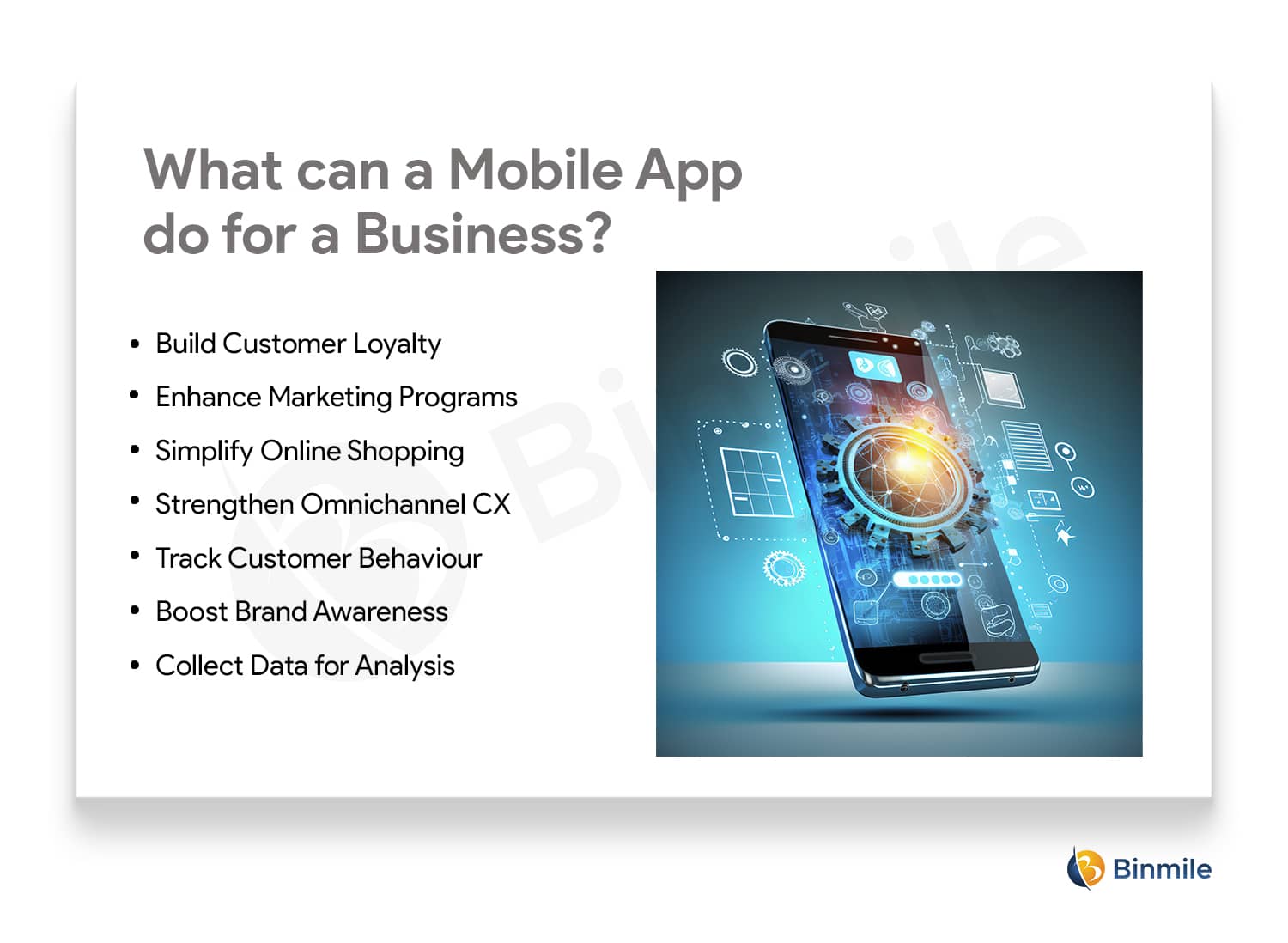 Let's look at how the industry is changing because of mobile application development services!
Better Engagement with Customers: Mobile apps allow businesses to interact with their customers in a more direct and standard way. Businesses get in direct touch with their customers via push messages, in-app messaging, and personalized content. As a result, this builds brand loyalty and makes customers more pleased.
High Accessibility: Mobile apps let companies be always available to their customers. By and large, users can readily access the app on their phones, which lets them use it as per their convenience. This way, it helps to reach more people outside globally, even in different time zones.
Effortless User Experience: Unlike mobile websites, mobile applications make the user experience uncomplicated and easy to comprehend. They are made just for mobile devices and take advantage of things like touchscreens, cameras, and GPS. At any rate, this makes customers more inquisitive, leads to more deals, and makes users satisfied.
Personalized Marketing Benefits: Applications help find out what customers like and how they function. However, companies can use this information to send personalized marketing messages, customized leads, and special offers based on customer preferences and requirements. On the whole, this makes the customer experience better.
Improved Sales: Mobile apps give companies new methods to make money and added revenue. Businesses can make easy money via in-app purchases, subscriptions, and of course, the most important, mobile ads. Also, mobile apps make it easy and safe for customers to pay with their phones, so they can buy things with just a few clicks. Nonetheless, it leads to more elevated sales and conversion rates.
Data Analytics and Insights: Apps accumulate useful information about how users act, what they like, and who they are. This, in turn, can let companies know about customer movements, enhance marketing tactics, and make the company run better across the board.
Best Languages for Creating Mobile Applications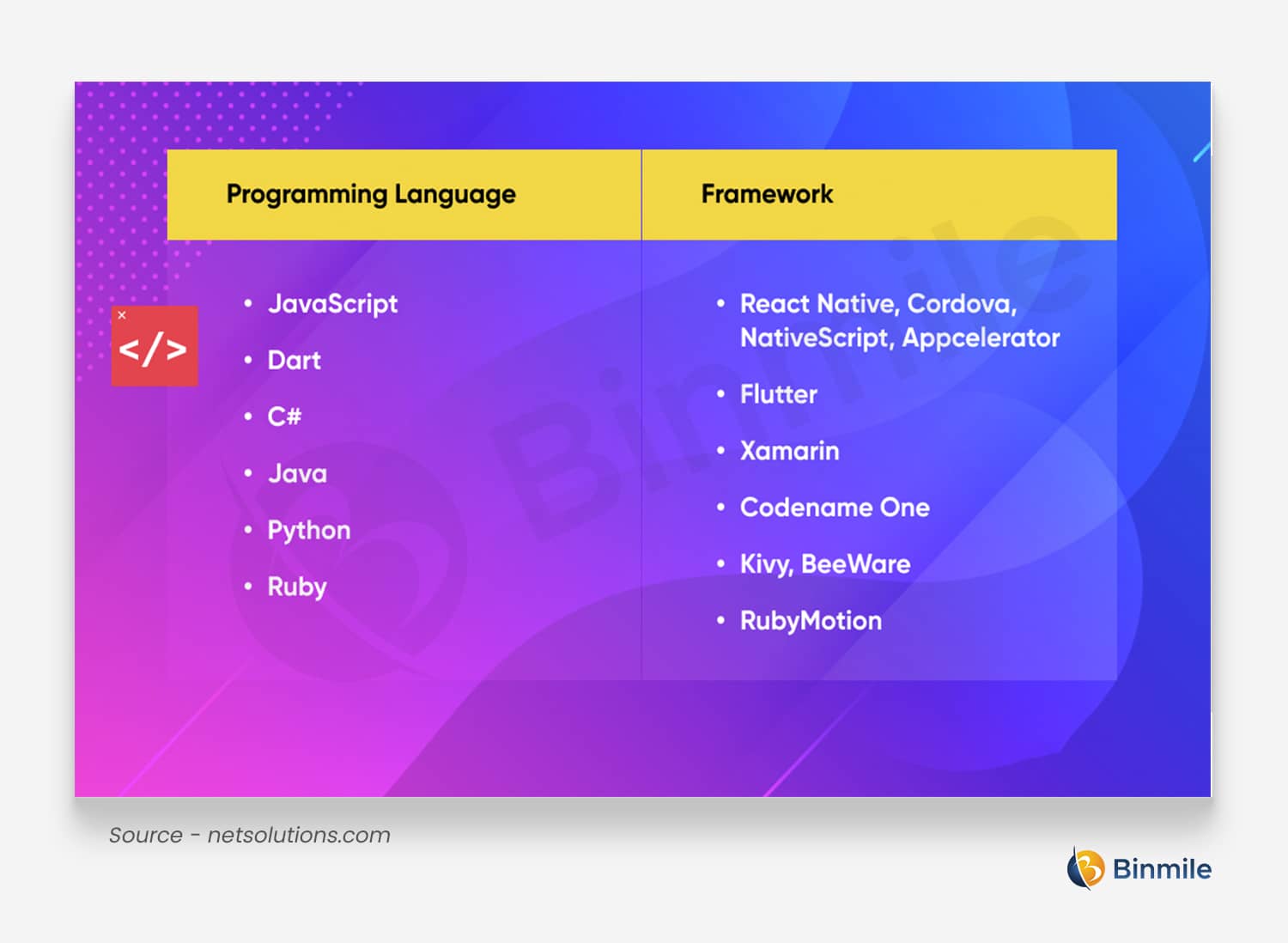 Swift For iOS
Swift is a programming language for iOS that was made by Apple. Above all, it has a contemporary syntax that makes it more straightforward to write and manage code.
Helps with interactive development, scaling, and improving speed.
Integration with Apple systems and APIs is smooth.
Let's developers make iOS games that are favourably interactive and look good.
Offers security features to keep user information secure.
Kotlin (for Android)
Kotlin is the preferred and most modern language for making Android apps. However, it works well with Java, so writers can move their Java code to Kotlin without any difficulties.
Offers clear writing, more efficient programming, and safer code.
Has no safety features, which lowers the chance of crashes during runtime.
Sponsored and suggested by Google, which makes it a good choice for making Android apps.
JavaScript (for Hybrid App Development)
Hybrid mobile app development platforms like React Native and Ionic are powered by JavaScript, HTML, and CSS. In fact, this language allows cross-platform mobile application development, so developers can write code once and use it on various platforms.
Offers a wide spectrum of libraries, frameworks, and other materials to help developers work quickly.
APIs for each platform are used to access the device's features.
Allows web development services to offer dynamic material and updates in real-time.
C# (for Xamarin)
C# is a widespread computer language best to make mobile apps that use the Xamarin framework. It gives apps tickets to native APIs and features, which further makes them manoeuvre faster.
Suggests a strong and object-oriented way to build apps.
Let's code to be shared across multiple platforms, which speeds up creation and saves time and money.
Offers easy integration with Visual Studio and a lively community for support and tools.
Best Frameworks for Building Mobile Applications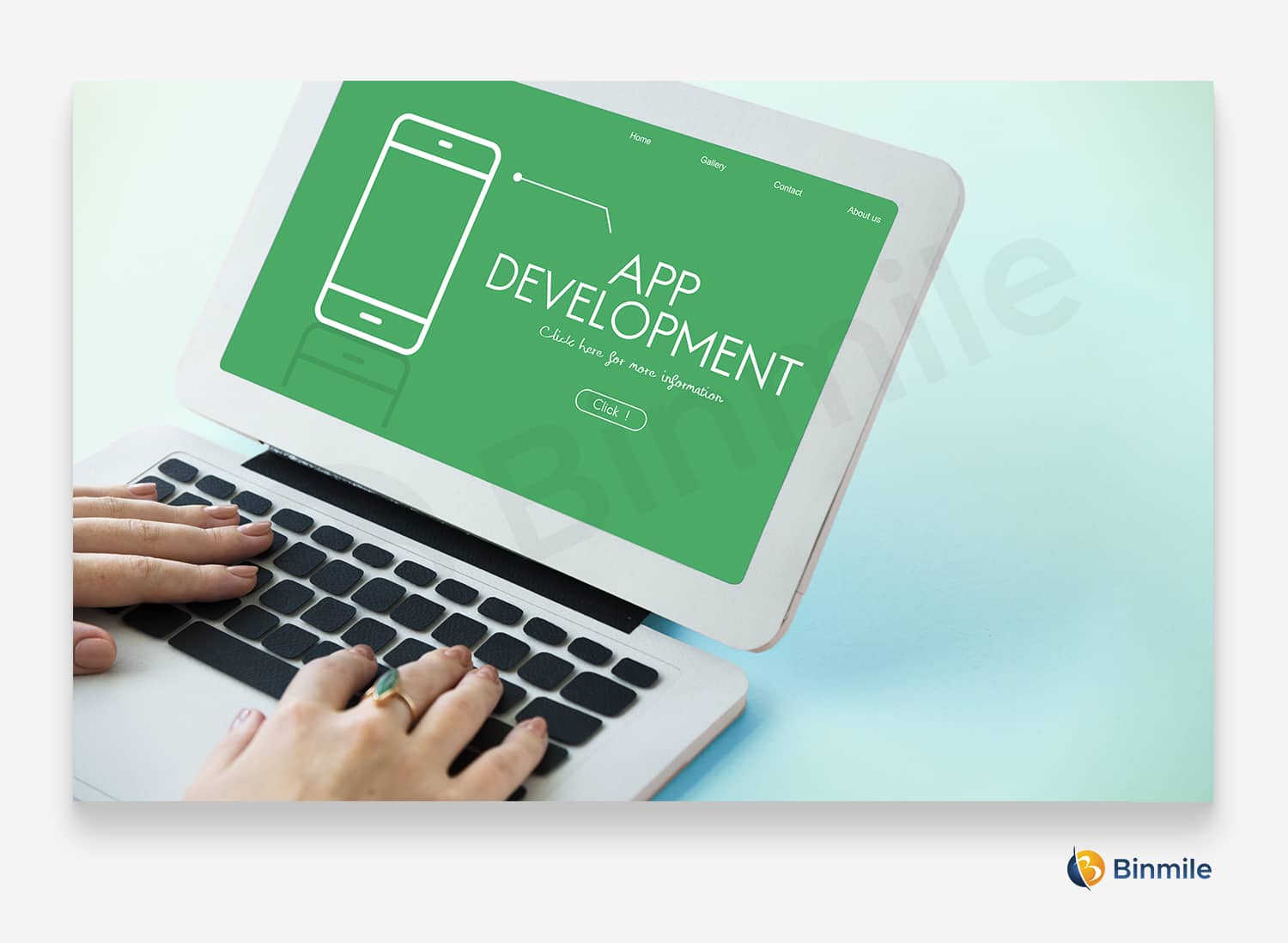 React Native
React Native, the most suitable JavaScript library for native app development across platforms and devices tops our list. All things considered, it can build sophisticated iOS and Android apps. It also lets you build platform-specific components to use a single codebase across several platforms.
Read More: Picking the Right Android Technology Stack for Mobile App Development
Flutter
Google Flutter is a UI toolkit for native web, mobile, and desktop apps. Its customizable widgets enable fast native app development. Moreover, flutter's layered architecture renders components much faster than any other framework.
Kotlin Multiplatform
Kotlin, a programming language, and aspiring modern solution, is another top mobile app development technology. Server-side mobile apps frequently make use of this framework.
Xamarin
Xamarin, a.NET framework, makes great mobile applications. Microsoft developed this native platform featuring a backend, API, components, etc. Xamarin developers and a lively community can create native apps for Android, tvOS, watchOS, iOS, macOS, and Windows using a wide range of utilities, resources, and code languages.
Ionic
Ionic makes cross-platform, interactive hybrid, and advanced web apps. In reality, this open-source framework offers premium web, Android, and iOS app development services. Ionic lets you design and deliver apps continually.
Apache Cordova
Apache Cordova, previously PhoneGap, is a developer-friendly mobile app framework. However, it develops mobile apps utilizing JavaScript, CSS3, and HTML5. Apache Cordova plugins let developers access mobile devices like cameras, GPS, accelerometers, and more to create native user interfaces. Above all, Apache Cordova's rapid development method is noted for single code and third-party software development services.
Trending Technologies Driving Mobile Applications Development
Standing first to market with a game-changing breakthrough is important for bearing a market lead. Stop wasting time guessing what technologies will help you build successful mobile apps. Check out our list ready already!
AR and VR
AR and VR are quite a buzz for a while. Not too far from the current times, we will notice more associations leveraging AR-based apps to deliver flawless mobile application development services. For example, IKEA Arrange, an AR app, authorizes users to virtually place furniture in their homes.
AI and ML
Mobile apps are progressively embracing predictive analytics, with AI and ML directing the way. Subsequently, mobile commerce apps utilize AI and ML to gather user data for decision-making. Anytime, we can expect noteworthy development in AI and machine learning adoption within mobile apps.
Blockchain
Blockchain enables data transmission and service access without third-party involvement. As noted, the security offered by blockchain technology is incredibly enticing to organizations, especially banks and financial institutions.
Biometric ID
Mobile application safety measures are becoming more rigid, leading to a greater demand for biometric technologies to guarantee privacy. This enhanced security and streamlined verification is possible via fingerprint readers and facial recognition software.
Cloud-Based Applications
Cloud applications present a solution to the challenge of creating apps for multiple platforms and devices. Cross-platform app development enables cloud apps to run on web browsers across smartphones, allowing online access to data and essential actions that are securely stored on servers. Ultimately, businesses are leveraging the advantages of cloud development services in their mobile app development initiatives.
IoT
The Internet of Things (IoT) has become increasingly dominant in various settings, be it your homes, offices, supermarkets, streets, and farms. Devices such as fitness bracelets, robot vacuum cleaners, TVs, toasters, speakers, and switches are already the talk of the town. Moreover, as the demand for such smartness rises, the IoT application development market will boost likewise.
5G Technology
5G technology takes the lead as a major mobile application trend. To emphasize, it allows superior functionality to mobile apps without compromising performance.
Voice-Assistant Apps
Voice assistants such as Siri and Alexa have altered daily tasks, and now mobile apps are following suit. Additionally, Google Voice search has also witnessed substantial progress.
To Conclude
Stay ahead of the curve by embracing the above-mentioned trends and technologies. Moreover, integrating them into your mobile app development strategy will help to deliver enhanced user experiences and stay competitive in the ever-evolving digital landscape.
Binmile is a distinctive mobile application development company considering it has the best mobile app development expertise and a proven track record. We make apps with lots of features that do well in terms of UI, UX, and usefulness.
Our experts will look at your needs to find the best mobile application technology for you. Also, our developers use the right development method to make sure that the development process goes quickly and smoothly.
So, pick us as your go-to company and give your users something of value. Connect with us at [email protected] today!