An app development framework is a set of integrated tools and components to develop applications and manage their life cycles. These frameworks provide developers with the tools required to create applications with a consistent look and feel across multiple platforms. Additionally, it supports various features such as authentication, database connectivity, and third-party services.
Mobile application development frameworks have become an essential part of the modern world, allowing businesses to create custom applications for their users. The Flutter app development company supports an excellent framework. A report by Statista claims that Flutter is one of the highest-grossing frameworks employed regularly by developers.
This article will overview the top mobile app development frameworks, along with comparing their features and functionalities. It will also discuss the advantages and disadvantages of each framework, helping businesses make the best choice for their mobile app development needs.
Characteristics to Consider Before Going for the Right Framework
Platform Compatibility
React Native: iOS, Android, and UWP platforms
Flutter: iOS and Android platforms
Ionic: iOS, Android, Windows, and PWA platforms
Xamarin: iOS, Android, and Windows platforms
UI/UX Support
React Native: Native-like user experience with reusable components
Flutter: Attractive UI with material design elements and smooth transitions
Ionic: Layouts, animations, and custom themes for creating attractive UI/UX
Xamarin: Native UI/UX components for creating appealing designs
Security
React Native, Flutter, Ionic, and Xamarin: Secure authentication and encryption for data protection
Performance
React Native: Excellent performance with code reusability
Flutter: Great version with UI rendering
Ionic and Xamarin: Good performance with native functionalities
Scalability
React Native, Ionic, and Xamarin: Easy scalability with code reusability
Flutter: Effective scalability via hot reloading
Community Support
React Native, Flutter, Ionic, and Xamarin: Large community of developers and experts
Cost
React Native, Flutter, and Ionic: Free and open-source
Xamarin: Subscription-based pricing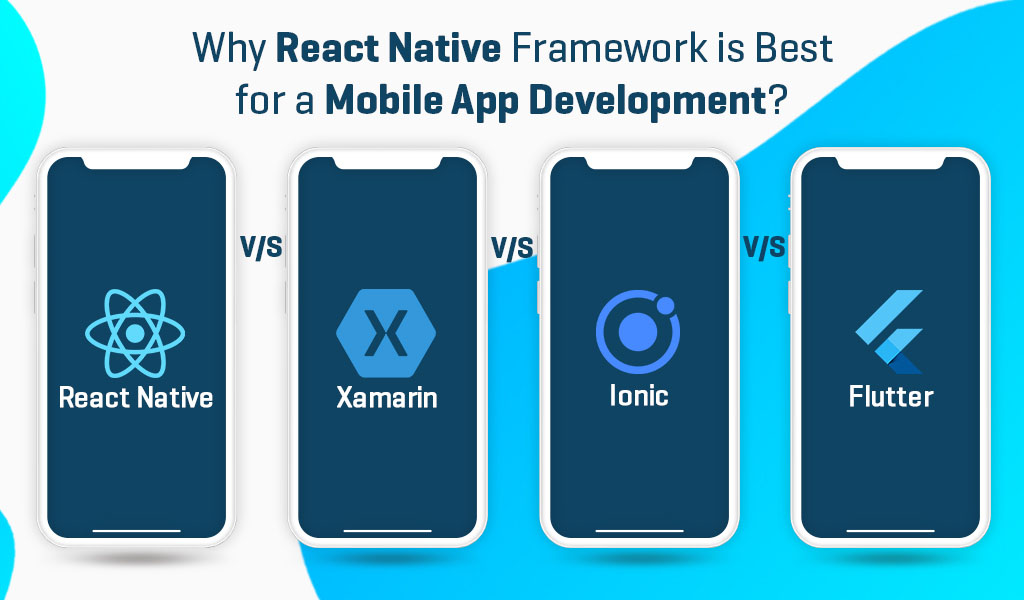 Overview of the Four Frameworks
React Native
React Native by reactjs development company is a library built on javascript and based on React, a javascript library for building user interfaces, and is used for iOS, Android, and Windows platforms. Reactjs allows developers to use React and native platform capabilities to create cross-platform mobile applications.
React Native Framework Top Features
Cross-platform Compatibility: React Native enables you to build mobile applications for both iOS and Android.
Hot Reloading: It lets you alter your code and seek results in real-time.
Reusable Components: Reusing and customising React Native components is a breeze.
Third-party Libraries: It enables developers to access third-party libraries to extend their project's capabilities.
Open-Source: It allows developers to customize their projects.
Additional Features
Code Push: Code push enables developers to quickly and easily deploy code updates without resubmitting their app to Play Store/App Store.
Animations: React Native enables developers to create smooth, high-performance animations.
Flexbox: React Native utilizes the Flexbox layout system to provide developers with a powerful tool for designing responsive user interfaces.
Navigation: React Native provides developers with various navigation components and tools.
Accessibility: React Native app development services enable developers to build applications that are accessible to people with disabilities.
Pros
JavaScript and ReactJS friendly
Native components as building base
Designed for creating both iOS and Android apps
Hot reloading feature to view code changes quickly
Broad library of third-party components and modules
A massive community of developers to help with any issues
Cons
More extensive compared to native apps
Not suitable for apps that require device-specific features or performance
Limited access to specific native APIs
Does not support all native UI components
Difficult and time-consuming debugging
Flutter
Flutter uses the Dart programming language and is used across cross-platform mobile applications.
It is an open-source mobile application development framework created by Google. Flutter allows developers to create native-looking apps for iOS and Android platforms with a single codebase.
Top Features of the Flutter App
Hot Reload: It enables developers to add features and fix bugs with the Flutter framework.
Cross-platform Development: It allows developers to write code once and deploy it to both iOS and Android platforms, eliminating the need to maintain two separate codebases.
Fast Development: Flutter helps developers rapidly build high-performance apps with a single codebase.
Built-in Widgets: It provides iOS-themed widgets allowing developers to make native mobile apps quickly.
Additional Features
Accessibility: Flutter provides tools for developers to build apps with accessibility features, ensuring that everyone can use and enjoy the app.
Backend Integration: The Flutter app development company provides tools for integrating with popular backend services, such as Firebase and GraphQL.
Platform Adaptability: Flutter allows developers to build responsive and adaptable apps to different screen sizes, orientations, and platforms.
Testing and Debugging: Flutter provides tools for testing and debugging apps, ensuring they are stable and reliable.
Pros
Fast development time with a hot reload feature
Robust and expressive UI with widgets
Easy to learn and use
Supports both iOS and Android platforms
Accessible native features and SDKs
Open source
Cons
Limited support for complex UI designs
Lack of maturity in the framework
Still in development and not as stable as other platforms
Lack of official support from Google
Performance issues on low-end devices
Ionic
Ionic is a free, open-source mobile UI framework created by Max Lynch, Ben Sperry, and Adam Bradley. It builds cross-platform mobile applications with HTML, CSS, and javascript. Per a survey by Statista, Ionic was used by 16% of developers in 2021.
Ionic Framework Top Features
Cross-Platform: Ionic enables developers to build apps for multiple platforms, such as Android, iOS, and Windows using one codebase.
Reusable Components: It offers a library across platforms for a consistent look and feel.
Accessibility: It provides accessibility features like VoiceOver and TalkBack for users with disabilities.
Performance: Ionic app development services are optimized for performance and provide a smooth user experience.
Additional Features
Third-party Integration: Ionic can integrate with various third-party services like Firebase and Stripe for additional features and functionality.
Security: Ionic provides built-in security features such as OAuth for authentication and secure communication.
Push Notifications: Ionic offers a push notification service to send users messages.
Offline Mode: Ionic apps can be designed to work offline, allowing users to access content even when they don't have an internet connection.
Analytics: Ionic provides analytics features so developers can monitor user engagement and usage.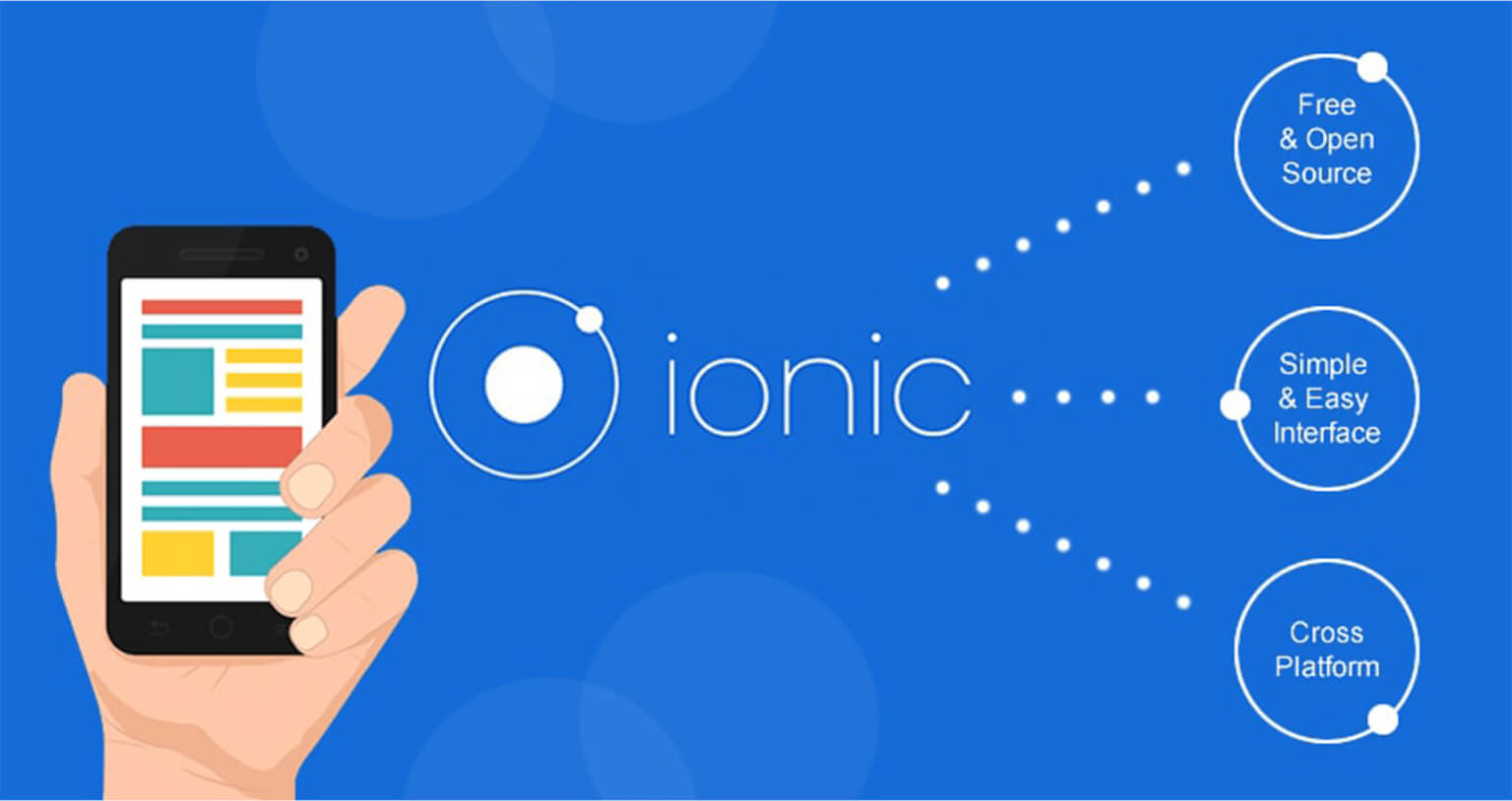 Pros
Easy to use
Flexible for custom development
Simple navigation
Supports both iOS and Android
Cons
Limited platform support
Not suitable for complex apps
Limited native functionality
Potentially inefficient performance on lower-end devices
Xamarin
Xamarin is a cross-platform mobile application development platform created by Microsoft.
It uses the C# programming language to build iOS, Android, and Windows apps. Xamarin allows developers to write code once and use it across multiple platforms.
Xamarin Framework Top Features
Native Apps: Xamarin enables developers to build apps for Android, Windows, and iOS using C# and .NET.
Shared Codebase: Developers can share up to 90% of their code across multiple platforms.
Cross-platform UI: The Cross-platform app development on Xamarin helps developers create native user experiences with platform-specific UI elements.
Integrated Development Environment: Xamarin Studio and Visual Studio provide a consistent development environment for both Android and iOS.
Additional Features
Cloud Deployment: Xamarin development services allow developers to deploy their apps to the cloud, simplifying and speeding up the development process.
Xamarin Test Cloud: Its Test Cloud feature makes it easy to test apps across multiple platforms and devices.
Xamarin Insights: Insights by Xamarin provides real-time analytics and crash reporting to help developers diagnose and fix issues quickly.
Xamarin Component Store: The Xamarin Component Store provides access to third-party components and libraries for Xamarin apps.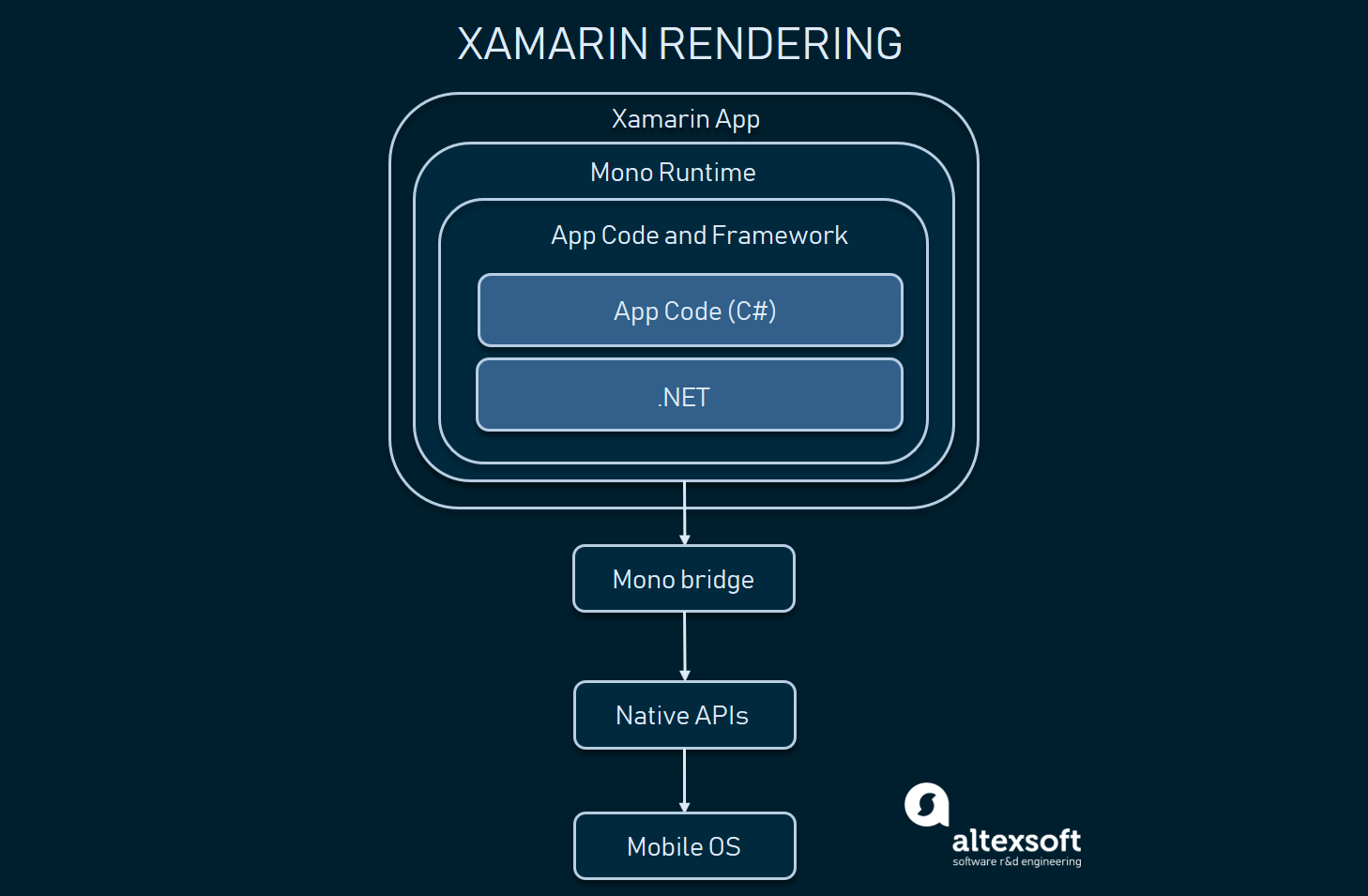 Pros
Cross-platform support for iOS, Android, and Windows
Integration with existing .NET code
Support for popular languages like C# and F#
Visual Studio IDE integration
Easy access to native APIs
Cons
Limited third-party library support
Restricted performance capabilities
Potentially high costs for enterprise-level apps
Difficulty debugging some native components
Why Choose Binmile for Mobile Application Development Services
All of these frameworks play a distinct role in fulfilling one or more key operations. While Flutter can offers an excellent fit with its revolutionary transitions and scalability features, Ionic by the Ionic app development company offers multiple compatibility features and custom UI/UX. When looking for a Xamarin app development company, you must ensure that simplicity is your ultimate goal.
Binmile has a team of experienced professionals who specialize in developing high-quality mobile applications to meet the specific needs of their clients. If you're searching for mobile application development services, Binmile is your calling. Whether you're looking for Flutter app development services or any other framework for your company's requirements, Binmile is here to help.