ServiceNow is a reputed management and automation model that made up 59 percent of sales in the 1st quarter of 2022. ServiceNow as a service is a powerful, cloud-based SaaS platform that offers innovative solutions to automate processes and deliver better services. Streamlining your ServiceNow implementation process is a great way to save time and money while improving user experience. By streamlining your implementation process, you can reduce complexity and costs and maximize the value of your ServiceNow investment.
This guide will offer the best practices to optimize your ServiceNow implementation process, including identifying and assessing your needs, creating an implementation plan, and optimizing your ServiceNow instance. Following these implementation steps can ensure a successful and cost-effective application of ServiceNow.
Definition of ServiceNow
ServiceNow is an IT service management platform that provides a cloud-based suite of services for companies to manage their IT services. It helps companies to manage their service delivery and operations —from creating and running services to monitoring and responding to service requests.
ServiceNow enables companies to respond quickly to customer inquiries and requests and provides them with real-time insights into the performance of their IT services. It also provides a comprehensive platform for automating and managing IT operations, including ServiceNow change management services, incident and asset management, and service requests.
Furthermore, it offers a self-service portal for customers, which customers can use to access IT services, submit service requests, and view service performance. ServiceNow customer service management is an integrated process involving rendering its people the best support. Additionally, ServiceNow integrates with other enterprise systems, such as ERP, HR, and CRM, to provide a unified view of service delivery and operational performance.
Why You Should Streamline Your Services ?
Streamlining through ServiceNow managed services provides organizations with an efficient, cost-effective, and automated way to manage their IT and business services. Let's discuss why you should optimize your ServiceNow for better performance.
Automation of Manual Processes: ServiceNow enables the automation of manual processes to improve efficiency and accuracy.
Assemble Service Delivery: ServiceNow streamlines service delivery by providing end-to-end service management and automation, ensuring that employees quickly get the help they need.
Reduced Costs: Automating and streamlining processes reduces costs associated with manual labor and errors.
Improved Customer Satisfaction: Automation of service delivery through ServiceNow improves customer satisfaction, as customers receive timely assistance and quality service.
Enhanced Visibility: ServiceNow provides visibility into service delivery processes and performance.
Self-Service Enabler: ServiceNow enables customers to self-serve for many common requests, reducing the need for manual intervention.
Improved Decision-Making: ServiceNow provides real-time data, enabling organizations to make better decisions.
Boosted Agility: It boosts agility, allowing organizations to respond quickly to changing business needs.
Increased Compliance: ServiceNow ensures compliance with industry standards, regulations, and best practices.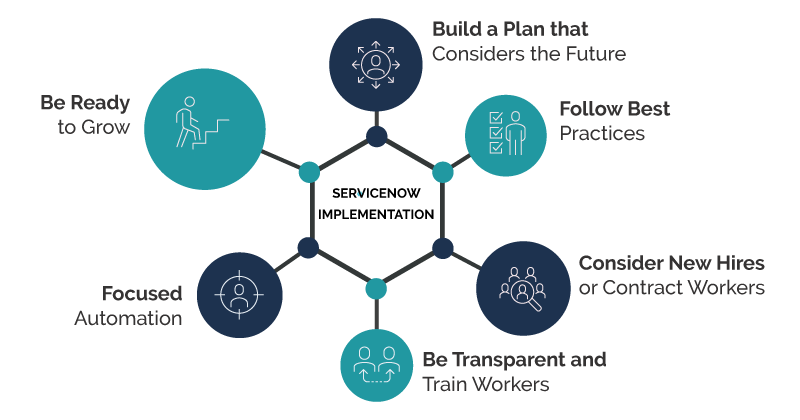 Best Practices in ServiceNow
Step One: Research
Before streamlining through ServiceNow, it is essential to research the ServiceNow platform and understand its features and capabilities.
Understand ServiceNow Capabilities
In the research phase of ServiceNow capabilities, focus on what it is capable of and how it can serve your organization. It includes understanding the different modules of ServiceNow, such as asset, change, incident, problem, and knowledge management, as well as its workflow and automation capabilities. You can also look into how ServiceNow integrates with other systems, including its scalability and reliability.
Identify Business Objectives
It involves analyzing the organization's current situation and identifying areas where ServiceNow can provide the most value. It could include looking at the organization's IT infrastructure, processes and workflow, user experience, and more. The goal is to identify opportunities to leverage ServiceNow to improve the organization's efficiency and effectiveness. Moreover, identifying the goals and objectives for ServiceNow project management services is imperative.
Step Two: Planning using ServiceNow Implementation Services
In the planning phase of ServiceNow implementation, it is essential to create a roadmap that outlines the steps and processes needed to implement ServiceNow successfully.
Establish a Roadmap
It would help if you created the roadmap with cross-functional teams, which should consider all aspects of the implementation —required resources, timeline, cost, risks, and benefits. The roadmap should also consider the organization's current environment and the goals they want to achieve with ServiceNow. It should be regularly reviewed and updated to ensure that the implementation stays on track and thrives.
Allocate Resources
Resources can include personnel with experience in ServiceNow, IT personnel to set up the infrastructure and configure the software, and personnel to assist with user training. Hardware resources may include additional servers, storage devices, and networking equipment.
Software resources may include licenses for the ServiceNow platform, necessary third-party integrations, and customizations for the organization's unique needs. The ServiceNow changes management services ensure that the implementation is carried out correctly.
Step Three: Customization for ServiceNow Event Management Services
Configure Workflows
Workflows are an integral part of ServiceNow ITSM implementation used to automate business processes and create a streamlined experience for end users.
It can include creating approval processes, automating notifications, and sequencing tasks. ServiceNow provides a comprehensive suite of workflow tools allowing organizations to build and deploy automated processes quickly.
Integrate Existing Systems
ServiceNow integrates with many existing systems, allowing organizations to quickly and easily integrate their ServiceNow data with other applications. This integration will enable organizations to gain real-time insights into their business processes, automate tasks and streamline operations. ServiceNow also provides a range of APIs, connectors, and scripts to simplify integration.
Step Four: Training
The training process in a ServiceNow implementation typically involves several steps.
Create a Training Plan
Defining Training Requirements: This involves understanding the goals of the ServiceNow implementation, as well as the skills and knowledge gaps of the users.

Developing a Training Plan: Once the training requirements have been identified, a training plan is developed. This plan should outline the various types of training that are provided to the users, such as classroom training, online tutorials, and hands-on exercises.
Creating Training Materials: This includes developing presentations, handouts, and other materials to support the classroom and online training sessions.
Delivering Training: This involves conducting classroom and online training sessions and supporting users during hands-on exercises.
Evaluating Training Effectiveness: It is crucial to evaluate the effectiveness of the training once it has been created. It includes assessing user knowledge and understanding of the ServiceNow system and evaluating user feedback.
Refining Training Materials: You can make new changes to the training materials and delivery methods after evaluating the training. Doing this ensures that the users have the most up-to-date information and can effectively utilize the ServiceNow system.
Develop Documentation
Design the System Architecture: You must define the application architecture, determine the process flows, and develop the system design.

Configure the System: This includes setting up the system, configuring the workflows and forms, and defining the roles and permissions.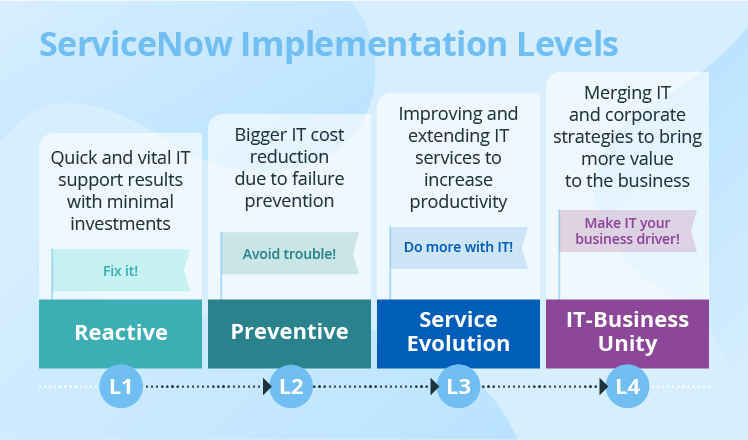 Step Five: Testing and Deployment
Test the System
You can conduct unit tests to ensure the system is functioning correctly, stress testing the system to handle the expected load, and user acceptance testing to ensure the system meets the user requirements.
Deploy the System
System Testing: System testing entails meeting the desired requirements and functions as intended. It includes unit testing, integration testing, acceptance testing, and other forms of automated testing.
User Training: User training is educating users on using the system, including navigating the user interface and taking maximum advantage of the system's features.
Business Process Testing: Business process testing includes testing the system's ability to handle different business processes and ensure that all the data is processed correctly. It is carried out in two ways —testing with real-world data and scenarios.
Monitor and Maintain the System
Monitoring involves checking the performance of the system, verifying that the system is meeting the user requirements, and ensuring that the system is secure and compliant with relevant regulations.
It also entails monitoring the system's response times and user experience and ensuring that it is properly maintained and updated. Additionally, monitoring the system can help identify areas of improvement and can help with troubleshooting issues that arise.
Why Choose Binmile as a ServiceNow Service Management Company?
A ServiceNow implementation partner can prove effective for your business. As discussed above, ServiceNow implementation helps organizations streamline and automate their IT service management processes and provides enhanced visibility into their operations. In short, ServiceNow allows organizations to increase their operational efficiency and improve the customer experience.
A report by Statista claims that the renewal rate offered by ServiceNow is 98 percent due to its nature of successful outcomes. Binmile provides a comprehensive suite of services for ServiceNow implementation, helping organizations drive digital transformation with improved agility, scalability, and cost-effectiveness.
Binmile's certified ServiceNow professionals are experienced in delivering end-to-end ServiceNow solutions tailored to meet your specific requirements. They leverage industry-level practices with their extensive experience in ServiceNow implementations which ensure successful outcomes. Their services include architecture and design, custom application development, integration and migration, testing, and training.