Tags:
Businesses that are more productive make more money than those that are not, but it can be hard to get to and keep a high level of production. As a result, the success of any business depends on how well the work gets done. In this way, Business Analysts can help your company's long-running and out-of-date processes run more smoothly.
They are expected to know how all of these things work and give specific advice on how to improve each one. A Business Analyst can help your processes a lot by making it easier to reach goals, making them more efficient, and finding problem areas.
At Binmile, we know how important it is to give advice all the way through the development process, from the proposal to the final release. A Business Analysis expert can be very helpful in these scenarios.
To help you decide, we'll list a few ways that a Business Analyst can make your team's processes more effective and efficient.
The Need For Business Analysis
Address Problems – Business analysis offers a structured approach to identifying and solving problems within an organization. By understanding the root cause of issues, business analysts can effectively implement solutions to address them.
Align Strategies – Apart from this, business analysis ensures strategic alignment, where processes and systems align with the organization's overall strategy and goals. This alignment helps businesses stay competitive and adapt to market changes.
Financial Saving – Besides, business analysis helps identify inefficiencies and bottlenecks in operations, leading to cost savings. By streamlining software engineering services and improving efficiency, this way, businesses can save money and increase revenue.
Boost Customer Experience – Likewise, business analysis enhances the customer experience by understanding customer needs and preferences. This understanding enables businesses to deliver better products and services, resulting in an improved customer experience.
Tech Advancements – It is crucial for organizations to leverage technological advancements and software. It enables them to improve workflow and processes by adopting new technologies.
Decision Making – Lastly, business analysis enables data-driven decision-making, providing organizations with the necessary data and insights to make informed decisions. These decisions contribute to improving performance and competitiveness.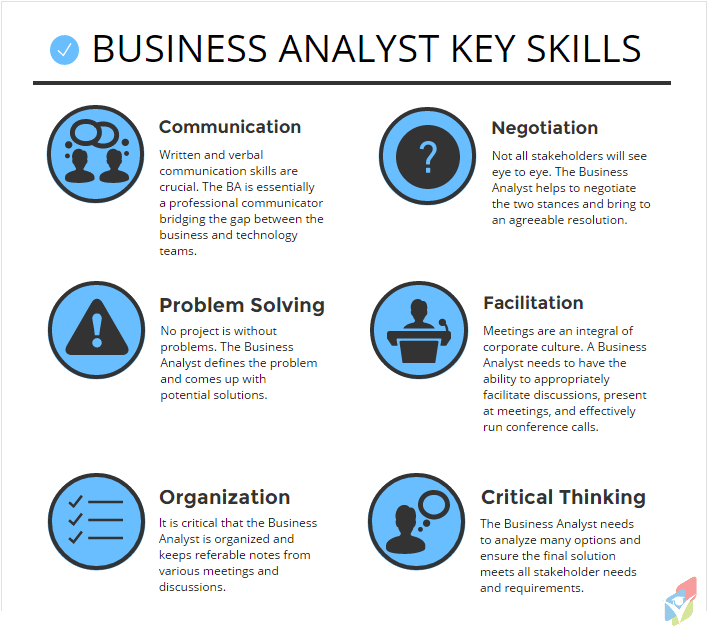 Roles and Responsibilities of Business Analysts
The role of a business analyst encompasses various responsibilities and duties, which can vary depending on the specific job and organization.
Some common ones include:
Analyzing Requirements – Business analysts identify and document the needs and objectives of stakeholders, such as customers and internal departments. They actively engage in understanding and documenting these requirements.
Coming Up with Solutions – Based on the gathered requirements, they design and develop solutions that effectively address the identified needs and objectives. Above all, they actively participate in the design and development process.
Implementing and Testing – They are actively involved in implementing the solutions they have designed and may also take on the responsibility of testing to ensure that the solutions are functioning as intended.
Providing Support and Maintenance – Business analysts may be responsible for providing ongoing support and maintenance for the implemented solutions. Clearly, they engage in addressing any issues or concerns that arise.
Communicating and Collaborating – They make sure to actively communicate and collaborate with stakeholders, including customers, internal departments, and IT staff. This ensures that the solutions align with the overall strategy and goals of the organization.
Improving Business Processes – They industriously identify areas for improvement and implement changes to optimize processes.
Analyzing Data and Reporting – Business analysts may take on the responsibility of analyzing data and creating reports. These reports further help identify trends, make informed decisions, and measure the success of implemented solutions.
Managing Projects – Even so, they may also be involved in project management activities, such as planning, scheduling, and monitoring progress. Accordingly, they ensure completing projects on time and within budget.
Business Analysis Process
Requirements Gathering and Analysis
Firstly, this is a crucial step in business analysis, which involves identifying and documenting stakeholders' needs and objectives. Secondly, this process includes steps such as identifying stakeholders, conducting interviews and surveys, analyzing data, creating requirement documents, reviewing and validating requirements, and managing them throughout the project.
The output is a set of requirements that guide the design and implementation of solutions aligned with the organization's strategy. Ultimately, this step effectively prevents costly rework and ensures the fulfillment of stakeholder needs.
Solution Design and Development
It entails designing and developing solutions that address the identified needs and objectives. By and large, the process typically involves identifying potential solutions, designing the solution with detailed specifications, developing it with the help of the team, testing the solution to ensure its compliance with requirements, and documenting it comprehensively.
Therefore, the outcome is a fully developed solution. It meets stakeholder needs, aligns with the organization's strategy, and is ready for implementation. This step is crucial in ensuring an effective and efficient solution, thereby preventing costly rework in the future.
Implementing And Testing
After designing and developing the solution, the last step in the business analysis method is to put it into action and test it. It includes putting the solution into action and putting it into use while testing it thoroughly to make sure it meets the goals and requirements set up in earlier stages.
Usually, key steps make up the process of application and testing. First, the business analyst works with the project team to make a plan and schedule for execution. Then they point out any possible risks or problems. After that, they work with the team to put the answer into action by configuring software, running tests, and training end users.
End-users actively participate in user acceptance testing to verify that the solution meets stakeholder requirements. After passing the testing phase, the team installs the solution on production systems and provides ongoing support and maintenance services.
The business analyst carefully watches and tracks how the answer is working and takes care of any problems right away. Lastly, they finish the documentation and continue to provide help and maintenance to make sure the system works well and everyone is happy.
Maintenance And Support.
Read More: Software Testing As A Career: Complete Guide
Ongoing maintenance and support play a vital role in ensuring the solution consistently meets stakeholder needs, aligns with the organization's strategy and goals, and remains effective and efficient. Additionally, it helps prevent costly and time-consuming rework in the later stages of the project.
The Bottom Line
A reliable business analyst can help make sure that your business processes are highly functional. They give your operations team the knowledge, skills, and experience they need. Subsequently, this helps them find and use the right strategies and tools to be as productive as possible.
The more profitable your business is, the more productive your business processes are. Even though working with a business analyst can cost a bit, the benefits can far outweigh the costs and help your IT Consulting Company grow and be successful in the long run.