Transportation management software in logistics is designed to simplify and improve operational product management processes. It helps logistics professionals with benefits, such as –
Reduce delivery costs
Prevent time and money losses
Improve supply chain visibility
Make informed decisions through data-based insights
Apart from the afore-mentioned benefits delivered by the transportation management system to the organizations in the field of logistics, it also handles overwhelming data. It streamlines manual processes and reduces costly mistakes which collectively orchestrate negative ramifications if left unattended.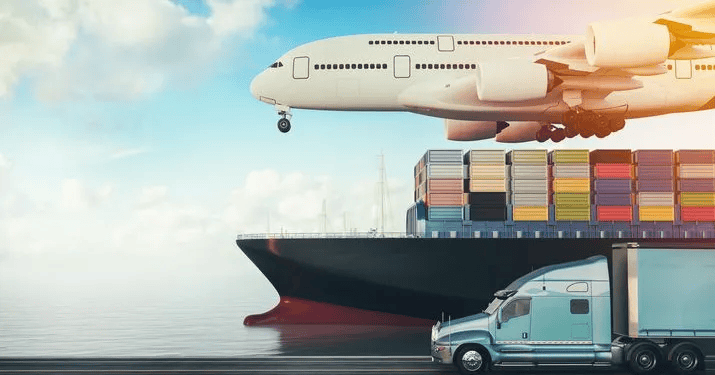 What Is Transportation Management Software?
Well, transportation management software (TMS) is a subfield of supply chain management to help companies plan, execute, improve, and optimize the transportation of incoming (procurement) and outgoing (shipping) goods.
This logistics platform ensures that the shipment of goods aligns with regulatory compliances and is properly documented. It is an intermediary between an enterprise resource planning (ERP) and a warehouse module.
The software provides actionable insights into daily transportation operations, trade compliance data, and documentation.
It ensures that freight and goods are maintained in a timely fashion by streamlining the shipping process and simplifying transportation operations in transit via air, land, or sea.
Companies can go for a standalone TMS to integrate it with their existing cloud or on-premises ERP software and SCM systems.
Examples of Transportation Management Solutions
Oracle
Descartes
3Gtms
Cloud Logistics
SAP
Transplace
MercuryGate
Trimble
Statistical Overview Of Transportation Management Software
Grand View Research reports that the market size value of the global transportation management system (TMS) was $10.45 billion in 2022, growing at a CAGR of 14.8% from 2023 to 2030.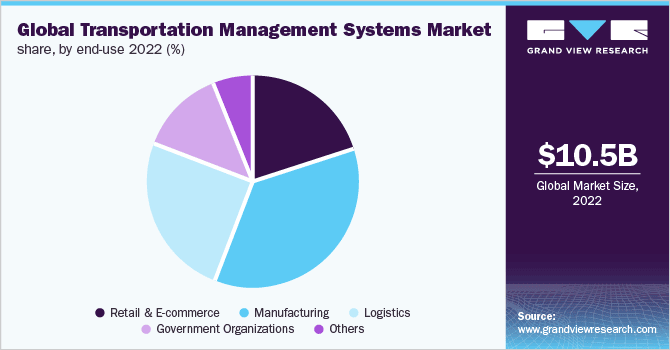 Key Processes Of Transportation Management Software In Logistics
It defines the most optimal transport schemes based on the given parameters, including transport costs and lead-time
It enables the execution of transportation plans, like carrier dispatching
It maintains follow-up regarding transportation, such as tracking transport activities from shipment to arrival and custom clearance, etc.
It acts as a key performance indicator (KPI) regarding how transportation functions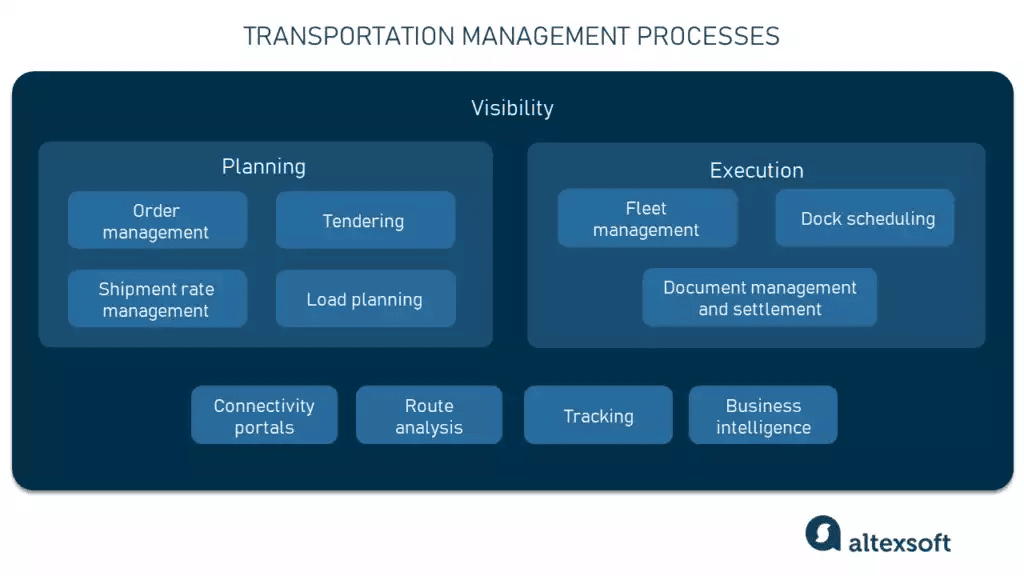 Key Features Of Transportation Management Software In Logistics
Detailed planning for terrestrial transport routes
Inbound and outbound fleet management and optimization
Transport service provider selection
Management of transport activities, real-time tracking
Vehicle load and route optimization
Cost and scheme simulation regarding transport
Contracts management for carriers and customers
KPI reporting and statistics
Complete transportation lifecycle management
How Does Transportation Management Software Serve Logistics?
Data collection – It collects data generated by sources, such as IoT sensors, carrier information, purchase orders, general ledger, GPS tracking data, etc.
Automation – TMS automates logistics processes which reduce human errors and boosts process efficiency. It further helps connect customers with carriers, negotiate more competitive carrier rates, etc.
Valuable insights – It generates key insights based on reported activities, like operations, finances, customer satisfaction, etc.
Read More – Top Logistics and Supply Chain Trends To Watch Out For In 2023 And Beyond
A Workflow Analysis Of Transportation Management Software In Logistics
How TMS work can be divided into three distinct categories, PLANNING, EXECUTION, and OPTIMIZATION, to drive efficiency to logistics operations.
Planning
TMS helps businesses to choose the best-suited mode of shipment and reliable carrier partners based on certain parameters, like cost, efficiency, and distance. The software ensures cost-efficiency in the delivery method. It can also provide traceability and visibility of the entire supply chain lifecycle.
Execution
This feature of TMS helps businesses execute crucial tasks related to freight management. For example, it facilitates the booking of shipments with carriers, communicating with them, and matching loads.
It ensures real-time visibility into the movement of freight, tracking and tracing the shipments, and sharing this information with carriers, suppliers, warehouses, and customers. The software also helps businesses to deal with complex international logistics, ensuring trade compliance with the shipments.
Optimization
It tracks the performance of your supply chain based on data associated with logistics operations. You get insights regarding future shipments, and whether the process encounters any setbacks.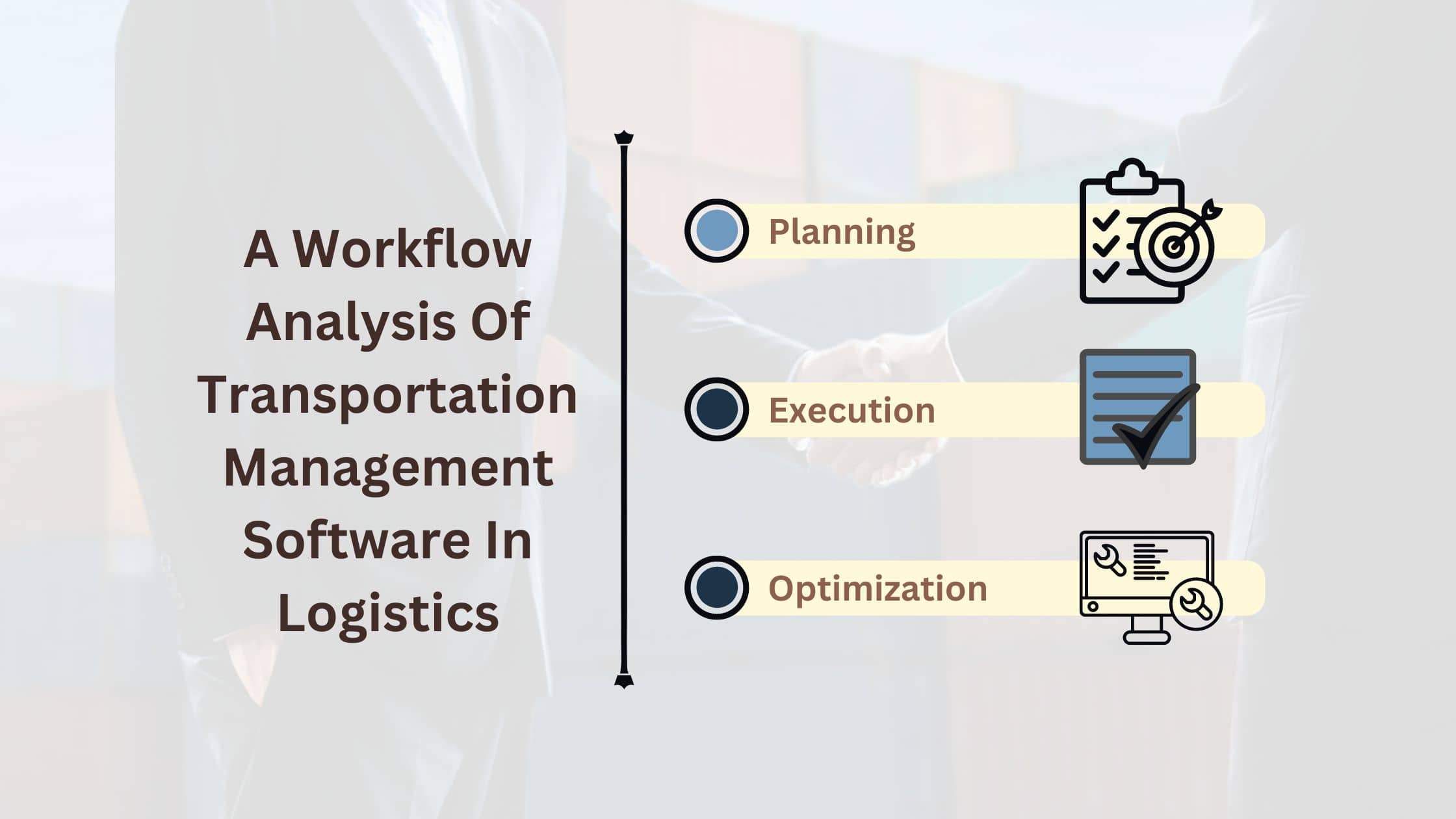 How Does Transportation Management Software Solve Logistics Problems?
Freight Analysis – Gives you cost prediction on inbound and outbound movement of goods.
Scheduling Timeline For Manufacturing – Gives an accurate projection of how much inbound material would be required to schedule manufacturing accordingly.
Transparency In Supply Chain – Ensures transparency in the supply chain with greater visibility into inbound material needed to fill shipment orders.
Procurement Report – Enables effective management of vendor supply performance with detailed reports of the logistics operations.
Reduce Freight Expenses – TMS optimizes the workflow of entire logistics operations to reduce freight costs, with prompt analysis of different routes.
Improves Supply Chain Efficiency – TMS when integrated with ERP and warehouse management systems can constitute a powerhouse of performance in boosting supply chain efficiency.
Improves Warehouse Efficiency – The ability of TMS to instantly locate items whether in transit or buried somewhere in the warehouse results in effective warehouse management for logistics businesses.
Cost-efficient Audits – Using TMS means empowering your finance team to process transactions; from basic invoicing to freight audits and payment timelines.
Five Compelling Features A Transportation Management Software In Logistics Should Have
Powerful Optimization System
Based on the criticality of logistics operations, it makes sense to have a transportation management system that can help you with plans regarding terrestrial transport routes.
It must solve any obstacles in delivery management and ensures mapping out best route plans to save you costs and maximize your fleet's capacity. Also, it should feature load optimization, route optimization, freight management, etc.
Business Intelligence Capabilities
The biggest advantage of business intelligence is that it drives bottom-line growth for any organization. In the context of TMS having business intelligence capabilities, it will offer valuable insights into your fleet performance.
Moreover, you can use the software to optimize workflows and identify improvement areas based on the mission-critical transportation intelligence data it provides.
Maximizing BI-powered TMS solutions would mean gaining insights into potential traffic delays, and measuring the effects of route changes on overall fleet performance.
Real-Time Track And Trace Capabilities
Transportation management software should feature track and trace capabilities for the physical movement of products. It should provide a comprehensive update on each stage of the transportation process.
Most importantly, the TMS must help you with accurate monitoring and tracking of the shipment coupled with automated notifications for products in transit.
Advanced Route And Load Planning
Most of the TMS products provide just rudimentary route planning for logistics operations. They are not advanced enough to serve your logistics needs properly, especially when you need insightful route planning.
Working with a reputed transportation and logistics software development company can help you build a robust TMS with advanced route and load planning features. Suggestions of a vehicle based on the characteristic of load can be facilitated by an advanced TMS.
Carrier contracts management
The core feature of any TMS is contracts, which the software should be capable of managing. That's because it enables logistics companies to maintain relationships with their existing transporters or carrier partners.
The advanced TMS can handle multimodal contracts ensuring they comply with agreed-upon rules and pricing based on the contract. The TMS should also facilitate customizable geography details for transit zones, times, and lanes. It should improve visibility, cut paperwork, and enable logistics firms to make decisions fast.
Closing Statements
Transportation management software plays an instrumental role in simplifying and improving operational product management processes for logistics businesses.
It helps with numerous benefits, including reduced delivery costs, real-time updates on physical movements of goods, reporting on fleet performance, improved supply chain visibility, and enabling businesses to make insights-based decisions.
If you are impressed with the significance and benefits of TMS and are looking for a futuristic solution built for your logistics business, choose Binmile. A globally renowned digital transformation company known for providing top-notch transportation management services. It helps businesses in the field of logistics and supply chain management succeed and stay competitive in their niche.