ServiceNow platform implementation is a unique strategy for organizations of all shapes and sizes to streamline their in-house business processes. It helps them improve employee productivity, and bring automated workflow efficiency to enhance customer experiences.
How Does Opting For ServiceNow Platform Implementation Work For A Business?
ServiceNow platform implementation results in strategically transformed productivity for your business. For example, it boosts employee efficiency, improves business processes, and drives growth in your organization.
You can also consider opting for ServiceNow custom applications for improved business productivity and unhindered growth for innovations in your business in the long run.
Why Does ServiceNow Platform Implementation Make Sense For Your Organization?
It drives transformations in your business that strategically helps it grow
Improves your employee productivity through automated workforce efficiency it brings
Noticeably improves business processes which further leads to an organizational efficiency
ServiceNow platform Implementation justifies the ROI of every invested money of your business
ServiceNow implementation methodology involves various stages, like initiation, examination, planning, creation, transition, and closure. The first stage consists in understanding the customer. The second stage means understanding the platform's needs.
The third stage involves refining configuration needs. The fourth stage talks about realizing business goals, and the sixth stage reveals customer support readiness.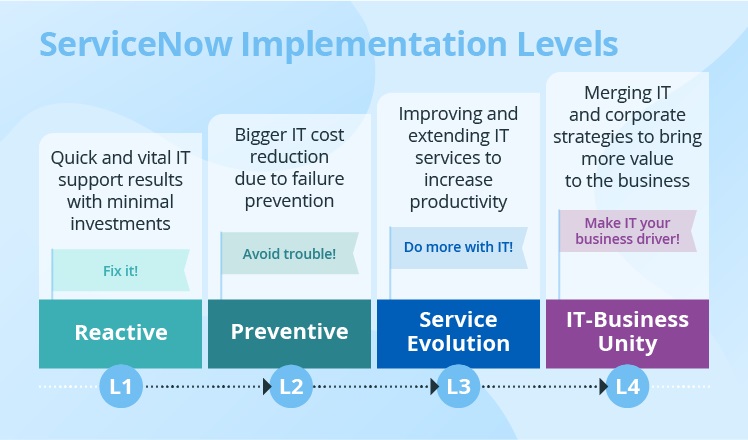 Lastly, the seventh stage involves the assessment of success.
According to Statista, ServiceNow generated revenue of nearly $7 billion in 2022. It keeps growing, thereby signaling the viability of the platform for organizational growth.
What Is The Timeline And Cost For ServiceNow Platform Implementation?
Usually, the timeline for ServiceNow platform implementation takes anywhere from 8 to 12 weeks. Also, the cost of ServiceNow implementation stands dynamic and so can be anywhere between $30,000 – $60,000 plus license costs.
Typically, the cost figure is based on the needs and the specific industry you target.
How To Estimate ROI from ServiceNow Platform Implementation?
Initially, you need to make sure that you are using the ServiceNow platform effectively so that you can manage operational costs efficiently. You should be familiar with improvement models and mechanisms that play a crucial role in helping you track expenses regarding front-to-back customer services.
Accurate measuring of ROI is also possible if you make use of clean data, define tasks, and identify your organization's role in the overall business goals.
Moreover, you need to know the inputs and outputs of the defined tasks and their positive contributions in your organization. To make use of clean data, you need to analyze the behavior of quantifiable, key data points in specific periods of their occurrence.
Top 10 Best Practices To Improve ROI For ServiceNow Platform Implementation
Develop A Powerful Strategy
One of the best ServiceNow implementation practices is developing a rock-solid service strategy that reflects your business needs that you identify after you have assessed the current service processes.
ServiceNow can provide you with the necessary tools that you can use to resolve client complaints. However, it is not equipped to help you with a customer service plan resonating with your business needs. You must have a strategy in place to make the best use of ServiceNow platform implementation in the future.
Build An Impressive Business Case
Why build a business case?
Because that's the key strategy to help you plan the ServiceNow adoption. Your business case should reflect the detailed roadmap, assessment, and cost-benefit analysis. Present it to the stakeholders to have their feedback and approval.
Choose A Phase-Wise Deployment Approach
Choose a phase-wise deployment approach for ServiceNow implementation to ensure that all interconnection and dependencies between ServiceNow products and processes are evaluated.
Identify Goals, Schedule A Timeframe
During the planning phase of ServiceNow platform implementation, identify short and long-term goals. Make sure the planning phase reflects all key metrics, such as setting up a timeframe and reviewing the technology used already.
Lastly, work with an Implementation Specialist ServiceNow partner who is qualified and experienced for a successful ServiceNow implementation.
Align People, Processes, And Technology
ServiceNow implementation is not limited to just making use of the correct technology.
You need to ensure whether ServiceNow solutions align with people and processes, and the influence of such alignment with the quality of customer service and experience.
To make it work, start with identifying and assessing objectives and ensure they are synchronized with customer service processes.
Build Strategy Aligning Organizational Change
If you want to get the most ROI from ServiceNow implementation, make a strategy that conforms to the organizational change and goals, including structural reorganization, personnel changes, etc.
Don't Prioritize Too Much Platform Customization
Too much ServiceNow platform customization at the expense of your organizational goals is not a recommendable approach. To avoid this, departmental coordination should be there to make the most of ServiceNow platform features.
Involve User Adoption
Involve users in the early stages of your ServiceNow platform implementation. It will ensure that you gain valuable insights into what your business needs and serve them based on the platform's capabilities.
Read More: How Organizations Can Use ServiceNow To Achieve Better Business Results
Re-Evaluate The Strategy Regularly
To ensure that you get the best out of ServiceNow implementation, take an evaluation process on the customer service process and the platform's role.
To say otherwise, regularly evaluate the role of your ServiceNow so that you can leverage it fully. Given how businesses and customer services keep changing, it is also essential that companies update processes and technologies accordingly.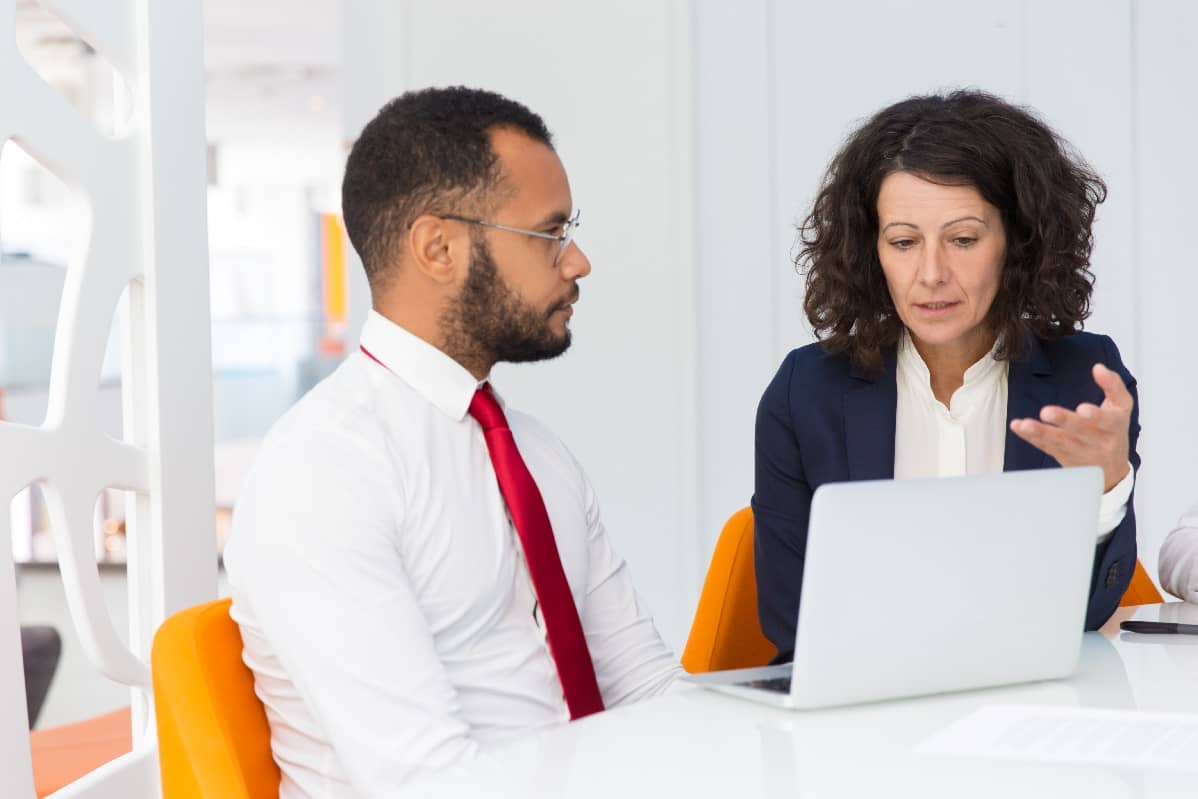 Get Assisted By An Expert
If you want to maximize ServiceNow ROI, consider working with an expert offering ServiceNow managed services to oversee the rollout. Make sure that the expert has vast industry experience and can provide you with an ideal roadmap for ServiceNow adoption.
Closing Statements
ServiceNow platform implementation is an essential business technique for organizations. It drives growth, in terms of automated workforce efficiency, reduced operational costs, workforce productivity, and improved customer experience.
Therefore, implementing ServiceNow is just an intelligent strategy to help your organization stay ahead of the curve without having to spend a fortune on it.
ServiceNow implementation best practices that we have jotted down above will guide you on how to walk through the processes for a successful ServiceNow adoption of your organization for its long-term growth.
Meanwhile, you can consider Binmile a qualified resource for ServiceNow software development. It specializes in successful ServiceNow implementation for your business. You will appreciate the seamless implementation of the ServiceNow platform for better customer experience and maximum ROI.