AIOps automation drives automated and better operational workflows in businesses.
IT operation issues, like poor performance and low customer experiences, do not bode well for any business. They hamper it from achieving its full potential to stay competitive and ahead of the curve. Under such circumstances, cutting-edge AIOps tools drive the desired innovation that businesses seek.
In this blog, we are discussing how AIOps-led automation can drive transformative changes in your business and rapid problem remediation to successfully achieve digital transformation.
First of all, let's discuss AIOps.
AIOps Automation: What is AIOps?
Artificial Intelligence for IT Operations (AIOps) defines the application of innovation in artificial intelligence for diverse businesses.
Coined by Gartner in 2016, AIOps involves the use of machine learning models, big data, analytics, and natural language processing. The purpose is to transform operational workflows or enable IT transformation.
The role of AIOps is to break down departmental silos. It works similarly to what IT monitoring and management tools in an organization do. The catch is, AIOps does not replace existing tools. On the contrary, it acts as an intersection of them, integrating data across all of them and providing key results.
AIOps automation, in this context, means the application of automation technologies, such as RPA (robotic process automation), IA (Intelligent Automation), and BPM (business process management).
The goal is to help an organization automate operational workflows, improve decision-making based on data-driven insights, and free up resources, among other AIOps automation benefits.
Benefits of AIOps Automation For Businesses
Improved Collaboration And Observability
No doubt, cutting-edge Cloud-based services, like microservices, containers, and hybrid Cloud environments are offering the best advantages for businesses, in terms of scalability and agility.
However, these services are not conducive to traditional businesses who find these services too complex to handle. As a result, they end up having delays in identifying and resolving issues, including downtime.
Businesses can't afford downtime. According to the report by IDC survey, an hour of downtime costs a business roughly $250K.

AIOps offers intelligent observability tools that ensure enhanced visibility, communication, and transparency, thanks to their capabilities of delivering data granularity and cardinality in almost real-time.
Moreover, with improved visibility and transparency, your teams can identify problems and address them proactively.
Observability tools have helped many organizations meet their service level agreement (SLA) and achieve near 100% availability. Moreover, in a container-based architecture, bringing observability means better app performance and reduced latency, together with reducing software licensing costs.
Key Benefits
AIOps-based observability tools pave the path for more cross-team collaboration across DevOps and ITOps (information technology operations)
Observability results in better collaboration across governance and security functions, as well
With enhanced visibility and transparency through observability, your teams make better decisions and respond to issues promptly
Faster Mean Time To Repair (MTTR)
In a data-driven business landscape, companies are drowning in data. Sadly, a large number of enterprise data remains unused. As a result, businesses can't utilize all the data to analyze and understand improvement areas for growth and innovation in their IT operations.
The key advantage of AIOps is correlating operations data from numerous sources, therefore being able to detect anomalies, execute root cause analysis, and propose actionable solutions faster.
Therefore, businesses can utilize such benefits in setting and achieving MTTR goals which were thought impossible to achieve in the past.
Key Benefits
MTTR helps DevOps teams measure the time of recovering from an issue during production
It provides an accurate measurement of the development team's efficiencies
In the continuous development (CD) process, MTTR enables the team to identify problems in the CD pipeline to improve speed and stability
AIOps helps organizations achieve MTTR goals that were thought unthinkable previously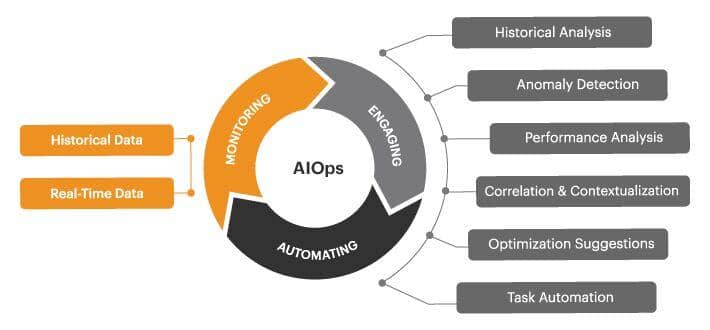 An Effective Way To Optimize Operational Costs
It has been observed that businesses utilizing the ITOps approach to manage applications end up paying high costs for Cloud-hosted solutions to avoid performance issues.
That's why it is no surprise when many organizations, in 2022, had to say that 32% of their Cloud spend didn't pan out justification to their expected ROI.
The benefit of AIOps for businesses is helping them avoid overspending on the Cloud through a software-based cost optimization method that enables critical decision-making for them.
Another way to reduce operational costs that AIOps facilitates is by identifying operational risks automatically.
It ensures better allocation of valuable resources within an organization. For example, it will drive better utilization of staffing resources on more complex projects, thereby resulting in employee productivity and experience.
Key Benefits
AIOps enables the automatic identification of issues in IT operations so that your team can promptly respond to them for effective solutions leading to a great reduction in operational costs
By reducing operational costs, AIOps pave the path for improved resource allocation in your organization
You can also free up staffing resources to attend to more complex tasks, thus leading to employee productivity
AI Brings Innovative Transformation in Predictive Management
AIOps features built-in predictive analytics. The benefit of this feature of AIOps is that it helps your IT teams learn to identify alerts marked as an urgent priority.
Therefore, the teams get useful insight into addressing possible risk factors before they cause any slowdown or outage if left unattended.
Key Benefits
AIOps automation helps your team identify the most urgent alerts and solve them before they cause any problems
It ensures transformative changes in your organization, from being reactive to proactive and predictive
Enables Business Sustainability
One of the greatest AI automation benefits is that it lays the groundwork for sustainability in IT.
For instance, retailers can bring significant reductions in transport emissions and optimize energy consumption efficiently by utilizing artificial intelligence.
E-commerce companies can utilize the technology to optimize shipping routes and reduce emissions for delivery trucks. Moreover, AIOps tools help organizations
Key Benefits
Frees up staffing resources to focus on more complex tasks
Saves costs both on business and environment
Automatically optimizes cloud and data center environments
AI-driven sustainability ensures the balanced allocation of resources for the sake of business and the environment
Read More: How to build an Enterprise AI solution
Other Benefits Of AIOps Automation
Better Time Management – Helps organizations automatically respond to the most urgent alerts to reduce MTTR.
Lower IT Costs – Proactively identifies risk factors, helps teams eliminate false positives, and saves operational costs.
Drives business innovation – Automates key processes, and allows IT teams to focus on the most urgent priorities, to drive innovation in business.
Cross-team collaboration – Ingests and analyzes data from multiple sources for holistic output, thus enabling cross-team collaboration.
More product improvements – AIOps tools highlight the most urgent problem areas in your application. This helps your teams to improve the product cost-effectively.
Automated efficiency – AIOps-driven automation ensures well-executed key tasks, thus freeing up resources to focus on other critical tasks.
Digital transformation – AIOps solve management and monitoring challenges to help organizations accelerate digital transformation.
Final Thoughts
So, AIOps automation drives automated efficiency in organizations, helping them accelerate digital transformation.
Moreover, AIOps tools feature built-in predictive analytics that helps companies improve their business productivity by narrowing down their focus on the most urgent priorities. It also enables them to address possible risk factors before they cause any slowdown in business operations.
Get the best AI development services to drive automated efficiency in your business!
Consult Binmile's world-renowned IT professionals specializing in building futuristic AI-powered solutions to drive digital transformation in your business. We help you build a solution platform that harnesses the core functionalities of AI, including machine learning models and natural language processing.