Handheld gadgets are becoming more and more popular thanks to apps for Android and iOS. As a matter of fact, businesses are putting a lot of money into making business-focused apps so they can reach more people on more mobile devices.
Because of this, cross-platform apps have become the most important thing since they can deal with the difficulty of changing customer behavior and meet their needs no matter where they are. In this blog post, we look at how React Native helps companies by solving complicated problems and making digital transformation possible for our top clients in product development and strategy.
Find out how React Native can change the way your business works. Read more!
Choosing React Native: The Optimal Mobile Technology for Cross-Platform Apps
When making cross-platform mobile apps, it's important to choose the right mobile technology, even though cross-platform apps offer a lot of different options. In the following case study, we have used React Native, a custom app development framework, to successfully offer a unique solution.
Streamlining Development with React Native
Simplifying Complex Processes – Before React Native, developers had to make different apps for the iOS and Android devices. This made the development process more complicated and led to higher costs. But with React Native, cross-platform app development teams can now build apps that work on both iOS and Android using the same script. This saves a lot of time and money.
Empowering Cross-Platform App Development
Boosting Efficiency and Reducing Expenses – Being an open-source framework, React Native makes it much easier to make cross-platform games. By using this framework, companies can streamline their development work, make the best use of their resources, and reduce both the time it takes to get to market and the costs of development.
Choosing the Right App: A Game-Changer for Businesses
Solving Problems and Enhancing Processes – Choosing the right mobile app is very important because it has a direct effect on how well business problems are solved. In our case, our client wanted a highly scalable application with strong performance, a smooth user experience, and a strategy for the future.
Also, it had to keep up with quality standards while meeting the needs of mobile users. To do this, we made a strategic decision to use React Native, which fit exactly with our goal of managing time and money in the best way possible.
With React Native, businesses can make apps that are highly scalable and work well. Above all, these apps make it easy to use across different platforms, which is important for companies in today's mobile-first world. Correspondingly, the framework speeds up the creation process, which saves money and makes sure that the app that comes out of it meets business needs well.
However, it does this by being able to work on more than one device. But letting businesses make apps that work well on both iOS and Android devices is a big step forward. Also, React Native's large library of pre-built components and modules speeds up development and makes it easier to get things done. Nonetheless, this saves time on creation and makes maintenance easier.
Benefits of React Native for Quality Business Apps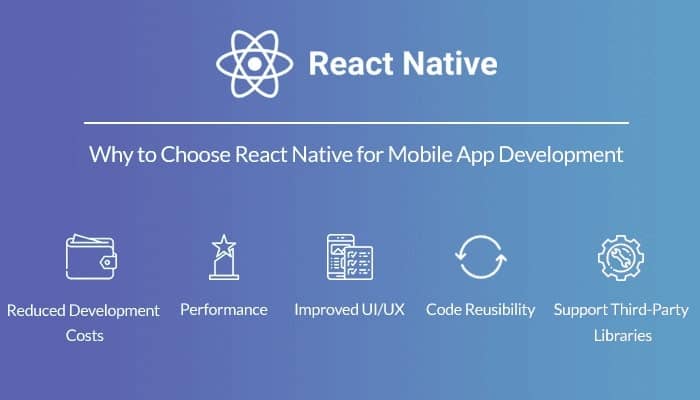 Cross-Platform Capability and Beautiful UI: React Native enables the development of apps that function seamlessly on both Android and iOS platforms, providing a consistent user experience across devices. The framework's focus on UI delivers visually appealing and engaging interfaces.
Efficiency and Cost Savings: By using React Native's features, such as faster MVP development, declarative style, and reusability of code, businesses can optimize their development processes, which leads to increased efficiency and lower costs. Developers can write code once and use it on multiple platforms, saving valuable time and resources.
Modular Architecture and Stability: React Native's modular architecture promotes code organization and scalability. Further enhancing the stability and reliability of the developed apps. Pre-developed components further expedite the development process, allowing for faster iterations and updates.
Optimal Performance and Strong Mobile Environment Support: Apps developed with React Native exhibit optimal performance, thanks to the framework's focus on native mobile environments. The framework's efficiency ensures smooth and responsive app experiences, meeting the expectations of modern mobile users.
Empowering Digital Transformation at the Local Level: Utilizing React Native, we developed a cross-platform app for the payments market, particularly for recurring and localized services. This solution promoted digital payments and empowered local businesses while saving the client time and cost that would have been spent on separate Android and iOS app development.
A recent Developer Survey found that for normal web development, React is the best JavaScript framework. About 54% of tech teams said that they preferred React, which shows how popular and widely used it is.
In fact, the poll showed that 74.5% of developers think React is the most useful and workable web framework. Henceforth, this finding shows that the system works well and can be used for many different web development projects.
The Bottom Line
The survey's results show how popular and useful React is for building websites. It shows how important React Native is when it comes to making business apps. With React Native, companies can deal with the problems that come with managing time and money. Both, by using the framework's powerful cross-platform features and rich environment for making apps.
A company that is a leader in React Native app development services can help businesses use their knowledge. Moreover, this lets them make apps that work well, are easy to use, and have a lot of promise. These apps are made to fit the needs of each user, so they work well and feel like they were made just for them.
Comparatively, Binmile stands out in the business world because its team of React Native app writers is very good. We are very good at starting from scratch and making cutting-edge apps. When companies work with us, they can improve their efficiency and give their customers better experiences.
Also, they can speed up the development of apps and run them without any problems. So, don't wait up! Leverage our expertise to develop natively rendered cross-platform applications via our react native development services. Reach out to us at [email protected].