Digital transformation in manufacturing has brought about positive changes in the industry. Apart from improving manufacturing standards, smart factory solutions, smart manufacturing markets, and smart processing have promoted greater efficiency in the manufacturing industry.
ServiceNow for manufacturing industries plays an integral role in meeting and raising customer expectations and providing a world-class experience. It allows manufacturers to achieve perfection while raising the standard of the manufacturing sector. ServiceNow helps overcome disruptions in the manufacturing process and aims to build an efficient supply chain to maintain customer satisfaction.
Read on to learn how ServiceNow and digital manufacturing drive the smart manufacturing market to higher agility and productivity.
What is ServiceNow?
It might be difficult for readers with a non-IT background to understand the concept of ServiceNow. You may wonder what the connection of ServiceNow with the manufacturing value chain is. Let's find out!
ServiceNow follows a Software as a Service (SaaS) model. It is a unified cloud-based platform that helps industrial production with smart factory solutions. The various tools in this platform help companies properly process, automate, and consolidate a wide range of requests and services. Automation in manufacturing is one of the integral aspects of the modern manufacturing industry offered by ServiceNow. The company has launched numerous customizable solutions such as ServiceNow Integration Hub, ServiceNow App Engine, and ServiceNow Automation Engine for businesses of all sizes.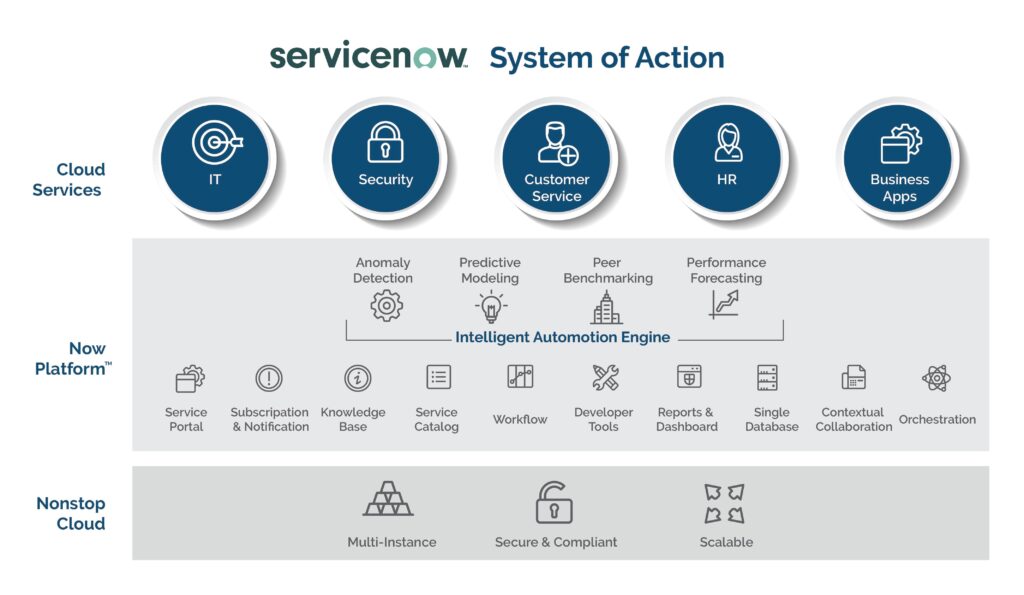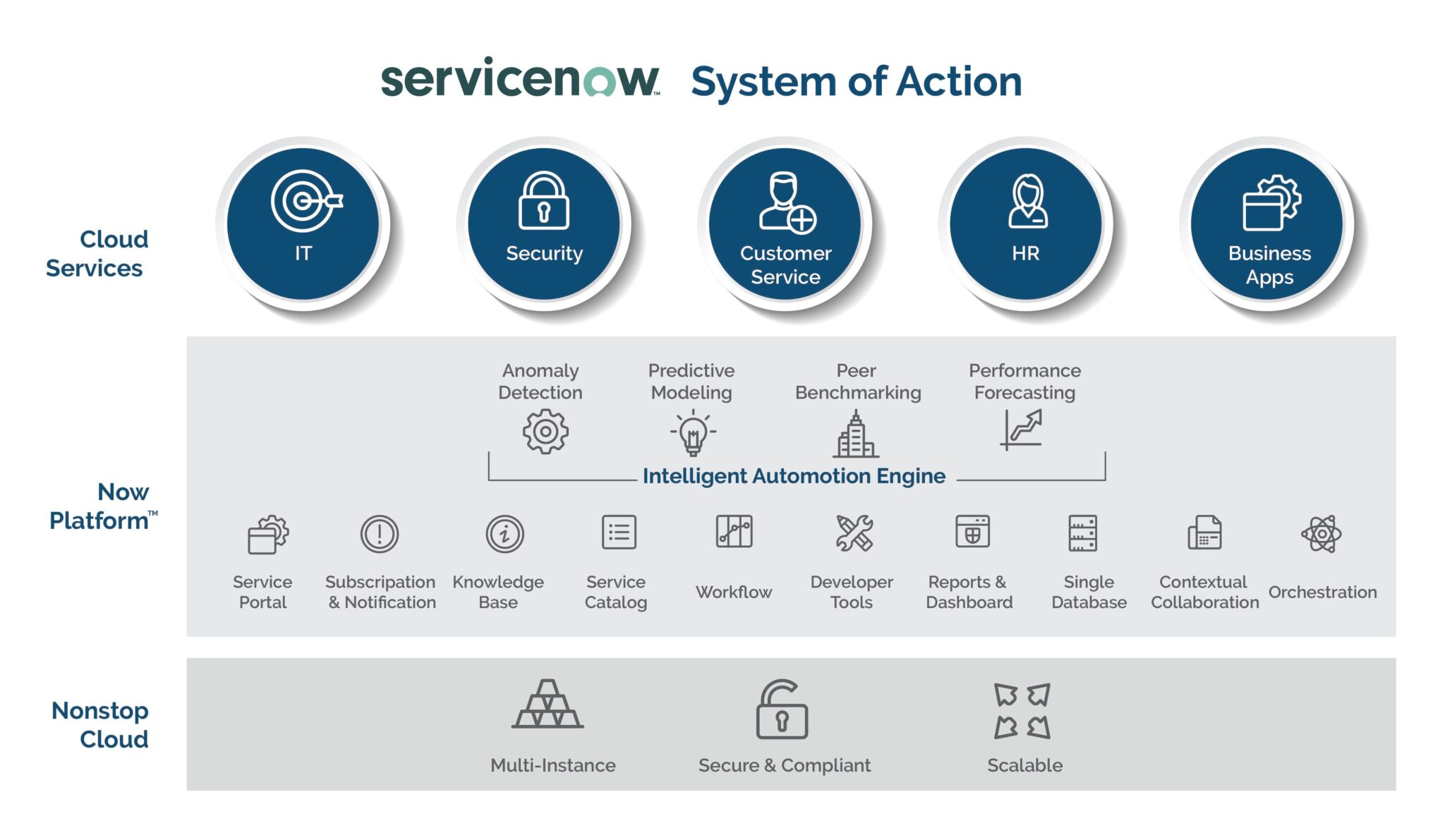 ServiceNow streamlines workflows across various business domains. That is why you can use ServiceNow for manufacturing IT solutions as well as for human resource facilities. It is a very powerful tool as it accumulates all the different areas of the manufacturing value chain onto a single platform.
Also Read: ServiceNow Outspreads its Services into Manufacturing with OT Management
Utility of ServiceNow
ServiceNow has highly effective features for the manufacturing industries. It brings all the IT resources and consolidates them on a single platform. Real-time visibility is another important feature that is very important for transformer manufacturers.
Some of the features and usage of ServiceNow are enumerated below:
1. Efficient Optimization
ServiceNow provides quality assessment and monitoring using IT that helps businesses scale operations more effectively. All the tasks and activities of the company are better taken care of. You can develop reliable industrial solutions based on the actionable information you receive.
ServiceNow lets you create forms within seconds. Also, you can efficiently work on the ServiceNow solution rules rather than getting worried about the database. Hence, it is capable of providing efficient optimization without any major hindrances.
2. Versatility
Handling a large amount of data can be a significant concern. You need customized ServiceNow software that can adjust the scalability according to the volume of data. Since ServiceNow is a cloud-based platform, it is not bound to take information from a particular source. It has various sources and, based on them, provides the best solution. Versatility is one of the main features of the Software as a Service (SaaS) model.
It helps to quickly transfer and arrange the manufactured products so that you can scale the system to your desired network. You cannot derive this level of versatility from traditional service platforms. ServiceNow constantly improves the ability of various tools and processes. You can adjust it according to the needs and wants of your organization.
3. Efficient Task Management
A unique feature of ServiceNow is its architecture. The complete architecture of the platform is based on a multi-instance setup. It helps its users manage tasks efficiently. Effective task management is one of the most remarkable features of ServiceNow, because of which the platform has a great pool of users.
It can help manage small and large teams. Team members can effectively create individual messages when required. The creation of unique instances to maintain or locate a distinct resource can also be achieved with ServiceNow. It is generally done to meet the specific requirements of the clients.
4. Integration
It is crucial to integrate business processes and resources. Any organization will not want to compromise with the integration service. ServiceNow helps integrate all the business processes, such as HR management, IT infrastructure, security services, and customer requirements.
You can easily integrate third-party tools with your software as and when required in this platform. Such integration results in improved quality of work and cost reduction related to data transfer, accumulation of resources, and new programs. Syncing with other applications and connecting your software with various tools becomes very easy with ServiceNow integration. On top of it, the company has tied up with some of the best software companies, aka, ServiceNow Development & Implementation Partner to help more & more companies use their integration & automation services around the world.
5. Productivity
ServiceNow increases industrial productivity by automating business processes and centralizing IT assets. Organizations can do away with manual approvals because it is entirely software-based. The entire team can work with the solutions provided by the software rather than working with manual solutions that are based on assumptions.
The system will automatically notify the right person dealing with a particular problem because the process is automated. This negates the chances of work redundancy and eliminates workflow interruption. The result is a boost in productivity as the waiting period is also reduced.
Advantages of Using ServiceNow
ServiceNow has the following benefits:
1. Easy to Use
The cloud services of this platform automate the entire workflow in the manufacturing sector. Thus, the work becomes convenient, from streamlining the process to delivery. You do not have to fill the physical forms, stand in long queues, or write unnecessarily long emails. ServiceNow conveniently replaces these manual tasks so an organization can continue operations without hassle.
2. Quick Decision-Making
The information generated from the data is discrete and accurate. It helps gain better insights into the whole process to enable rapid decision-making. In this way, big companies can make essential decisions promptly. Digital manufacturing utilizes data to make better decisions that have been pooled from different sources. These data sets are crucial for managing the company's operations and achieving customer satisfaction.
3. Improved Workflow
ServiceNow platform provides the facility of tracking the work of the team members. A company can easily track the work done by every team so that they can ascertain the areas that need to be improved. Stakeholders can also automate various processes regularly to establish a better workflow.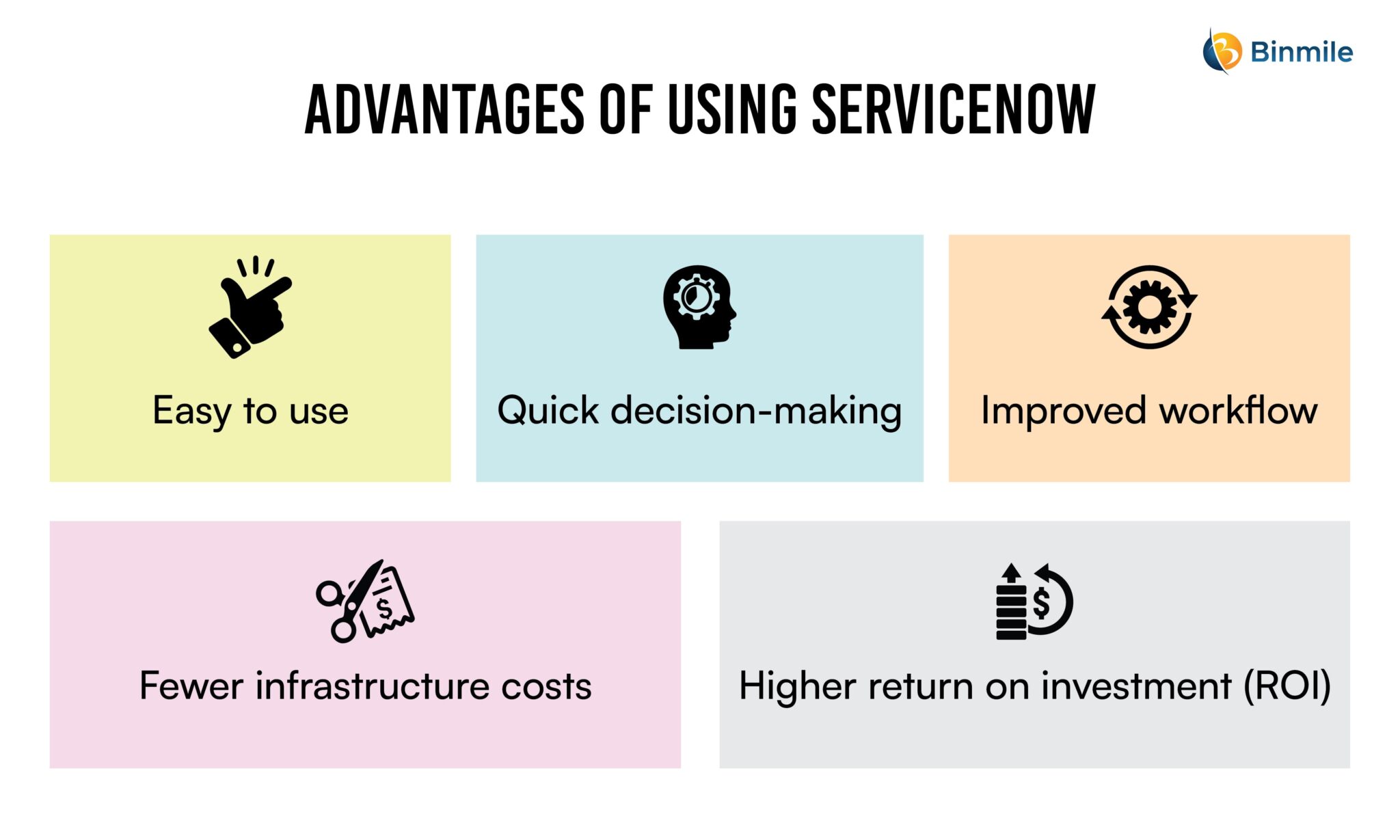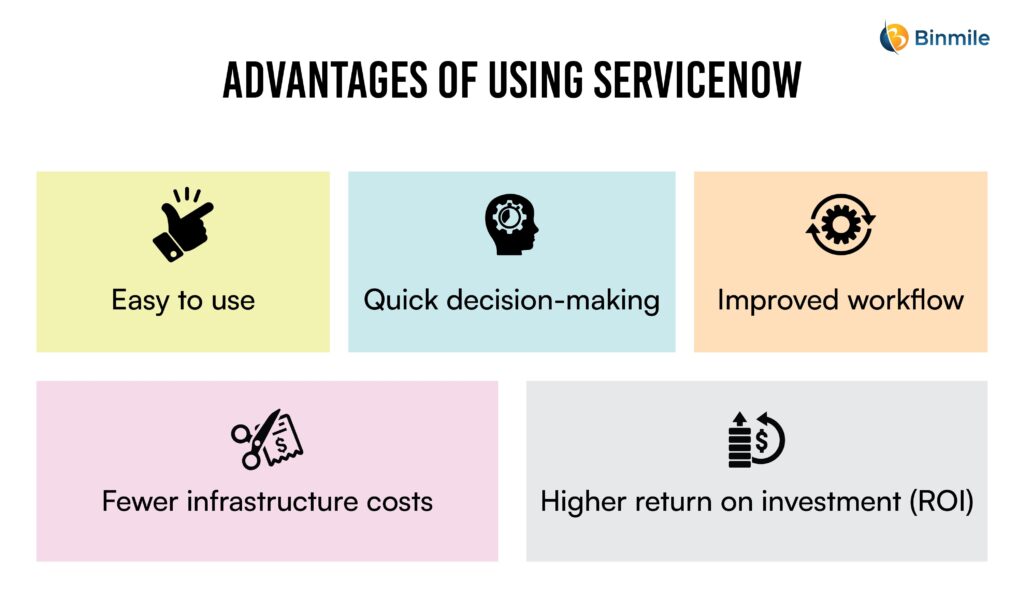 4. Fewer Infrastructure Costs
ServiceNow significantly reduces downtime and eliminates service outages that result in reducing infrastructure costs. The services are optimized, and operations are streamlined. In this way, ServiceNow is saving money for manufacturing and is omitting unwanted expenses. As it is a cloud-based service, companies availing it are not required to build their own data centers, thus, saving a lot of money.
5. Higher Return on Investment (ROI)
The ServiceNow architecture allows users to make the most of their investment. The ROI is not realized in the money, but it can be ascertained in several ways. These include: deriving valuable data, utilizing existing applications and systems, combining several software tools, integrating new technologies, and so on. It enables users to create new sets of strategies for better operations. The workflow of the organization fetches the actual ROI.
Conclusion
Leveraging smart factory solutions in manufacturing is a step towards making more precise and efficient business decisions and increasing industrial productivity. It dramatically enhances the customer experience and eliminates inefficiencies. Digital transformation in manufacturing has effectively increased the use and need of ServiceNow.
Binmile is an all-in-one platform that provides custom software development services for automation processes and ServiceNow development services as a ServiceNow Partner in the manufacturing sector. With cutting-edge technology, Binmile promotes businesses saving time and money with ServiceNow through a broad spectrum of quality assurance services.
Get the best for your futuristic manufacturing IT solutions today!