Binmile Technologies was founded to empower businesses with digital-first strategies. Digital-first is an approach that is being followed by successful companies for updating their outdated business models and establishing secure, scalable, futuristic business models, and making the most out of modern and emerging technologies.
GoodFirms' experts got the opportunity to discuss the inception and success of the idea of making every business digital-first with the CEO of Binmile Technologies – Avanish Kamboj himself. Let's explore how the company has been successful in penetrating the digital-first approach within its clients and driving them toward economic growth and success.
Introducing Avanish Kamboj – The Man Behind the Success of Binmile Technologies
Avanish Kamboj is an ardent leader and technology pacer who significantly laid the foundation stone of a leading software development enterprise – Binmile Technologies, in 2017, to become a world-class technology partner to businesses today.
Headquartered in Claymont, DE, USA, Binmile Technologies is a global enterprise digital product engineering company best known for its custom software development and digital transformation solutions to startups, SaaS companies, and Enterprises across the globe.
Scaling and Innovating
Mr. Kamboj always wanted to scale up innovation among businesses from all verticals and help them to move towards the appropriate path. He deeply researched the business sphere, understood the requirements and expectations of the clients, and worked closely to make their imaginations and ideas turn into a reality.
He always experienced that the prevailing digital technology advancements would significantly boost future business revolutions, enticing him to bring Binmile to existence. Today, the Binmile family comprises more than 250 experienced and talented professionals. The increasing number of members in the family encourages the high spirit of the company, especially when the best industry talents employed in the company constantly try to fulfill their client's expectations with their intense experience and problem-solving skills.
Company's Business Model and Market Stake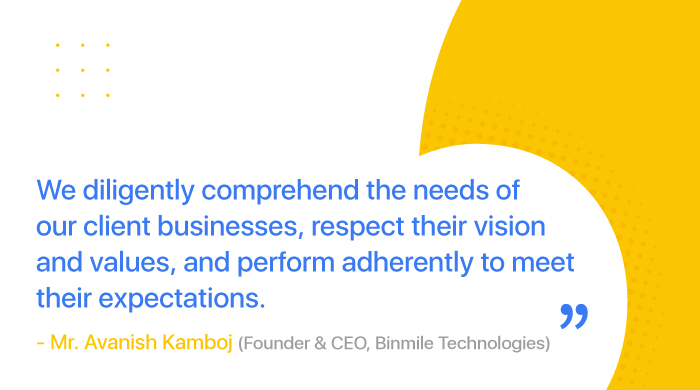 As one of the USA's top software development and app development outsourcing companies, the entire team works in-house. Fast communication, shorter response time, and improved satisfaction rate is the strength that lies beyond their success.
He opined that their ability to well-comprehend their clients sets them apart from the competition. The team carefully takes all the necessary steps for product development, ensuring on-time delivery with high-quality results.
"They generally never say 'NO' to a project, only see if it seeks innovation."
Yes! The team takes challenges and, therefore, experiences the broadened market reach and extended capabilities of their business. In fact, 'Binmile Warriors' are also hopeful about taking on absurdly complex projects.
Associated Service Sectors and Customer Retention Ratio
When asked about what industries they serve, Mr. Kamboj proudly shares that they cater to clients from almost all verticals, including banking, finance, insurance, healthcare, IT, retail, education, and many other relevant sectors across the globe. The company delivers high-tech and innovative solutions to Fortune 500 companies, business giants, and technology challengers, improving how they work and the value they create for the modern world.
Mr. CEO gladly affirms that Binmile Technologies has successfully developed digital products and solutions for more than 180 international independent software vendors and the most significant expertise they have in serving the banking and finance industry.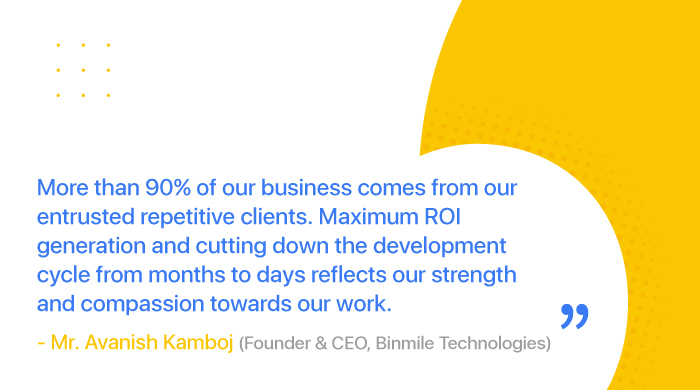 Binmile Technologies is proudly recognized among its varied client base for excellence in Software Product Engineering, Digital Product Engineering, Product Development (SaaS), IoT (Internet of Things), and Quality Assurance Services and gained a reputation as one of the Top Mobile App Development Companies in Georgia. The company is also a ServiceNow partner and delivers high-quality Enterprise IT Service Management Advisory and Consultancy services. Also, the company ranks as the best software development company in the USA on the GoodFirms ranking list and aims to rise high in terms of perfectly meeting their customers' demands.
Working Towards "Customer is Everything" Principle
As an ISO 9001-certified company for quality management systems, Binmile Technologies is best known for turning MVPs and transforming client businesses into robust ones. The best thing about the company is that it combines agility and speed while implementing tailored, innovative, and future-focused software solutions fueled by AI and automation. The company is rated as nine on a scale of 10 in the client satisfaction ratio.
The client reviews below perfectly showcase how fantastic the team is and how they use the right level of expertise to meet customer demands.

Team Binmile is quite particular about meeting their client's requirements timely. All the codes are written after appropriate planning and strategizing. The extensive support system with flexible time zone availability and 24/7 maintenance support by the associated managers or representatives throughout the client and company's association generates positive outputs. An effective communication process makes it all easier and simple for both parties.
Flexible, Cost-Effective But Not "Expensive"
Valuing agility for business cooperation, Binmile Technologies follows a flexible payment structure. As the CEO addressed, the company accepts complete ownership of a project and offers flexible pricing models such as:
Fixed Price Model, which is applicable for one-time projects.
Time and Material Cost Model, which is applicable for long-term commitments.
Mixed Model, which is applicable for both time-targeted projects as well as dedicated teams for clients.
As Mr. CEO confirms, the company primarily considers projects above $10,000. However, the projects at the company are majorly shortlisted if they showcase innovation potential. In 2021, the company completed a million-dollar project with a large enterprise, helping many small companies ensure the best quality of their products. The products catered by the company in 2021 ranged from $10,000 – $5 Million.
Powering the Future
Mr. CEO asserts that the company is continuously growing towards delivering digital transformation services to its clients. The company positively looks towards expanding in some of the niche areas and aims to hold a significant position in the market to overcome the challenging commercial issues across various industries in the global market. He concludes this podcast by affirming that Binmile Technologies is significantly looking to expand its operations in various geographic locations like the Middle East and Southeast Asia and wishes to be a leading publicly traded company in the years to come.
This was an excerpt of the entire conversation; the detailed interview can be found on the company's GoodFirms profile page.
About GoodFirms
Washington, D.C.-based GoodFirms is a maverick B2B research and reviews firm that aligns its efforts in finding web development and web design service agencies delivering unparalleled services to its clients. GoodFirms' extensive research process ranks the companies, boosts their online reputation, and helps service seekers pick the right technology partner that meets their business needs.