One of the key factors in determining a company's success is its logistics. Logistics refers to the process of acquiring, storing, and transporting goods. With the logistics industry estimated to exceed an average growth of 13.7 billion euros by 2027 according to Statista, it is vital to keep up with logistics innovations and incorporate them into your management systems. Needless to say, without a proper logistics protocol in place, sellers will not be able to fulfill a single order. However, despite logistics being such an important part of business, it shows slow progress.
One way to change that would be to introduce digitalization in logistics & supply chain management.
Let us look into how logistics management systems (LMS) work and how you can employ these processes in your business model.
Logistics Management Systems: What It Is and What It Does
As the name suggests, logistics management systems are software tools that take care of all logistics-related processes using automation and stored data. Logistics management systems can be used to maintain two kinds of logistics processes:
Forward Logistics: This includes receiving an order, preparing an inventory, picking and packing the order, sending out the order via the chosen transportation method, and finally, delivering the order to the customer.
Reverse Logistics: In reverse logistics, operations like return pickup, managing damaged shipments, and repairing or recycling damaged orders are included.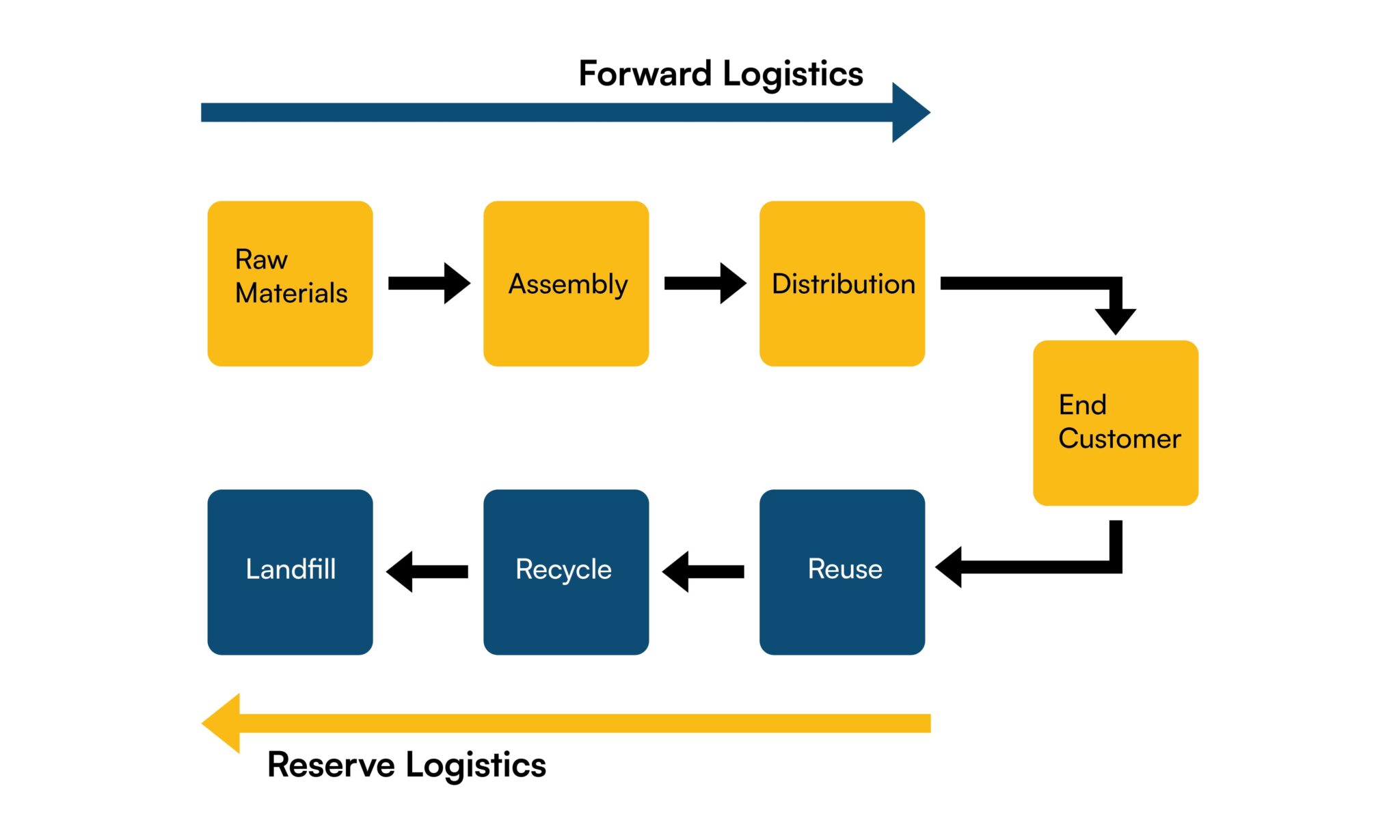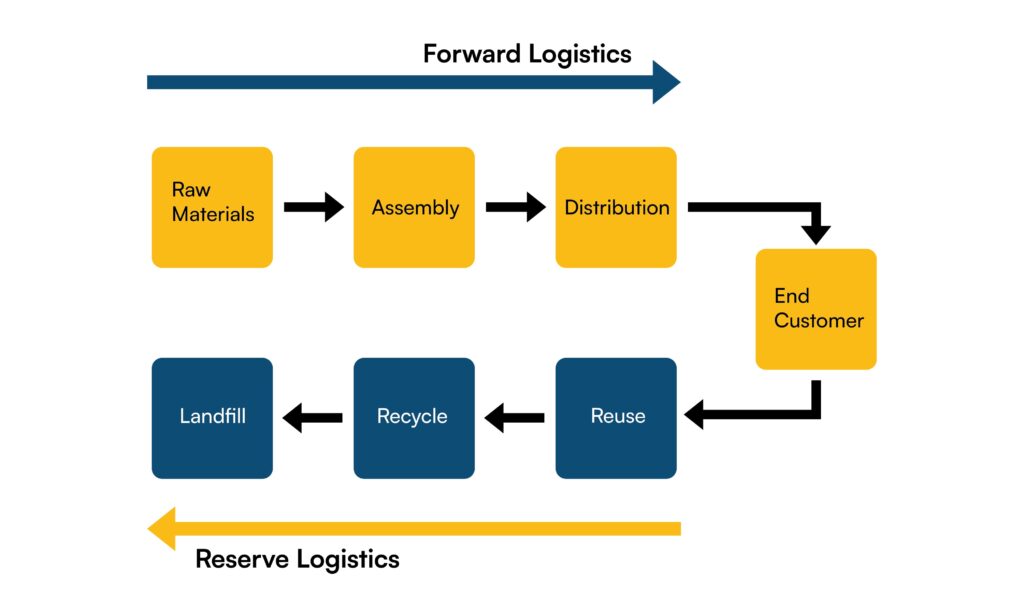 You can set up your logistics management systems using two ways. They are as follows:
Have a personalized logistics management system. In this case, you would build, manage, or purchase the software tools.

Outsource third-party shipping and logistics companies. In this case, the 3PLs would run the logistics management system on behalf of the businesses.
Primary Components of a Logistics Management System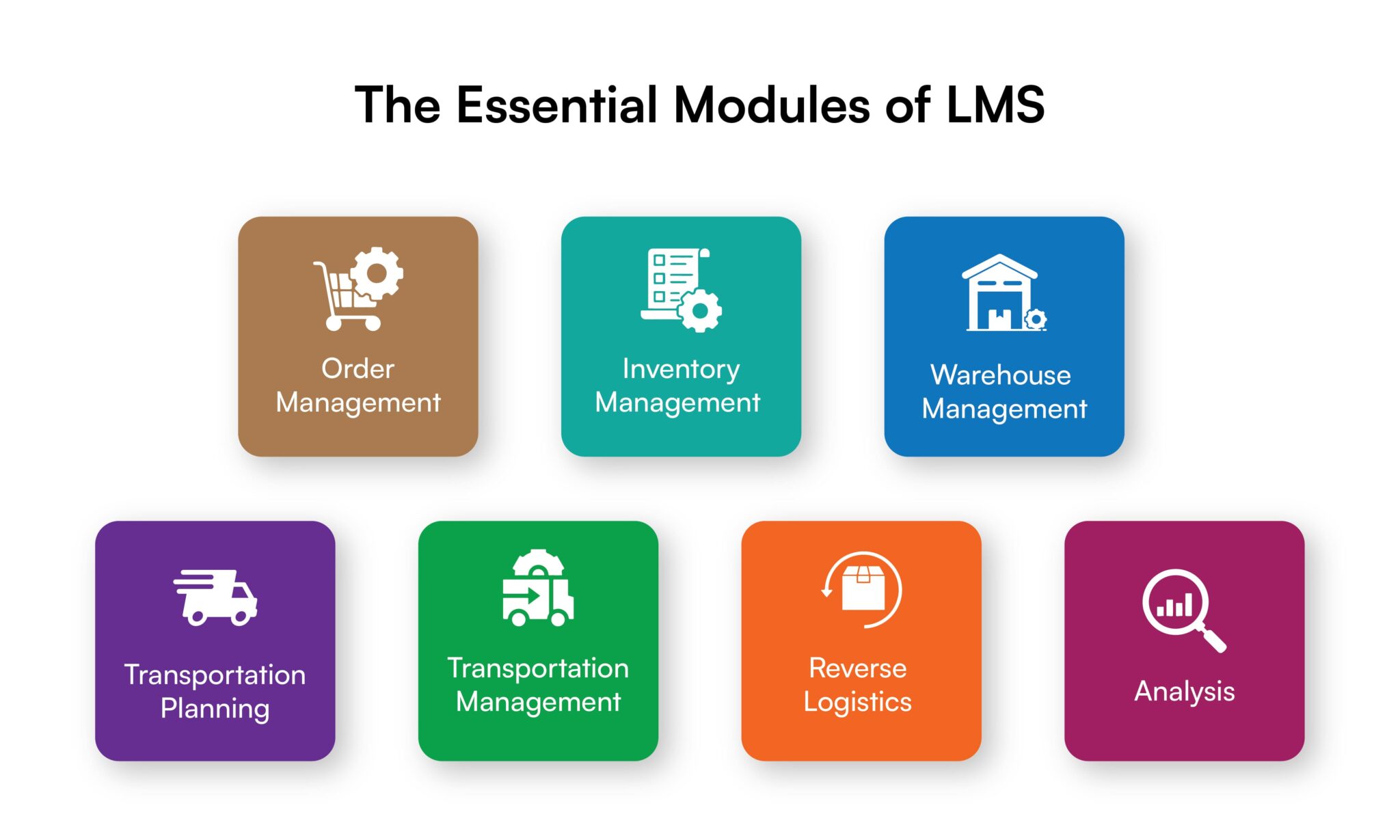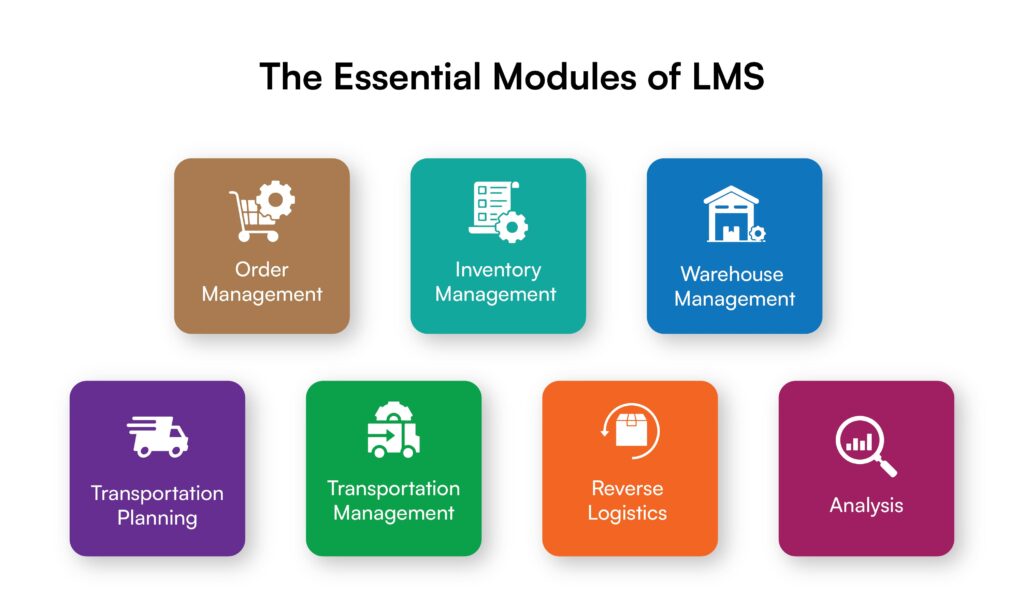 1. Order Management
The first step in logistics is receiving an order. Hence, this forms the base of the subsequent processes in order fulfillment. Several processes such as managing inventory, providing customer service, processing payments, verifying orders, and relaying order details among suppliers, manufacturers, and transportation companies are part of this step. Therefore, with a software tool such as order management software, all these processes could be unified on one platform and monitored more efficiently.
An order management software or OMS maintains and updates data related to any order till the moment it is delivered. In addition to keeping order details, an OMS can also be linked to accounting to maintain that order's financial details. In most cases, OMS is integrated with sales, accounting, and inventory software, to provide sellers with a complete image every time they make a sale.
2. Inventory Management
Inventory refers to the complete stock of products a business has for selling. To ensure the order fulfillment process is optimized and both cost and time-efficient, it is imperative to get inventory management software to help in supply chain and operations management by keeping constant track of the inventory.
An inventory management system (IMS) is used as a centralized location where all the information related to receiving, storing, and tracking a given inventory can be found. Since IMS will be able to update the seller on the status of their inventory constantly, they will be able to avoid obtaining stock above or below the optimal range. Furthermore, this software can also automatically re-order products whenever their number reaches a certain point. Hence, IMS ultimately helps in cost reduction and efficient time utilization.
3. Warehouse Management
A warehousing management system (WMS) is used to maintain all the operations carried out in a warehouse. These operations include receiving products, storing them in the appropriate locations, employing safe work conditions, setting KPIs, tracking and locating products using software, and so on.
With good warehousing management software, companies can easily receive products, store them, and track and dispatch them when required. Therefore, WMS helps streamline the entire process, which would otherwise be too time and labor-consuming. Usually, WMS is responsible for:
Warehouse Layout: Warehouse management software usually provides a 3D view of the warehouse, which helps businesses visualize the spatial arrangements of their products and make more informed decisions regarding storage space and inventory management.
Picking and Packing: WMS helps with picking the correct product by providing the exact location of any given item. Subsequently, it also provides the correct packaging information, which ensures all types of goods have the right level of protection.
Managing Workers: WMS can assign individual tasks to each warehouse worker. Furthermore, it can be used to track task history and analyze any obstacles faced while trying to execute the given task. Therefore, several hundred workers can be managed using one simple software.
4. Transportation Planning
Before sellers transport their shipments, certain factors have to be taken into consideration to optimize transportation and freight logistics. Fortunately, LMS can be used in transportation planning, as well. Here's how:
Selecting a Shipping Method: Different products require different shipping methods. For instance, some items may be temperature-dependent, whereas others may have no such requirement and can be transported in a dry van. Hence, with the help of LMS, appropriate shipping methods can be selected and assigned automatically.
Connecting With a Carrier: With transportation procurement tools provided in logistics management software, sellers can visualize all available freight forwarding companies and pick the one that aligns with their needs. Furthermore, these tools also help take proposals and evaluate bids from carriers, saving money for freight forwarding companies that suits their requirements best.
Managing Documents and Finances: Sellers that ship internationally might have difficulty keeping track of the documents required in different countries, along with the various currencies. With an efficient LMS, taxes, services charges, and so on will be automatically calculated based on where the shipment is headed to. Furthermore, the software will also manage all the necessary and relevant shipping documents.
5. Transportation Management
Transportation management systems (TMS) are the primary software tools that take care of shipping details, freight forwarding, and so on. An efficient TMS often helps with the following:
Delivery Management and Order Tracking: With TMS, sellers can schedule their shipments according to their convenience. Furthermore, TMS also estimates delivery dates by taking factors like location, population density, delivery vehicle type, and so on into account. It also provides timely updates regarding the shipment delivery status to both sellers and buyers through order tracking. Hence, the entire delivery process remains transparent.
Transportation-Related Finances: Transportation management systems help sellers keep track of all the expenses related to order shipping and delivery. Hence, it becomes easy for sellers to manage these finances, as they are all stores systematically in one place.
Cross-Docking: Cross-docking refers to the process by which orders are directly sent to the buyer from the manufacturer. In this scenario, the need for warehousing is eliminated. With TMS, sellers can also monitor cross-docking, even if the said product is never stored in their warehouse.
Last Mile Delivery: The last leg of an order fulfillment process is when it is transported from a delivery center to its final location; the customer. The distance between these two can be one mile or fifty. However, with a proper TMS in place, sellers can keep an eye on last-mile delivery logistics and intervene if needed.
6. Reverse Logistics
In addition to forward logistics, LMS should also be able to fulfill reverse logistics requirements. Using a reverse logistics system, the following benefits can be received:
Return Status: LMS can be utilized to provide instant updates to buyers regarding the status of their returned orders. In this way, the return process remains transparent to buyers and increases their satisfaction.
Tracking Information: Reverse logistics software allows sellers to track where their shipment is, the reason for return, and the estimated date of its arrival. Hence, sellers can manage their inventory accordingly.
Quality Checks: If there is any need to repair a returned item, LMS can automatically notify the concerned people regarding any quality check requirements.
7. Analysis
Since LMS collects considerable data, this data can be used to track sales data, shipping history, and order fulfillment errors and, therefore, point sellers to any area that might need improvement. Furthermore, businesses can set up KPIs and computer-generated models to predict any supply chain management issues. Here are a few reports you can generate using logistics management systems:
KPI: With KPI reports, businesses can analyze their performance and focus on how well they have executed certain indicators.
Carrier Reports: Carrier reports will help sellers keep an eye on their carrier's performance. Furthermore, it also keeps track of the most cost-effective carrier choices and their features.
Freight Finances: You will also be able to generate reports that reflect all transportation & logistics-related expenditures. Therefore, it will become much simpler to calculate your actual net revenue.
Ways To Integrate Logistics Management Systems
Let us first look at the ways you can directly work with LMS without any 3PL:
Using IT Resources: Generally, you will have to use systems sourced from various providers to set up your own LMS. Subsequently, you will be required to integrate all these systems using coding. If you plan on integrating LMS this way, ensure your IT team is well-equipped to carry out the integration.
Through ERP Provider: ERP refers to Enterprise Resource Planning. This type of software not only integrates warehousing, inventory management, reverse logistics, transport, etc, but it can also integrate independent processes such as human resources, and accounting. Since ERP has a shared database, extending the facility to cover LMS would be easy, and this would make transportation & logistics easy. Most companies partner with technology solution providers for custom LMS development services for end-to-end development and customization.
By Making Your Own: With substantial time, money, and manpower, you can custom-build your own LMS. Subsequently, you can integrate that into your ERP.
Now, if you want to use a 3PL to integrate LMS into your business model, there are three popular ways to do that as well. These include:
Through API Suite: API stands for Application Programming Interface. In this integration method, two systems are connected by interpreting and translating the data between them via their APIs. While this is a reliable method, it can be time-consuming and requires customization.
Through EDI: EDI or Electronic Data Interchange is a type of exchange of documents between business partners. EDI standards provide a guide to the type and location of information within the document. This method is generally considered to be faster and simpler than API. Some of the different EDI communication methods employed in integration are Web EDI (via internet browser), point-to-point EDI (via individual connections), and internet communication protocols (via AS2, SFTP, FTPS, FTP, VPN).
Through Non-EDI Format: Contrary to EDI exchange, in this format, data is passed from one system to another, in a file, like CSV, JSON, XML, and so on.
Conclusion
In conclusion, logistics is a big and inseparable part of businesses. With increasing market competition, it has become imperative for brands to make their order fulfillment practices time-efficient, cost-friendly, and satisfactory for buyers. Therefore, with automated logistics & supply chain management software in place, businesses can expect every single step, from order management to delivery management, to be covered and unified on one platform. Business leaders and Entrepreneurs looking for an LMS solution can get in touch with software development companies such as Binmile Technologies to achieve business goals leveraging the advent of technology.