..The induction of IoT solutions and artificial intelligence in public spaces has made them responsive, smart, and seamless. According to a report by IoT Analytics, IoT devices are set to go up by 18% to reach 14.4 billion in 2023. The report also projected that by 2025, the numbers could increase to 27 billion connected IoT devices. Keeping up with this interconnectedness, the air travel industry is implementing airport IoT solutions to streamline various processes like baggage handling, security checks, and flight operations.
With the help of an IoT development company, the aviation industry can leverage this product engineering excellence and simplify a highly complex business operating environment. Further, the service providers can empower them to gain operational efficiencies, reduce costs, and provide the best quality passenger journey experiences.
But how exactly is this development happening? In what ways the IoT services are improving passenger experience? Are they really bringing change in the way airports conduct their operations? This blog discusses these points, the rise of IoT solutions in turning airports smarter, and also details their impact on airport experiences for both customers and businesses.
Airport 4.0: How Airport IoT Solutions Making Airports Smarter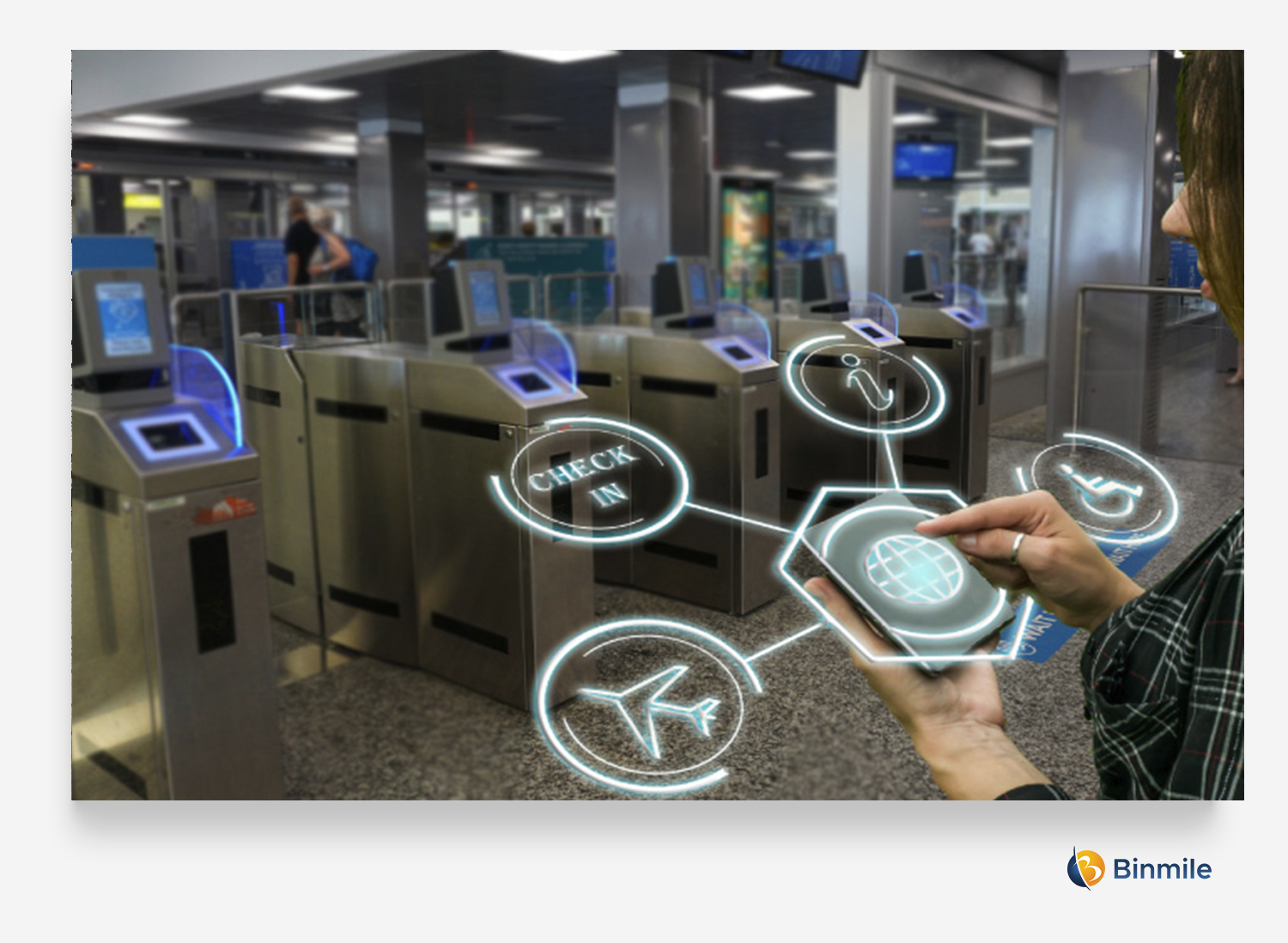 Airport IoT digitalization, popularly called Airports 4.0 is possible due to advanced technologies like Airport IoT solutions. This has not only helped airport management improve the customer's travel experience but it has done more. IoT solutions are turning out to be a game changer for airports when it comes to saving costs, boosting efficiency, and enhancing the quality of services. So, let's discuss how IoT solutions are helping in the digital transformation of airports.
Enhanced Passenger Experience
With Airport IoT solutions, airports can offer a seamless and convenient experience for travelers. So activities such as check-in, print boarding passes, luggage management, and selecting seats of their choice, passengers can do this with ease using self-service kiosks. Moreover, passengers also get live updates on flight status, gate changes, and baggage claim details with the help of mobile apps. There's another aspect of IoT solutions that has automated the screening process via facial recognition or biometric scans, making it faster and passenger-friendly.
Optimized Resource Management
Airports now experience a new level of efficiency in resource management with smart baggage handling systems, using RFID tags, and avoiding scenarios of lost luggage. These tags allow airports to track bags throughout the journey, greatly reducing the chances of misplacement and theft. Furthermore, IoT-connected sensors monitor the usage of airport facilities such as restrooms, escalators, and lounges. This real-time data helps optimize cleaning and maintenance schedules, ensuring that facilities are always in top condition. Then comes smart parking systems that direct passengers to available parking spots, effectively reducing congestion and saving valuable time for travelers.
Improved Security Measures
Security is of utmost priority for any Airports and IoT solutions have been crucial in enhancing security measures. IoT cameras equipped with facial recognition features, can spot individuals of interest and notify security staff. This ensures that potential threats are quickly detected, leading to faster response times and a safer travel environment. Biometric verification methods have been an essential part of airport security. With the introduction of IoT security, it can be enhanced, thus reducing the efforts of the airport resources and minimizing hassles for passengers.
Enabling Preventive Maintenance
Airport IoT solutions play a huge role in preventive maintenance. IoT-enabled sensors can monitor critical airport equipment, such as escalators, conveyor belts, and HVAC systems. Doing so enables airport management to identify any issues in real-time. As a result, airports can proactively manage maintenance needs, minimizing downtime, and ensuring the smooth operation of vital infrastructure. Thus, IoT solutions not only enhance operational efficiency but also offer a more reliable and smooth experience for passengers.
Easy Mobility-as-a-Service (MaaS) Integration
The coming together of IoT solutions and MaaS technologies benefits both the passengers as well as the airport management. Customers can get easy and quick updates on transportation services like taxis or shuttles, book tickets, and track transportation services in real time. This integration of Airport IoT solutions and Mobility-as-a-service has not only enhanced convenience for travelers but it does more. It has also made it easier for airports to reduce congestion, promoting sustainable transportation options, and boosting operational efficiency in smart airports.
Energy Conservation and Sustainability
There are some activities in airport management that help in making smart airports efficient and sustainable. For instance, energy harvesting enables self-powered IoT sensors to utilize renewable energy. Secondly, optimized traffic routing- optimal parking space utilization, and reducing boarding delays using big data and prediction models enables airports to maximize on-time performance (OTP). Airports optimize power grid operations to electrify buildings and support vehicle fleets, this reduces reliance on fossil fuels. Thus airport IoT solutions not only help airports in improving operational efficiencies but also in reducing emissions, and therefore lower their carbon footprint.
Airport IoT Solutions: Challenges and Trends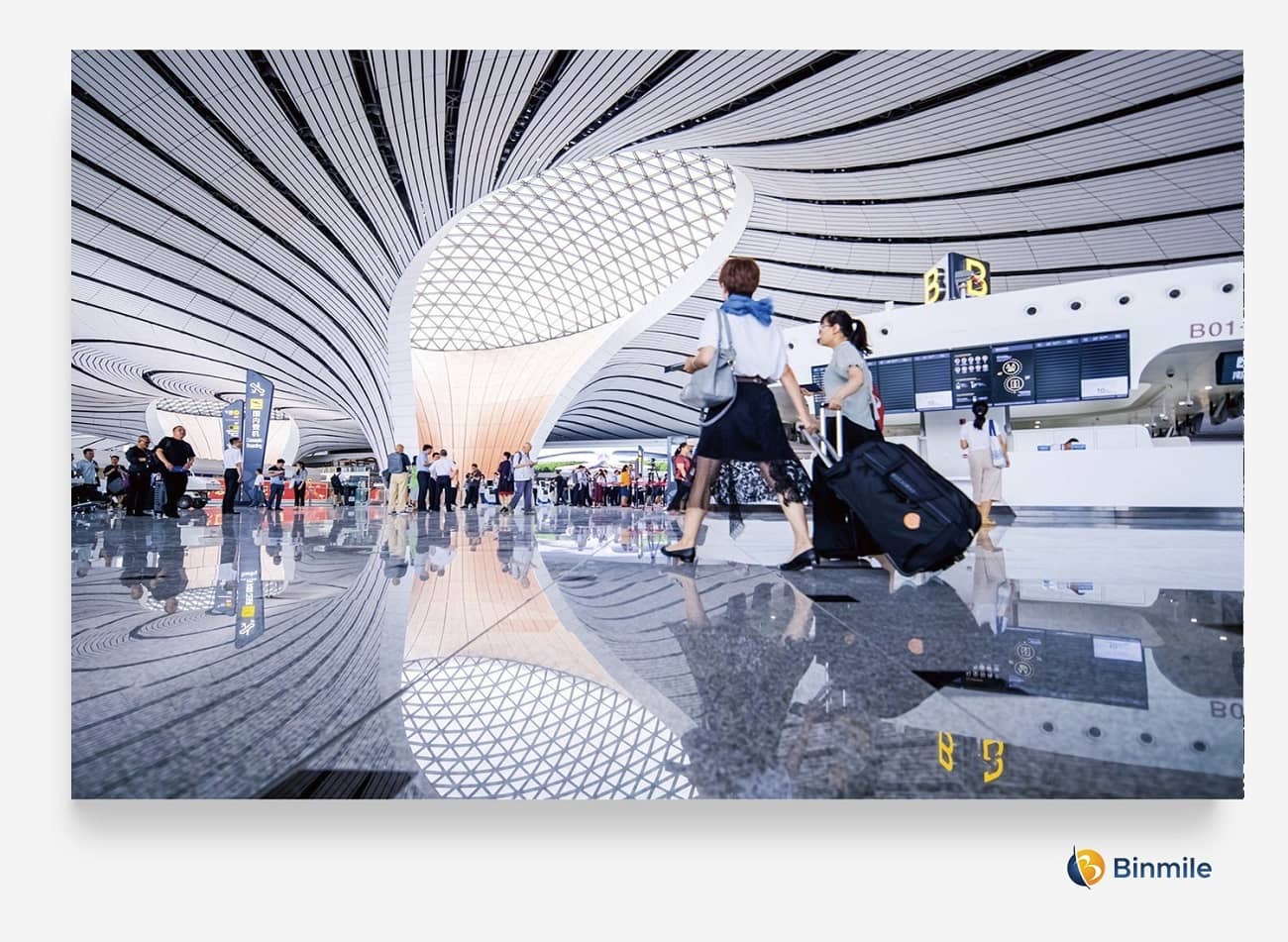 There is no doubt that IoT solutions offer a host of benefits to airports. However, there are certain challenges that must be resolved to realize their full potential. Some of these are:
Security Concerns: With so many devices and sensors connected to one or multiple networks comes with many risks. As it opens the potential entry points for cyberattacks or thefts. Security has been a primary roadblock in the full integration of Airport IoT solutions. Exploitation of vulnerabilities in IoT devices can cause data breaches, disruptions in airport operations, or even threaten passengers' safety. Ensuring robust cybersecurity measures, and quick disaster & recovery plans need to be in place to mitigate these risks.
Data Privacy and Compliance: IoT devices collect a huge amount of data related to passenger personal information, biometric data, and other sensitive data. Airports need to ensure that they should be monitored or managed with utmost care. Compliance with privacy regulations like GDPR or HIPAA is another step for securing crucial data of customers or even business-critical data.
Interoperability and Integration: IoT solutions often involve a variety of devices and sensors. These often come from different manufacturers, each with its own protocols and standards. Ensuring seamless processing of information between these devices can be challenging. Incompatibility issues can result in data silos and hinder the efficiency gains that IoT promises. A digital transformation company can bring middleware and standardization efforts and solutions to address this challenge. Thus, helping you offer passengers a seamless and joyful experience.
Maintenance and Scalability: Long-term sustainability and scalability are two challenges that airports face while integrating airport IoT solutions. Maintaining and managing such a vast network of IoT devices and sensors can be daunting but need of the hour. Airport management invests in regular maintenance, software updates, and hardware replacements to keep the system running smoothly and securely. However, that not only turns out to be human resource-intensive but accommodating growth and demand can be complex and costly.
Airport IoT Solutions: Flying Airports to New Heights
No doubt, digital transformation is reshaping the airport industry, making it swift, engaging, ultra-personalized, and smarter. This holistic approach to airport operations and boosting customers' flying experience has been enabled by Airport IoT solutions. It goes beyond this as IoT technology and other connected devices continue to be integrated into the airport environment. This integration goes deeper and in more comprehensive ways, we can expect the airports to have an unprecedented impact. Positive influences range from improvement of airport operations, and personalization for passengers, to a greener airport.
So, if you are fueled by the advancements of the Internet of Things (IoT). Or looking for ways to optimize your operations and enable greater travel experiences, IoT product development can help. With their expertise and assistance, you can stay focused on your core mission: Flying passengers safely and on time – while they manage the rest!