Binmile Technologies Pvt. Ltd. established in 2017 by Mr. Avanish Kamboj, is a leading global enterprise specializing in custom software development and digital transformation solutions. With its headquarters in India and operational offices in the UK, USA, Indonesia, and Dubai, the company has steadily expanded its footprint globally. With a workforce of approximately 350 dedicated professionals, Binmile has been at the forefront of providing cutting-edge solutions across various industries.
AppFutura had the privilege of engaging in a detailed conversation with Avanish Kamboj, the visionary Founder and CEO of Binmile. The discussion delved into the company's journey towards championing digital transformation and the unparalleled success achieved in steering businesses towards a digital-first approach. Mr. Kamboj provided valuable insights into how Binmile has effectively integrated digital solutions into the operations of its clients, fostering economic growth and success. The interview shed light on the company's strategic initiatives, innovative methodologies, and commitment to delivering transformative digital products and solutions that have solidified Binmile's position as a prominent global technology partner.
Avanish Kamboj's Journey:
Avanish Kamboj, the Founder and CEO of Binmile, boasts an impressive background in technology and leadership where he embraced his entrepreneurial spirit, founding Binmile. Under his leadership, the company has served over 200 clients globally, offering bespoke software solutions across a diverse range of industries. Avanish's strategic vision and dedication to innovation have been instrumental in steering Binmile towards its current success, solidifying his position as a trusted leader in the ever-evolving tech landscape.
Company Overview:
Binmile is a prominent name in the digital transformation landscape, specializing in mobile app development services and an array of software engineering and consultancy solutions. What distinguishes the company is its dedicated commitment to innovation and its ability to tackle intricate business challenges and technological complexities head-on. With a team of over 350 technology experts, Binmile has garnered a stellar reputation for delivering top-tier application development services to its clients worldwide.
Client Portfolio:
Binmile has forged strong partnerships with an array of clients across various sectors. Notable collaborations include ventures with Sinar mas Multi Artha (SMMA) and Aldiracita Sekuritas in the financial services sector, where the mobile app development company provided comprehensive development and QA services for investment, trading, and crypto apps.
Furthermore, Binmile played a pivotal role in the growth of PeLocal and PayMonk in the Payments sector, streamlining backend development and offering ongoing support.
In the E-commerce and Direct-to-Consumer Brands segment, Binmile's contributions to GlobalBees and Ecco Shoes included back-end and full application development using Node.js.
The company also made significant strides in the USA market, partnering with TAI Services to revamp their website and enhance their digital presence.
Additionally, Binmile's expertise extended to the Edtech space through collaboration with Edureka, providing Python and ReactJS development services. Notably, the company also extended end-to-end application development services for InstaAstro, contributing to the domains of Astrology and Matchmaking.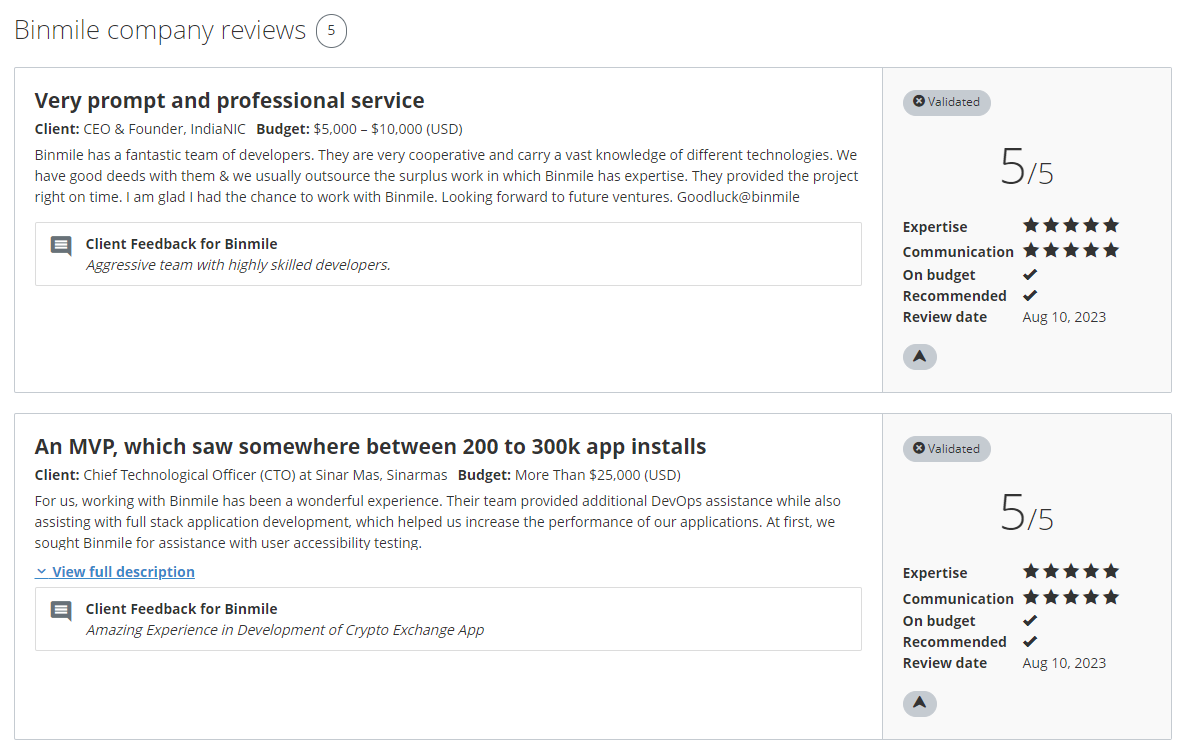 Mobile App Development Specialties:
Binmile excels in various categories within the realm of mobile app development services. The company's proficiency in cross-platform development using technologies like React Native and Flutter has enabled the creation of dynamic apps for global e-commerce brands, catering to both Android and iOS users. Their native app development skills have also been put to the test, delivering optimized user experiences and leveraging platform-specific features for various projects.
The company's expertise in automated testing with Katalon (Android) and Swift (iOS) has further solidified its position as a reliable provider of bug-free and efficient applications.
Budget and Development Processes:
The average budget for mobile apps developed by Binmile typically ranges around 35 lakhs, reflecting the company's commitment to delivering high-quality solutions within a reasonable budget. The company prides itself on its in-house development approach, ensuring streamlined communication, rapid decision-making, and stringent quality control throughout the development process. While this approach necessitates ongoing skill development, it allows for efficient problem-solving and the delivery of innovative solutions.
Development Approach:
Binmile adheres to a versatile mobile app development approach, leveraging a combination of cutting-edge technologies and best practices to deliver robust and scalable solutions. The company places a strong emphasis on understanding client requirements and translating them into customized, user-centric applications. With a focus on agile methodologies and iterative development, Binmile ensures timely delivery and seamless integration of complex functionalities, catering to the evolving needs of modern businesses.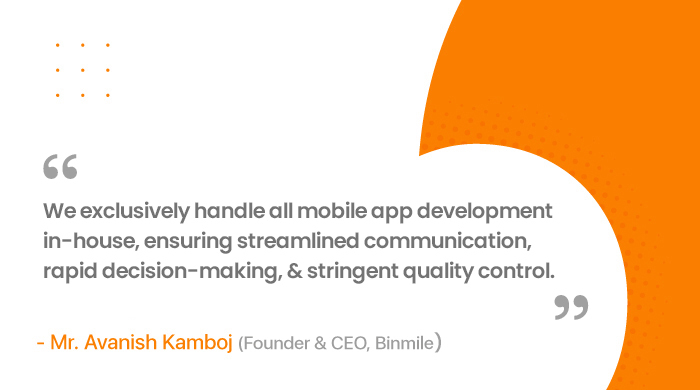 Industry Recognition and Awards:
Binmile has garnered significant industry recognition for its exceptional contributions to the field of software development and digital transformation. The company's commitment to innovation and excellence has earned it accolades and certifications, solidifying its position as a trusted technology partner for businesses worldwide. Notably, the company has been recognized for its exceptional contributions to the fields of Digital Product Engineering, Software Product Engineering, and Quality Assurance Services, among others.
Future Initiatives and Expansion Plans:
Looking ahead, Binmile is poised to expand its operations and further strengthen its global presence. The company is actively exploring opportunities to venture into emerging markets and niche sectors, aiming to provide innovative solutions that address the complex challenges faced by businesses across various industries. With a strong focus on continuous innovation and technological advancements, Binmile is well-positioned to achieve sustained growth and make a significant impact in the global tech landscape.
Conclusion:
In conclusion, Binmile, under the dynamic leadership of Avanish Kamboj, has emerged as a key player in the digital transformation arena. With its unwavering commitment to innovation, client-centric approach, and versatile development methodologies, the company continues to drive technological advancements and empower businesses across diverse industry verticals. As it sets its sights on further expansion and global outreach, Binmile is poised to make a lasting impact in the ever-evolving world of technology and digital innovation.
About AppFutura
AppFutura, founded in 2012 during the Mobile World Congress in Barcelona, initially focused exclusively on the mobile app development market. However, in response to industry demands, the platform expanded its scope to include a wide range of IT and Digital Marketing company categories. Presently, AppFutura serves as a comprehensive directory featuring over 8,000 listed companies, facilitating connections between over 40,000 monthly clients and service providers. While maintaining its roots as a project-based marketplace, AppFutura has evolved into a prominent platform fostering the growth and visibility of IT and Marketing companies, helping them bolster their online presence and connect with new clientele.