Binmile celebrates its CEO and Founder, Mr. Avanish Kamboj's inclusion in the Top 10 IT CEOs listing by CEO Insights, renowned industry-leading magazine known for recognizing exceptional leaders in the technology sector.
Binmile, a leading global digital transformation company, is pleased to announce that its Founder & CEO, Mr. Avanish Kamboj, has been honored as one of the Top 10 IT CEOs of 2023 by CEO Insights, a renowned industry-leading magazine known for recognizing exceptional leaders in the technology sector.
The prestigious annual list by CEO Insights celebrates influential leaders who have leveraged their extensive industry expertise and experience in offering effective skills to the market. The CEO's were shortlisted after being closely scrutinized by a distinguished panel of judges including CXOs, analysts and their editorial board. CEO Insights recognized Binmile's valuable contribution to the ever expanding and competitive tech industry and their ability to sustain themselves and emerge as top contestants through their reliable knowledge. Mr. Kamboj's inclusion in this esteemed list highlights his exceptional contributions to the technology landscape and his commitment to transforming businesses with his extensive industry expertise and experience in offering effective technology solutions.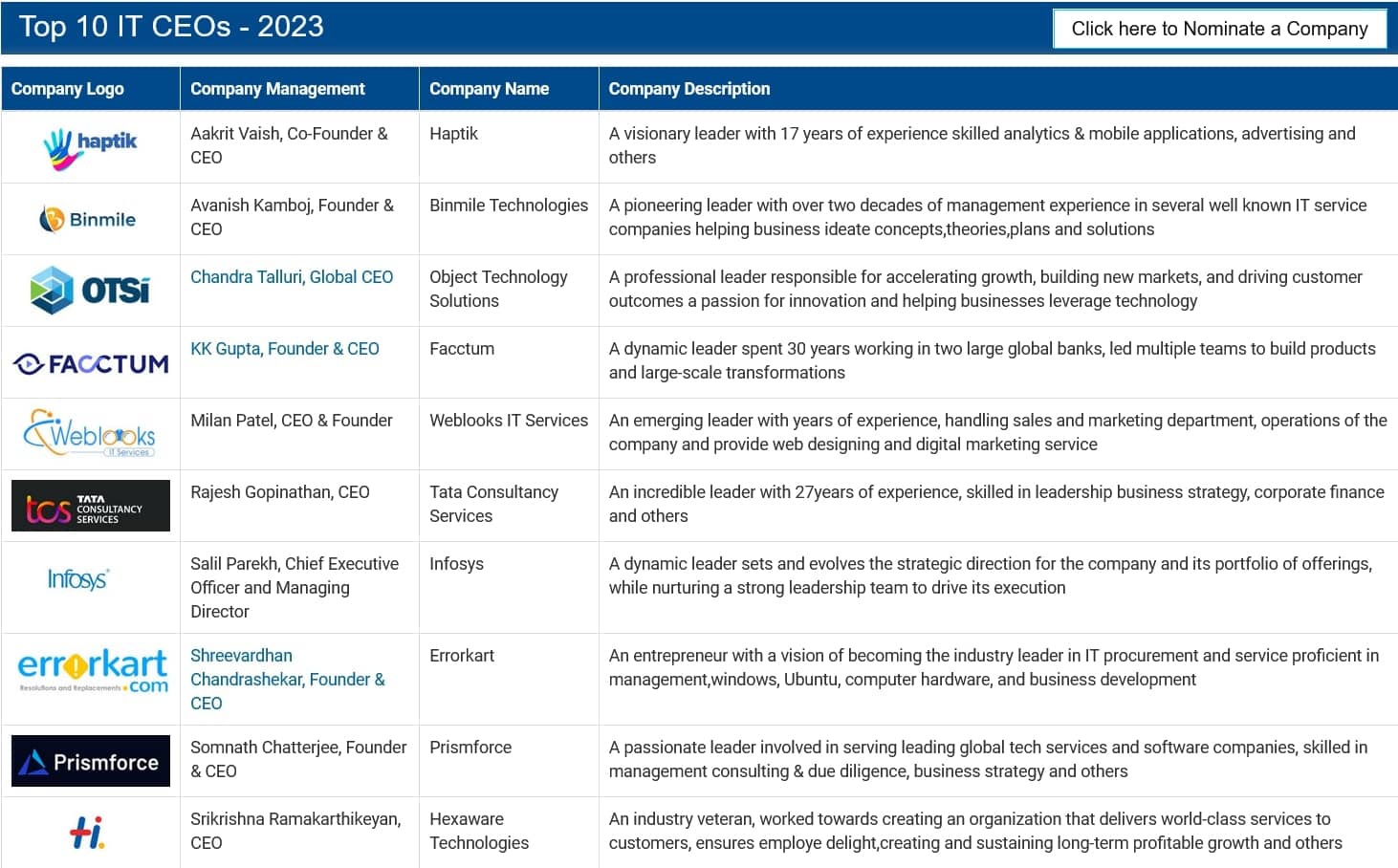 Under Mr. Kamboj's visionary leadership, Binmile has achieved remarkable milestones and is consistently delivering quality IT services and solutions to his global clientele across industry vertices. With a quality focussed customer-centric approach and a focus on harnessing the latest technological advancements, Binmile has solidified its position as a trusted partner for businesses seeking to navigate the ever-evolving digital landscape.
"It is an honor to be recognized among the Top 10 IT CEOs by CEO Insights. This achievement is a proof of the hard work and dedication of the entire Binmile team, whose commitment to excellence has propelled us to new heights. We remain steadfast in our pursuit of innovation, and this accolade motivates us to continue delivering exceptional value to our clients and stakeholders." – Mr. Kamboj stated. "I would also like to extend my heartfelt congratulations to the other CEOs who were recognized; Aakrit Vaish – Co-Founder & CEO, Haptik; Chandra Talluri – Global CEO, Object Technology Solutions; KK Gupta – Founder & CEO, Facctum; Rajesh Gopinathan – CEO, Tata Consultancy Services; Salil Parekh, Chief Executive Officer and Managing Director, Infosys and others. Your achievements signify the transformative power of technology and leadership. Together, we can drive innovation and shape the future of the industry in the years to come."
With a strong focus on empowering businesses through transformative IT solutions, Binmile has consistently delivered high-quality services across diverse industry verticals, including but not limited to, finance, education, e-commerce, aviation, manufacturing and logistics. Mr Kamboj's strategic vision and dedication have been pivotal in driving Binmile's growth and solidifying its reputation as a reliable and forward-thinking IT services provider.
About Binmile
Binmile is a leading global IT solutions provider that leverages cutting-edge technologies to drive business growth and innovation. With a team of highly skilled professionals and a customer-centric approach, Binmile offers a comprehensive suite of services, including Product Engineering, Software Development, SaaS Development, Mobility Solutions, Legacy System Modernization, Application Development, Quality Assurance and Testing, Cloud Consulting, and DevOps covering varied industries. The company's commitment to excellence and continuous innovation has earned it the trust of clients worldwide.
A leading digital strategy and product engineering company that has developed digital products and provides custom market-leading solutions for 200+ global Independent Software vendors (ISVs), Fortune 500 enterprises, and SMBs from the High Tech, BFSI, Healthcare, Education, E-Commerce, and Manufacturing businesses.
About CEO Insights
CEO Insights is a distinguished monthly business magazine, serving as a sophisticated platform that brings together business leaders, C-Suite Executives, and decision-makers from around the globe to share and democratize their invaluable insights. Their mission is to present thought-provoking and fresh perspectives in a highly curated manner, amidst the changing technology landscape, to aid and inspire entrepreneurs, business leaders, and executives in achieving their business goals and maintaining a competitive edge in the market.
Through our print and digital mediums, the platform has created a global scenario, showcasing leadership, motivational success stories, and influential narratives from diverse industries across continents. Each issue of 'The CEO Insights' magazine serves as a powerful platform for subject matter experts and business leaders to discuss successful strategies for navigating organizations through the digital era. From sales, marketing, and production to employee retention and customer satisfaction, our insights cover crucial aspects of running a successful business in the modern world.