Binmile becomes a leading Ruby on Rails player in Indonesia, accredited by TopMobileAppDevelopmentCompany. This accreditation highlights Binmile's team of experienced ROR developers who deliver top-notch solutions solidifying their position as a reliable and forward-thinking technology partner.
Binmile, a leading custom software development company proudly announces its accreditation as a leader in the Ruby on Rails landscape in Indonesia by TopMobileAppDevelopmentCompany. This recognition is awarded to companies that boast teams of experienced ROR developers who can design, develop, and deploy top-notch web applications to meet the company's specific business needs.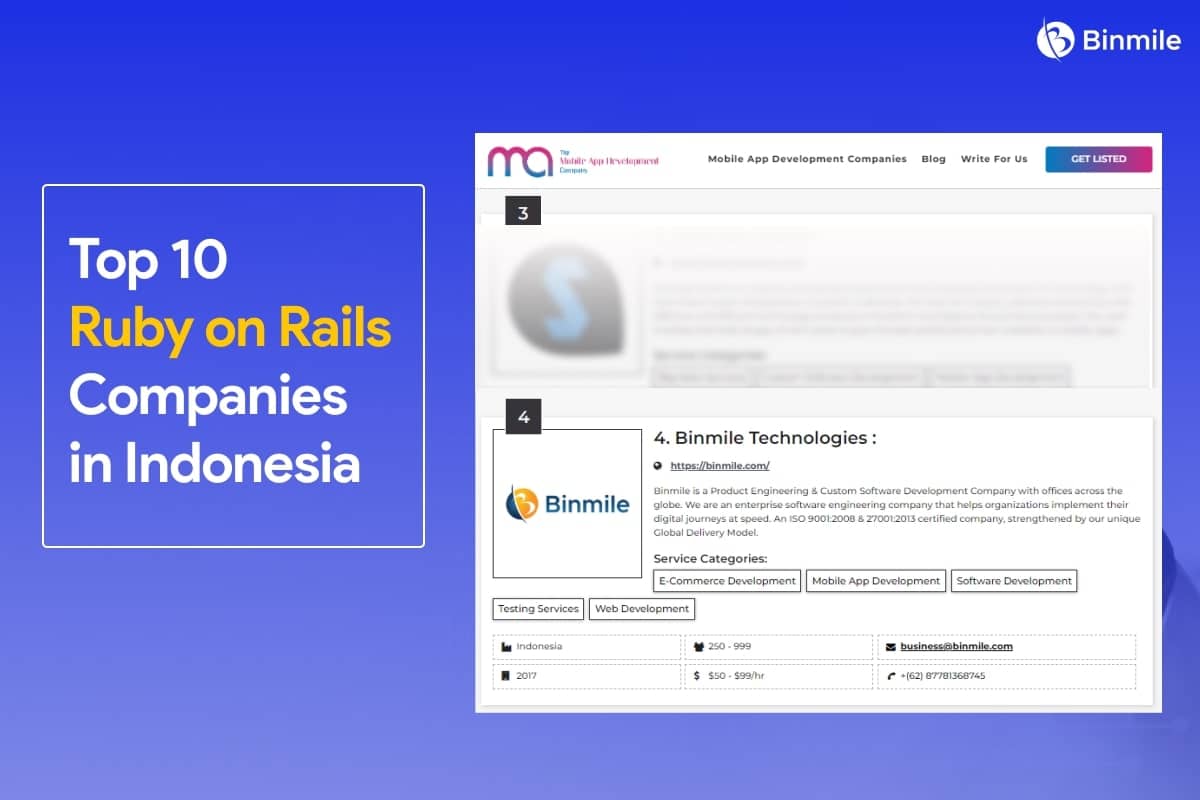 Ruby on Rails, also known as Rails or RoR, is an open-source web application framework commonly known for its simplicity, flexibility, and scalability. It enables developers to create robust and feature-rich web applications while streamlining the development process. Binmile has consistently demonstrated excellent expertise in leveraging Ruby on Rails to deliver cutting-edge solutions to its clientele across the globe.
The accreditation by TopMobileAppDevelopmentCompany, showcases Binmile's capabilities of delivering quality products to its clientele in Indonesia. Off Lately the company has onboarded numerous Fintech projects and opened a brand new office in the country to serve its clients better. This affirms Binmile's standing as a reliable and forward-thinking partner for businesses seeking high-quality web applications built on the Ruby on Rails framework.
"We are honored to have received this prestigious accreditation from TopMobileAppDevelopmentCompany. It validates the hard work put forth by our team of skilled developers and experts," said Sana Ansari, AVP Marketing of Binmile. "We take immense pride in our tech expertise, and this recognition further motivates us to continuously push the boundaries of innovation and deliver top-notch solutions to our clients."
As the demand for intuitive and dynamic web applications continues to grow, Binmile's expertise in Ruby on Rails positions the company as a prominent player in the competitive technology landscape. By adopting the latest trends and adhering to industry best practices, Binmile remains at the forefront of delivering innovative solutions to its clients.
About TopMobileAppDevelopmentCompany
TopMobileAppDevelopmentCompany specializes in researching top mobile application development and web development agencies worldwide. Their primary goal is to identify and recommend the finest mobile application development service provider based on current search engine results and recent company performance.
About Binmile
Binmile is a prominent digital engineering company dedicated to empowering businesses with cutting-edge technology solutions. With a wide range of services, including custom software development, product development, App development, web development, SAAS development, cloud computing, and other business services, Binmile strives to meet the diverse needs of its clients. The company's unwavering commitment to quality, customer satisfaction, and technological excellence has garnered it a global clientele, spanning various industries. As a leading digital strategy and product engineering company, Binmile has successfully developed digital products and delivered custom market-leading solutions to over 200 global Independent Software vendors (ISVs), Fortune 500 enterprises, and SMBs across the High Tech, BFSI, Healthcare, Education, E-Commerce, and Manufacturing sectors.