NBFC Software is an example of why today's financial institutions are banking upon futuristic loan management software to manage their compliance needs, credit risk, and loan origination processes more efficiently.
In fact, the use of modern technology to gain more competitive advantages over traditional banking players has been one of the most fundamental strategies for businesses in the field of finance to improve their decision-making, customer service, and facilitate disbursal of loans.
In this write-up, we are discussing some notable features of NBFC Software specific to MSME (micro, small, and medium enterprises) loans and how companies can take advantage of the same for their growth.
An Overview of NBFC Software
NBFC Software is a term for businesses in the field of finance using software solutions to streamline their business processes. You can also say it denotes the meaning of software products developed for NBFC companies that are integrable, comprehensive, and customizable. Besides, the loan management system software is designed to help non-banking financial companies process loan life-cycles in a way boosting consumer experience.
According to a report, NBFC software or loan servicing software market is likely to witness a sustainable growth by 2027.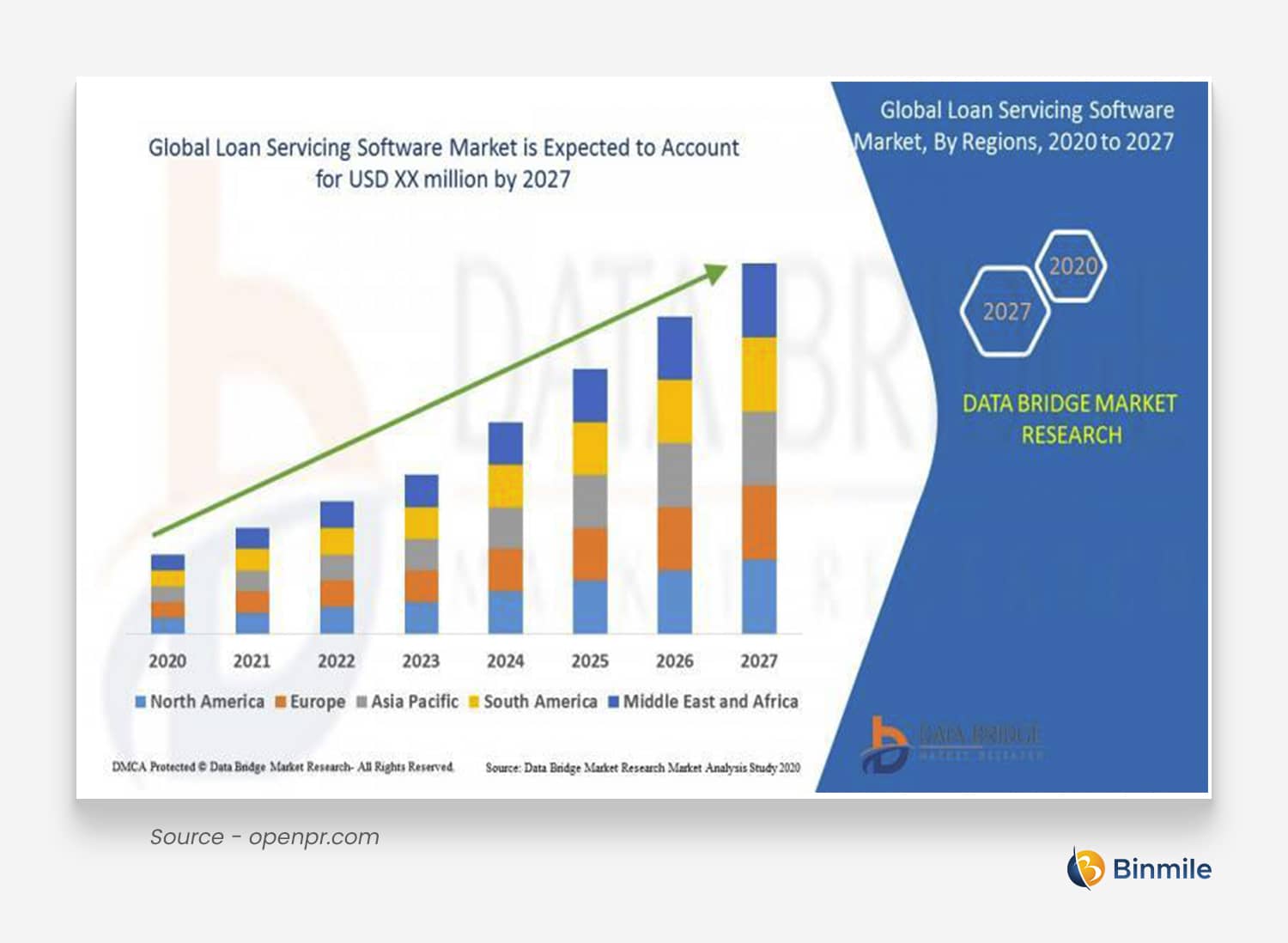 What Are Non-Banking Financial Companies (NBFCs)?
Non-banking financial companies or NBFCs are companies in the field of financial businesses. They manage trouble-free funding for loan seekers without having to meet the obligations or loan eligibility criteria laid down by a financial institution. In simple words, these companies operate banking services without having a banking license.
Examples of NBFCs:
Insurance companies
Money market funds
Mortgage lenders
Investment banks
Private equity funds
Hedge funds
P2P lenders
One of the best benefits of seeking a loan from an NBFC is that a potential borrower doesn't have to go through intermediaries. These companies provide alternate sources for finance and credit straight to the clients, thereby reducing costs, fees, and lending rates.
Key Difference Between An NBFC And A Bank
 

| | |
| --- | --- |
| NBFC | BANK |
| Doesn't operate with a banking license | Authorized by the government and operates with a banking license |
| Established under Companies Act 1956 | Established under Banking Regulation Act, 1949 |
| Doesn't accept demand deposit | Accepts demand deposit |
| 100% foreign investment is allowed | Overseas investment for private sector allowable up to 74% |
| Doesn't create credit | Produces credit |
| Doesn't have to maintain reserve ratio | Reserve ratio is mandatory |
| Can't issue cheques drawn by it | Can issue cheques |
NBFC Software – How Does Technology Help Non-Banking Financial Companies?
The role of NBFC software is quite critical in helping companies in financial business to transpire automated efficiency in their business processes. Moreover, the technology is designed to lower costs and boost customer experience for NBFCs. As a result, it helps them gain competitive advantages in the market.
Most importantly, the lending management software enables companies to facilitate loan approvals faster. They can also handle real-time credit scoring and hassle-free digital transactions using the software. Moreover, the software has also provided assistance to NBFCs in terms of outreaching their presence beyond traditional markets and providing great customer services in remote areas.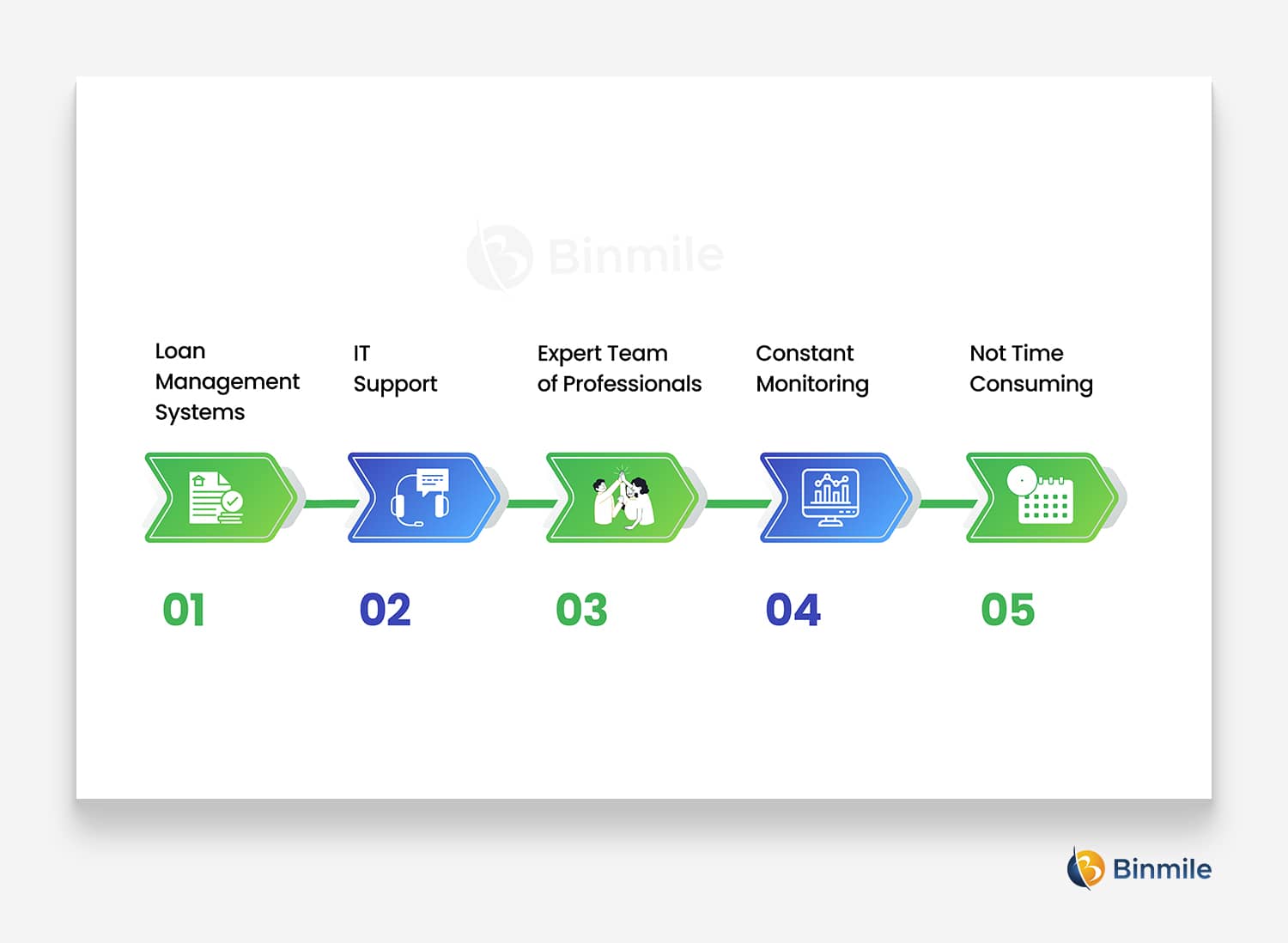 Key Features Of NBFC software
In a business world that is changing constantly, it is essential for non-banking financial companies to get equipped with necessary software loaded with new features to help them handle their MSME loan operations efficiently.
Features, including loan disbursement and repayment tracking should be a part of an NBFC software so that non-banking financial companies can streamline their MSME loan operations efficiently.
Streamlines Loan Application and Underwriting
NBFC software brings automated efficiency in the way loan application and underwriting processes are handled. It offers a detailed overview of credit standing and records of potential loan borrowers. As a result, an NBFC measures loan eligibility of the applicants based on the data insights provided by the software.
Customer Relationship Management (CRM)
One of the best NBFC software features, a CRM helps a non-banking financial company to manage all the data of customers from a centralized location. The result of such a unified data view is that you can use it to serve your customers competently.
Captures Signature Digitally
The ability to capture digital signatures of customers is one of the greatest features of NBFC software. As a result, it allows digital signature of key documents faster and securely. This feature benefits your company in terms of reducing paperwork and speeding up the loan process.
Notifies Automated Repayment
The beauty of automated payment notification is that it rules out much administrative work. And it improves debt collection rates, too. Moreover, you can also serve an early reminder to a customer regarding due payments, based on the data provided by the software.
Data Security
One of the best features of NBFC software is its robust data security, something that can't be overlooked to ensure that businesses are protected against data breach. The software with data security measures, such as strong encryption protocols and impenetrable servers are crucial. They ensure comprehensive safety of sensitive data of your business from falling into wrong hands.
Also Read: Metaverse in Banking – Transforming The Future of Banks
How Does NBFC Software Assess Loan Eligibility Of Potential Borrowers?
Helps With Credit Score Analysis – The software comes equipped with automated credit scoring capabilities. This feature makes it easy for non-banking finance companies to assess a potential loan borrower's credit history on the basis of their financial statements. Based on the data insights generated by the software, an organization decides whether an applicant qualifies for a loan approval.
Enables KYC Checks – NBFC software is useful for having automated KYC checks of customers, ensuring validity of their identity. As a result of automated KYC checks, verification of identity of customers is handled quickly, reducing fraud risks that are usually witnessed in MSME lending.
Manages Risk Analysis – NBFC software's automated risk analysis tool enables your business to analyze the risk profile of every potential borrower. Based on the data insights facilitated by the tool, you can make an informed decision about sanctioning the requested loan, and other key matters.
Conclusively, NBFC software, if used wisely, can help an NBFC how to simplify assessing loan eligibility of potential borrowers, bringing accuracy and transparency in the process of loan disbursal.
Benefits of NBFC software
Loan Management Systems
NBFC software is an intelligent solution leveraging core capabilities of artificial intelligence and data analytics to generate data and help a business predict outcomes. Using this intelligent lending management software would mean managing and streamlining time-consuming loan processes for different loan companies. It also features a separate case management system which is a part of MIS that enables efficient loan management.
Regulatory Compliance
NBFC software helps companies never miss with local and internal regulatory guidelines governing lending practices and privacy and rights of the customers.
Advanced & Insightful Analytics
Software that NBFCs use helps them assess their portfolio performance. For this, the software tracks KPIs (key performance indicators, such as loan repayment rates, and the delinquency rates regarding the loan.
Streamlined & Seamless Loan Application
NBFC software makes it easy for companies in finance services to serve MSMEs with suitable loan products using easy-to-use interfaces. The goal it serves is eliminating the obduracy of paperwork, helping loan seekers get the loan quickly.
Efficient Decision-Making
A non-banking financial company requires a sound decision-making approach to ensure loan applicants are served better. For this, they rely on various strategies, including making wise decisions based on collective inputs from various stakeholders within the company. NBFC software enables organizations to make that wise decision on loan applications by using the input from stakeholders.
Other Benefits of NBFC software At A Glance:
Enables security and transparency by handling databases using high-level security encryption.
Effectively manages complex databases for future references. Also enables accuracy of loan EMI calculation.
Easily customizable as needed by the users. Besides, users can also add new features to the software as and when needed.
Software for NBFC is a web-based real-time system that is accessible from anywhere.
Reduces unwanted paperwork, expedites loan processing and approvals.
Reduces overheads involved in creation of customer KYC electronically
Enables systematic management of crucial data in a secure Cloud environment
Provides customizable loan facilities, facilitates loan amounts calculation, and auto-generates receipts for repayments
Easily tracks borrowers defaulting on loans
Closing Statements
Software solutions for non-banking financial companies are designed to result in automated efficiency in their core business processes.
For instance, these technologies ensure robust security of sensitive and crucial data of their customers.
Companies can use such solutions to rule out unwanted paperwork, speed up loan processing and approvals, and enable customizable loan facilities to serve customers better.
One of the reasons for lending more value to NBFC software is that it encourages non-banking companies to embrace digital transformation and serve customers more efficiently.
From allowing NBFCs to bring security and transparency in managing their core databases to expediting loan disbursal processes, software products used by these companies are transformative, intuitive, and futuristic.
Conclusively, the importance and benefits of NBFC software collectively accentuate their relevancy of application for non-banking finance companies, helping them achieve competitive edge in today's business market.
It also indicates one of the pressing needs of why these companies should hire a reputed software development partner having expertise in building futuristic software solutions for companies in the field of financial services.
Don't Miss This: Binmile Technologies to be Lanyard Partner at India NBFC Summit
Consider Binmile a qualified resource for your software requirements under your budget but capable of transcending the success of your vision. A loan management software company such as us in the field of software development can help you succeed in your business with flying colors using our innovative software development solutions.
Call our experts now to schedule a meeting over a futuristic software solution that drives innovations in your business.