It is believed that nearly 65% of businesses around the world need to analyze the data they collect. As a result, many opportunities were not leveraged because of the oversight of not utilizing the collected data.
In a sharp context, around 99% of Fortune 500 companies reportedly invested in data and Artificial Intelligence initiatives. This is an encouraging report for firms to embrace Big Data adoption. They can inspire other businesses to experience the benefits of data analytics.
These benefits include:
Reduced costs and improved profit
Improved strategic decisions and higher operating margins
A better understanding of customers and enhanced security
More workforce productivity and streamlined operational processes
Percentage of Industries Adopting Data Analytics:
92% of insurance industries
98% of healthcare industries
89% of financial institutions
Market statistics of data analytics
The value of the Big Data Analytics market was appraised at $240.56 billion in 2021. estimated growth of the same is USD 655.53 billion by 2029, increasing at a CAGR of 13.4% during the forecast period of 2022-2029.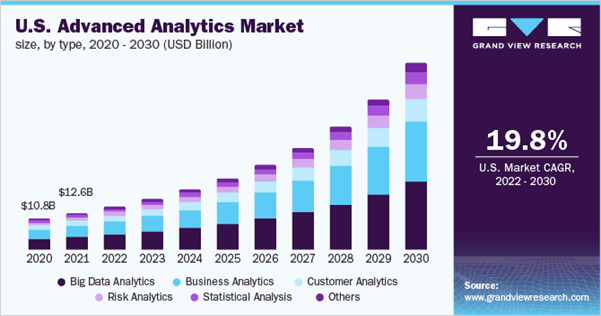 What Drives the Growth of the Advanced Analytics Market?
Machine learning and artificial intelligence are emerging technologies driving the growth of the advanced analytics market. Leveraging these technologies effectively means businesses can offer more personalized customer experiences.
Other factors driving the growth include the rising popularity of online shopping and increasing penetration of social networking platforms, as per the report.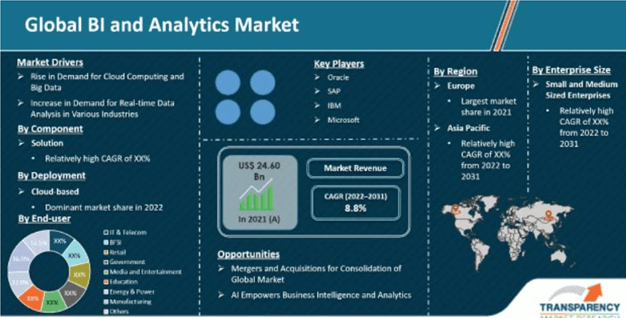 Data Analytics Use Cases
Data Analytics Use Cases in the Food Industry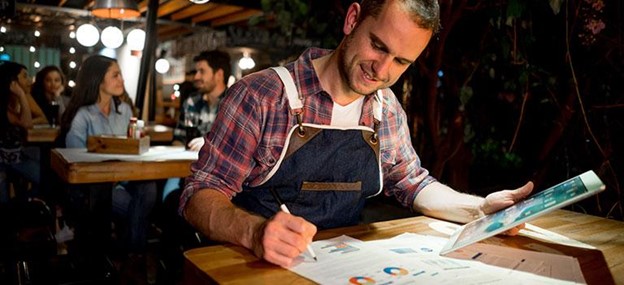 Food processing companies for retail and catering services depend on predictive data analytics. It helps them have a better prediction of the ideal quantities of food necessary to cut short on wastage efficiently.
Leveraging historical data and analyzing data across diverse manufacturing stages helps them get intelligent reporting. This, in turn benefits them with the quantity of food required for every event. They can map out detailed event planning to cut short on food wastage.
In addition, intelligent data analytics also enables optimized resource planning.
Benefits of data analytics use cases:
Data related to the supply chain, like traffic, weather, local climates, routes, etc. help restaurateurs in the ordering and preparation of the food delivery chain.
For the Food and beverage industry, data analytics means maintaining the quality of the food. Leveraging IoT-driven sensors that accumulate and analyze the data results in effective monitoring of the entire supply chain cycle.
Big data analytics coupled with predictive analytics help the food industry understand the preferences and patterns of customers.
Using sentiment analysis integrated with data analytics is also beneficial. It enables the food industry to figure out what prompts customers to visit a particular food outlet.
Data analytics use cases in educational technology (EdTech)
Educational organizations and institutions that leverage data analytics can effectively do the systematization of student records. Based on the data-based insights, the EdTech institutions can manage student data about demographics, performance, and academic records.
For example, a learning management system or LMS is a great example of how to systematically organize the data of students. It helps manage tasks and interactions and induces seamless communication flow between teachers and students.
For the institutions, implementing LMS software means keeping the information protected, and improving student performance. It helps increase or impart practical knowledge to the students.
Also Read: Learning Management Systems – A Rundown on the Types, Features and Benefits of the eLearning Model
Benefits of data analytics use cases:
Ensures that students get personalized assistance through historical performance data and real-time progress tracking.
Utilizing insights based on data analytics, educational institutions can manage academic stuff, utilities, and other core tasks regarding students effectively.
It can help educational institutions better allocate resources based on the statistics related to teachers' workloads and academic records for diverse cases. This means educational institutions can effectively optimize curriculums and improve cost efficiency.
Data analytics help educational institutions with insights based on the recorded data of students and teachers. It enables them to understand how to improve engagement in an academic ecosystem. This also paves creating a learner-centric curriculum for students to keep them motivated and committed toward academic pursuits.
Data analytics use cases in E-commerce
Effective use of data analytics results in efficient e-commerce catalog management. It also gives out the result of effectively tracking inventory across diverse channels.
Data analytics using historical sales performance with real-time data provide one of the best kinds of assistance to online retailers to explore demands for products.
As a result, profitability improves and costs are reduced on inventory. Anatomizing data about customer behavior, purchase history, spending patterns, transaction info, etc. results in accurate Customer lifetime value (CLV) predictions.
One of the greatest advantages of data analytics use cases relates to how effectively it prevents churn rates.
This is also important, as customer acquisition is a more difficult and expensive exercise for a company than customer retention. Therefore, using intelligent analytics tools can help e-commerce platforms to understand the signs of dissatisfaction within their clientage.
In addition, the tools can help platforms to dig deeper into finding relevant customer segmentation. As a result, decision-makers can proactively handle the factors behind the dissatisfaction.
Benefits of data analytics use cases:
Helps companies measure the efficacy of their marketing and sales campaigns. Using modern analytics tools could also mean improving decision-making, attaining more omnichannel traction, and creating holistic marketing programs.
Enables accurate predictions by evaluating the latest trends or patterns to meet customer expectations.
Helps e-commerce companies understand the behavior of customer interaction. Enables them to offer custom-tailored services resonating with the target demographics.
Companies can also use data analytics to improve the purchasing journey for all of their customers.
Data analytics use cases in retail
The use of data analytics in retail value chains helps companies improve their sales performance and optimize processes.
Studying retail sales data, analyzing patterns, and correlations, and identifying outliers through intuitive retail dashboards are very helpful. It helps decision-makers at different levels in the retail value chain identify and address bottlenecks in the retail business.
It results in better planning and preparedness through data-backed insights facilitated regarding challenges and opportunities in the retail business.
Data analytics combining machine learning and artificial intelligence provides great assistance to retailers. For instance, they can come up with more complex strategies intended to help them achieve key business objectives.
Benefits of data analytics use cases:
Predictive data analytics help retailers get insights into recommendable products for customers based on their purchase history or patterns.
Improved experiential engagement is also generated by using data analytics. Retailers can use such data to get a better understanding of their customer base.
Analyzing or measuring in-store foot traffic is an intelligent data-based approach to optimize the current store location. Actionable insights as facilitated through data sourced from target demographics help retailers locate target markets and find ideal investment opportunities.
Data analytics use cases in finance
Data analytics poses transcendental benefits for the financial industry. From predicting financial trends and analyzing risks to automating tasks and fostering inclusivity, the assistance provided by data analytics is immense.

For instance, insurance companies can get insights into customers, including which businesses they visit and when. The result of such an insight is to ideate general liability risk and accordingly profile and prioritize prospective customers.
Benefits of data analytics use cases:
Using data science helps insurance companies identify, assess, and measure the risks and how to deal with them. Risk analytics helps companies increase their security and trust.
Using real-time analytics based on machine learning algorithms helps financial companies streamline and simplify their internal business processes.
Real-time data analytics helps financial services firms understand and respond to customer behavior. They get the idea of developing targeted marketing campaigns to meet customer demand and win market share.
Data analytics use cases in healthcare
The healthcare industry contributes sheer volumes of data every day. Data analytics, therefore, helps the industry glean insights and effectively improve the quality of their patient care.
In addition, data-backed insights from different sources enable the industry to improve medical facilities' functions. From streamlining healthcare processes and increasing operational efficiency to improving patient care, healthcare data analytics affords many benefits.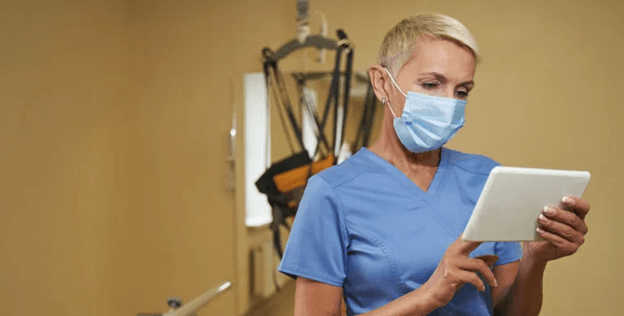 Benefits of data analytics use cases:
Facilitates comprehensive electronic health records
Enables doctors to come up with insightful clinical treatment decisions
Delivers real-time alerts to healthcare providers
Guides doctors with in-depth insight into the health and treatment of patients
Identifies disease risks in patients faster and accurately
Paves greater efficiency and reduces costs in healthcare
Winding up
Our detailed rundown on data analytics use cases provides insights into how utilizing data analytics results in incremental growth for businesses.
The use cases of data analytics are widespread based on their industrial application. We have covered some crucial pointers to help you understand the value of data utilization. Incorporate cutting-edge data analytics tools into your business process for more growth in your niche.
The significance of data analytics by combining machine learning and artificial intelligence is transcendental. From improving business efficiency to enhancing customer experience and more, its benefits are crucial.
If you are looking for expert assistance in handling Big Data challenges, don't hesitate to schedule a call with our experts. Besides, Binmile offers you comprehensive services in software development, digital product development, software testing, test automation, and many more.
Businesses using our services successfully achieve results, such as enhanced operational excellence, improved business processes, better customer experience, etc.