Businesses around the world rely heavily on applications, such as customer relationship management, supply chain management, and business intelligence.
However, the biggest challenge they face is how to manage numerous applications seamlessly. This is important because managing a cluster of applications operating in silos results in poor communication and sharing of data.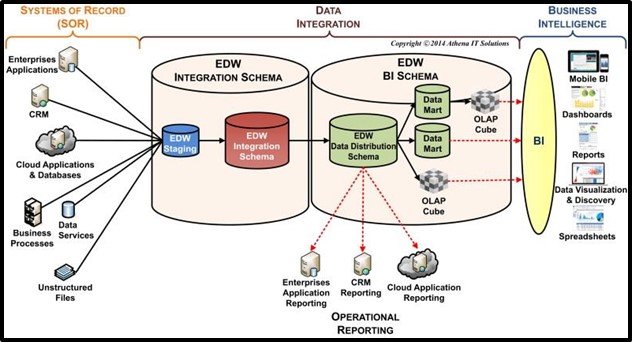 What is the Best Way to Manage Applications for Seamless Data Sharing?
The best way to manage multiple applications and their data across organizations is to integrate them. Implementing this solution results in cost reductions and operational efficiency for the organizations.
Therefore, Enterprise Application Integration (EAI) is an ideal recommendation for companies using multiple systems with a broad range of activities. The best outcome of such an implementation is that it helps companies optimize the operations and performance of their numerous apps.
What Is an Enterprise Application Integration (EAI)?
To put it simply, EAI enables communication between enterprise applications. It is actually a solution to the lack of such communication by establishing middleware or an integration framework.
The framework facilitates fluidity of data between enterprise apps without changing database configurations or the apps themselves. In turn, it leads to improved processes and data availability.
Why is Enterprise Application Integration needed for Organizations?
An enterprise uses multiple information systems, such as –
Supply chain management
Human resource management
Employee healthcare
Customer relationship management
Business intelligence applications
Most of these systems are standalone. They lack communication with each other due to some incompatibility issues. These issues include the database system used, operating systems they reside in, or legacy systems that are no longer compatible.
EAI, in this context, allows smooth integration of these information systems and apps across the organization. It results in seamless data sharing and efficient automation of the business process.
When implemented, an integration allows enterprises to experience changes, such as –
Easy detection of valuable data, apps, and services
Seamless data sharing and data consistency across the organizations
Reduce manual steps and errors to provide better data-backed organizational insights
Monitor application life cycles
Departmental operations and collaborations
To summarize, an EAI is used to ensure that all the information systems and apps reflect correct changes in the data.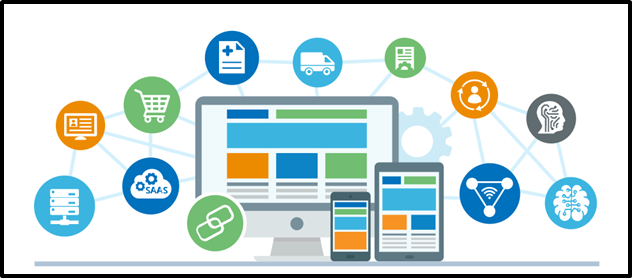 Market Analysis of Enterprise Application Integration
The market of EAI was expected to register growth at a CAGR of 15.65% between the forecast period of 2018 – 2028.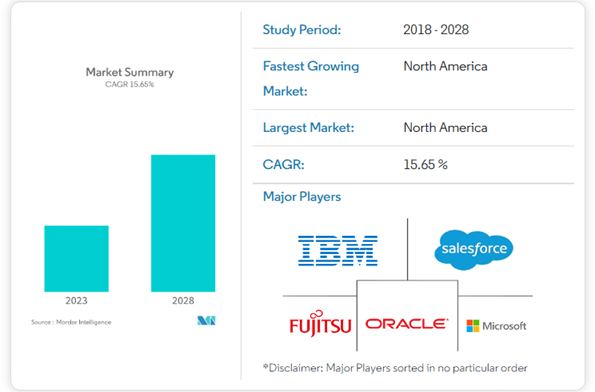 Benefits of Enterprise Application Integration for Enterprises
1. Improved Management and Data Sharing
EAI enhances departmental interpretability within the organization. This sort of benefit is quite crucial, given how the automotive industry in the US lost USD 1 Billion to interpretability faults. Once implemented, EAI ensures easy and seamless data sharing across the organization and effective automation of business processes.
2. Allows Database Integration
The biggest goal of EAI is database integration, helping an organization remove data duplication. The feature of the data warehouse design and synchronization tools allows the reduction of mistakes. It allows companies with accurate, consistent, and comprehensive data to improve their business intelligence.
3. Easy Workflow and Business Operations
EAI streamlines and simplifies business operations, whether they are complicated or asynchronous. For example, the EAI-based CRM platform allows organizations to improve their business processes and transparency of financial flow.
4. Flexibility in IT Infrastructure
An EAI facilitates the development of IT facilities so that organizations can respond easily to growing customer expectations. It effectively handles communication hurdles across departments, streamlining business processes for better functionality of multiple apps into an easy-to-use interface.
5. Reduced Time and Efforts
By streamlining communication flow across departments within an organization, EAI helps bring forth reduced time and effort. It streamlines large-scale tasks by allowing companies to cut out unwanted tasks. It also allows companies to monitor and fix business issues better.
6. Remove Data Silos
To put it simply, a company using multiple apps requires integration to avoid quantifying data variances. It happens when employees from different departments need different data sets to process the information they need.
With EAI, a company can ensure better data usage by removing data silos. The integration allows the centralization of data in a single place. It allows employees to access and share data without fiddling through databases.
Enterprise Application Integration: Challenges
The main thing with developing secure and robust enterprise applications is that they are not easy to get built. The development of such apps must accompany vision, precision, and expertise. Here is our rundown on challenges associated with EAI.
1. Legacy products
Legacy or outdated software has compatibility issues with modern systems and causes problems in integration. Moreover, such obsolete systems invite the chance for abrupt crashes or encountering bugs. To sum it up, integrating legacy products with relatively modern systems is quite a challenging aspect of EAI.
2. Lack of skilled resources
That's one of the gravest challenges for enterprises to implement applications. It is very difficult to find skilled experts who can render expertise according to your business requirements.
As a result, enterprises can't implement the apps on time and end up paying high costs. Moreover, a dearth of skilled resources also leads to apps falling short of quality performance.
Also Read: Top Five Challenges of Integrating APIs for Your Business
Types of Enterprise Application Integration
1. Point-To-Point Integration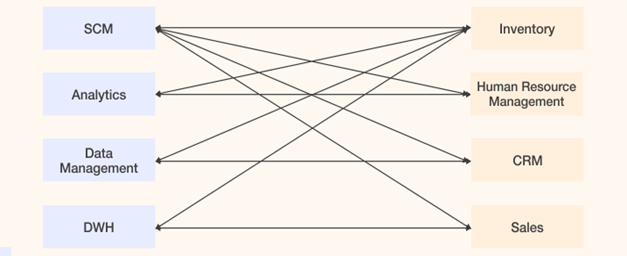 In this form of EAI, sourced data is reformed and then ingested by the next application. Data extraction from an application is based on a script. It is also used to modify data structure or format. Then the modified data is sent to a different app.
Point-to-point integration is the simplest form of EAI and is implemented for small workflows.
2. Hub-And-Spoke Integration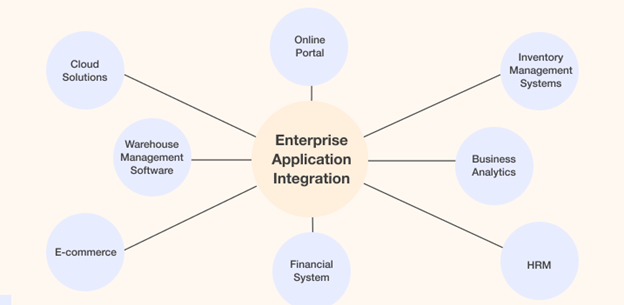 In this model of EAI, a central program is used to handle data reformatting. It keeps workflows moving during an abrupt slowdown of an application. This model is believed to be faster and more reliable than point-to-point integration.
It rules out "program individual dependencies" between individual pairs of apps. This doesn't, however, preclude the necessity of using runtime components for developers to route data manually to the relevant app.
3. Bus Integration
This model is an evolved version of hub-and-spoke EAI called EAS (enterprise service bus). It rules out human interference and uses a defined set of standards to control data flow between apps.
As a result, an application can transmit or receive data as per applicable business rules and policies. Though it facilitates easy integration, it goes through the planning and production selection phase.
4. Middleware Integration
In this model, there is an intermediary program between the end users and the app. Middleware tools allow data transfer between a distributed group of apps.
It also supports interface integration and allows consolidation of database entries and synchronization of data across different systems.
5. Microservices
Known as a modern standard for enterprise applications deployed in the Cloud, microservices support EAI initiatives. For example, these single-purpose tools could either be dedicated apps or serverless functions.
They are designed to easily integrate with programs. Businesses that run their apps in the Cloud can route data captured from deployed microservices to the designated databases using APIs.
Different Levels Of Enterprise Application Integration
1. Business Process Integration
Businesses make strategies aiming to achieve desired goals by automating internal business processes and improving performance. Types of integration approaches involved here include PULL, PUSH, and PROCESS TRIGGER.
The first approach involves the automatic transfer of data from any system to BPM or business process management. The second approach involves data transfer to a separate system from BPM. The third integration approach indicates an automatic action in response to any change in data or based on an event.
2. Data Integration
In this level of integration, communication between apps takes place through the exchange of data. Data transformation or conversion of data into a format understandable by apps is the key part of this level of integration.
3. Presentation-Level Integration
Different applications are amalgamated into a single application with a common interface. The result is achieved through middleware technology and solutions.
This level of integration fosters a virtual intermediary meant for data collection. It offers a suboptimal way for data access and integration.
Conclusion
An organization dealing with multiple apps requires EAI. It helps them manage a cluster of applications operating in silos seamlessly. Implementing this approach would bring forth results, such as reduced costs and boosted operational efficiency for companies.
Enterprise application integration affords benefits, such as –
Improved collaboration
Enhanced operational efficiency
Improved customer experiences
However, it also has many challenges, including higher costs, and a lack of data security. This is where working with an experienced technology partner will come in handy for you. Binmile is that experienced technology partner and digital transformation company ensuring the efficacy of enterprise application modernization services and application integration services for you.