The unique thing with technologies is that they are always replaceable with their modern counterparts. A new technology that is in vogue today becomes obsolete after a certain period of time, just because its replacements are comparatively more powerful and productive.
The underlying meaning of the premise is that we are living in a fast-paced world where virtually everything goes through a breakneck speed of transition. The same is true with LMS or a learning management system and eLearning platform.
They are one of the busiest digital education frameworks in the contemporary world as a result of the transition from what learning models we experienced during our educational pursuits back in school days.
Let's discuss in detail about it, its types, features, and benefits.
What is a Learning Management System (LMS)?
A Learning Management System (LMS) is a robust software application or tool for managing all aspects of complex databases, including documentation, administration, tracking, reporting, and automation, along with helping users create, manage, and deliver educational courses or instructional content.
Moreover, the software program is equipped to assess the training goals of an individual and track the progress toward meeting the goals. In addition, it performs collecting and presents data for learners, and the companies as a whole.
Market Analysis And Impacts Of a Learning Management System
The global market value of LMS, for the year 2019, was valued at $8.76 billion and is anticipated to reach $38.10 billion by 2027, with growth traction of 19.7% in terms of Compound Annual Growth Rate (CAGR).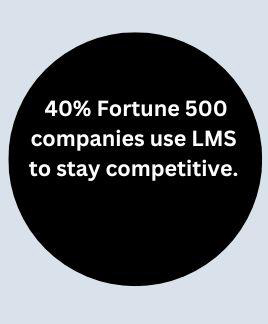 Talking about the market growth of LMS in the Asia-Pacific region, it is said to be the fastest-growing segment at a CAGR of 19.75% from 2019 to 2027. In a survey, 70% of the respondents in learning and development (L&D) departments in North America said to use the LMS.
30% of buyers of LMS are tech companies
65% of primary users of LMS are C-level executives
35% of primary users of LMS are managers
30% of global LMS buyers are those companies with high spending on providing a standard training environment to their employees.
Companies that spend on professional training and use LMS increase employee retention rates by 92%.
LMS implementation helps companies save up to 41.7% of costs on expensive training (Cryptex, 2019).
82% of respondents appreciated the feature of reporting analytics in LMS, saying it improved their digital approach to business learning (Learning Technologies, 2019).
Key Features a Learning Management System Must Have
1. LMS Integrations
LMS Integration enables your learning management system to receive and share data with other systems, such as talent management systems, and association management software. It brings forth automated efficiency in various iterative tasks. As a result, it enables users to supplement learner information with key course completion data or combine data from other software with the training and vice versa.
Benefits
of LMS integrations:
Enables users to populate their existing LMS with all their learner details in minutes
Rules out admin duplication across systems
Allows your users to explore new features relevant to their needs
Reduces friction to enable greater user adoption and engagement
Keeps systems updated with new compliance requirements
Allows improved data capture and learner analytics. This means L&D teams can link performance data from other software to learning pathways suitable for groups and individuals
2. Data Tracking
Using LMS allows L&D professionals to carry out performance evaluations of courses and learners by tracking a learner's journey via stored data. This, in turn, helps them improve their learning programs best suited to the learner's proclivity. It speeds up the training process by identifying where the participants need to build their skills or where they are outperforming.
In fact, the learning management system data tracking should allow you to –
Measure the progress of training given to the learners
Understand the results of training
Review learning materials and create reports to be submitted to the board management
3. Personalized User Experience
A learning management system should encourage adoption by providing content based on the role and learning the history of the users within the software. For example, the system should provide enough learning materials to the learner in the sales role. The point is, an LMS should be more personalized and intuitive to a user's learning preferences or job function to ensure they feel more invested in the process.
Must-have features to improve user experience in LMS –
A good user interface (UI) or a visually appealing design to improve ease of use
Intuitive design to allow end-users to access the platform with minimal instructions
A consistent design layout to help users focus on learning
4. Automated Alerts and Notifications
Nobody can downplay the virtue of timely communication in an eLearning environment. Keeping this in mind, a learning management system should feature the ability to allow managers and L&D (learning and development) professionals to identify a learner's needs and whether the learners engage and complete course materials. For this, the feature of automated alerts and notifications of an LMS comes in handy, allowing learners to receive auto-alerts about their training deadlines or notifications on a user's completion rates.
5. Centralized Learning Materials
A learning management system should come equipped with the capability of housing videos, slide decks, written instruction, and a different suite of learning materials in a centralized location. It would, thus, allow users and learning & development professionals to stay organized and offer consistency. The presence of two distinct types of learning materials would also enable blended learning that L&D pros working with a distributed team can use.
Features of a corporate learning management system –
It encourages automatic enrollment, as the system's logic reminds employees about mandatory courses
Enhanced security ensured by single sign-on, advanced authentication, and firewalls
It features a digital roll-call sheet to track attendance and send invitations to class participants
You can add and edit users. You can also organize them in groups and departments
You can assign roles to the users
It allows efficient course management by allowing you to upload, manage, and deliver learning materials to users
It allows you to assess the performance of a learner or a group of learners on time
Also Read: Is Gamification Transforming the Learning Dynamic Worldwide 
Advantages Of Learning Management System
1. Education Through Blended Learning Strategy
A learning management system helps education institutions to implement a blended learning approach by employing different types of teaching methods and styles. The gamification features like badges and leaderboards are helping with increased student engagement. For instance, leaderboards offer a platform for various activities, such as creating and managing points, rating, rankings, and awards, as well as assigning virtual awards and prizes to users.
2. Makes Recruitments And Upskill Training More Efficient
The importance of learning can be understood with the LinkedIn report, citing why it is a critical part of many people's daily work. This means when you offer custom-tailored solutions through learning and development platforms, the learning management system can bring forth a transformative solution to new onboarding and upskill training exercises.
Moreover, the software can also help employees to customize their learning programs, enabling them to prioritize their learning materials, devices they wish to use (e.g. mobile or desktop), and the rate at which they want to learn (e.g. all at once or in chunks). Obviously, the help offered by the learning management system is to help employees take courses and learn them in their own space, not grudgingly. As a result, the system can prove very productive for the learners, giving them satisfying learning experiences and boosting their self-confidence.
3. Enables Compliance Training Course
In an era of a connected business world, staying updated with the latest industry-specific policies and regulations is indispensable for companies to avoid violations of any federal laws governing any aspect of their business. Therefore, LMS plays its part very effectively. Once the new compliance standards are added to the system, employees can be notified when they should take the updated training course.
Meaning of Compliance Training in LMS:
You can keep your training and information updated with the industry-specific laws
Reduces the costs of investment and resources
Enables businesses to meet legal requirements on time
Ensures a compliant workforce working with a compliant LMS
4. Saves Money and Time
Though using LMS involves a premium subscription, it helps you save money on expensive and time-consuming training if arranged in person. Moreover, it also saves time through a self-dedicated learning model, enabling students to learn courses as and when needed.
5. Product and Customer Training
With LMS, you can train your sales and marketing staff on your products and services. This means keeping your employees updated and trained on new products and services as they are released. In addition, the LMS can also be used to teach your customers about your products and services, in terms of their respective capabilities and how customers can use them efficiently. As a result, educated customers about your products or services will ground for improved engagement and loyalty.
Popular Types Of Learning Management Systems
1. Installed LMS
A locally-hosted and downloadable on user's computers that you have to install on your premises and server. You can store databases locally to reduce security risks significantly. It, however, requires costly on-premise installation and an in-house IT department to handle ongoing maintenance and upgrades.
2. Web-based LMS
Also known as Software as a Service (SaaS) LMS, comes with greater flexibility and robust scalability. Doesn't require a higher installation fee, as it can be accessed via a web browser. No need to install, maintain or upgrade the software as your vendor handles everything and all the issues.
3. Open-source LMS
It comes with an open-source code, meaning any technocrat can customize the LMS features from the scratch and modify the entire system to its preferences. You can use the learning management system for your specific business needs without having to pay for it. However, the onus for its maintenance falls on you.
4. Closed-Source LMS
Users can't access the source code of this LMS and are supposed to purchase the license to use the platform. Though expensive for instructors and training managers, on the upside, it relieves you of hassles like updates, upgrades, or instructional design.
5. Enterprise LMS
A highly scalable type of LMS, it comes equipped with a broad range of premium features, including robust gamification tools, an analytic suite, discussion boards, social learning tools, etc.
6. Mobile LMS
Not a very popular option, but it can prove effective in building mobile learning courses that are viewable and accessible on smartphones and tablets. Its AI-powered software features different sets of training tasks for students and can analyze and evaluate their performance.
Conclusion
Learning Management System (LMS) is a software program for facilitating a broad range of tasks, including documentation, administration, tracking, reporting, automation, and so on. In the context of defining LMS for employers, learning, and design professionals, it is precious.
For starters, the technology can be used to train resources, boost their professional growth, and ensure an improved onboarding experience for employees. There are also companies integrating Cloud-based LMS to create, administer, and distribute specific courses to train new employees, and track existing employees' growth and performance. From employees to managers and organizations, LMS benefits them all.
When it comes to choosing the right learning management system, your need to properly analyze your business needs, features of the technology, and your budget. If you still require assistance in this context, choose Binmile as a digital transformation company that helps you with innovative software solutions for your unique business needs.