Businesses are continually seeking innovative ways to attract and retain customers. One such method is when they develop a buy now pay later app and incorporate BNPL solutions into their sales strategies. This financial tool, which empowers customers to defer payments, offers several advantages for businesses. How? Shoppers who might have hesitated due to upfront costs can now make purchases, leading to higher conversion rates. This means more sales and revenue for their business.
Launched by Apple for the first time, the buy now, pay later market is nearly $309.2 billion in 2023 and is estimated to grow at a CAGR of 25.5% during 2022-2026. Buy now, Pay Later's growing popularity is primarily due to its operating model. Quick onboard and lending services with no physical branch visit or even documents required to start on this. In this blog, we will explore how the BNPL model works, discuss the possibilities and advantages of the model, and how to go on about the pay-later application development services simultaneously supporting customer needs and helping companies in virtually all industries maximize revenue.
How Does The Buy Now Pay Later App Work: The Nutshell Version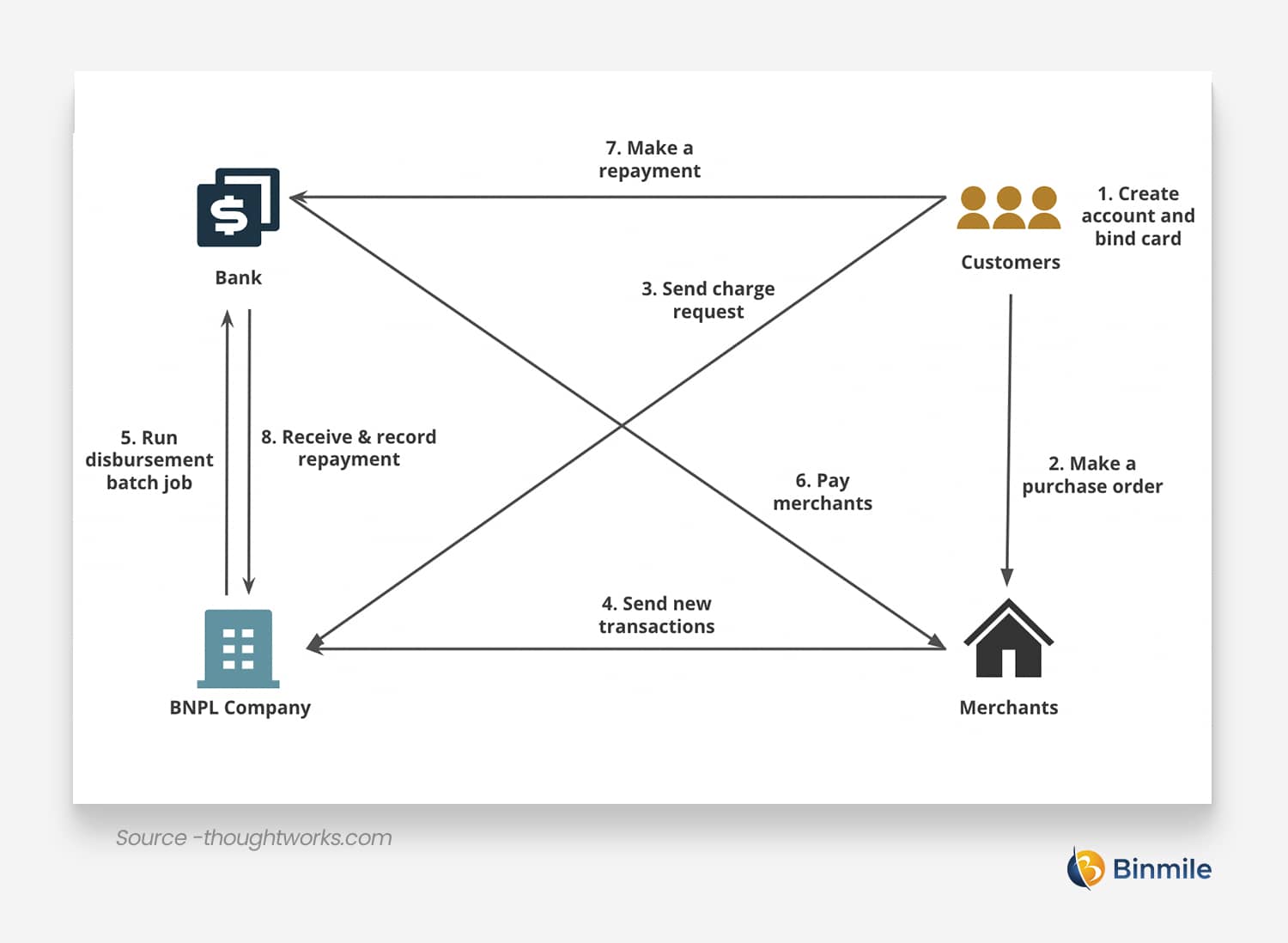 Initially, the Buy Now Pay Later app (BNPL) was most popular for beauty and apparel purchases, but recently it has branched out into other sectors such as travel, pet care, groceries, and gas. Here's how it works:
Select BNPL Option: When shopping online or in a physical store, customers are presented with the option to use BNPL at the checkout. This is typically offered by partnering companies or financial institutions.
Approval Process: The approval process is instant and usually involves providing personal information, such as name, address, and often a soft credit check to assess their creditworthiness.
Make the Purchase: Once approved, customers can complete their purchase just like any other transaction. They select the items they want to buy and proceed to the payment page.
Payment Options: The most common payment option is to split the total cost into equal installments, typically over six weeks or months. Some services may also offer the flexibility to choose the number of installments or even defer the entire payment until a later date.
Interest Options: BNPL services often offer an interest-free period for customers who make payments on time. However, some providers may charge interest or fees, particularly if customers miss payments or choose extended repayment plans.
Varied Repayment Plans: Customers have flexibility in choosing how they want to repay. They can opt for equal installments over a set period, or some providers offer the ability to customize installment lengths to fit their budget.
Digital Wallet Integration: BNPL is often integrated into digital wallets and online shopping platforms, making it easy for customers to use. Customers can select BNPL as a payment option when using these platforms.
What differentiates a Buy Now, Pay Later app from a credit card primarily is how payments are structured. While both allow consumers to make purchases without immediate payment, BNPL divides the total cost into equal installments over a specific period, often interest-free if paid on time. In contrast, credit cards provide a revolving line of credit where users can make multiple purchases within their credit limit and must pay a minimum monthly amount, with interest accumulating on the remaining balance.
BNPL tends to offer more predictable, short-term payment plans, while credit cards offer ongoing credit access with the potential for long-term debt and interest charges if not paid in full each month.
Also Read: Build Personal Finance Application
Know About the Profit Model: What is the Source of Income for BNPL
BNPL can be a lucrative addition to a business's payment options, driving sales, improving customer loyalty, and offering various profit avenues. Let's understand how to generate income from several sources, which can contribute to your profitability. Here are the main sources of income for BNPL companies:
Merchant Fees: BNPL providers charge merchants a fee for integrating their BNPL services into the checkout process. This fee is typically a percentage of the transaction value, for instance, a transaction fee ranging between 2-8% of purchasing amount. Merchants are willing to pay this fee because BNPL can increase their sales and average order values.
Customer Fees: Some BNPL providers charge customers fees for using their services. These fees may include late payment, transaction, or account maintenance fees. While many BNPL services advertise themselves as interest-free, they often generate revenue through these fees.
Interest Charges: When customers choose extended repayment plans or miss payments, BNPL providers may charge interest on the outstanding balance. This interest revenue can be a significant source of income for BNPL companies and can range between 10-30% depending on customer credit or tenure of repayment.
Cross-Selling and Upselling: BNPL providers may cross-sell or upsell additional financial products to their customers, such as credit cards or personal loans. These financial products can generate interest and fees for the company.
Advertising and Marketing Partnerships: BNPL companies may collaborate with other businesses for advertising and marketing campaigns. These partnerships can generate income through co-marketing efforts and promotional activities.
What are the Advantages of the Buy Now Pay Later App?
Benefits for Businesses
Buy Now, Pay Later apps offer several compelling advantages to businesses. Firstly, they can lead to a significant uptick in sales. By providing customers with a flexible payment option, BNPL can enhance conversion rates and increase the average transaction value. Furthermore, businesses can expect a notable reduction in cart abandonment rates, as BNPL eliminates the hurdle of immediate payment, ensuring customers complete their purchases. BNPL can also foster customer loyalty, as shoppers who enjoy a positive experience with this payment method are more likely to return for future transactions.
Benefits for Customers
For customers, payment flexibility is a key advantage. This allows individuals to make purchases without immediate full payment and accommodates various budgets and financial situations. BNPL reduces financial strain, particularly useful for managing unexpected expenses or making substantial purchases. The convenience of easy approval processes, along with user-friendly designs enhances the shopping experience, with many customers gaining instant approval. Ultimately, BNPL adds convenience to the shopping process, seamlessly integrated into the checkout, making it a customer-friendly payment option.
Our end-to-end fintech software development services can develop BNPL apps that meet your consumers' needs, & drive cost efficiency and sustainable growth for your business!
Don't Miss This: FinTech App to Improve Delivery Services
Top Features of a Buy Now Pay Later App: An Overview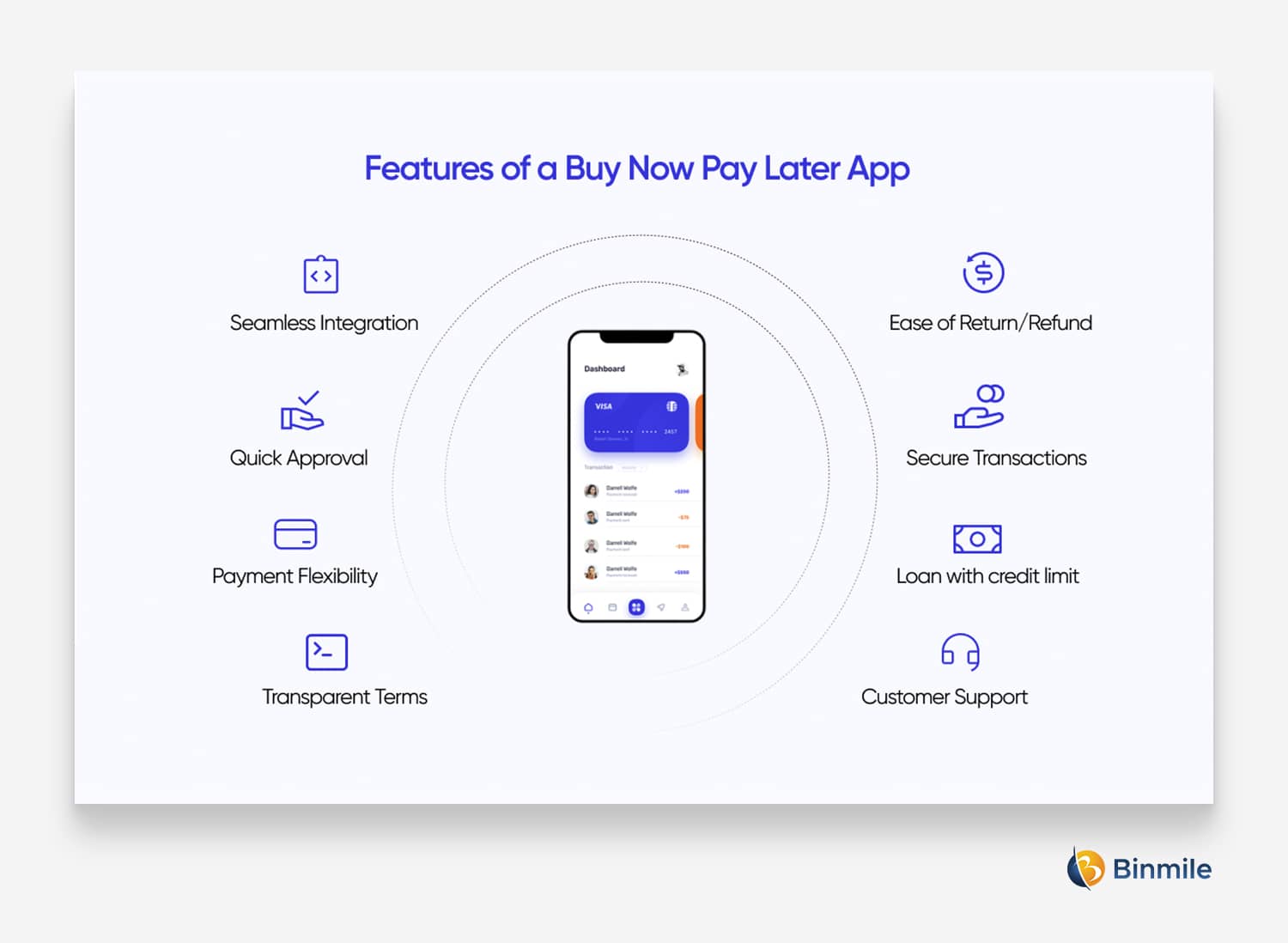 BNPL apps have different but advantageous features that set them apart from any other mode of payment. Here are some of those features.
Seamless Integration: When you intend to develop a buy now pay later app, ensure that it can seamlessly integrate into an e-commerce platform and offer a captivating user experience with onboarding, making it easy for both customers and businesses to use.
Quick Approval: An instant process of verification or approval is a key feature. Customers appreciate not having to go through a lengthy application process.
Payment Flexibility: The ability to choose from various repayment options and plans is essential. This flexibility caters to a wide range of customers.
Transparent Terms: Clear and transparent terms and conditions, including any potential fees or interest, help customers make informed decisions.
Ease of Return/Refund: Most buyers purchase multiple products at once with the intention of returning some of them. So, ensure that your Buy Never Pay Later app offers a no-obstacle return process and a quick refund feature.
Secure Transactions: Instill your BNPL app with robust security measures such as encryption, and multi-factor authentication, among others to offer a safe and secure environment for transactions.
Loan with credit limit: Users should be able to get loans without a credit history check and just based on their credit limit by using BNPL software.
Customer Support: Robust customer support is crucial. Businesses should provide assistance to customers who have questions or encounter issues with their BNPL transactions.
Moving forward with Buy Now Pay Later App In Your Business
The introduction of the Buy Now, Pay Later app reveals a landscape of both opportunities and challenges. However, businesses need to understand the intricacies of BNPL software development services risk management, enhanced user experiences, and regulatory compliances within the financial ecosystem is crucial for it to work for both customers and their businesses. From the essential need for robust security measures to ensure the safety of financial transactions to the importance of a user-friendly interface that enhances the customer experience, these seven key factors are the building blocks of a successful BNPL app.
As the BNPL space continues to expand and innovate, hopefully, this blog has given you insight into the mechanics and encouraged you to understand the tips and features to thrive in this dynamic and promising sector of the financial technology industry. After all, in the ever-evolving world of finance and technology, knowledge and adaptability are key, and a deep understanding of any emerging trends and optimizing them to their potential is an excellent starting point for anyone intending to redefine eCommerce.