With so many businesses getting into building BNPL products or Buy Now Pay Later, it has emerged as a game-changer in the eCommerce industry. As it offers a streamlined purchasing experience for customers while providing substantial benefits to businesses and merchants. BNPL lets customers make immediate purchases and spread the payment over a designated period, typically in interest-free installments. The app is tailored to boost the spending power of consumers across demographics and financing capability through BNPL is generally interest-free or low-cost interest, with various repayment options.
With its growing popularity, it is expected to grow at a rate of 9.8% per year. Therefore, building a Buy Now Pay Later (BNPL) product can be a game-changer for businesses. However, to succeed in this competitive landscape, it is crucial to have a deep understanding of the essentials. In this BNPL product development guide, we will walk you through seven key insights to help you create a successful BNPL product.
Build BNPL Product Effectively: Step-by-Step Development Guide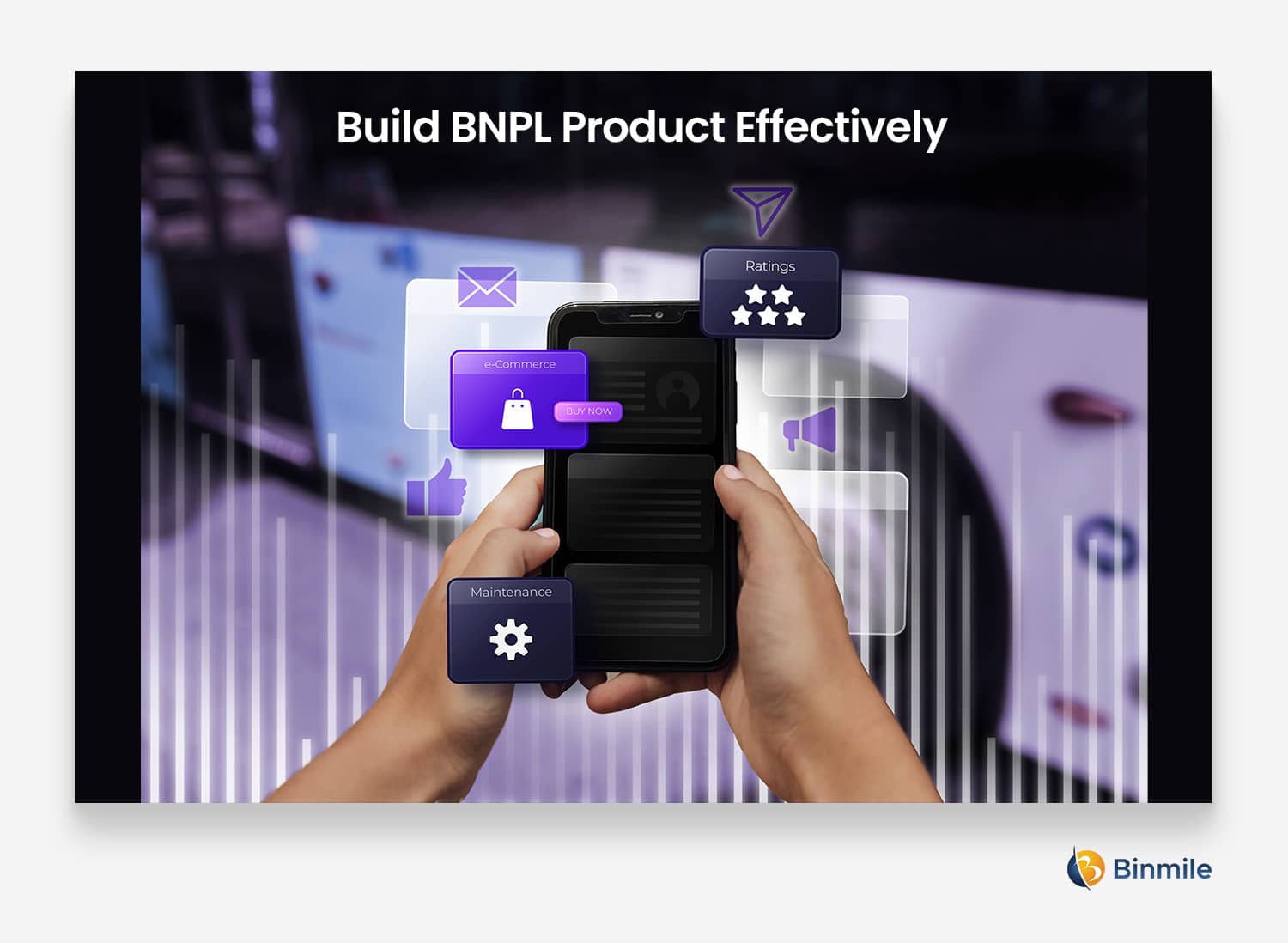 For businesses and merchants, BNPL offers a range of advantages. It can significantly boost conversion rates by reducing cart abandonment, attracting new customers seeking flexible payment options, and encouraging higher-value purchases. Additionally, BNPL providers assume the risk of non-payment, reducing financial exposure for merchants. So, here is the BNPL product development guide you should look out for:
1. Market Research is Paramount
Analyze demographics, income levels, spending habits, and preferences. Investigate your competitors' offerings, pricing strategies, and customer reviews. Explore emerging trends in e-commerce and fintech. Market research should be an ongoing process, helping you refine your product strategy and stay ahead of the competition.
2. User-Friendly Interface Matters
Conduct usability testing to identify pain points and improve navigation. Prioritize mobile responsiveness, as many users will access your app on smartphones. Implement clear and concise onboarding processes, providing step-by-step guidance on how to use the BNPL features. To build a captivating user experience, ensure that users can easily access their transaction history, payment schedules, and support options.
3. Transparency Builds Trust
Communicate all terms and conditions, including interest rates, fees, and repayment schedules. Provide real-time updates on outstanding balances and upcoming payments. Consider offering interactive calculators that allow users to estimate their repayments based on different scenarios. Address user queries promptly through customer support channels. Trust is built through open and honest communication.
4. Fraud Prevention is Essential
Integrate multi-layered security protocols such as end-to-end encryption, fraud detection algorithms, and real-time transaction monitoring and to identify unusual patterns that may indicate fraudulent activity. To stay ahead of the evolving threats, regularly update your security measures. In addition, educate your users on best practices for online security, and also know the latest security threats for eCommerce and how to prevent them.
5. Scalability is a Long-Term Goal
Design your BNPL app architecture with scalability in mind. Leverage cloud-based solutions and scalable databases to handle increasing transaction volumes. Employ load balancing and redundancy to ensure uninterrupted service during peak periods. Continuously monitor system performance and plan for expansion as your user base grows. Scalability is essential to accommodate the app's evolution and increasing demand.
6. Regulatory Compliance is Non-Negotiable
Understand the specific regulations governing your jurisdiction, such as consumer lending laws and data protection regulations. Collaborate with legal experts who specialize in financial services to ensure full compliance. Implement robust Know Your Customer (KYC) and Anti-Money Laundering (AML) processes to safeguard against financial crime.
7. Continuous Improvement is Key
Collect user feedback through various channels, including surveys and user analytics, you can also automate the entire survey. Analyze this data to identify areas for enhancement and undergo software testing for optimizing the user interface, adding new features, or removing bugs that can hinder the functionality of the app. Moreover, stay attuned to industry developments, such as new payment technologies and regulatory changes, and adapt your app accordingly.
In this BNPL development guide, let's move on to discuss the features that can make your BNPL stand out.
How to Build BNPL Product: Key Features & Cost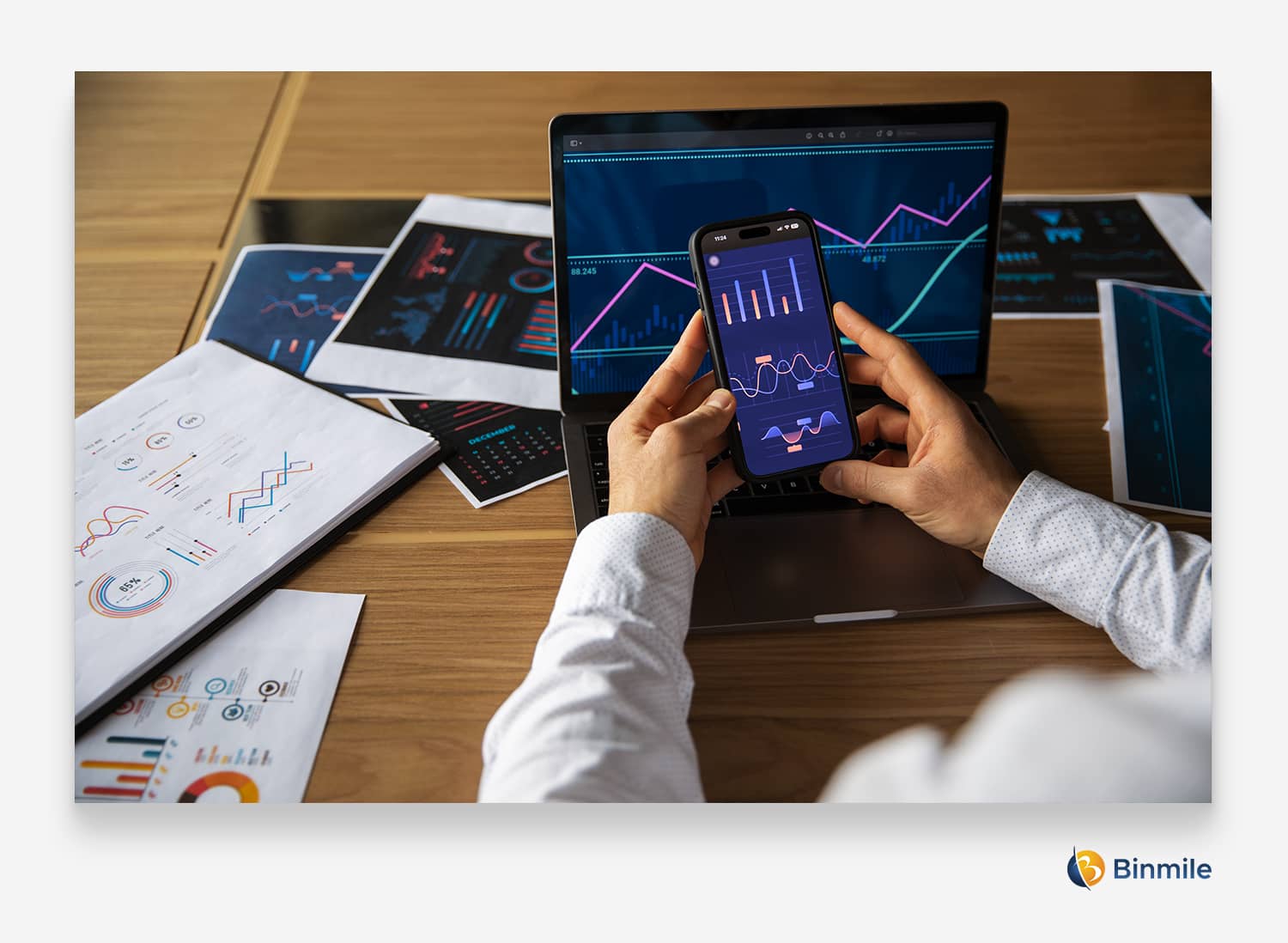 When developing a Buy Now, Pay Later (BNPL) app, incorporating the right features is crucial for success. Here are the top 5 features to consider:
User-Friendly Interface: A seamless, intuitive user interface is paramount. Ensure easy navigation, quick access to BNPL options during checkout, and straightforward account management for customers.
Instant Approval: Implement a real-time credit assessment system to grant instant approvals. This feature enhances the shopping experience by reducing wait times for customers.
Flexible Payment Plans: Offer a variety of flexible payment plans, allowing customers to choose installment options that suit their needs. This can include interest-free plans or longer-term financing.
Transparent Pricing: Provide clear and concise information about fees, interest rates, and payment schedules. Transparency builds trust with customers and helps them make informed decisions.
Security and Fraud Prevention: Invest in robust security measures to protect customer data and prevent fraudulent transactions. Methods like encryption, two-factor authentication, and real-time fraud detection can be helpful.
How Much It Costs To Build BNPL Product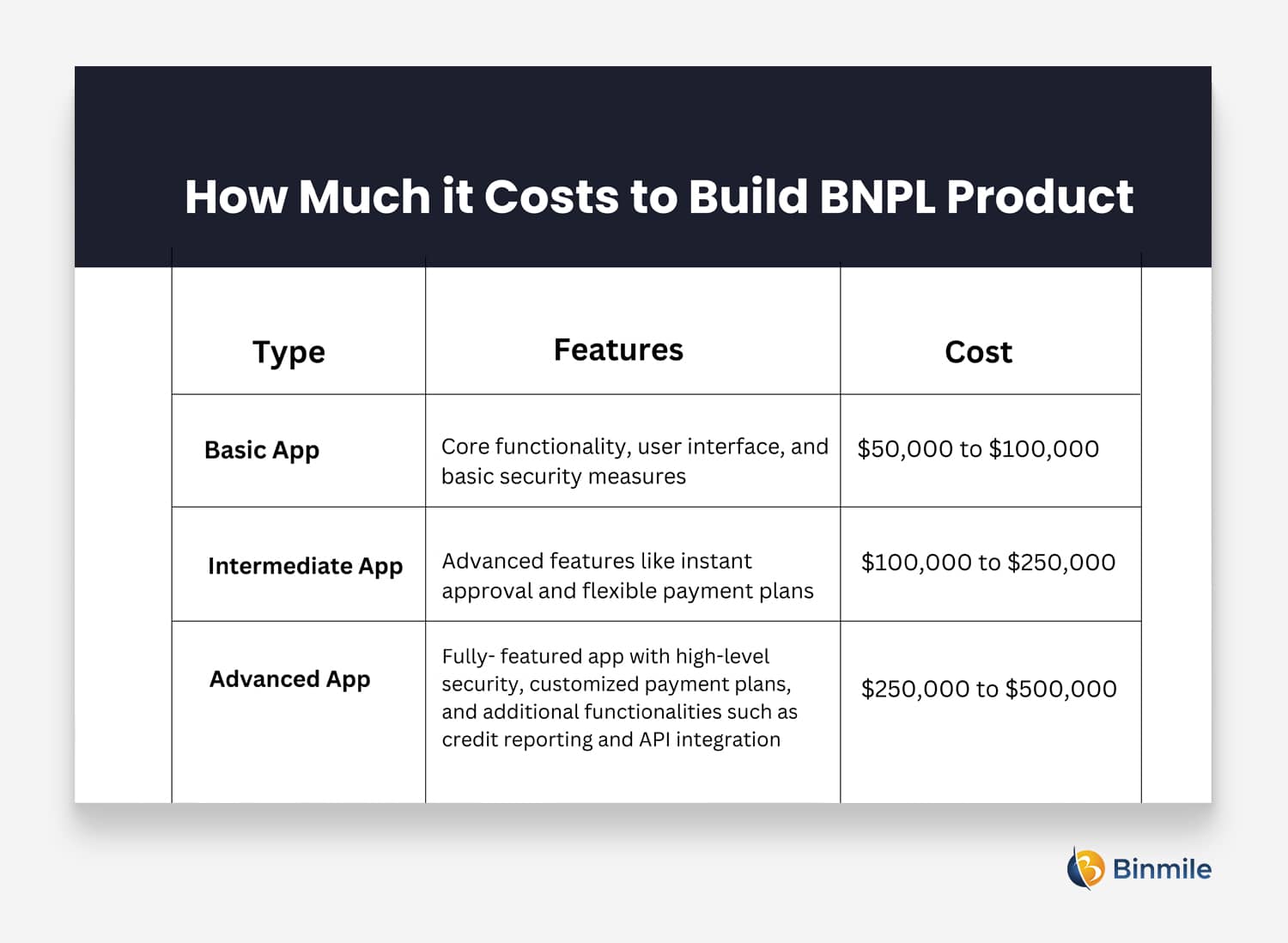 The cost of developing a BNPL app can vary significantly based on several factors, including complexity, features, and development approach. Here's a rough estimate:
Basic App: A simple BNPL app with essential features may cost anywhere from $50,000 to $100,000. This includes core functionality, user interface, and basic security measures.
Intermediate App: An app with more advanced features like instant approval and flexible payment plans can range from $100,000 to $250,000.
Advanced App: A fully-featured BNPL app with high-level security, customized payment plans, and additional functionalities such as credit reporting and integration with external financial systems can cost $250,000 to $500,000 or more.
Factors to Consider When You Build BNPL Product
It's essential to work closely with an experienced mobile app development services provider to get an accurate cost estimate tailored to your specific requirements. Keep in mind that ongoing maintenance, updates, and security measures will contribute to the overall cost of running your BNPL app. Moreover, these are the factors that can impact your BNPL development cost
Development Complexity: A basic app with essential features, such as payment processing and a straightforward user interface, will have a lower development cost compared to an app with advanced functionalities like real-time credit assessments, personalized financing options, and sophisticated fraud detection systems. The more intricate the features, the higher the development cost.
User Experience Design: Creating a user-friendly and visually appealing interface is crucial for a BNPL app. Investing in extensive user experience (UX) design and user interface (UI) design can increase costs, but it's essential for attracting and retaining customers.
Security Measures: Implementing robust security measures, including encryption, two-factor authentication, and real-time fraud detection, can add to development costs. In addition, meeting regulatory requirements, such as KYC and AML procedures, often involves additional development work and ongoing compliance efforts, which can increase costs.
Testing and Quality Assurance: Rigorous testing and quality assurance are essential to ensure your BNPL app functions smoothly and securely. Consider AI-driven test automation services for saving time and effort. Doing so across different devices, browsers, and scenarios can add to the overall cost, but it's necessary to deliver a reliable product.
Integration and APIs: If your BNPL app needs to integrate with external systems, such as payment gateways, credit scoring services, or banking APIs, the complexity of these integrations can impact development costs. The level of customization and the need for ongoing maintenance can also contribute to expenses.
Ongoing Maintenance and Updates: Building the app is just the beginning. Ongoing maintenance, updates, and enhancements to address changing customer needs, industry trends, and security threats are part of the long-term costs associated with running a BNPL app.
Also Read: Understanding of Buy Now Pay Later App
Key Takeaways to Build BNPL Product For Success
As we navigate the digital landscape, it's evident that if you build a BNPL product it is poised to shape the future of the industry. As it is providing a win-win solution. Businesses and merchants enjoy increased sales and reduced risk, while customers benefit from financial flexibility and convenience. However, to build BNPL product that is effective, highly functional, and user-centric, requires meticulous planning. By following the best practices and considering key factors that impact your development, you can navigate the challenges of this dynamic industry and create a product that stands out in the market.
If you are considering creating a similar mobile app for your business, you have the option to collaborate with an application development services company. It can set you apart in the market by infusing your app with a distinctive array of features and a commitment to delivering top-notch solutions.