With an annual growth rate (CAGR) of 11-14% over the next five years, boosting the IT industry's value to USD 350 billion by 2026, India's IT industry has led its ascent as a financial power. Recently there has been a surge in the development of deep tech in India amidst a growing startup ecosystem and a strong focus on innovation. Deep technology is an advanced technology that has the potential to disrupt traditional industries and create new markets.
According to a report by NASSCOM, India is home to over 1,600 deep tech startups, with a total market size of $14 billion, showing how technology growth in India is on an upward track. This number is expected to grow significantly in the coming years. As more and more startups and established companies invest in deep tech research and development. Usually, such startups run in but are not limited to, agriculture, chemistry, life sciences, green energy, and aerospace. They strive to solve complex problems and disrupt traditional industries. So, it's important to understand how this deep technology is making waves in the Indian tech industry. What are the hurdles it faces, and how the growth of this deep tech can be increased?
In this blog post, we'll deep dive into the rise of deep tech startups in India, future trends, and the benefits and opportunities they create. We also focus on the challenges they face and discuss factors that can drive their growth.
How To Boost the Growth of Deep Tech in India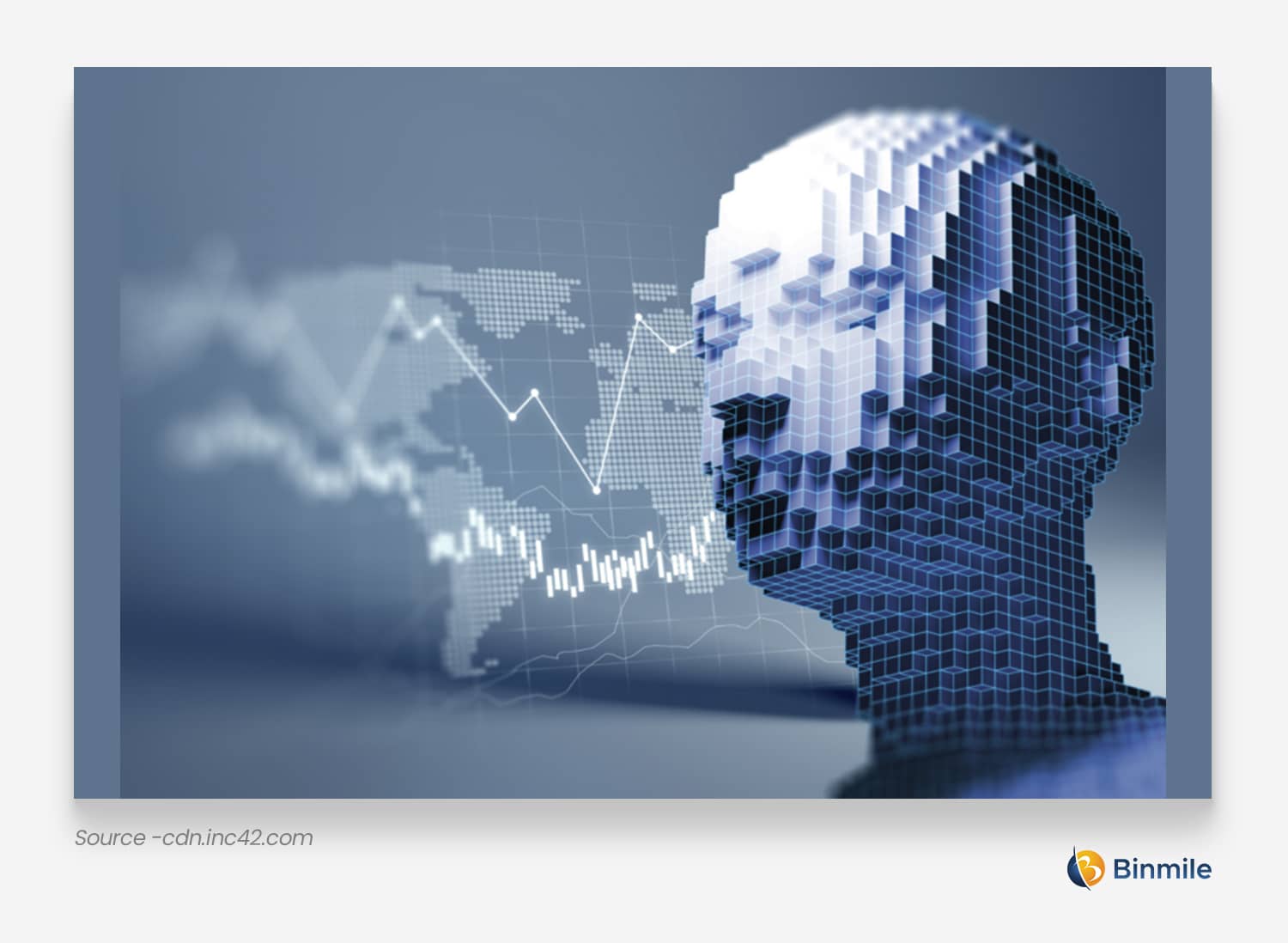 What is Deep technology? As discussed earlier, Deep tech is an advanced set of technologies that are based on scientific breakthroughs to bring a significant influence on various industries. Deep tech startups are harnessing cutting-edge technologies such as AI, machine learning, blockchain, and IoT to develop the latest services or products. These technologies are being rapidly adopted across various sectors, including enterprise, HealthTech, FinTech, and Industrial & Manufacturing.
This is how we can fuel the growth of deep tech in India:
Boost in Investment
A substantial increase in investment in Deep Tech, especially from venture capitalists, can provide the necessary financial resources for these startups to develop and refine their technologies. This investment in funding can be utilized for various aspects of deep tech such as research and development, infrastructure, and talent acquisition. Additionally, this can help startups overcome the initial hurdles of bringing a new technology to market.
Committed Patient Funding
Long-term or patient capital investment for an extended gestation period gives deep tech startups the stability they need to focus on innovation rather than immediate profitability or collecting funding. Therefore, investors need to develop a custom framework for evaluating products and technologies to understand and assess the unique challenges and timelines associated with Deep Tech development.
Active Government Support
Continuous and timely intervention by Government agencies like Niti Aayog or Startup India provides startups with resources, mentorship, and networking opportunities. In addition to this, expanding these programs and making them more accessible to Deep Tech startups to facilitate stable growth and innovation in this sector. Government support can help startups navigate regulatory hurdles, secure government contracts, and have a committed investment of capital—both dilutive and non-dilutive.
Embracing Collaborations and Partnerships
Joining hands with other companies and accelerators is another way Deep Tech in India can gain valuable resources and exposure. These partnerships can propel shared research, joint ventures, and co-development of products. Doing so not only gives the start-ups larger customer bases, and distribution networks but also it can be cost-effective for their future growth and development.
Adopting Skilling and Mentoring
Deep technology is a complex concept to manage and requires specialized skills and expertise to process it efficiently. So, providing skilling and mentoring opportunities for startups in the Deep Tech sector can be fruitful as it'll help them sail through the challenges of the industry and equip them with the required expertise and pool of resources to succeed in the competitive Deep Tech landscape.
Major Benefits of Deep Technology: An Indian Context
There is no doubt that Deep tech in India is bringing a new age of digital transformation and has revolutionized the way traditional industries function. With these advantages, Indian businesses can actively shape the future of technology on a global scale.
Advantages of Deep Tech in India
Innovation Catalyst: It provides businesses with cutting-edge technologies such as Artificial Intelligence (AI), Machine Learning (ML), and the Internet of Things (IoT) to leverage. When industries such as healthcare, manufacturing, and finance integrate these technologies into their operations, they set out to develop groundbreaking products and services that meet the evolving needs of consumers. In essence, deep tech empowers Indian businesses to not just keep up with global trends but to lead the way in innovation.
Boost Global Competitiveness: Embracing deep tech positions Indian businesses on a global stage with increased competitiveness. The adoption of technologies like blockchain, IoT, and quantum computing ensures that Indian companies can compete with international counterparts on a level playing field. Moreover, the skill development and expertise gained in these technologies enable Indian professionals to contribute to global projects and collaborations, further enhancing the nation's global reputation in the tech industry.
Enhanced Decision-Making: With technologies such as AI and ML, Deep tech in India offers businesses in India advanced analytics capabilities, thus enhancing decision-making processes. It is done by processing and analyzing huge data in real-time, and propelling data-driven insights that can be crucial for businesses to make informed and strategic decisions. Doing this not only enhances overall operational efficiencies but also enables businesses to respond swiftly to ever-evolving market trends and consumer preferences.
Propel Competitive Advantage: With the help of advanced technologies such as Artificial intelligence or machine learning, businesses can optimize processes and the automation of regular tasks, and lower operational costs. Further, these cost savings can be strategically reinvested in other critical areas for sustainable growth like research, development, and boosting customer experiences. Subsequently, businesses can position themselves as leaders in their sectors by delivering superior products and services, without breaking the bank.
Top 5 Deep Tech Trends in 2024 to Look Out For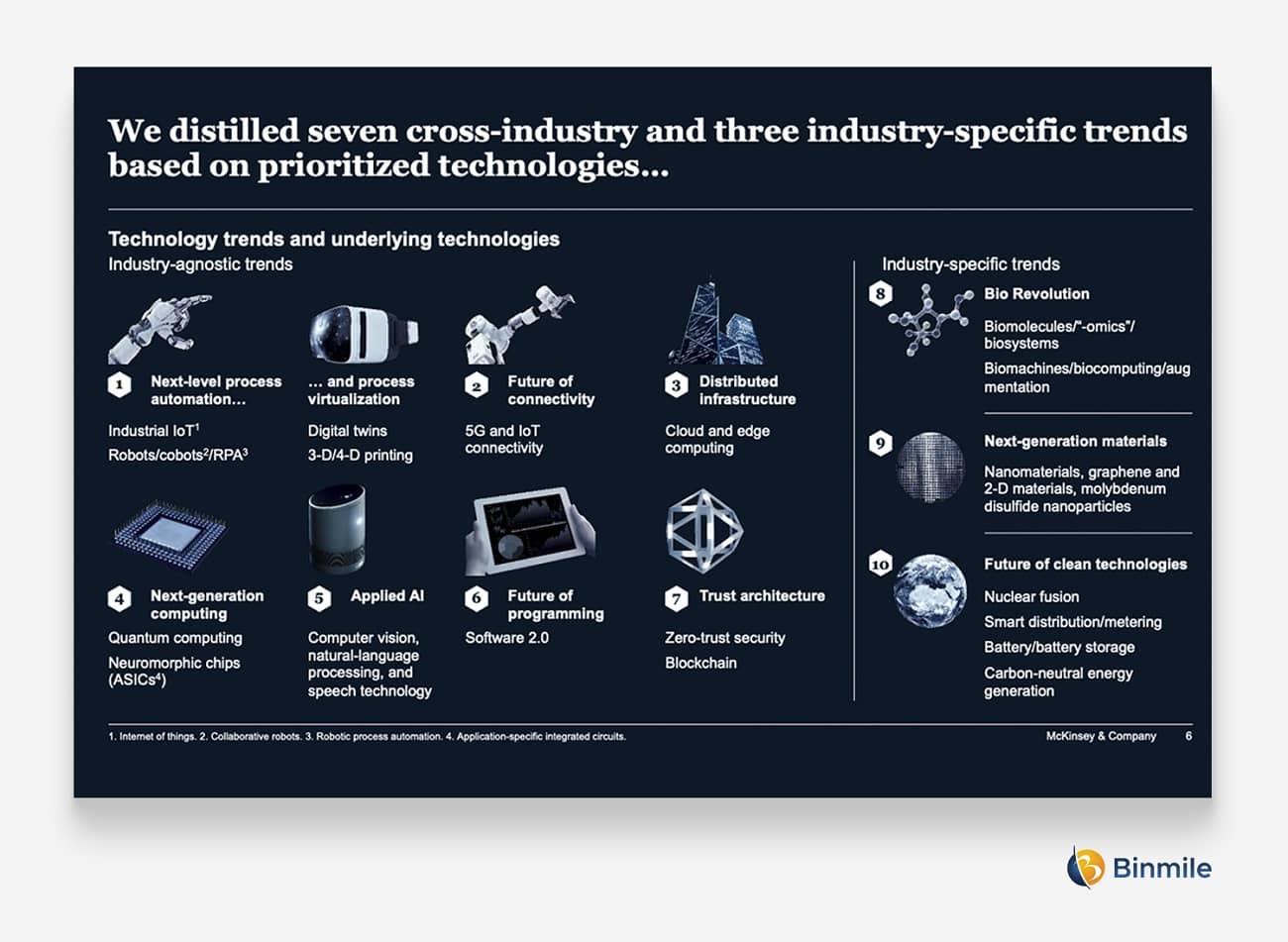 The deep technology landscape is constantly evolving and bringing new opportunities and challenges for businesses and consumers alike. Here are some of the top deep tech trends in 2024 that everyone must be prepared for:
Next-Gen Software Development: Software development methods that leverage the latest tools and methodologies to deliver high-quality, reliable, and secured software faster will be in trend. So, any business that utilizes next-gen software development services or methodologies such as agile, DevOps, cloud-native, low-code/no-code, microservices, etc. is set out to create its own benchmark.
Quantum computing: Using the principles of quantum mechanics, quantum computing performs complex calculations and operations that are beyond the capabilities of traditional computers. This leads to scientific discoveries and innovations in fields such as cryptography, artificial intelligence, drug discovery, and optimization.
Generative AI: A subset of Artificial intelligence that can create content, such as text, images, music, code, etc., based on data or user input. Generative Artificial Intelligence brings in new forms of creativity, personalization, and innovation across various domains and industries.
Process automation and virtualization: Automating or virtualizing various business processes with robotic process automation (RPA), digital twins, virtual reality (VR), augmented reality (AR), etc. With the help of these two technologies, businesses can enhance productivity, efficiency, accuracy, and customer experience across various sectors and use cases to contribute positively in the technology growth in India.
Green Technologies: Sustainability has been the center of tech development and technology that works to reduce the environmental footprint vis-a-vis renewable energy, carbon capture, biodegradable materials, etc. will be lauded. For instance building efficient EV-charging platforms using these technologies, no doubt, can help us mitigate some of the adverse impacts of the automobile industry, improve resource efficiency, and foster a more sustainable future for all.
The Rise of Deep Tech in India: Current Trends, Benefits and Challenges
The Deep Tech startup base in India has been growing at a rate of over 40% CAGR over the past 4 years. The number of startups leveraging deep tech has grown by 3.5X since 2017. This growth has been fueled by advancements in areas such as Artificial Intelligence (AI), Machine Learning (ML), the Internet of Things (IoT), Big Data, quantum computing, and robotics.
The Indian Government has been taking up various initiatives to propel the growth of deep tech in India. For instance, under schemes like Atal Innovation Mission, Niti Aayog and Startup India are persistently running accelerators and incubators. Even institutions like NASSCOM are developing deep tech-only mentorship at scale creating resources that can help industries and people alike embrace this new dawn of the technical age with more ease and efficiency.
Did you know that recently the Government of India is planning on launching the National Deep Tech Startup Policy aimed towards the advancement of the Indian deep tech startup ecosystem? Presently it is in the draft stage and open for public consultation to give feedback or recommendations for improving the policy.
Key players: Deep Technology in India
AI and ML: Both these technologies have led the charge of deep tech in India and are disrupting traditional industries, enabling businesses to harness the power of data. For instance, AI-powered insights and utilizing machine learning help organizations to make data-driven decisions, or automate routine tasks. Moreover, the utilization of predictive analytics models enhances operational efficiencies.
Blockchain: Gone are those days, when blockchain was defined by cryptocurrencies and has transformed several sectors. With blockchain technology, users gain a secure and transparent nature that makes it an indispensable part of many industries.  Sharing data has become more secure among different entities, without any one of them solely responsible for safeguarding the data or facilitating the transactions.
IoT: With the emergence of the Internet of Things, we've got a more connected world from smart cities and devices to connected factories. IoT connects devices and systems to create a huge network of data sources. This offers valuable insights and boosts data-driven decision-making capabilities, thus empowering businesses to collect and analyze data like never before.
Quantum Computing: Though this technology is still in its infancy stage but holds the potential to transform areas. These areas could be cryptography, material science, and drug discovery. The reason for its popularity lies in the fact that it can process a huge amount of information in quantum mechanics. Also, it can solve complex problems at a speed that is impossible with classical computers.
Challenges of Deep Tech in India: Explained
So far we have discussed what is deep technology, its benefits, and the opportunities it has created. Let's talk about what kind of challenges Deep Tech startups in India face:
Longer Gestation Period: Deep Tech startups need a longer gestation for development than other startups. While other startups might need from 1-3 years to reach revenue, deep-tech startups need 5-8 years.
Underutilization of Government Funds: The Indian government has set up funds to support startups, but they are left underutilized. Deep Tech startups may require more substantial funding due to their longer gestation period. Also, the complex nature of their technologies makes the domestic capital low.
Investors' Understanding of Deep-Tech: There is a lack of understanding among investors about the nature and potential of deep-tech, which can make it harder for these startups to secure funding.
Customer Acquisition & Cost for Talent: Acquiring the right talent and expertise is not an easy task. Since, deep tech demands specialized skills and knowledge, and cost of talent is a concern too. Due to the complex nature of deep tech products or services,  it becomes difficult for businesses to convince potential customers of their value.
Deep Tech in India: Ready for Growth Despite Challenges
With its rapid growth and the increasing interest from investors, deep tech in India is becoming a major contributor to India's economy. Deep technology also brings forward a lot of opportunities for startups and established companies alike. Though shifting from traditional business models to deep tech solutions may seem daunting, it's not impossible. Businesses or prospective start-ups need to navigate through the challenges or hurdles in adopting. However, they would require venture capitalists, and the government's policies, programs, and mentorship to tread this path efficiently and smoothly.
We discussed what is deep technology, and the rise of technology growth in India. In addition, its benefits, the opportunities it creates, and the challenges it has to face. Additionally, we also detailed a few ways the growth of deep tech in India can be fueled to reshape industries to propel India into a tech-driven future.
If you are also looking for a path to embrace this transformative journey and position your business for success in the dynamic world of deep tech, reach out to us today!