Choosing the right customer relationship management (CRM) software or system is a must-have for any growing business. With lots of free, paid, and open-source CRM systems for businesses, enterprises find it hard to choose the best one that matches their business needs and caters to all business challenges directly. CRM is the technology for managing and analyzing the interaction between any company and its potential customers. The prime purpose of choosing any CRM system for business is to condense companies' relationships with customers, drive sales growth, and increase customer retention rates.
Solving Multiple Issues with the Right CRM
The best CRM software enables its users to store email, phone calls, notes, and a sales pipeline forecast concerning client records in the database. The software reduces the risk of tasks and activities that might hurt your sales success. There are many CRM software products that you can choose from as per your budget and business needs. A good CRM software offers you valuable insight into customer needs and behavior.
It simplifies and streamlines the business process for more accessible and hassle-free client communication. Primarily, there are four types of CRM tools: Operational, analytical, collaborative, and strategic. Salesforce, CloudSuite, and Microsoft Dynamic 365 are some popular CRM products for small, mid-sized, and large businesses. They offer flexible solutions for:
Improving customer journey
Fostering business leads
Making better business decisions
Better service engagement experience
Accelerating sales performance
Growing business and staying focused
Optimizing resources and increasing productivity
Building trust and empowering business agents
The Landscape of the CRM Market
According to a data research company, Statista, the global customer relationship management software market will reach 49.6 billion U.S. dollars in 2025 at a compound annual growth rate (CAGR) of 1.7 percent. Last year, the market reached 46.4 billion. The market may move to the figure of 47.2 this year. Overall, it is forecasted that the growth of the CRM market will touch about four billion U.S. dollars from 2020 in terms of size, at a compound annual growth rate (CAGR) of 1.7 percent.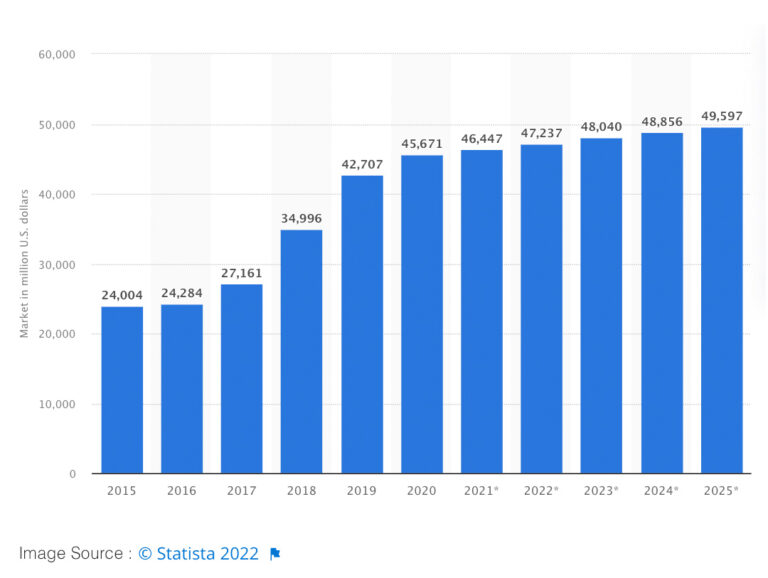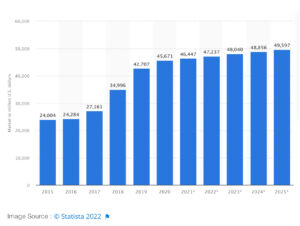 Points to consider when choosing a CRM system for your business
You need to consider many factors like key features, pricing, and business requirements before making a CRM software purchase decision. Look at the following ways and options that will help you choose the most appropriate CRM software that amplifies your business.
1. Understand the CRM
Business owners get attracted to CRM for their robust features. But, they don't analyze more about the utility and value of CRM tools for their business. A little knowledge is dangerous, and it can spell disaster. That is why gather the relevant information that exactly matches your business needs. A comprehensive analysis of CRM software will help you:
Understand the tool's functionality and methodologies
Make a balanced decision
Understand the tool's benefits and practices
Business owners give prime importance to CRM software trends, costs, issues, features (basic and advanced), types, benefits, usage, and performance criteria.
Also Read: Microsoft Dynamics 365 to Empower Businesses in Uncertain Times
2. Goal Identification
Before you plan to buy a CRM, it is essential to have a good idea about the problems it will solve with the system. First, focus on your business goal; then, the tool will help you resolve problems. The tool will help you identify the following goals.
Generate customized reporting
Increase productivity and profitability
Manage relationships with stakeholders
Offer collaboration between teams
Manage business operations
Track leads, lead activities, and customer base
Track new business opportunities
3. Cloud vs. On-premise
Both on-premise and cloud CRM solutions have their pros and cons. A cloud or Software-as-a-Service (SaaS) solution frees you from sticking to the restrictions of a server and technical expertise needs. Logging into the cloud CRM software will give you access to your data and focus on your business. An on-premise solution compels you to arrange physical infrastructure at your location. After this, you will get access to servers for app integration. But, this pattern keeps you free from dealing with recurrent subscription charges.
4. Features and Functionalities
Every business is unique, be it a process, growth dynamic, or customer base. So, sticking to prefixed standards and inflexible functions will not help you every time. That is why you need a scalable CRM system for business. It is essential to have a CRM when your business grows. Make sure you choose a version that is easily upgradable. All CRM software systems come with many functions that you may or may not use. It means you are paying for something of no use to you. Consider the following tips:
Don't be swayed by overestimation
Ask yourself if you need a custom or over-the-self
Choose a CRM device that is useful for all users in different departments
Make sure you stay away from the "one-size-fits-all" option
Give weightage to a tool that adapts to your needs
5. CRM Selection and Evaluation Criteria
Choosing the right CRM software can be challenging if you fail to evaluate the software product properly. You can't make a buying decision when you have different vendors, multiple options, and infinite configurations. Here, you need to decide what solves your problems and serves you the best. Don't get allured by tempting offers. First, make a unique list of CRM selection criteria that match your business purposes directly. You can stick to the following criteria to make things happen in your favor.
Write a document for your CRM requirements
Pick a deployment method between cloud and on-premise
Estimate budget for software products
Shortlist potential CRM vendors
Create a request for the CRM proposal and evaluate the responses
Decide to buy the CRM
6. Request a Free Trial Before Buying the System
It is not rational to take CRM products at face value. It is better to test the tool in advance before you pay. So, initiate by requesting the vendor a live demo or free trial. A live demo will help you understand the product better. Moreover, you can ask specific questions to salespersons concerning the use of the product as per your changing business needs. A trial version will make you feel comfortable and better control the product. This demo will be like a SWOT analysis that guides you in the right direction.
Here, you will learn more about the system's functionality, performance, pros, cons, strengths, and weaknesses. Don't make a swift decision. Invite at least 2-3 vendors so that you can compare CRM offerings and choose the best one.
7. Choose an Industry-Specific Vendor
All industries are not the same; so are their business needs. Whether banking, tourism, education, or the IT sector, every sector has its business preferences. That is why you should go with an industry-specific CRM vendor that renders specific business solutions. First, filter your search to an experienced CRM vendor who understands your business well and offers relevant solutions. A casual look at the vendor's website will not help you. Consider these points.
Know the company types and sizes the vendor has worked with
Check third-party reviews, business references, customer testimonials, and scores
The local partner network of the vendor is another thing that needs your concern
Prefer a local partner to get local support during and after implementing the CRM
Don't forget to check the certification status of vendors and the number of implementations done by them
Conclusion
You need to be practical while choosing the right CRM because there are no one-size-fits-all CRM solutions. Every CRM caters to specific business needs. So, you need to adopt careful research and planning. Doing the research will help you avoid the pitfalls of failing to meet business requirements, level of technical experience, lack of essential features, and low adoption rates. Pick up the best & robust CRM system for your business or hire Microsoft CRM Development Services.
Note: Read our case study on implementation of a CRM Solution.