With the advancement of technology and digital explosion in our daily lives, the banking and finance industries have also undergone a change in response to the evolving user base. Currently, a majority of people all over the world prefer using smartphones to manage their finances over the inconveniences of traditional banking since they are more accessible and hassle-free. Reports from Think With Google indicate that 73% of smartphone users have registered for and routinely use financial services online.
Statista report indicates that around 48% of the youth (18 – 24 years) regularly use online banking applications. Mobile banking apps have steadily reduced long waiting times in banks and have made it possible for customers to execute the exact bank operations online with just a click.
According to a recent market report, it is estimated that the usage of mobile banking and payment services is likely to reach $ 8.94 trillion by 2027, with a CAGR of 29%. As a result, banks and financial institutions are capitalizing on custom banking app development and developing new apps for banking solutions to keep up with the market competition.
Let us look into the big trends influencing mobile banking app development today!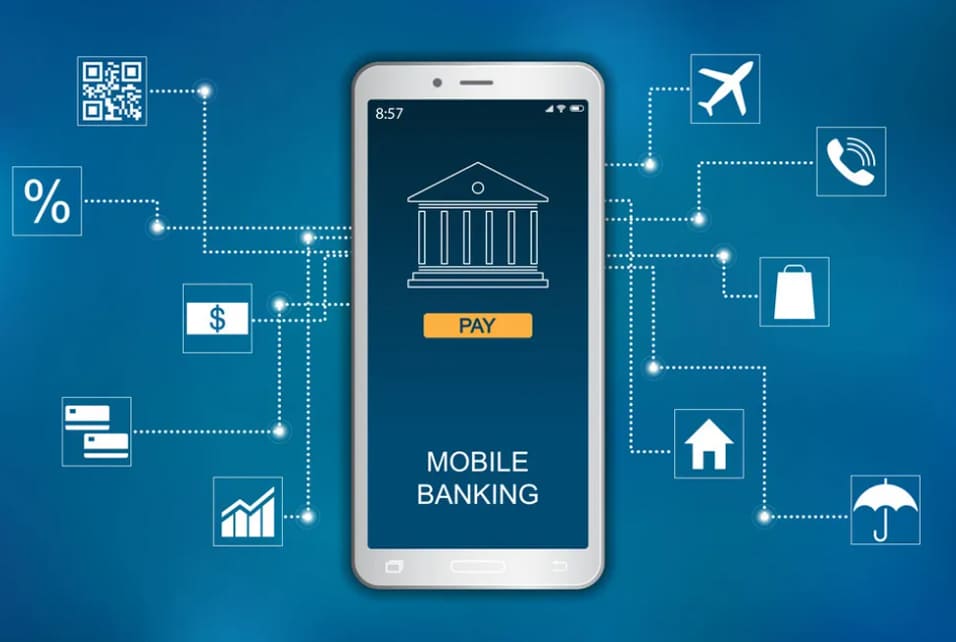 The Future of Mobile Banking Apps
It is quite reasonable to assume that there is no age-specific target group for a simple, easy-to-use, and quick experience managing finances. But what is the broader outlook for the mobile banking sector?
An Insider Intelligence market study on mobile banking indicates that 89% of the total respondents said they prefer mobile banking instead of traditional banking methods. It is difficult to overstate the pandemic's impact on the use of mobile banking apps. However, the growing inclination of customers towards banks with the best mobile apps is noticeable.
Six out of ten smartphone users, according to Google, prefer utilizing a banking app rather than a mobile website to handle their accounts. It's a simple way for users to meet their non-essential demands without troubling the bank, for example, checking the balance or carrying out an emergency transaction.
However, many users become accustomed to utilizing mobile banking apps as a result of their importance and convenience. Research estimates indicate there will be 217 million users of digital banking in the US by 2025.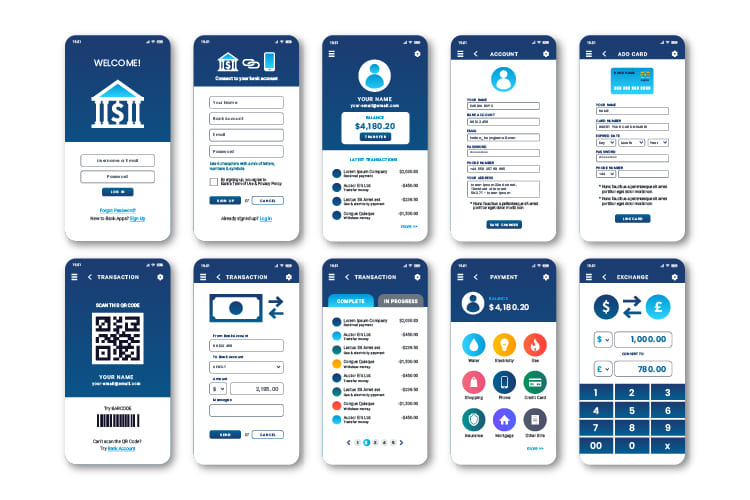 8 Mobile Banking Trends to Watch!
1. Cardless ATM Service
Cardless ATM Services have become increasingly popular in recent years as more banks offer their customers the convenience of withdrawing cash without ever having to swipe a physical card. With this technology, all you need is your phone—to either access an app or scan a QR code—and you're instantly connected with your bank account to make withdrawals. Research estimates the cardless ATM market is expected to grow by $2.11 billion by 2026.
This innovative service also helps reduce the need for plastic cards that can be lost or stolen, making banking transactions much safer and more secure. Additionally, the use of Cardless ATM Services makes it faster and simple for customers to get their cash quickly so they can be on their way. All in all, Cardless ATM Service is revolutionizing the banking industry with its combination of convenience and security.
2. Biometric Authentication
The mobile banking landscape is constantly evolving, and biometric authentication is one of the latest trends gaining popularity. Custom mobile app development services now offer fingerprint and facial scanning as added security measures for their customers. This type of authentication ensures secure access to mobile banking services because it requires a person's physical characteristics to gain access. Research and markets estimate that the global market for biometrics for banking and financial services will reach $8.9 billion by 2026, up from US$4.4 billion in 2020.
By using biometric authentication, mobile banking is becoming a safer mode of conducting financial transactions. With the increased convenience and safety that comes from this new method, mobile banking via biometric authentication has rapidly gained popularity among mobile users and businesses alike.
3. AI-Powered Customer Service
Incorporating bots into mobile banking apps is expected to be the primary channel for the adoption of conversational technology in the future. Research indicates chatbot interactions will reach 79% in 2023.
Mobile banking apps are utilizing this new technology to improve customer experiences by leveraging artificial intelligence and machine learning algorithms to anticipate customer needs. This enables mobile banking customers to get instant support for their basic requests, as well as access personalized offerings and advice with ease.
Furthermore, mobile banking customers can have more efficient communication with the bank through AI-enabled virtual assistants because the technology has advanced far enough for them to recognize the human tone and natural language. These mobile banking trends make it easier for customers to interact with their bank from their phones and get faster responses than ever before.
4. Mobile Banking Apps
As mobile banking trends continue to evolve, it is becoming increasingly clear that mobile banking apps are essential for banks. Studies have shown that mobile banking apps improve customer convenience and satisfaction, as customers can manage their finances conveniently on the go. Customers can use mobile solutions to pay loans, make transactions, settle accounts, plan budgets, withdraw funds, and manage payroll and expenses.
In addition, mobile banking apps enable banks to become competitive by offering a range of services such as mobile payments, account management & analytics, budgeting & personalization. Furthermore, mobile banking apps help banks drive innovation and become more connected with their customers across various channels. All these advantages make mobile banking apps an invaluable asset for banks looking to boost the top and bottom lines in the future.
5. Blockchain Technology
With mobile banking becoming more popular, blockchain technology is emerging as a key tool for banks to leverage. Blockchain technology gives mobile banking app users a chance to securely make transactions by eliminating the need for physical third parties. As of 2021, Statista reports 68.42 million blockchain wallets worldwide.
Blockchain Technology allows for the monetization of data securely, with statistical analysis playing a more prominent role in mobile banking services. Since the technology is built on cryptography methods, banks and financial companies may much more easily guarantee the protection of sensitive data. Additionally, blockchain offers benefits like automated transactions and data authenticity.
6. Finance Tracker/ Tracking Tools
As mobile banking continues to become the norm in everyday life, mobile banking apps are beginning to offer more than just a way to check your balance. Apps like Finance Tracker leverage mobile banking to give customers personalized recommendations and tracking tools that allow them to stay organized and up-to-date with their finances in an easy way.
As mobile banking usage increases, banks are turning towards innovative mobile experiences that tackle tricky issues such as budgeting and saving money more efficiently. Finance Tracker is leading the pack in this realm, providing resources that help customers make smarter decisions for the future and get ahead of the curve when it comes to managing their finances with precision.
7. Voice Payments
The latest banking trends have banks offering voice payment options in their online banking applications. Companies like Google, Amazon, and Apple have paved the way for creating a frictionless authentication process allowing consumers to make purchases through the mobile banking app using only their voice. Biometric authentication is also being used – via sensors embedded in mobile phones – to improve security measures further.
Gaining traction rapidly, custom mobile app development services are allocating resources to this technology to serve their customers better and ensure users are comfortable transferring money within a secure platform. Voice payment options will continue to be at the helm of mobile banking innovations going forward, delivering accessibility, convenience, and features that differentiate from traditional mobile-banking experiences.
8. AI, ML Technology
Initially, mobile banking was mainly focused on providing users with account balances or money transfers. However, mobile banking services now include targeted marketing campaigns centered around personalized user experiences and up-sell opportunities.
By leveraging the power of AI and ML technology, online banking applications are able to increase the consumer's overall mobile banking service experience, offering them targeted and contextual suggestions for products that meet their specific needs. These features create a more personalized mobile banking experience for the consumer, which results in an improved customer experience overall.
Conclusion
One of the major effects on the daily lives of anyone who works with money is mobile banking technology. Keeping up with the rapidly approaching cashless world requires banks and financial institutions to embrace the latest trends and technology in the market.
But how to start? The best way to achieve so is to connect with a custom mobile app development company.
When it comes to effective custom mobile app development services, Binmile is a one-stop solution. With expertise in custom banking app development, Binmile can help you grow your business with the assistance you need.
Now, get the best in digitizing your banking services today!