Tags:
Is managing multiple applications slowing down your business operations?
Organizations with multiple applications, such as supply chain management (SCM), customer relationship management (CRM), business intelligence, and enterprise resource planning (ERP) find themselves in a tight spot when it comes to managing these applications efficiently to allow seamless, cross-departmental communication of data.
So, if you don't want your business to operate in silos with clusters of applications and complex data, consider enterprise application integration as a part of the solution to your business problems.
In fact, integrating applications in an organization is a key step to achieve benefits, such as significant cost reduction, seamless data sharing, and improved operational efficiency.
What is enterprise application integration?
Enterprise Application Integration (EAI) is the name of the solution for lack of communication between enterprise apps. If implemented well, the technology works as a middleware framework, facilitating seamless data flow or communication between applications without disturbing database configurations or applications themselves.
EAI implementation results in an improved process and data availability associated with business applications, ensuring that the information remains within the preview of organizations. The technology ensures that any change made to the core business data bears an accurate reflection in others.
PRO TIP – Businesses can consider hiring enterprise application development services to leverage the latent upsides of EAI for the profitable growth of their undertaking in today's competitive business world.
Read more – Powerful Enterprise Application Integration To Streamline Business Processes
Key Pointers of EAI:
Helps business find crucial data
Ensures accessibility of app functions through APIs
Integration helps businesses monitor application lifecycles
Ensures that changes in core business data are correctly reflected in other apps
Importance of enterprise application integration
Companies, out of sheer necessity, have to use multiple software products, each having different uses, data stores, and operational methods, from different vendors.
As a result, it leads to data silos and consequently accounts for data replication between databases. There is also a chance that the reflection of data changes in one application does not show in another. So, there is a lingering fear of encountering data inconsistency for users when they manually copy and paste data between applications.
Enterprise application development provides a solution for the absence of communication between enterprise apps, helping them share data and workflows. Consequently, the technology provides improved insights into business data by reducing manual steps and errors.
For an organization that is on a growth trajectory in the age of technological advancements, an EAI is a much sought-after technical assistance.
Gone are those days when companies had manual workflows and operations were handled on paper. Now in the age of automation, companies, which use enterprise application development, drive automated efficiency, in terms of removing manual steps, reducing technical and human errors, and enhancing operational efficiency.
Benefits Of Enterprise Application Integration
Simplifies Process Alignment
EAI seeks to unite multilateral processes to build a unified system to carry out operations efficiently. Upon successful implementation, it can result in a fully optimized IT process in your business. You can help your business cut short on waste, make data accessible, and ensure an effective employee collaboration.
When apps are integrated without any trouble, they help customers easily access data across departments within the company.
Besides, if the databases and workflows both are integrated correctly, it facilitates an automatic relegation of customer queries to the concerned department, ensuring that customers can find the right person easily to get their queries solved.
The most notable upside of EAI is it streamlines and simplifies your business processes, irrespective of complex IT structure.
Perfect Solution To Data Silos
The importance of implementing the right technology is that it ensures smooth and effective communication between multiple applications. EAI is the right technology that provides a solution to data silos by enabling your business to use optimum data centralized in a single place and in real-time.
Thus, it benefits your business and employees to access data easily and share them cross-departmentally without having to look up into multiple databases.
Data-Based Decision-Making
Decision-makers at every level and department of a company depend on data reporting programs to make strategic business decisions.
EAI comes in handy, in the context of helping decision makers with the right information they need by providing a centralized data source, in the format best suited to their preferences. Besides, the technology maintains synchronized data across multiple applications, enabling decision makers to access the most recent data to make intelligent business decisions.
The technology drives improved operational efficiency to the businesses, helping them identify opportunities for growth and prepare for the challenges in the future.
Drives Better Productivity
One of the main reasons why departmental productivity gets reduced is juggling multiple software tools.
How about having a centralized source for all software solutions? Application integration centralizes all crucial data in a single place. It streamlines workflow, allowing automated data transfer and creating events for the users. As a result, the technology helps rule out manual data entry into different tools, reducing systematic errors and input time.
Other Benefits Of EAI At A Glance:
It consolidates data cross-departmentally to build a centralized access point. It makes easy for different departments to access updated information, improving collaboration among employees
It automates systems and processes to eliminate manual errors. Automating processes also boosts the accuracy of information for customers and users.
It boosts overall efficiency of an organization by streamlining its processes, making cross-departmental communication easy
Redesigns processes or integrates new data in the least time-consuming manner
Controls information flow to prevent data breach
Eliminates repetitive tasks, reduces errors, and removes possible bottlenecks
Enhances customer experience by smartly handling customer queries using AI and machine learning technologies
Enterprise Application Integration – Challenges
Outdated Software – Software products never stay fresh. They get outdated over time. These obsolete products therefore are not compatible with modern systems. As a result, they mean nothing to serve your business needs in the long run.
Lack Of Skilled Experts – Lack of skilled experts poses a challenging situation for enterprises to implement EAI. As a result, it causes delays, underperformance of the technology, and exorbitant costs.
Incompatible System – When integrating cross-platform apps, using various technologies or different data formats could yield system incompatibility.
Scalability and Performance – EAI solutions must accommodate the surge in the volume of data and transactions to ensure it meets scalability and performance requirements.
Team Collaboration – EAI implementation can't be successful due to lack of cross-departmental collaboration within an organization. Collaboration among IT teams, business stakeholders, and other departments succeeds the EAI implementation.
Levels Of Enterprise Application Integration
Business Process Integration – It involves automating organizational processes to improve performance and materialize enterprise goals.
Data Integration – This level of EAI implementation maintains total transparency in sharing information between applications.
Presentation Level Integration – A mature version of app integration, presentation-level integration involves collating multiple apps into a single one using a standard UI. It helps in data collection by creating a virtual intermediary.
Communication Level Integration – It seeks to function by analyzing the communication patterns between apps. Here, APIs are created to act as a middleware technology or communicator between apps.
List Of EAI Models
Point-to-Point Model
In this model, each integration is facilitated by creating connector programs. It uses a separate script for every connection to extract, translate, and transfer data to the receiving app. This mode is fast, trustworthy, and doesn't cost much for handling minimal components.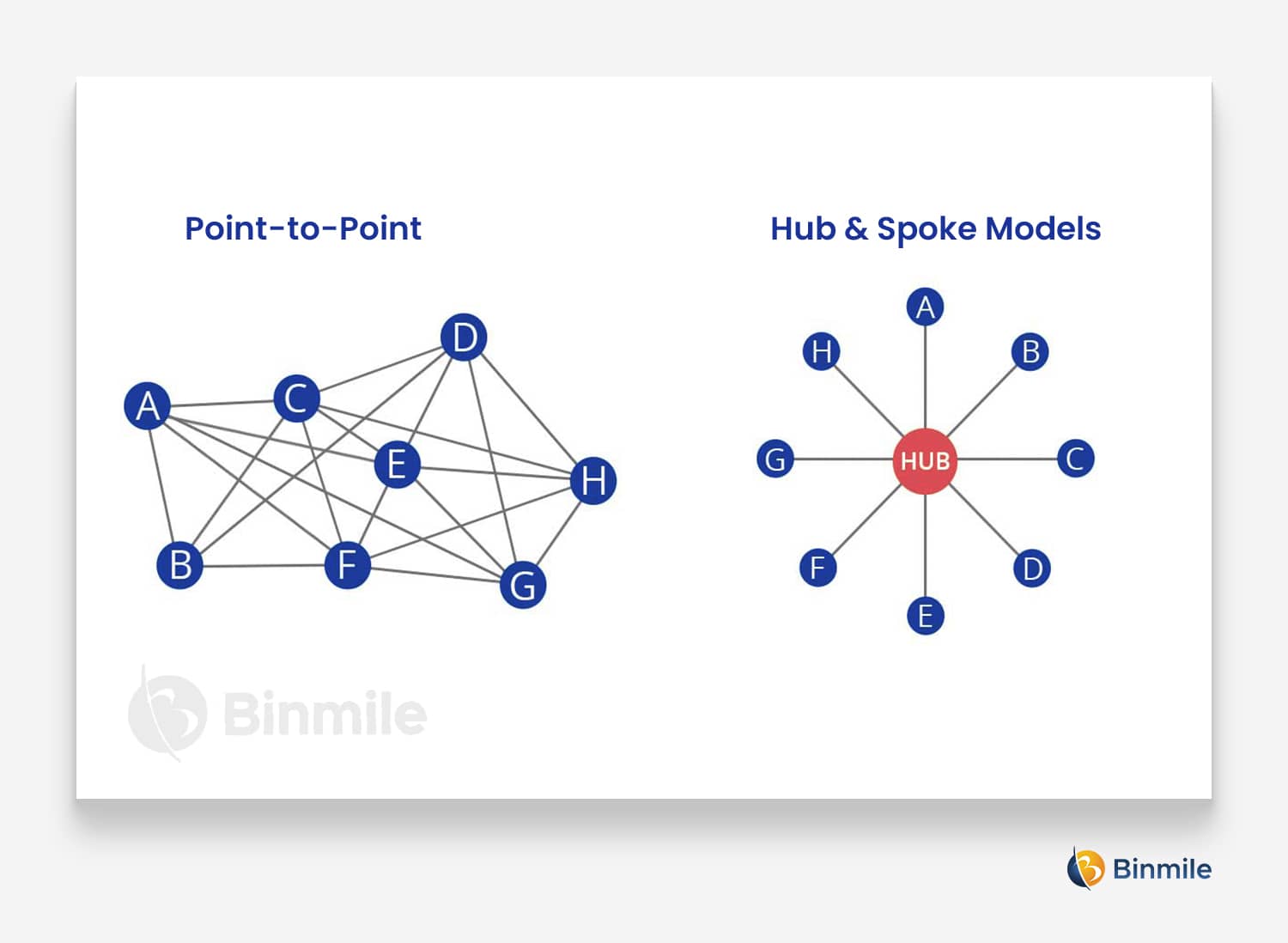 Hub-and-Spoke Model
It works as a central hub to connect applications and systems through spokes. It handles activities, like receiving, reformatting and transferring data to the targeted destinations without interconnecting subsystems.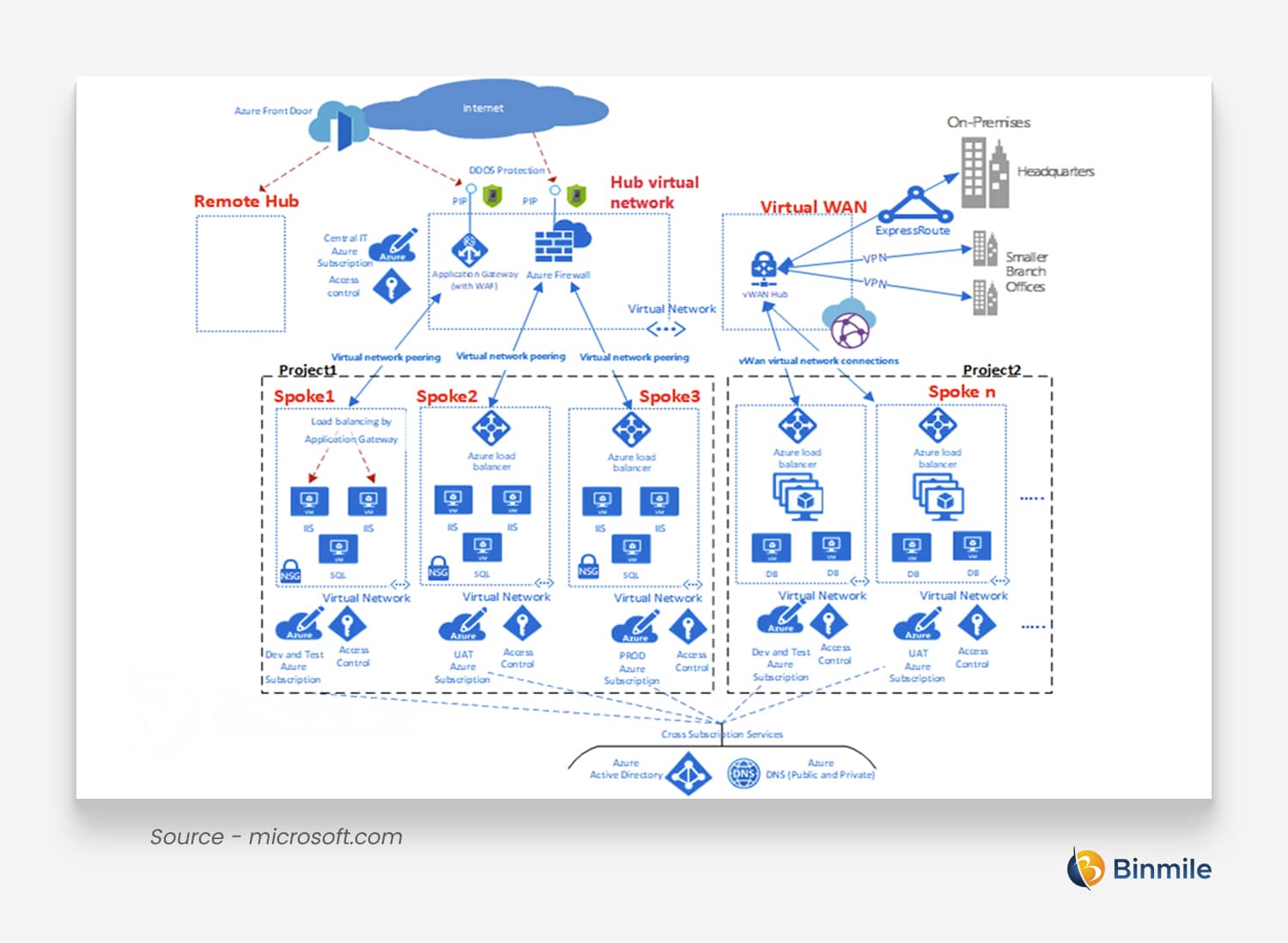 Bus Integration Model
It is an evolved version of hub-and-spoke model executing tasks in a different architecture. It performs integration within each separate application, enabling data transfer and recovery in compliance with the rules of each service. This scalable model is an ideal implementation strategy for large, complex systems, and doesn't require regular attendance by developers.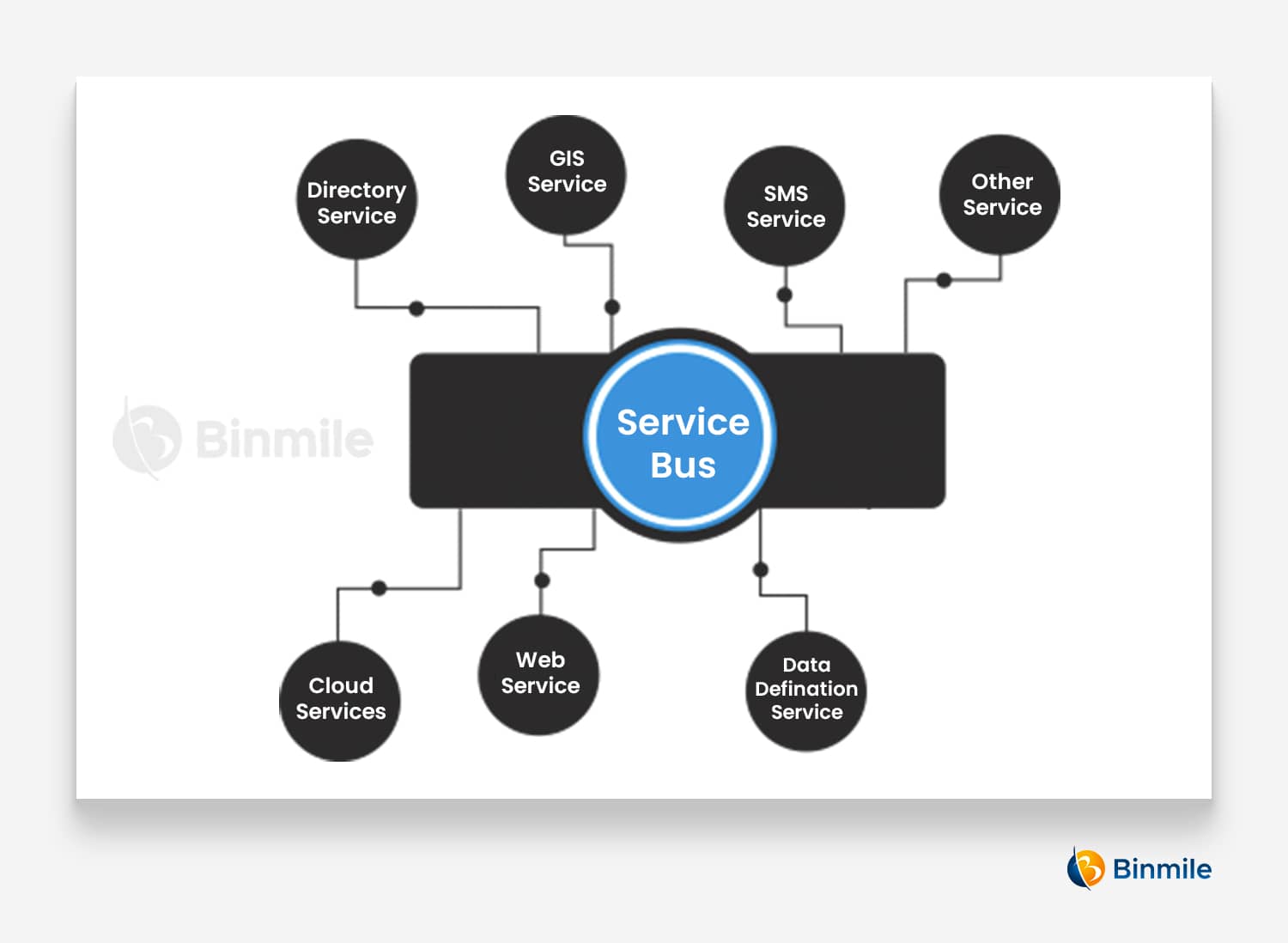 Middleware
Call it a connective touch point, regulating data between the systems and interfaces. It facilitates easy data aggregation across all services, helping developers build and deploy apps easily. The method is ideal for data collection across all services, as it ensures whether the data is transmittable. In addition, it also builds a connection pool to enable easy access to back-end databases for developers.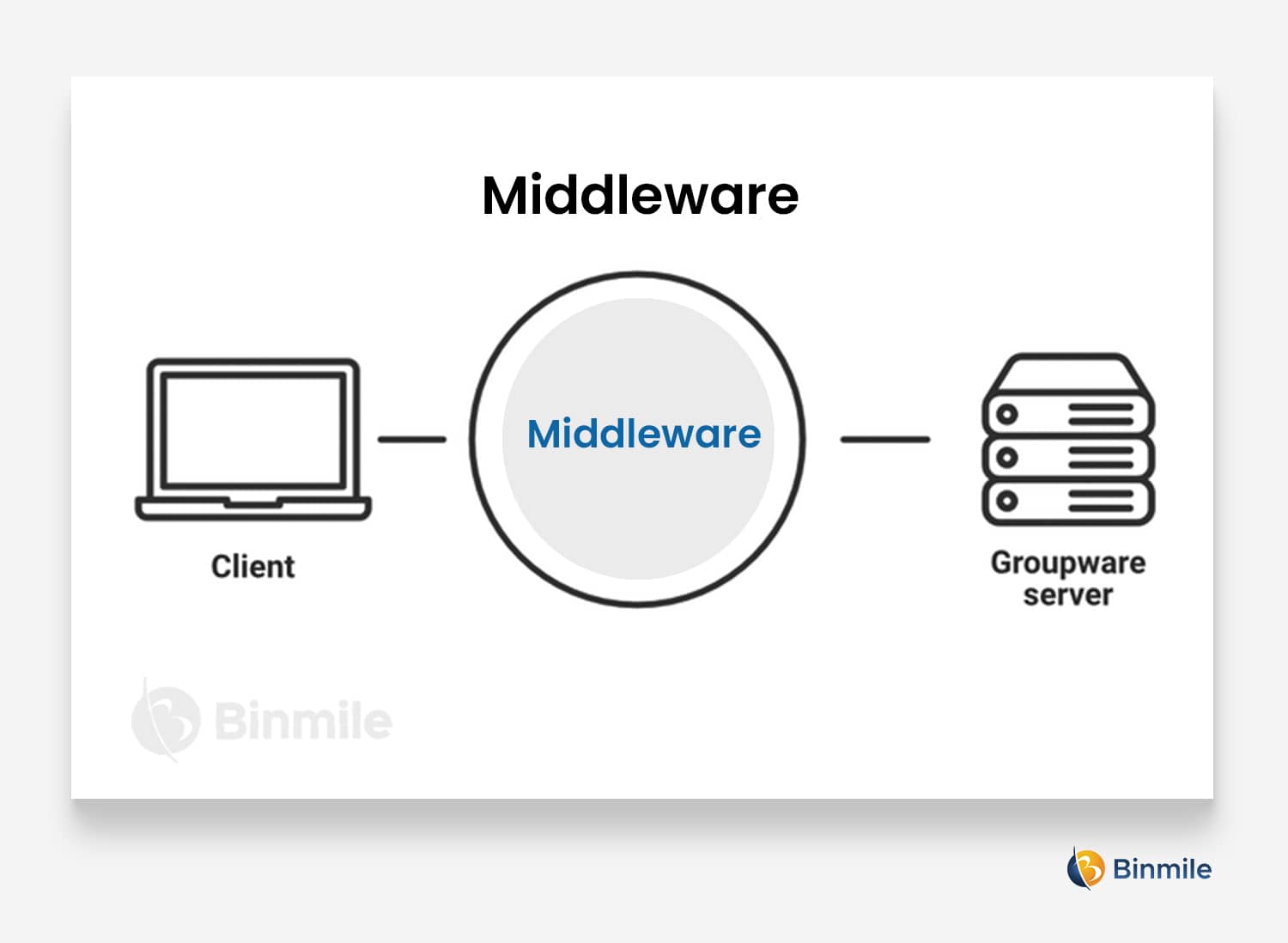 Types of Middleware:
Transaction processing monitors
Database middleware
Message-oriented middleware
Application-server middleware
Mobile device middleware
Remote Procedure Call (RPC) Middleware
Application Programming Interface (API)
Object Request Broker
Transaction Processing (TP) Middleware
Robotic Middleware
Integration Middleware
Application Framework
Game engines, device middleware, portals, etc.
Microservices
It is an architectural design approach for organizations that leverage cloud-based applications and assists developers in segmenting monolithic programs into smaller, independent components with assigned responsibilities to each.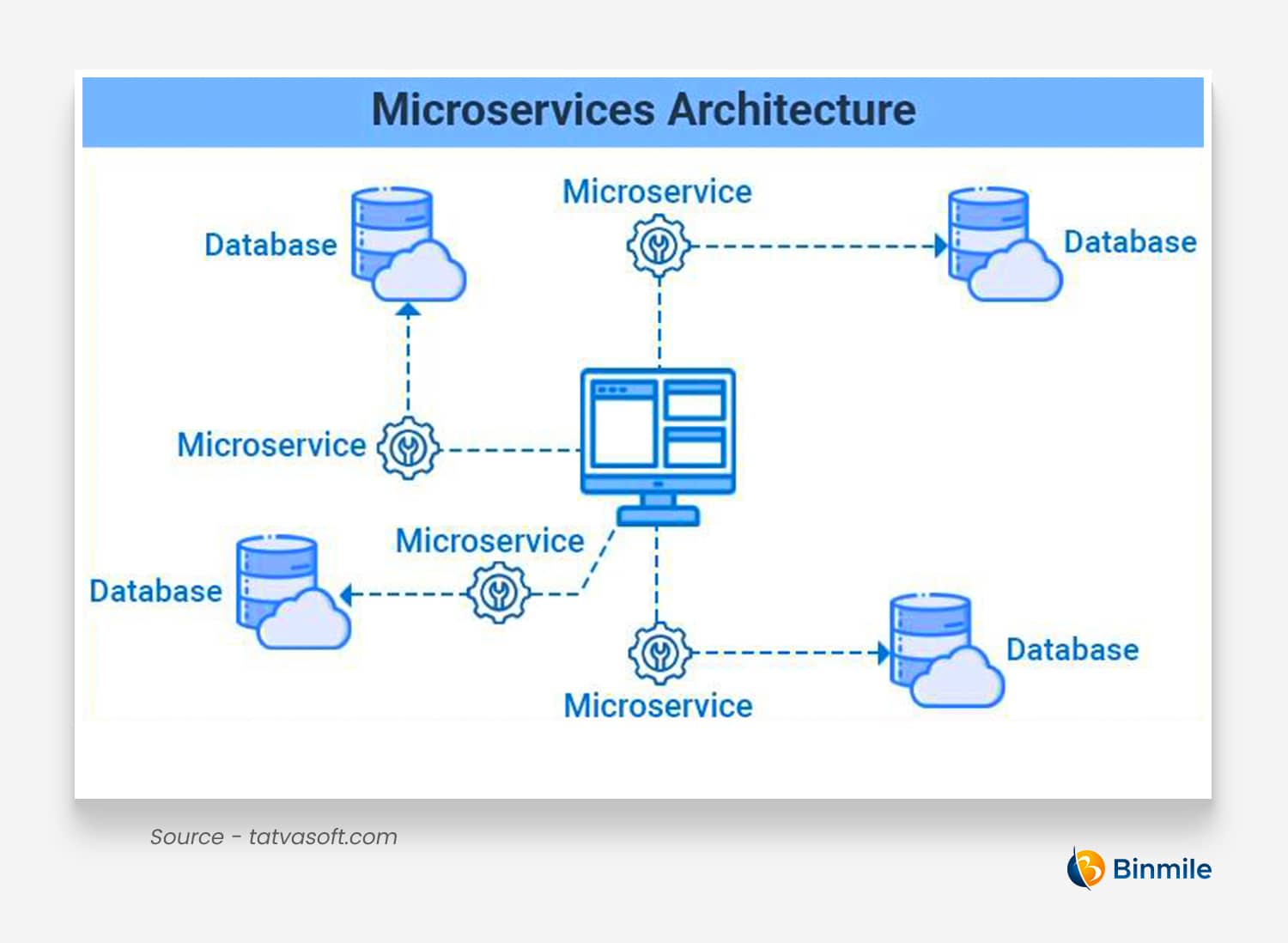 These independent components which means they don't cause disruptions in other services if some services of apps don't perform or undergo modifications.
Final Words
Enterprise Application Integration (EAI) offers superb technical solutions to organizations, helping them manage multiple applications efficiently. The technology which functions as a middleware framework allows seamless, cross-departmental communication of data within an organization.
Considering the far-reaching benefits of application integration solutions in organizational growth, it makes sense for businesses to hire an application development company. it will help them with futuristic software solutions designed to streamline their redundant tasks into benefits, like improved processes, and better operational excellence.