Mobile apps have made daily life more convenient than ever before. Do you know what is common between Uber, Drizly, and Zomato? They are the unique example of the best on-demand apps in their respective fields. The modern world is about instant satisfaction, and you need on-demand apps to match the fast-paced world or reach somewhere instantly. Mobile App Development Service Providers have grasped this opportunity to help brands reach the masses and expose their brand to a broader audience. Uber-like travel apps, pharmacy delivery apps, fashion apps, health apps, plumbing apps, mechanic apps, beauty services, plant delivery, house cleaning app, laundry app, dog walking apps, e-learning, and video streaming apps are some of the most common on-demand services applications. Read the content and find more about the future of on-demand apps with reference to app processes, features, and benefits.
The Future of On-Demand Applications
Business enterprises prefer to catch their audience everywhere in an internet-focused, mobile-focused landscape. On-demand service apps make things relatively easy for both customers and application owners. These apps offer on-demand services so customers can opt for a service or product at home. Customers give value to the products that make them feel comfortable and save their time. 
A report on-demand economy statistics states that about 86.5 million people are using on-demand apps in the US. Moreover, as per a recent report by PWC, the on-demand services app market value is expected to reach $335 billion by 2025. This unprecedented increase in demand has enabled enterprises to reach their target audience and surge business profit. Another report on on-demand services apps by Harvard Business shows the on-demand economy is worth $57.6 billion on average. This data indicates a massive growth of startups and a big game-changer.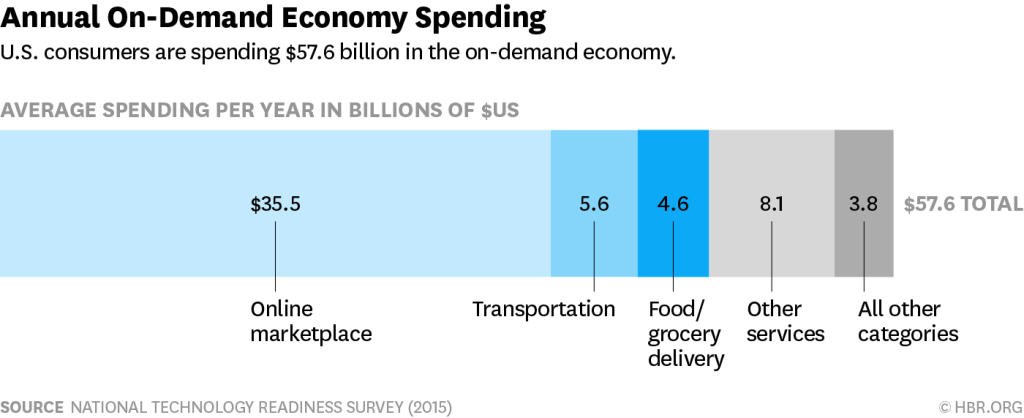 The landscape of on-demand apps is about to change; look at a few upcoming trends.
There will be a significant rise in workers penetrating the on-demand app economy.
More businesses will adopt on-demand service apps at a fast pace.
The background checks for personnel delivering services will go up.
The demand for high-skilled workers will increase due to the increased adoption of on-demand apps.
Mobile app developers will get better and greater opportunities.
Digital channels will be the central attraction due to a rising number of on-demand app users.
On-Demand Service App: A Game-Changer
With B2C, B2B, and C2C business models, on-demand service apps facilitate transactions of goods and services. On-demand apps work as an intermediary between a customer and a business, allowing enterprises to serve their customers using smartphones and provide them with the best experience. 
To understand how on demand apps are transforming the business landscape, it is important to understand the journey of a typical user who uses an on-demand service app. A unique on-demand platform consists of the following process: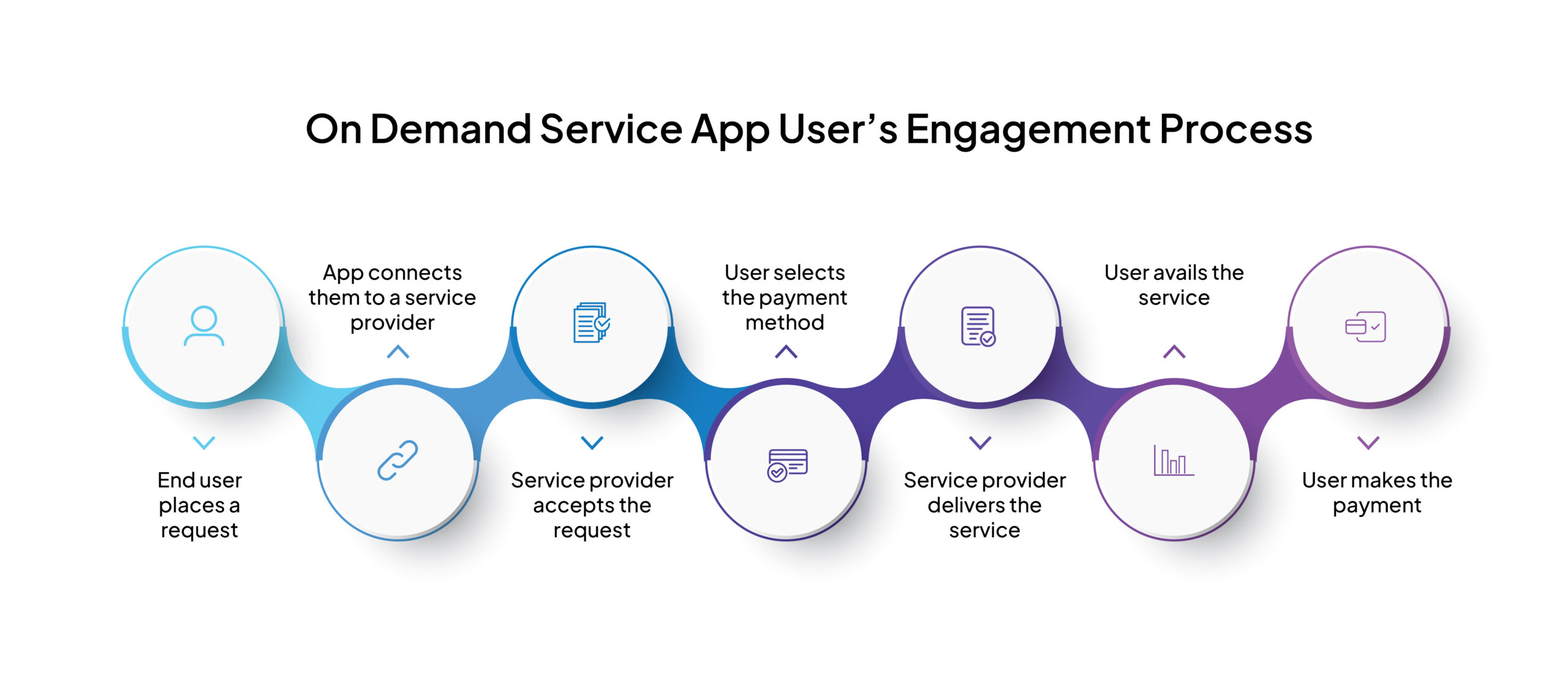 On-demand apps may vary depending on your business model and needs. The following are a few essential features common to every on-demand service app. These include:
Authentication and Security
Live Tracking
In-app notifications
Multiple in-app payment options
Seamless interface
Customer care
Rating and review options
Wishlist
Benefits for Business Enterprises
With the rising popularity of on-demand apps, the demand for on-demand apps is also on the rise. The following are some of the benefits of on-demand apps for business enterprises.

Leverage The Potential of Mobile
The on-demand app can be used to reach out to potential customers in a way that is more convenient and cost-effective that can benefit Mobile App Development Service Providers
Improved Customer Satisfaction
The on-demand app can be used to improve customer satisfaction by providing real-time information and easy access to services. 
Security
The on-demand app can be used to provide security and safety to customers by enabling them to seek help in case of an emergency and provide assistance immediately. 
Scalability
The on-demand app can help businesses of all sizes create and operate with a scalable business model with limitless possibilities for growth. 
Know Your Customers Better
The on-demand app can help businesses better understand their customers and serve them with services custom tailored to their needs.
Benefits for Customers
Features like better user experience, easily customizable, easily scalable, latest technology, one-time payment, and top-notch features make on-demand apps the first choice of consumers. The following are some unique benefits customers can get with the on-demand service apps. These include:
Cashless Payment Facility
On-demand apps enable customers to pay for their products and services through digital currencies. It is one of the most convenient and user-friendly ways to pay for products and services.
Ease of Selecting the Provider
On-demand apps allow customers to select the best service provider in their nearby vicinity via the Geo location tracking facility.
Review and Rating Option
Customers can check the reviews and rating of products and services before placing an order. They can also rate the service provider based on their experience.
Tracking Facility
On-demand apps provide customers with a real time tracking facility to keep track of the delivery of their products and services. 
Summing Up
Enterprises and startups looking for a custom or on-demand app need to look at a professional on-demand app development company. Ensure that the established website and app development company serves all industry verticals with custom apps that run well on Android and iOS devices.
Get timely consultancy and solutions for valuable apps available on demand.