Digital technologies, such as the Internet of Things, Data Analytics, Cloud, and Automation are impacting businesses with lucrative growth, as well as the power to grow boundlessly and stay competitive in their respective niche.
The Insurance industry is also not unaffected by these revolutionary technologies, transforming its bottom line with benefits, such as –
The higher workforce productivity rate
New revenue enablement
Enhanced digital customer servicing
The insurance sector is said to be on the verge of a tech-driven transformation and the momentum is already palpable due to data avalanche from connected devices like wellness wearables, medical-grade IoT devices, and telematics data. Most of the companies have already started to connect with Insurance Software Development Companies for their software development pipeline. Let's understand what factors in data avalanche and its repercussions.
Data Avalanche From Connected Devices
Data avalanche or Big Data refers to the ocean of information from connected devices or sources, like automobiles, fitness trackers, smartphones, home assistants, and smart wearables.
The total volume of data created, copied, and consumed globally was expected to reach 64.2 zettabytes in 2020 and is projected to grow to more than 180 zettabytes by 2025, reports Statista.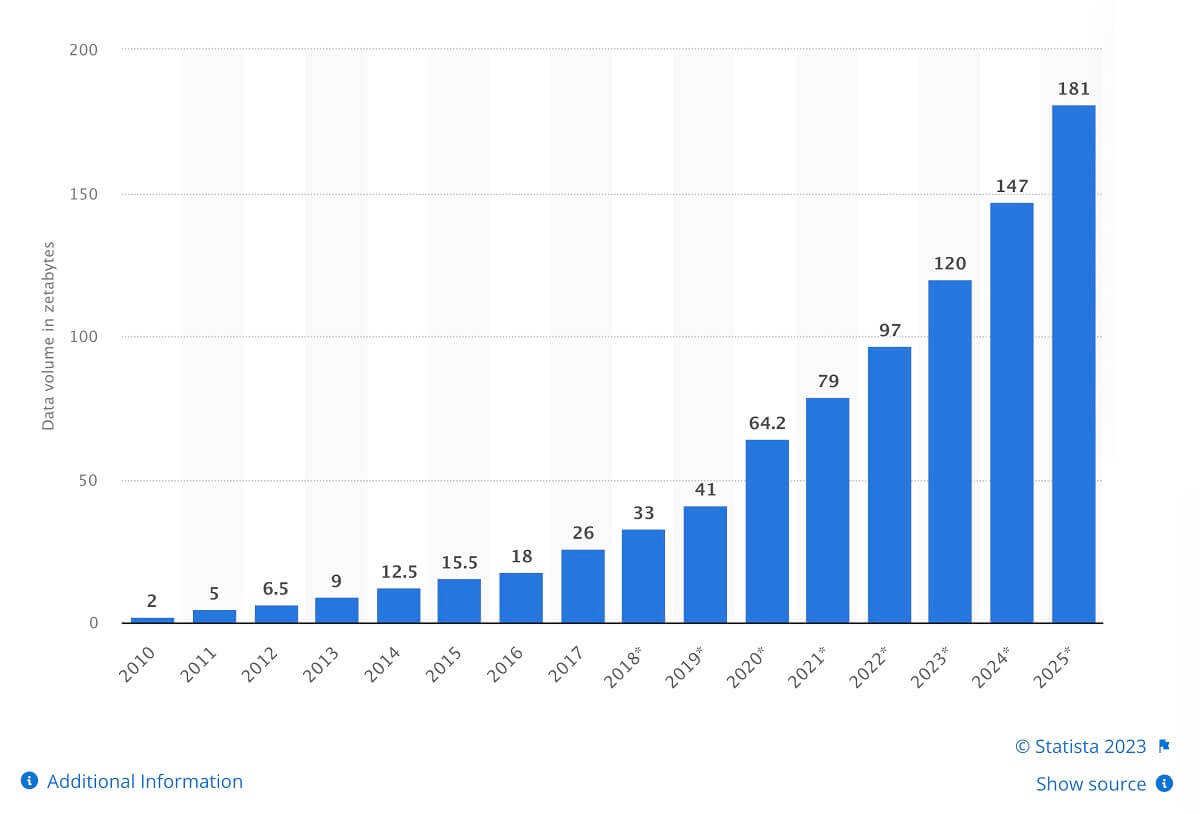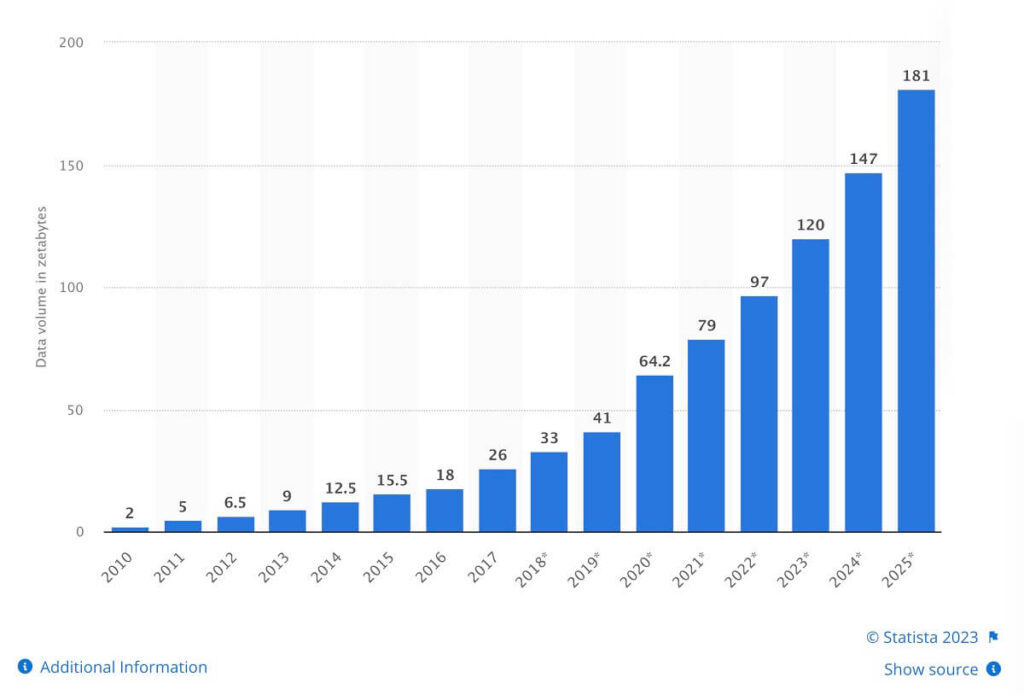 The rapid cumulation of data is largely attributed to the increasing number of connected devices, along with growing catalogs, such as home appliances, eyewear, shoes, clothing, etc. Experts believe that nearly one trillion connected devices would heave in sight by 2025.
This means monumental growth of new data facilitated by these devices would educate insurance agents to understand their clients more precisely and accordingly create new product categories, as well as offer more personalized services and facilitate real-time service delivery.
Factors Contributing to Data Avalanche in the Future
Connected And Autonomous Vehicles – Modern connected automobiles generate nearly 30 terabytes of data every day. Piling up to this figure involves self-driving cars that would generate nearly 40 terabytes of data every hour!
Consumer-Grade IoT Devices – Data from IoT and connected devices would increase from 7.6 billion to 24.1 billion by 2030.
GIS (Geographic Information System) data – GIS data is expected to grow by $80.47 billion by 2026 from 2022.
Why is the Insurance Industry not delivering Automated Insurance Experience, despite Technological Breakthroughs?
Well, that involves the most important reason associated with insurers.
Just as other industries are transforming at an ultrasonic speed to the evolving technologies of modern days, insurers somewhat lag in adopting platform business models (i.e. that create value by simplifying exchanges between two or more independent groups).
Moreover, certain barriers like privacy issues, unclear legalities, absence of valid data, and inaccurate measurements in the usage of wearables in the insurance also account for insurance companies not properly automating their customer insurance experience.
However, the inroad to the successful implementation of data-based insights in the health insurance industry can be made by putting in place more secure and robust data processing patterns for determining data validation and modeling.
What is the Insurance Industry up to with the Emerging Data Ecosystem?
The insurance industry has been maintaining a preventive approach at the core of its service mechanism for a very long time. This means being more informed to avoid unwanted claims by updating their list of customer requirements to prioritize delivering a customer-focused insurance experience.
Now modern digital technologies are helping insurers gather significant data for risk modeling as well as involve a careful approach to more risk-averse conducts.
In addition, insurance companies are also leveraging the potential of Big Data Analytics, Machine Learning, and AI to innovatively process data to derive informative insights and build accurate predictive models.
It will further enable insurers to anticipate future risks of policyholders based on their actions as interpreted through data-backed insights. As a result, insurance companies will feel more educated and capable of building an era of automated insurance experiences seamlessly integrated into the day-to-day life of customers.
Let's discuss how the data ecosystem would help insurers automate a customer-centric insurance experience.
Also Read: Why Insurance Companies should Hire an Insurance Software Development Company?
IoT Devices in Wellness and Healthcare Wearables
Smart wearables are already showing their efficacy in the field of healthcare and the health insurance industry which can be leveraged to gather a better understanding of customers' medical conditions. Moreover, the data-backed insights can also help the insurers to predict and prevent health risks associated with the policyholders.
For instance, some healthcare wearable devices come equipped with warning signs against concussion or can be used to monitor asthma, stroke, movement disorders, etc. in patients. Leveraging the data generated by such smart devices can be extremely valuable for health insurance companies to better serve policyholders.
Meanwhile, companies are also prioritizing accurate models that can help them how to correlate wearable data with health results, including mental illness, heart issues or even predicting mortality rates.
What are the Other Benefits of Smart Wearables?
Health insurance companies can use aggregated data relayed through smart wearables for policy underwriting.
This means ruling out the chance for seeking an exhaustive list of medical records to understand the customer's existing health condition rather than surfing through lengthy medical history.
The smart wearables can also help insurance companies collect the vitals (or vital signs) of individuals to further assist in various ways, such as –
Improving claim cost prediction
Predicting Customer Retention
Handling Churn Rate
Fraud Detection
Gaining Competitive Advantages
Data collected through wearable biosensors can also be utilized to make clients understand how to make better lifestyle choices. This could mean helping the clients with recommended personalized health coaching programs with their consent to use their health data for policy adjustments.
According to the scientific journal BMC Public Health, almost 70% of customers in America rely on smart wearables to adopt health insurance use cases.
Enterprises continue to invest in IoT App Development and implementation services, as well as security cameras, speakers, and connected appliances to equipment performance monitors and smart thermostats. This means more data volume would be increased further down on the consumer spectrum to help insurance companies automate a personalized insurance experience for their customers.
How would the growing adoption of IoT-based devices help insurance Companies?
The answer to the above question lies in how effectively insurance companies tap into the data ecosystem of connected devices or products.
Here is a brief description of these ecosystems of connected products –
Smart Housing
Insurance companies can use data-based insights provided by smart devices at homes to understand the daily lifestyle and behavioral patterns of customers. It will enable them to dynamically adjust premiums according to the policyholders' environmental factors like damage caused by natural calamities, etc.
Manufacturing
Insurers can maximize the potential of industrial IoT devices to handle underwriting and claims settlement effectively, say, for example teaming up with equipment OEMs and analyzing real-time data about the equipment usage patterns to design better policies, instead of scheduling lengthy inspections.
Real-Estate Adoption of IoT Devices
Data gathered from energy and smart facility management systems can help insurers make better decisions in adjusting premiums based on resource consumption levels and usage patterns, etc.
Mobility Ecosystem
Intelligent data drawn from the transportation ecosystem using advanced telematics systems would help insurers model future auto insurance premiums based on copious data on drivers' behavior on the road.
Concluding Statements
The emerging data ecosystem as facilitated by IoT-connected devices generating real-time data-based insights can help the insurance industry automate a customer-focused insurance experience in the future.
Rather than relying on the value of historical insights, leveraging more predictive modeling based on digital technologies like the Internet of Things, data analytics, Cloud, and automation could be productive for the insurance companies in terms of offering preventive and customer-focused insurance experience.
No doubt, the insurance industry must fully leverage the modern data ecosystem to enter a new and profitable world of preventive and automated insurance services adhering to the requirements and expectations of the current generation of digitally connected customers
Companies in insurance sectors can also prioritize custom insurance software development services enabling them to make data-based informed decisions about adjusting the premiums of customers as well as transform their products based on the individual preferences of their customers.