Property management software (PMS) is a specialized solution for property managers and landlords. It helps them automate financial, back-office, and administrative processes easily.
Property Management Software – Market Overview
According to the report, in 2021, the global market size of property management software was projected at $3.04 billion. The expected growth of the market size is at a compound annual growth rate (CAGR) of 5.6% during the forecast period between 2022 to 2030.
The report also indicates that the market of property management software has witnessed an incremental surge followed by increasing demand for Software as a Service (SaaS) and related web-based services by property management software providers around the world.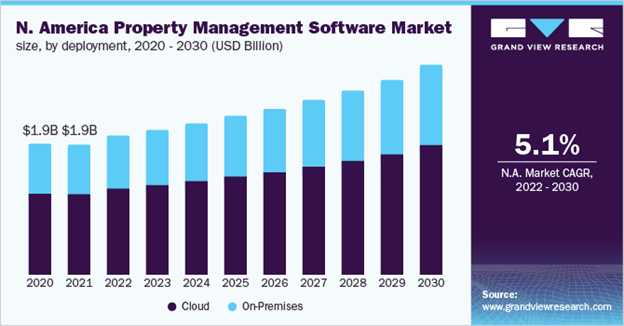 Before we discuss the total cost of building a property management software, let's throw some light on the types of property management solutions.
Types Of Property Management Software
A property management app could be your perfect solution if you choose the right app model for seamless tracking of financial transactions and data storage. Here is our rundown on picking up the right PMS fitting your business needs.
1. Commercial Property Management Systems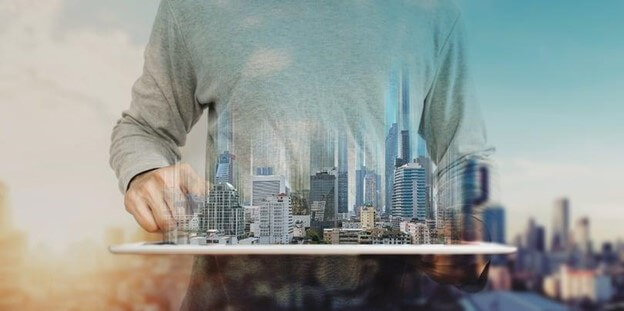 Commercial property holders can use commercial property management solutions to manage their retail sites and office buildings effectively.
Benefits:
Efficient property maintenance with reduced wait time
Automated efficiency in reporting and processing
Monthly rental reminders
2. Hotel/Hostel Management App
These apps ensure their relevance in managing hostel/hotel properties, in terms of rents and maintenance related to the number of rooms. Consider hiring a renowned mobile app development company to manage your commercial properties better.
Benefits of using hotel/hostel management software:
Helps you effectively manage hotel/hostel bookings
Manages the rental and maintenance of your hotel rooms
Helps you manage bills, track room availability, check guests in and out, etc.
Streamlines processes for an efficient hotel management solution
3. Industrial Property Management Systems
Leveraging property management software in managing industrial property is helpful in automating your warehouses, offices, or logistics facilities.
Benefits:
Ensures automated efficiency in managing warehouses and logistics facilities
Automates the processes regarding lease management
4. Condo Management Systems
These types of property management software are useful for townhouses, properties, condominiums, etc. These systems come equipped with features, such as e-payment, accounting, background scanning, reporting, etc.
After discussing the types of property management software, let's discuss some features of these commercial software solutions.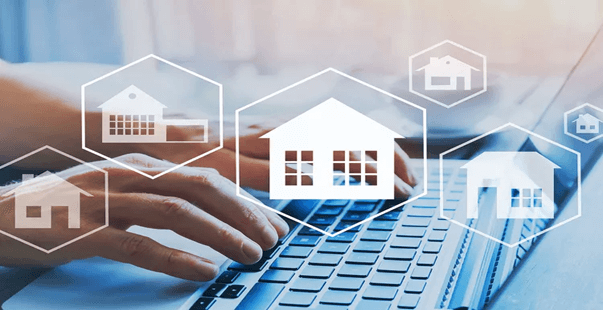 Features Of Property Management Software
User/Broker Panel
Under this section, there are following features;
1. User Registration
Post downloading the app by users, let them sign up or get registered using personal credentials like email-id, passwords, etc.
2. User Profile Verification
This feature indicates checking the credential of the registered users by emailing or messaging them the security code to verify. Once the verification is done, the registered users can browse through the software, like registering their profile as a buyer or a seller.
3. Property Surf
Registered users can browse through the list of real estate properties given in great pictorial details. To make surfing an engaging experience, include a detailed 360-degree view of the listed properties. It will also help the users make an informed decision about choosing the desired property.
4. Filter and Search Properties
The feature enables users to search for location-specific real estate properties based on their individual buying preferences. Besides, the feature should allow users to search for properties based on their types, prices, construction status, space area, and so on. It will help users to narrow down their quest to a dream property faster.
5. Map View And List View
This section of the must-have features in your property management software means enhancing the property-viewing experience of users in either Map View or List View, as per convenience. Just ensure that switching to another view option doesn't compromise the screen responsiveness of the showcased properties on a user's device.
6. Informative Property Details
This feature basically talks about making users informed of a property through detailed updates about the property. So, if users are searching for a property that features complete pictorial and textual details, it would help them make an informed decision in choosing the property. It would possibly lay the groundwork for getting in touch with the real estate agent to finalize the deal.
7. In-App Chat/Call
This feature will help users avoid the hassle of sharing contact details to converse with the agent regarding property-related queries. It would mean facilitating seamless communication between sellers and buyers or agents.
8. Multi-lingual Support
Multi-lingual support feature will help users select their preferred language to search for the properties in the app. It is crucial to add the feature, especially if your app features listed properties from the world over.
9. Currency Converter
Having this feature in your property management app would help your users understand the price of a property in the currency of their own countries.
Admin Panel Of Property Management App
1. Revenue Management
Admin of the app will use this feature to maintain the records of revenue earned by selling property, ads, deals, commissions, property listing, and more.
2. User Management
The feature will allow the admin of the app to manage numerous buyers, sellers, or brokers. The entire process of buying and selling properties will also be streamlined by this feature.
3. Property Management
Multiple properties under one roof will be managed and updated using this feature. Admin reserves the right to add or remove a property here.
5. Managing Offers & Discounts
Using this feature, the admin will manage the provisioning of discounts, offers, or loyalty coupons.
Additional Must-Have Features In The Property Management Software
1. Property Management and Lease Management
An in-app feature of this kind will help you manage key dates and financial obligations, apart from tracking lease details. You can also have the feature customized by hiring a reputed app developer.
2. Customer Relationship Management (CRM)
Implementing this feature in your property management software will enable you to maintain various processes. For instance, you can maintain financial reports, automate rent collection, and focus on lease tracking, tenant screening, creating e-lease agreements, etc. No doubt, it will prove viable in ensuring better property management for you.
Also Read: How to Choose the Right CRM System for Business
3. Integrating Multi-Payment Gateways
An app should not restrict users from the freedom of choosing their desired payment gateway. Therefore, implementing multi-payment gateways in your app will allow your users to initiate payment through their desired payment gateway.
For instance, if a user wants to pay instantly using UPIs, having the option of just credit card payment is not an intelligent feature of any app. Ensure the software supports payment gateways like bank transfers, credit cards, debit cards, UPIs, NetBanking, and so on.
4. Accounting APIs
The feature of accounting APIs is crucial in the sense that it will allow real estate agents, landlords, brokerage firms, and property investors to monitor their business finances. Now that we have talked at length about the list of features to be implemented in property management software, let's extend this discussion to its cost.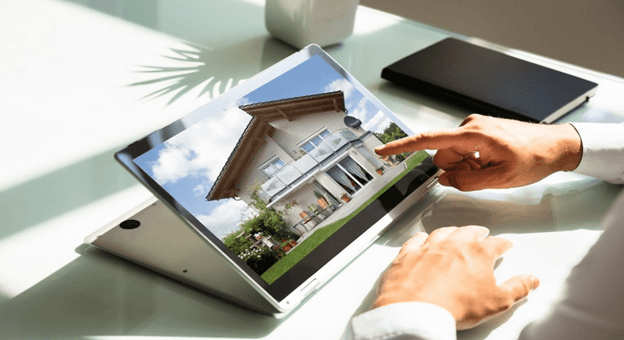 The Cost Behind Property Management Software Development
Generally, the cost of property management software development may range from $40,000 to $250,000 but it entirely depends on various factors.
For instance, UI/UX design, tech stack, new features, and the location of your software development agency are some of the most prominent factors influencing the overall cost of building property management software.
Here is our breakdown of the real cost of building property management software.
The Base Licensing Cost
If you consider developing a complex software platform for your property management, it will cost you a hefty sum of money. Moreover, the overall processes will also be time-consuming, based on the development phases of your project. The costs typically inflate based on how robust and fully-featured you want your app to be.
Meanwhile, software developers will structure their fees based in the following ways –
Billing per user – Some property management software platforms price according to the number of users you register with your app. Therefore, the cost inflates based on the number of property managers you have using the app.
Billing per unit – According to this billing structure, the cost is determined based on the number of units being managed. Obviously, the cost will get increased based on the increasing number of units you manage.
Billing cycle frequency – Billing is done monthly, quarterly, or yearly basis, though some developers could offer a bit of flexibility. For instance, you get discounted costs if you pay the bill yearly rather than monthly.
Flat monthly rates – Under this billing structure, software developers charge for their licensing fee which remains unchangeable.
Note that the billing structures depend on property management software development companies. For instance, a company specializing in managing high-end properties with numerous personal care and service may go for a "per unit" billing model.
Conclusion
Property management software comes in handy for landlords and commercial property owners. These apps can ensure enhanced productivity in helping property owners facilitate tasks, like revenue management, and automate reporting and processing, among other tasks.
With the global market value of PMS skyrocketing, it's a no-brainer because PMS is vital for real estate property owners and landlords. This is where hiring a renowned software development company comes into the picture.
Consider Binmile a qualified resource for building futuristic property management software solutions to advance the growth of your real estate business. We have an impressive portfolio of software and applications catered to global clientele over the course of our establishment as a trusted software development company.